Mattel will investigate the sources of its packaging material following a prominent campaign by Greenpeace that linked the Los Angeles-based toy-maker to deforestation in Indonesia.
In a statement, Mattel said it "does it contract directly with Sinar Mas/APP" — the paper products Greenpeace has tied to destruction of rainforests in Sumatra. But Mattel said it has instructed its packaging suppliers to stop sourcing pulp from Sinar Mas/APP until it has investigated the Greenpeace's allegations.
"We purchase packaging materials from a variety of suppliers and it is not the normal course of business to dictate where suppliers source materials," Mattel said in a statement. "That said, we have directed our packaging suppliers to stop sourcing pulp from Sinar Mas/APP as we investigate the deforestation allegations. Additionally, we have asked our packaging suppliers to clarify how they are addressing the broader issue in their own supply chains."
Greenpeace applauded the move but said Mattel would need to do more to ensure its products did not contribute to destruction of tiger habitat in Indonesia.
| | |
| --- | --- |
| | Greenpeace's stunt at Mattel's headquarters on June 8 |
"It's good that Mattel has realized it has a major deforestation problem, but it's still missing a comprehensive policy to deal with this issue," said Greenpeace Senior Forest Campaigner Rolf Skar. "The world's biggest toy company seems to be saying it isn't to blame for the actions of its suppliers. Greenpeace believes Mattel should take responsibility for the environmental impact of its products by removing APP and Sinar Mas from its supply chain, as well as giving clear timelines about when this will happen."
"The company should also make a public commitment to remove deforestation from all its products so this can't happen again. For now our campaign continues – Barbie and Ken are still spending time apart."
Greenpeace's campaign played on the recent "reconciliation" between Barbie and her long-time boyfriend Ken in the fictional world of Barbie. Greenpeace aired a video saying that Ken dumped Barbie due to her desire to "wrap herself in cheaper packaging" that was produced through logging of rainforests in Sumatra. The campaign included a demonstration at Mattel's headquarters in El Segundo, California.
Mattel's initial response to the campaign raised eyebrows. The firm shut down commenting on Barbie's Facebook page, which has 2.2 million followers, when critical comments appeared. The company's normally active Twitter account also went silent.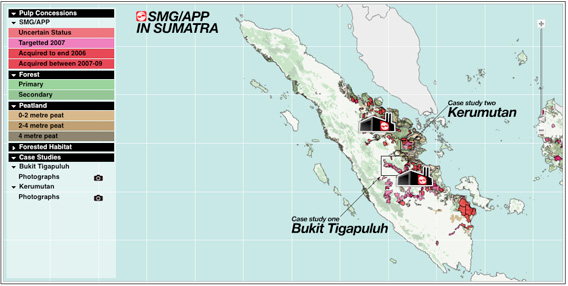 The island of Sumatra with Asia pulp & Paper's concessions highlighted. Click image to view map.
Greenpeace's has targeted Sinar Mas/APP due to its sourcing practices. Companies that supply APP have been linked to large-scale conversion of rainforests and peatlands in Jambi and Riau provinces on the island of Sumatra. The habitats are a key refuge for the critically endangered Sumatran tiger and other threatened species. While APP has previously pledged to phasing out use of fiber from natural forests, it has reneged on two commitments and continues to be linked to deforestation. The association has cost APP a number of major customers in recent years. APP has tried to counter defections through an aggressive marketing campaign that has included press junkets, CSR reports, glossy advertisements in The Economist and The New York Times, the hiring of single issue paid consultant "NGOs", and support of groups that launch public attacks against environmental groups and companies that have dropped APP as a supplier.
Related articles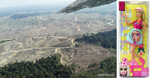 Barbie, Legos, other toys linked to destruction of Indonesia's rainforests

(06/07/2011) Some of the world's largest and most prominent toy-makers are sourcing their packaging materials from companies linked to large-scale destruction of Indonesia's rainforests, alleges a new report from Greenpeace. The report, How APP is Toying with Extinction, is based on forensic analysis of toy packaging from Mattel, which manufacturers Barbie and Hot Wheels toys; Disney, which makes a variety of toys linked to its movies; Hasbro, which produces GI Joe, Star Wars, and Sesame Street toys and various games like Monopoly and Scrabble; and Lego, which makes the iconic plastic building blocks. The analysis found traces of mixed-tropical hardwood (MTH) and acacia fiber which are principally sourced from Asia Pulp & Paper (APP), an umbrella paper products brand that sources from several companies that have been linked to rainforest destruction in Sumatra.
Pulp and paper firms urged to save 1.2M ha of forest slated for clearing in Indonesia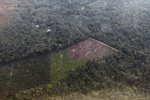 (03/17/2011) Indonesian environmental groups launched a urgent plea urging the country's two largest pulp and paper companies not to clear 800,000 hectares of forest and peatland in their concessions in Sumatra. Eyes on the Forest, a coalition of Indonesian NGOs, released maps showing that Asia Pulp and Paper (APP) and Asia Pacific Resources International Limited (APRIL) control blocks of land representing 31 percent of the remaining forest in the province of Riau, one of Sumatra's most forested provinces. Much of the forest lies on deep peat, which releases large of amount of carbon when drained and cleared for timber plantations.
Does chopping down rainforests for pulp and paper help alleviate poverty in Indonesia?
(01/13/2011) Over the past several years, Asia Pulp & Paper has engaged in a marketing campaign to represent its operations in Sumatra as socially and environmentally sustainable. APP and its agents maintain that industrial pulp and paper production — as practiced in Sumatra — does not result in deforestation, is carbon neutral, helps protect wildlife, and alleviates poverty. While a series of analyses and reports have shown most of these assertions to be false, the final claim has largely not been contested. But is conversion of lowland rainforests for pulp and paper really in Indonesia's best economic interest?