The newly discovered Dalai Mountain blind lizard (Dibamus dalaiensis). Photo courtesy of Fauna & Flora International.
A new species of legless lizard has been discovered in Cambodia. Herpetologist Neang Thy uncovered, literally, the new species when he turned over a log in the species-rich Cardamom Mountains. While the new lizard looks like a snake or a big earthworm, it is in fact a lizard belong to the Dibamidae family. These bizarre reptiles spend much of their lives burrowing underground for insects, which has allowed them to lose the need for limbs.
"At first I thought it was a common species," Thy, who works with the Ministry of Environment and the conservation organization Fauna & Flora International (FFI), said in a press release, "but looking closer I realized it was something I didn't recognize."
Thy dubbed the new species the Dalai Mountain blind lizard (Dibamus dalaiensis) for the mountain on which it was discovered in Phnom Samkos Wildlife Sanctuary. This is the first time a species from the Dibamus genus has been found in Cambodia.
The discovery is also notable because it is the first time a new species has been described by a Cambodian national.
"For one of our national colleagues to discover this unusual species and make the description is particularly satisfying," said Berry Mulligan, FFI's manager in Cambodia. "It shows that the capacity of Cambodian scientists is now reaching an international standard."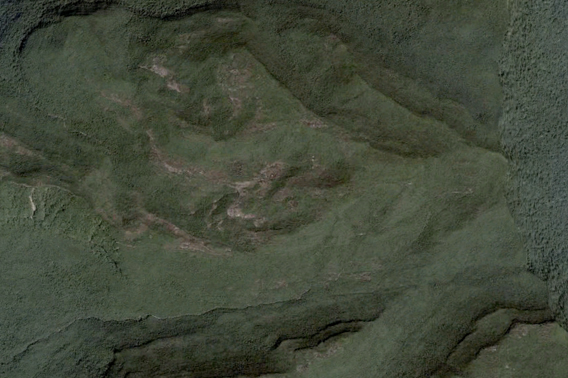 Scenery from Cambodia's Phnom Samkos Wildlife Sanctuary as seen by Google Earth.
Related articles
Cambodian prime minister cancels titanium mine project citing impact on biodiversity and local people
(04/11/2011) In a surprise move, the Cambodian Prime Minister, Sandech Hun Sen, has cancelled a titanium strip mine project in one of Southeast Asia's last great intact forest ecosystems, the Cardamom Mountains. According to a press release sent out by the Cambodian government the mine was canceled due to "concerns of the impact on the environment, biodiversity and local livelihoods" of villagers. The mine, which was planned to sit directly in the migration route for the largest population of Asian elephants in Cambodia, had been largely opposed by locals in the region who spent years developing eco-tourism in the region.
Photo: new vipers discovered in Asia's rainforests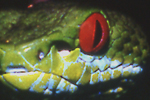 (03/30/2011) Researchers have discovered two new species of pitviper in Southeast Asia. After collecting snakes throughout the Asian tropics—Thailand, Laos, Vietnam, and Cambodia—researchers were able to parse out a more complex set of species than had been recognized. One of the new vipers has been dubbed Cryptelytrops rubeus for its ruby-colored eyes.
Photographer discovers new species of meat-eating plant in Cambodia
(11/16/2010) British photographer Jeremy Holdren recently discovered a new species of carnivorous pitcher plant in Cambodia's Cardamom Mountains during a survey with Fauna & Flora International (FFI).