A group that lobbies on behalf of forestry conglomerates in Indonesia and Malaysia is calling on the U.S. to roll back legislation intended to fight illegal logging.
World Growth International, a Washington D.C.-based group that sometimes portrays itself as a humanitarian organization, yet consistently pushes policies that favor industrial forestry interests over those of rural communities, has submitted formal comments to the United States Department of Agriculture, Animal and Plant Health Inspection Service's (APHIS) review of the implementation of the revised Lacey Act provisions that prohibit trade in illegally logged wood products, including timber and paper. World Growth International calls the 2008 Lacey Act amendments "de facto trade barriers" that impose "costly and burdensome regulations for entry into the US market."
The Lacey Act, which was enacted in 1900 by William F. McKinley, holds U.S. companies to environmental laws in the countries from which they source plant and wildlife products. All illegally logged wood products are open to seizure under the law. Penalties for violating the Lacey Act range from fines to jail time.
| | |
| --- | --- |
| | APP has lately focused on public relations and marketing to rehabilitate its image. It has released a number of sustainably reports and regularly runs full-page advertisements in publications like The Economist touting its environmental record. APP has also used more questionable methods, including hiring groups like World Growth International and the Tea Party-affiliated Consumer Alliance for Global Prosperity to launch public attacks on companies that have dropped its products and environmental organizations that have raised concerns about its environmental conduct. APP's parent, Sinar Mas Group, recently hired Cameron Hume, the former U.S. ambassador to Indonesia, as an "adviser". It is unclear whether Hume's hiring was related to the trade dispute or what role the former ambassador plays at the conglomerate. World Growth International is headed by another former diplomat: Alan Oxley. (Picture: concession belonging to an APP subsidiary. Photo courtesy of Greenpeace) |
World Growth International's complaint to APHIS (the formal comment period ends today) may be linked to its advocacy work for Asia Pulp & Paper (APP), a China-based logging company that was recently slapped with an anti-dumping tariff on some of its paper products by the U.S. Department of Commerce. The ruling hit APP at a time when it was already suffering from customer defections due its complaints over its environmental and human rights record in Indonesia. APP has lost Carrefour, Tesco, Kraft, Unisource, Staples, Walmart (excluding Walmart-China), Ricoh, Woolworths, Gucci, H&M, and Fuji Xerox, among others, since 2007. It also lost the right to use the FSC eco-certification label on its products.
World Growth International, along with the Tea Party-affiliated Consumer Alliance for Global Prosperity, have aggressively campaigned on APP's behalf over the past year. In the process, the groups have made some controversial claims on the environmental and economic performance of the pulp and paper sector, including its role in in deforestation and contribution to poverty alleviation in Indonesia.
World Growth International's positions have won it many critics. In December 2010, Agus Purnomo, Indonesian President Susilo Bambang Yudhoyono's special assistant on climate change, said World Growth International's chairman Alan Oxley was misrepresenting the objectives of Indonesia's proposed moratorium on new concessions in primary forest areas and peatlands. Last November, the group run by Wangari Maathai, the 2004 Nobel Peace Prize winner for her tree-planting campaign in Africa, blasted World Growth International for using her name to imply that she supports the large-scale conversion of tropical forests for industrial plantations. And in October, a group of prominent scientists castigated Oxley. In an open letter the scientists identify World Growth International and his marketing firm, ITS Global, as front groups for the palm oil, timber, and wood-pulp industries.
APP claims it is protecting the environment and alleviating poverty in Indonesia. But even its economic claims are now being questioned. Independent research has shown that the pulp and paper sector creates a relatively limited number of jobs relative to the amount of land it holds, while debt defaults, subsidies, and apparent tax evasion by some firms, reduce the industry's overall contribution to Indonesia's economy.

Sample of employment per hectare

APP says it employs roughly 70,000 people and holds 2.4 million hectares of concessions, or about one person per 34 hectares of concession, in Indonesia (or 1 worker per 20 ha if the area APP has set aside for conservation is excluded). For comparison, average smallholder holdings for agroforestry in West Java (Ginoga 2004) were 0.5 ha, 2 ha oil palm Indonesia-wide (IPOC 2009), and cacao 0.5 to 1.5 ha (Yasa 2007) (A smallholder is counted as a single person).
"A number of the key arguments of World Growth International, ITS Global, and Alan Oxley, represent significant distortions, misrepresentations, or misinterpretations of fact," wrote the scientists, led by William F. Laurance, a researcher at James Cook University.
"In other cases, the arguments they have presented amount to a 'muddying of the waters' which we argue is designed to defend the credibility of the corporations we believe are directly or indirectly supporting them financially. As such, World Growth International and ITS Global should be treated as lobbying or advocacy groups, not as independent think-tanks, and their arguments weighted accordingly."
Environmentalists are taking World Growth International's latest campaign against the Lacey Act as a call to action.
"This is a rallying cry for Americans who care about the environment to contact the government and APHIS to make it known that they support the Lacey Act," said Lafcadio Cortesi of the Rainforest Action Network, an activist group. "This is a classic example of an industrial lobby undermining the interests of the American people."
Asia Pulp & Paper did not return mongabay.com's request for comment on World Growth International's complaint or the Lacey Act. Analysis of paper fiber by the World Resources Institute and the Rainforest Action Network has found traces of ramin, a CITES protected species, indicating that some U.S. publishing companies may be in violation of the Lacey Act buy purchasing illegally sourced pulp.
Related articles
New World Growth report contains 'false and misleading' information
(03/31/2011) A new report from World Growth International, a lobby group for industrial forestry interests, contains 'false and misleading' information on the economic impact of reducing Indonesia's deforestation rate, says an Indonesian environmental group. The report, released today, claims that reducing deforestation in Indonesia will cost the country 3.5 million jobs annually by slowing expansion in the forestry sector.
Pro-deforestation group criticizes palm oil giant for sustainability pact
(03/24/2011) World Growth International, a group that advocates on behalf of industrial forestry interests, has criticized Golden Agri Resources (GAR), Indonesia's largest palm oil producer, for signing a forest policy that aims to protect high conservation value and high carbon stock forest and requires free, prior informed consent (FPIC) in working with communities potentially affected by oil palm development. In a newsletter published March 10, World Growth International claimed that GAR's agreement "could severely hamper the company's growth" by limiting where it can establish new plantations and says that negotiating with multiple stakeholders "will delay and complicate any investment by the company." World Growth International concludes by implying that GAR may renege on its commitment. But Peter Heng, Managing Director, Communications and Sustainability at GAR, disagreed with World Growth International's assessment.
Indonesian climate official: palm oil lobbyist is misleading the public
(12/29/2010) Alan Oxley, a lobbyist for industrial forestry companies in the palm oil and pulp and paper sectors, is deliberately misleading the public on deforestation and associated greenhouse gas emissions, said a top Indonesian climate official.
Logging, palm oil giant hires U.S. ambassador as lobbyist
(12/09/2010) Sinar Mas Group, the sprawling Indonesian conglomerate that has interests in coal mining, logging and wood-pulp production, palm oil plantations, real estate, and other industries, has hired Cameron Hume, the former U.S. ambassador to Indonesia, as an adviser, according to Detik.com. Ambassador Hume stepped down from his post at the embassy in August.
Nobel Prize winner, anti-poverty group, scientists fire back at logging lobbyist
(11/01/2010) An industrial lobbyist is facing mounting criticism for his campaign to reduce social and environmental safeguards in Indonesia.
Scientists blast greenwashing by front groups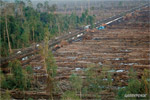 (10/27/2010) A group of prominent scientists has published an open letter challenging the objectivity of World Growth International, an NGO that claims to operate on behalf of the world's poor, and its leader Alan Oxley, a former trade diplomat who also chairs ITS Global, a marketing firm. The letter, published online in several forums, slams World Growth and ITS Global as a front groups for forestry companies. The scientists note that while the groups have not disclosed their sources of funding, they assert ITS receives funding from Sinar Mas, an Indonesian conglomerate that controls Asia Pulp & Paper (APP), a forest products brand, and Sinar Mas Agro Resources & Technology, a palm oil firm, among other companies.
Misleading claims from a palm oil lobbyist
(10/23/2010) In an editorial published October 9th in the New Straits Times ("Why does World Bank hate palm oil?"), Alan Oxley, a former Australian diplomat who now serves as a lobbyist for logging and plantation companies, makes erroneous claims in his case against the World Bank and the International Finance Corp (IFC) for establishing stronger social and environmental criteria for lending to palm oil companies. It is important to put Mr. Oxley's editorial in the context of his broader efforts to reduce protections for rural communities and the environment.
Corporations, conservation, and the green movement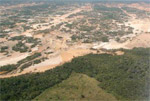 (10/21/2010) The image of rainforests being torn down by giant bulldozers, felled by chainsaw-wielding loggers, and torched by large-scale developers has never been more poignant. Corporations have today replaced small-scale farmers as the prime drivers of deforestation, a shift that has critical implications for conservation. Until recently deforestation has been driven mostly by poverty—poor people in developing countries clearing forests or depleting other natural resources as they struggle to feed their families. Government policies in the '60s, '70s, and '80s had a multiplier effect, subsidizing agricultural expansion through low-interest loans, infrastructure projects, and ambitious colonization schemes, especially in the Amazon and Indonesia. But over the past two decades, this has changed in many countries due to rural depopulation, a decline in state-sponsored development projects, the rise of globalized financial markets, and a worldwide commodity boom. Deforestation, overfishing, and other forms of environmental degradation are now primarily the result of corporations feeding demand from international consumers. While industrial actors exploit resources more efficiently and cause widespread environmental damage, they also are more sensitive to pressure from consumers and environmental groups. Thus in recent years, it has become easier—and more ethical—for green groups to go after corporations than after poor farmers.
Asia Pulp & Paper fumbles response to deforestation allegations by Greenpeace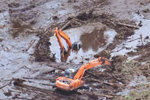 (09/28/2010) A new audit that seems to exonerate Asia Pulp & Paper from damaging logging practices in Indonesia was in fact conducted by the same people that are running its PR efforts, raising questions about the much maligned company's commitment to cleaning up its operations. The audit slams Greenpeace, the activist group that accused Asia Pulp & Paper (APP) of illegal and destructive logging in Sumatra in its July 2010 report, How Sinar Mas is Pulping the Planet. It runs through each of the claims laid out in the Greenpeace report, arguing some are speculative or improperly cited. But the audit doesn't actually deny that APP is clearing forests and peatlands for pulp plantations. In fact, the audit effectively confirms that the company is indeed engaged in conversion of 'deep' peat areas, but argues that this activity isn't illegal under Indonesian law.