Corruption in poor countries shouldn't deter developed countries from supporting initial efforts to save the world's tropical forests, Norway's environment minister told Reuters.
Erik Solheim said rich countries must be willing to take risks in supporting initiatives to slow deforestation and urged them to follow through on their promise to spend billions to protect forests.
"If we wait until Congo is like Switzerland — there is also corruption in Switzerland but much less — there will hardly be a tree left," Solheim was quoted as saying by Reuters. "If we are not able to accept risks we should close down this program today."
During 2009 climate talks in Copenhagen, Norway, the United States, Australia, Britain, France, and Japan pledged some $3.5 billion from 2010-12 toward building capacity and institutions needed for poor countries to develop programs to reduce emissions from deforestation and degradation (REDD). But much of the money has yet to materialize. Norway remains by far the biggest contributor toward efforts to protect tropical forests, committing $1 billion to Brazil, $250 million to Guyana, nearly $100 million to Congo Basin countries, $1 billion to Indonesia, and nearly $100 million to Tanzania. Some of the funds are based on success is reducing or avoiding deforestation. Norway's funds comes from its $585 billion sovereign wealth fund generated from offshore oil and gas revenue.
"Norway does not want to do this alone. If it ends up that we are the only — or by far the biggest — financial contributor, it will be a failure," Solheim added. "Many other donors must be partners."
Corruption and REDD
Critics worry that the large sums of cash generated by REDD could be stolen or misused by central governments instead of being used in forest conservation projects that generate benefits for local people. Indonesia's management of its Reforestation Fund, which lost more than $5.2 billion during a five-year period and continues to misallocate funds, as an example.
Solheim agreed corruption remains a serious concern.
"If wide-scale corruption is detected in some of these projects it will bring down the entire system," he stated.
Related articles
Former REDD+ negotiator for Indonesia sentenced to 3 years for corruption
(04/22/2011) Wandojo Siswanto, one of the negotiators for Indonesia's delegation at last year's climate talks in Copenhagen and a key architect of its Reduced Emissions from Deforestation and Degradation (REDD) partnership with Norway, has been sentenced to three years in prison for accepting bribes.
Election cycle linked to deforestation rate in Indonesia
(04/14/2011) Increased fragmentation of political jurisdictions and the election cycle contribute to Indonesia's high deforestation rate according to analysis published by researchers at the London School of Economics (LSE), the Massachusetts Institute of Technology (MIT), and South Dakota State University (SDSU). The research confirms the observation that Indonesian politicians in forest-rich districts seem repay their election debts by granting forest concessions.
Major palm oil companies failed to secure proper permits in Indonesian Borneo
(02/23/2011) Some of Indonesia's biggest and most powerful palm oil companies appear to have failed to initially secure the proper permits to convert rainforests to oil palm plantations in Central Kalimantan, reports Greenomics, an Indonesian activist group.
Will Indonesia's big REDD rainforest deal work?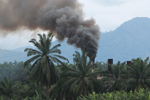 (12/28/2010) Flying in a plane over the Indonesian half of the island of New Guinea, rainforest stretches like a sea of green, broken only by rugged mountain ranges and winding rivers. The broccoli-like canopy shows little sign of human influence. But as you near Jayapura, the provincial capital of Papua, the tree cover becomes patchier—a sign of logging—and red scars from mining appear before giving way to the monotonous dark green of oil palm plantations and finally grasslands and urban areas. The scene is not unique to Indonesian New Guinea; it has been repeated across the world's largest archipelago for decades, partly a consequence of agricultural expansion by small farmers, but increasingly a product of extractive industries, especially the logging, plantation, and mining sectors. Papua, in fact, is Indonesia's last frontier and therefore represents two diverging options for the country's development path: continued deforestation and degradation of forests under a business-as-usual approach or a shift toward a fundamentally different and unproven model based on greater transparency and careful stewardship of its forest resources.
Norway emerges as champion of rainforest conservation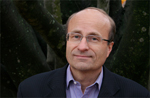 (03/19/2009) While citizens in western countries have long paid lip service to saving rainforests, Norway has quietly emerged as the largest and most important international force in tropical forest conservation. The small Scandinavian country has committed 3 billion krone ($440 million) a year to the effort, a figure vastly greater than the $100M pledged — but never fully contributed — by the United States under the Tropical Forest Conservation Act (TFCA). Norway now hopes it can help push to include forest conservation in the successor to the Kyoto Protocol by providing funding and fostering cooperation among international actors like the UN and World Bank, as well as developing countries, to fund the creation of an international architecture which makes it possible to incorporate deforestation and degradation into a post-2012 climate regime.