Researchers expected the shrinking ice sheets of Antarctica and Greenland to eventually become the greatest contributor to the world's rising sea levels; they just didn't expect it to happen so quickly. A new study in Geophysical Research Letters has found that ice sheets have overtaken melting glaciers and ice caps.
"If present trends continue, sea level is likely to be significantly higher than levels projected by the United Nations Intergovernmental Panel on Climate Change in 2007," said lead author Eric Rignot, of NASA's Jet Propulsion Laboratory and the University of California, Irvine. "Our study helps reduce uncertainties in near-term projections of sea level rise."
Unfortunately the study points to a greater, not lesser, sea level rise in the near-term than often predicted. By 2050, sea level could rise by over a foot (32 centimeters) with ice sheet melt contributing almost half to that expansion to 5.9 inches (15 centimeters).
The study, which covers 18 years of data, also found that ice sheet melt has been accelerating. On average Greenland lost an additional 21.9 gigatonnes every year, while Antarctica averaged 14.5 gigatonnes annually. While global temperatures have been rising significantly, regional temperatures in the Arctic and Antarctic have risen even faster in part due to what scientists call the 'ice-aldebo feedback', which means melting ice exposes surfaces, such as water or tundra, that reflect less solar radiation than ice and thereby warm more.
CITATION: E. Rignot, I. Velicogna, M. R. van den Broeke, A. Monaghan, J. Lenaerts. Acceleration of the contribution of the Greenland and Antarctic Ice Sheets to sea level rise. Geophysical Research Letters. VOL. 38, L05503, 5 PP., 2011
doi:10.1029/2011GL046583.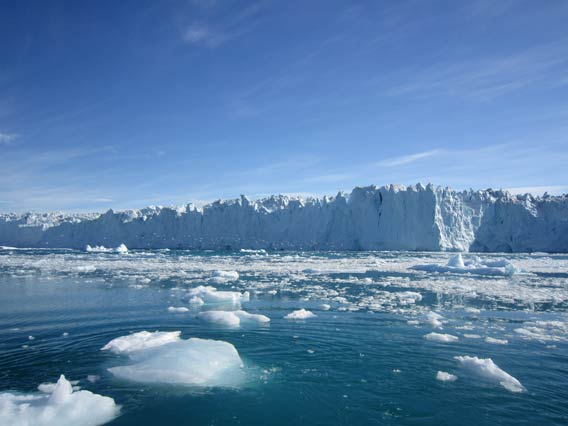 Store glacier in West Greenland. Photo by: Eric Rignot.
Related articles
Greenland melt is the worst yet
(01/24/2011) Melting of the Greenland ice sheet was the most extreme yet in 2010, beating the previous melt record from 2007. This continues a long-term trend whereby melting in Greenland has increased on average 17,000 square kilometers every year since 1979.
Earth could see 4 degrees Celsius warming in less than a lifetime
(11/29/2010) By the time children born this year reach 50 years old, the Earth could be 4 degrees Celsius warmer (7.2 degrees Fahrenheit) warns a new study as governments meet in Cancun for this year's UN climate summit, which is not expected to produce an agreement. Last year governments pledged in the non-binding Copenhagen Accord to keep temperatures below a 2 degree Celsius rise, but a new study in Philosophical Transactions of the Royal Society A argues that even with current promises to cut emissions this is unlikely and, in a worst-case scenario, a rise of 4 degrees Celsius is possible by 2060.
'Very dramatic' changes in Greenland: ice loss spreads north
(03/28/2010) Over the past ten years scientists have measured increasing ice loss along southern Greenland. Now a new study in Geophysical Research Letters shows that the ice loss has spread north with likely consequences for global sea level rise.