Asia Pulp & Paper (China) Investment aims to raise up to 3 billion renminbi ($457 million) through a bond issue, reports IFR Asia (subscription required).
The company is owned and operated by the Widjaja (Wijaya) family, which was involved in the collapse of Asia Pulp and Paper, a forest products firm that defaulted in 2003 while owing $13.9 billion, the largest-ever corporate default in Asia at the time. APP China emerged when its creditors converted debt into equity in a Bermuda-registered holding company, which protected APP China's assets from creditors' claims, according to IFR Asia.
"The move to set up APP China left creditors of APP itself furious as they lost access to many of the company's most valuable assets," states the IFR Asia article.
| | |
| --- | --- |
| | Concession belonging to PT. Tebo Multi Agro (TMA), an affiliate of APP, on the southern part of the Bukit Tigapuluh landscape in Sumatra. Photo courtesy of Greenpeace. |
The article notes that APP has twice "flirted with" capital markets since its historic 2003 default, including an initial public offering (IPO) in Hong Kong or China in 2006 and an share offering of a subsidiary—Gold East Paper—in 2009. Both deals never came to fruition.
IFR Asia says APP may be looking to capitalize on Chinese investors' lack of awareness of the company.
"Those involved in App China's deal may be hoping that investors in the Chinese bond markets are unaware of – or are willing to overlook – that controversial history," it states, noting that APP China got an AA+ rating from Dagong, a ratings agency based in Beijing.
The bonds will be used to boost APP China's capital and replace bank loans.
APP is also controversial outside financial markets. Environmentalists have linked its subsidiaries to large-scale deforestation in Indonesia and China. The revelations have led to a number of high profile customer defections, including Walmart, Staples, and Office Depot, among others.
APP has waged an aggressive public relations campaign in an effort to improve its image. Its parent, the conglomerate Sinar Mas, last year hired former U.S. Ambassador to Indonesia Cameron Hume shortly after he left office.
CITATION: Controversial APP China turns to renminbi bonds. IFR Asia 1875 19 March to 25 March 2011.
Related articles
Pulp and paper firms urged to save 1.2M ha of forest slated for clearing in Indonesia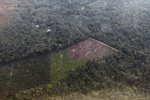 (03/17/2011) Indonesian environmental groups launched a urgent plea urging the country's two largest pulp and paper companies not to clear 800,000 hectares of forest and peatland in their concessions in Sumatra. Eyes on the Forest, a coalition of Indonesian NGOs, released maps showing that Asia Pulp and Paper (APP) and Asia Pacific Resources International Limited (APRIL) control blocks of land representing 31 percent of the remaining forest in the province of Riau, one of Sumatra's most forested provinces. Much of the forest lies on deep peat, which releases large of amount of carbon when drained and cleared for timber plantations.
Does chopping down rainforests for pulp and paper help alleviate poverty in Indonesia?
(01/13/2011) Over the past several years, Asia Pulp & Paper has engaged in a marketing campaign to represent its operations in Sumatra as socially and environmentally sustainable. APP and its agents maintain that industrial pulp and paper production — as practiced in Sumatra — does not result in deforestation, is carbon neutral, helps protect wildlife, and alleviates poverty. While a series of analyses and reports have shown most of these assertions to be false, the final claim has largely not been contested. But is conversion of lowland rainforests for pulp and paper really in Indonesia's best economic interest?
Will Indonesia's big REDD rainforest deal work?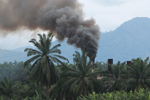 (12/28/2010) Flying in a plane over the Indonesian half of the island of New Guinea, rainforest stretches like a sea of green, broken only by rugged mountain ranges and winding rivers. The broccoli-like canopy shows little sign of human influence. But as you near Jayapura, the provincial capital of Papua, the tree cover becomes patchier—a sign of logging—and red scars from mining appear before giving way to the monotonous dark green of oil palm plantations and finally grasslands and urban areas. The scene is not unique to Indonesian New Guinea; it has been repeated across the world's largest archipelago for decades, partly a consequence of agricultural expansion by small farmers, but increasingly a product of extractive industries, especially the logging, plantation, and mining sectors. Papua, in fact, is Indonesia's last frontier and therefore represents two diverging options for the country's development path: continued deforestation and degradation of forests under a business-as-usual approach or a shift toward a fundamentally different and unproven model based on greater transparency and careful stewardship of its forest resources.
Pulp plantations destroying Sumatra's rainforests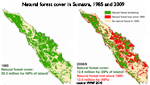 (11/30/2010) Indonesia's push to become the world's largest supplier of palm oil and a major pulp and paper exporter has taken a heavy toll on the rainforests and peatlands of Sumatra, reveals a new assessment of the island's forest cover by WWF. The assessment, based on analysis of satellite imagery, shows Sumatra has lost nearly half of its natural forest cover since 1985. The island's forests were cleared and converted at a rate of 542,000 hectares, or 2.1 percent, per year. More than 80 percent of forest loss occurred in lowland areas, where the most biodiverse and carbon-dense ecosystems are found.