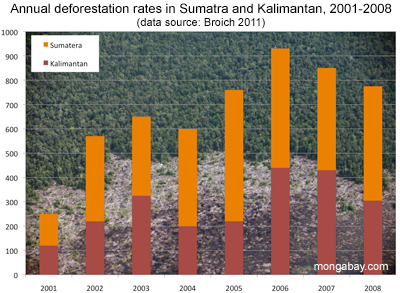 The U.S. government announced the first grants under the first phase of its 2009 Tropical Forests Conservation Act agreement with Indonesia.
USAID will provide five grants over the next three years to local NGOs working to conserve and better manage forests and peatlands in Sumatra. The five lead grantees are Yayasan Leuser Indonesia, Institute Green Aceh, KKI-WARSI, JIKALAHARI, and PETRA.
The grants, according to USAID:

Yayasan Leuser Indonesia will strengthen management of Singkil Wildlife Reserve and create corridors for surrounding elephant habitats in Aceh.
Institute Green Aceh will improve protection of the Linge Isac Hunting Reserve in Aceh.
KKI-WARSI will strengthen community based forest management and develop ecologically sound spatial plans for the buffer zones around Kerinci Seblat National Park in Jambi and West Sumatra.
JIKALAHARI will facilitate multi-stakeholder coordination for best management practices on the Kampar Peninsula in Riau.
PETRA will improve management within and between Batang Toru forested areas and Batang Gadis National Park.
The TFCA provides debt relief to tropical countries in exchange for commitments to conserve forests and coral reefs. To date, the U.S. State Department has reached agreements generating more than $200 million for tropical forest conservation in Bangladesh, El Salvador, Belize, Peru, the Philippines, Panama, Guatemala, Colombia, Paraguay, Botswana, Costa Rica, and Jamaica. The 2009 agreement signed with Indonesia provides $30 million in funding for forests in Sumatra.
Sumatra has Indonesia's highest deforestation rate. Over the past twenty years vast swathes of forest and peatlands have been cleared for industrial plantations, primarily for palm oil and pulp and paper production.
Related articles