Scientists in the Netherlands have discovered that insects produce significantly less greenhouse gas per kilogram of meat than cattle or pigs. Their study, published in the online journal PLoS One, suggests that a move towards insect farming could result in a more sustainable – and affordable – form of meat production.
The rearing of cattle and pigs for meat production results in an estimated 18 percent of global greenhouse gas emissions. With worldwide consumption of beef and pork expected to double by 2020, alternatives are being investigated. Of these, perhaps the most notable has been the development of "in-vitro meat" which is lab-grown tissue not requiring the production of a whole organism. Initiated by NASA as a form of astronaut food, in-vitro meat production took its first steps in 2000 when scientists used goldfish cells to grow edible protein resembling fish fillets. Since then, turkey and pig cells have been used to create spam-like substances, and Time Magazine has included in-vitro meat in its list of the top 50 breakthrough ideas of 2009.
In addition to the environmental impact of current meat production techniques, scientists believe that the inevitable increase in price as population-driven demand grows will ultimately result in traditional meat products becoming unavailable to many people around the world.
| | |
| --- | --- |
| | This cockroach has a high feed conversion efficiency, but isn't recommended as a food source by the researchers. Photo taken in Sabah, Malaysia by Jeremy Hance. |
However, if the idea of eating meat grown in a lab doesn't appeal to you, there is another option.
Researchers at Wageningen University in the Netherlands looked at mealworms, house crickets, migratory locusts, sun beetles, and Dubia cockroaches, and for the first time quantified the amounts of methane (CH4) and nitrous oxide (N2O) released per kilogram of insect meat. They found that the amounts of gases released by insects to be much smaller than those released by cattle and pigs. For instance, mealworms produce between ten and a hundred times less greenhouse gas emissions per kilogram than do pigs. Ammonia levels also declined significantly.
The scientists attributed the decrease in emissions to the insects' more efficient use of food. Because they aren't warm-blooded, what insects eat is aimed directly at body growth rather than maintaining a stable body temperature.
While the results are promising, the researchers caution that more study needs to be done in order to determine the impact of insect-farming on the entire production chain.
CITATION: Oonincx DGAB, van Itterbeeck J, Heetkamp MJW, van den Brand H, van Loon JJA, et al. (2010) An Exploration on Greenhouse Gas and Ammonia Production by Insect Species Suitable for Animal or Human Consumption. PLoS ONE 5(12): e14445. doi:10.1371/journal.pone.0014445
Related articles
How cannibal crickets choose their victims
(12/17/2010) Social interactions influence cannibalistic behavior among migratory bands of crickets, finds a new study published in the Public Library of Science. Cannibalism in turn is a major driving force behind the nature and direction of cricket swarms.
Breaking all of life's rules: scientists discover bacteria that can survive on arsenic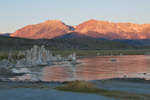 (12/02/2010) While for days rumors have circulated around the Internet that NASA had discovered alien life, the truth may be even less expected. Instead of aliens, NASA-funded researchers have discovered a microorganism on Earth that breaks all the rules of life: in Mono Lake in California scientists found a bacterium that can survive wholly on arsenic. The microorganism is capable of replacing phosphate, one of the essential blocks of all known life, with the toxic chemical arsenic according to new researched published in Science. Uncovered by lead author and NASA-funded scientist, Felicia Wolf-Simon, along with astrobiolgist colleagues at Arizona State University, the discovery is thought to have widespread implications on how life may survive on other planets.
Beyond bizarre: strange hairy antelope photographed in Kenya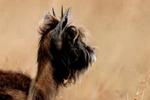 (08/19/2010) Is it a hairy goat roaming the plains? An antelope with some genetic mix-up? At this point no one knows. This strange creature was photographed in Kenya's Masai Mara National Reserve. Apart of the Serengeti plains, the Masai Mara covers 1,500 square kilometers and is home to a wide-range of iconic African savannah species, from elephants to lions and giraffes to hippos.The photos were first published on conservation organization WildlifeDirect's website.
With 'psychological cunning' wild cat lures monkeys by mimicking their babies' calls

(07/08/2010) It sounds like something out of a fairy-tale: the big bad predator lures its gullible prey by mimicking a loved one: 'why grandma, what big teeth you have!' But in this case it's the shocking strategy of one little-known jungle feline. In 2005 researchers with the Wildlife Conservation Society (WCS) were watching a group of eight pied tamarins ( Saguinus bicolor), squirrel-sized monkeys, feeding on a ficus tree in the Reserva Florestal Adolpho Ducke in Brazil. They then heard the sound of tamarin babies, but were surprised to see that the sound was not coming from young tamarins, but a hungry margay (Leopardus wiedii), a small cat native to Central and South America, which was hidden from the tamarins.
Photo: monster worm is less than a monster
(04/28/2010) Some places have Loch Ness and Bigfoot, but the Palouse prairie of the western United States has the giant Palouse earthworm. Reported to stretch 3 feet long, spit, and—even more strangely—smell like lilies, the earthworm has become apart of the region's folklore and has only been seen a few times since the 1980s leading to concerns that it was gravely endangered and maybe even extinct.
Got milk: 3 percent of greenhouse gases from milk production
(04/21/2010) Just less than 3 percent of the world's greenhouse gas emissions come from the production of milk, according to a new study by the UN Food and Agricultural Organization (FAO). Covering dairy producing animals from small nomadic herds to massive industrialized dairy operations, the FAO study factors in the production, processing, and transportation of milk as well as the fertilizer, pesticides, and feed used in the dairy industry. The total rises 4 percent if using dairy animals for meat is included.
Just how bad is meat-eating for the environment?
(03/28/2010) While livestock may emit a smaller share of global greenhouse gases than thought, it's overall environmental impact remains significant. Meat is booming. In the past thirty years, livestock production has increased threefold. In many parts of the world where incomes are expanding, meat, once a delicacy, is now eaten regularly and voraciously. But what are the environmental impacts of this 'livestock revolution'?
Octopus pretends to be flounder to avoid predators
(03/04/2010) Marine researchers have discovered the Atlantic longarm octopus mimicking not only the color and appearance of the peacock flounder, but also its unique style of swimming in order to convince predators it's something it's not.
Healthy coral reefs produce clouds and precipitation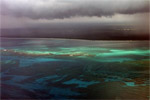 (03/03/2010) Twenty years of research has led Dr. Graham Jones of Australia's Southern Cross University to discover a startling connection between coral reefs and coastal precipitation. According to Jones, a substance produced by thriving coral reefs seed clouds leading to precipitation in a long-standing natural process that is coming under threat due to climate change.
Commodity trade and urbanization, rather than rural poverty, drive deforestation
(02/07/2010) Deforestation is increasingly correlated to urban population growth and trade rather than rural poverty, suggesting that measures proposed to reduce deforestation will be ineffective if they fail to address demand for commodities produced on forest lands, argues a new paper published in Nature GeoScience.
Amazon cattle ranching accounts for half of Brazil's CO2 emissions
(12/12/2009) Cattle ranching accounts for half of Brazil's greenhouse gas emissions according to a new study led by scientists from Brazil's National Space Institute for Space Research (INPE).
Concerns over deforestation may drive new approach to cattle ranching in the Amazon
(09/08/2009) While you're browsing the mall for running shoes, the Amazon rainforest is probably the farthest thing from your mind. Perhaps it shouldn't be. The globalization of commodity supply chains has created links between consumer products and distant ecosystems like the Amazon. Shoes sold in downtown Manhattan may have been assembled in Vietnam using leather supplied from a Brazilian processor that subcontracted to a rancher in the Amazon. But while demand for these products is currently driving environmental degradation, this connection may also hold the key to slowing the destruction of Earth's largest rainforest.
World needs a 10% meat diet to fight global warming
(09/12/2007) Cutting world meat consumption by 10 percent would have a substantial impact on greenhouse emissions, say doctors writing in the health journal The Lancet.