A thousand square kilometers of the Alaskan tundra burned in September 2007, a single fire that doubled the area burned in the region since 1950. However, a new study in the Journal of Geophysical Research finds that the fire was even more unprecedented than imagined: sediment cores found that it was the most destructive fire in the area for at least 5,000 years and maybe longer.
"If such fires occur every 200 years or every 500 years, it's a natural event," University of Illinois plant biology professor Feng Sheng Hu explains in a press release. "But another possibility is that these are truly unprecedented events caused by, say, greenhouse warming."
| | |
| --- | --- |
| | The Alaskan tundra burns in what has become known as the Anaktuvuk River Fire of 2007. Photo by: Bureau of Land Management. |
Analyzing sediment cores in the area for telltale signs of burning, i.e. charcoal particles, Hu found no sign of burning for at least 5,000 years. Hu then went further: he and his team modeled the area's temperature and precipitation alongside the area burned each year. They discovered what Hu calls a temperature "tipping point" when "the tundra is just going to burn more frequently."
According to the study, when the temperature in the region goes above a mean of 50 degrees Fahrenheit (10 degrees Celsius) fire becomes increasingly likely. From 1950 onward mean temperatures have stayed largely within 42-48 degrees Fahrenheit (6-9 degrees Celsius). However, in 2007—one of the warmest years globally on record—temperatures in the Alaskan tundra hit a mean of nearly 52 degrees Fahrenheit (11.1 degrees Celsius). In addition, all-time low precipitation and soil moisture, spurred the unprecedented burning.
Given that climate change is heating up the tundra much faster than the rest of the world, it's likely that soon the fire of 2007 will no longer appear so unprecedented.
Related articles
Record number of nations hit all time temperature highs
(11/23/2010) To date, nineteen nations have hit or matched record high temperatures this year, according to Jeff Master's Wunder Blog, making 2010 the only year to have so many national records. In contrast, no nation this year has hit a record cold temperature.
Rainforests thrived in warmer conditions in the past, yet study requires "caution"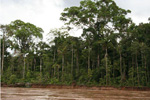 (11/11/2010) A new study in Science is likely to reopen the contentious debate about the impact of climate change on tropical rainforests. Scientific modeling of future climate conditions in tropical rainforests, such as the Amazon, has shown that climate change—combined with deforestation and fire—could create a tipping point whereby a significant portion of the Amazon could turnover to savannah, pushing untold species to extinction and undercutting the many ecosystem services provided by tropical rainforests. Yet, a new study headed by Carlos Jaramillo, staff scientist at the Smithsonian Tropical Research Institute (STRI), has found a tropical forest ecosystem thriving in much warmer conditions than today.
It's not just size that matters: how population affects climate change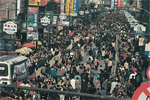 (11/11/2010) As the world's population increases, a surge in the number of older adults and the movement of people from the countryside to crowded cities will significantly affect levels of carbon dioxide emissions by 2050, according to a sweeping study published in the 11 October issue of the Proceedings of the National Academy of Sciences. A significant but attainable slowing of the planet's growing population could achieve up to 29 percent of the total decrease in emissions needed to stave off the harmful consequences of climate change by 2050, according to the study.