This Ceiba tree fell on the jaguar Junior Buddy's exhibit during Hurricane Richard; Junior was unharmed. Note the fencing on the right. Image and caption courtesy of the Belize Zoo
The world famous Belize Zoo is closed until further notice after suffering a direct hit from Hurricane Richard, which leveled trees and inflicted heavy damage on wire fences. The zoo has send out an urgent plea for building materials and funds to help with recovery. None of the facility's animals or staff were injured.
Sharon Matola, the director of the zoo, called the hurricane damage the "great challenge" the Belize Zoo has ever faced.
"Hurricane Richard did a number on the Zoo," she said in a statement. "Thankfully none of the animals were injured or escaped, but our facility has been hit hard."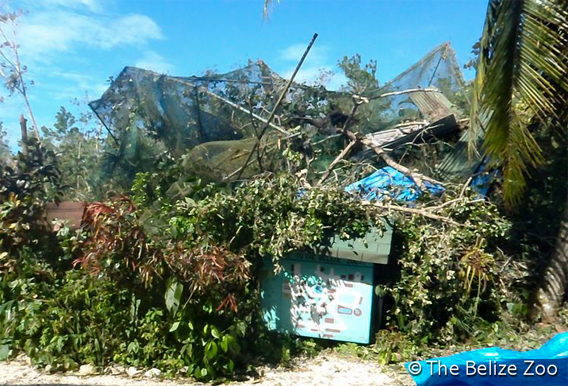 The King Vulture enclosure was as tall as a 2-story building before Hurricane Richard, Oct 2010.
Hurricane Richard, a category 1 storm, toppled trees and caused heavy damage to the vegetation that helps create exhibits that resemble the natural habitats of many of the zoo's 48 animals species. While many exhibits were destroyed, animals survived thanks to small shelters within each enclosure.
Matola says the zoo hopes to reopen in December, although repairs and upgrades to protect against stronger storms in the future will continue. She notes the zoo has yet to raise enough money to cover the costs of rebuilding.
"The Belize Zoo does not have the financial resources necessary to see these plans and upgrades realized," she said. "We have been working daily in an effort to raise funds so that work can continue to progress, but it is a huge challenge.
The Belize Zoo's HURRICANE RELIEF FUND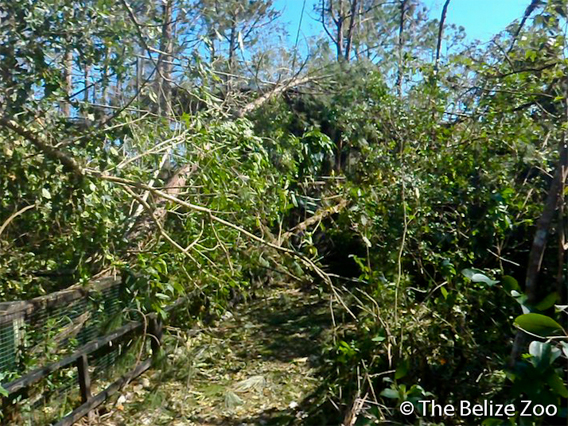 The Harpy Eagle display was missed by this pine blown down in the hurricane; the two eagles, Panama & Queen, are fine. Belize Zoo, Oct 2010.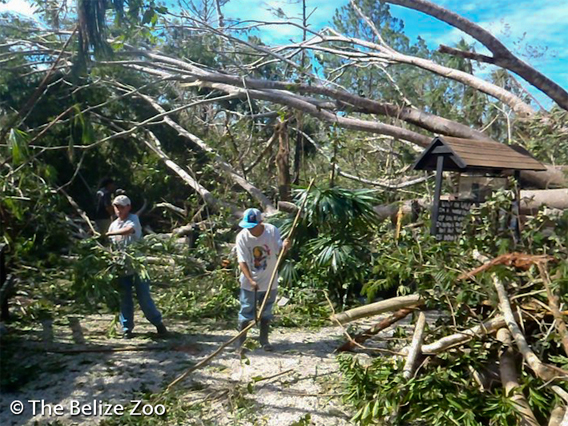 Volunteers lend a hand in the cleanup at the Belize Zoo after Hurricane Richard, Oct 2010; here clearing path to the tapirs, deer, & spider monkeys.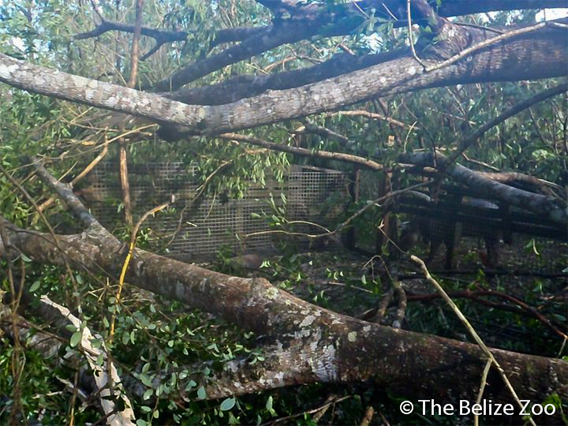 Fallen Guanacaste tree in the tapir Indy's exhibit. On the right Bullet, the tapir next door, inspects the damage from Hurricane Richard, Oct 2010.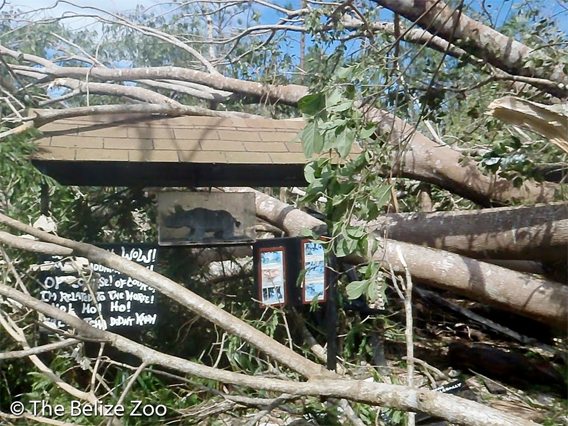 All the Belize Zoo's Tapirs survived, but their enclosures were not so lucky, Oct 2010. Photos and captions courtesy of the Belize Zoo
More photos of hurricane damage at the zoo.