Ecotourism is one of the most profitable uses of tropical forest in the Tambopata area of the Peruvian Amazon, according to a study released on 29 September in the journal PLoS ONE.
In 2002 Peru's government passed legislation to allow ecotourism-controlled zones in the Tambopata region of southeastern Peru. Policymakers hoped such zones would preserve spectacular rainforest habitats while bringing in steady money. Critics have wondered, though, whether the strategy can succeed in the face of other profitable―yet destructive―ventures on pristine forested land.
To answer this question, researchers compared the profits generated per hectare of ecotourism-controlled land with the profits from comparable land devoted to farming, ranching, logging, or Brazil nut extraction. Of all the large-scale land-use options considered, ecotourism's profitability per year was second only to non-sustainable timber harvesting.
| | |
| --- | --- |
| | Ecotourists in Peru hope to see glimpses of tropical fauna, like this Phyllomedusa tree frog. (Photo by: Jason Kopp) |
"Even if you ignore environmental public goods, such as biodiversity and carbon sequestration, ecotourism is still worth doing on narrow economic grounds," said senior study author Douglas Yu of the University of East Anglia, U.K., in an interview with mongabay.com.
According to Yu, the dozens of ecotourism establishments in the Tambopata region benefit from their proximity to the city of Cusco. From the tourist's perspective, "you can do an Inca trail, plus the jungle, plus a couple of days in Cusco, maybe see the Nazca Lines, and then take off," said Yu, noting that such efficient packaging of trips lures visitors to the eco-lodges.
Numbers seem to back up Yu's statement. Tourist volumes in the Tambopata area have increased steadily since the mid 1990s. In 2005, the year the researchers collected data on lodge profitability, approximately 39,610 tourists visited the region. By 2008 this number had ballooned to 52,000.
Ecotourists who visit Tambopata sleep in rustic lodges, hike through the jungle, and take night boat trips to spot caiman. To maximize profitability, lodge owners strive to preserve the beauty and biodiversity that draws tourists to the area, while at the same time ramping up tourist volumes. The Amazonian jungle has stood up well under the footsteps of the growing waves of tourists, Yu said.
| | |
| --- | --- |
| | Visitors on ecotours in southeastern Peru can sleep in rustic lodges that offer up-close views of the Amazonian jungle. (Photo by: Chris Kirkby) |
"However, in other places, like coral reefs or alpine meadows, tourists can cause environmental damage. Adding more tourists increases profits, but decreases the attraction," said Yu.
Despite such hurdles, eco-friendly economists still hope to harness the motivating power of profits to drive regional conservation. The PLoS ONE study is the first, the authors believe, to analyze the profitability of developing-country ecotourism across a specific region, and to compare this profitability to other possible uses for the land.
The Peruvian government has recognized ecotourism as a potentially powerful development strategy, but elsewhere the economic contributions of biodiversity are not well understood, said Andy Drumm, a sustainable tourism expert and independent consultant, in an email to mongabay.com. "We need more of this sort of study to help better inform and re-orient policy decisions in biodiversity-rich countries in Latin America and beyond," said Drumm.
Kirkby CA, Giudice-Granados R, Day B, Turner K, Velarde-Andrade LM, et al. (2010) The Market Triumph of Ecotourism: An Economic Investigation of the Private and Social Benefits of Competing Land Uses in the Peruvian Amazon. PLoS ONE 5(9): e13015. doi:10.1371/journal.pone.0013015
Catherine Meyers is a graduate student in the Science Communication Program at the University of California, Santa Cruz.
Related articles
Environmentalists must recognize 'biases and delusions' to succeed
(10/18/2010) As nations from around the world meet at the Convention on Biological Diversity in Nagoya, Japan to discuss ways to stem the loss of biodiversity worldwide, two prominent researchers argue that conservationists need to consider paradigm shifts if biodiversity is to be preserved, especially in developing countries. Writing in the journal Biotropica, Douglas Sheil and Erik Meijaard argue that some of conservationists' most deeply held beliefs are actually hurting the cause.
Birdwatching contributes $36 billion annually to U.S. economy
(07/15/2009) One fifth of Americans are birdwatchers, according to a report released today by the U.S. Fish and Wildlife Service.
Is the Amazon more valuable for carbon offsets than cattle or soy?
(10/17/2007) After a steep drop in deforestation rates since 2004, widespread fires in the Brazilian Amazon (September and October 2007) suggest that forest clearing may increase this year. All told, since 2000 Brazil has lost more than 60,000 square miles (150,000 square kilometers) of rainforest — an area larger than the state of Georgia or the country of Bangladesh. Most of this destruction has been driven by clearing for cattle pasture and agriculture, often in association with infrastructure development and improvements. Higher commodity prices, especially for beef and soy, have further spurred forest conversion in the region. While drivers of Amazon deforestation are stronger than ever, mounting concerns over climate change and the effort to reign in greenhouse gas emissions may provide new economic incentives for landowners to preserve forest lands through a concept known as "avoided deforestation".
Ecuadorian brothers show conservation-based microentrepreneurship possible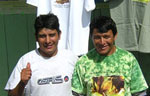 (03/07/2007) Tropical rainforests are declining across most of the world. Since the close of the 1990s deforestation rates have only accelerated as growing levels of consumption and consistent population growth paint an increasingly bleak future for the world's forests and their resident biodiversity. These trends make it easy to lose hope. As such, stories that show local people earning a livelihood from biodiversity conservation are an inspiration.