Researchers have discovered a biological shocker: female boa constrictors are capable of giving birth asexually. But the surprise doesn't end there. The study in Biology Letters found that boa babies produced through this asexual reproduction—also known as parthenogenesis—sport a chromosomal oddity that researchers thought was impossible in reptiles.
While researchers admit that the female in the study may have been a genetic freak, they say the findings should press researchers to re-think reptile reproduction. Virgin birth among reptiles, especially primitive ones like boas, they argue may be far more common than expected.
"Reproducing both ways could be an evolutionary 'get-out-of-jail-free card' for snakes," says lead author Warren Booth, a North Carolina State University postdoctoral entomologist. "If suitable males are absent, why waste those expensive eggs when you have the potential to put out some half-clones of yourself? Then, when a suitable mate is available, revert back to sexual reproduction."

Two offspring from one mom: on the left is the 'normal' offspring produced by mating, on the right is the offspring produced asexually and sporting its mother's unique coloring. Photo by: Sharon Moore.
The mother in question gave birth to not one, but two snake litters of all-female snakes with WW-chromosomes. Male snake cells have two Z chromosomes, while female snakes have a Z and a W. This is the first time a reptile has been seen with two W chromosomes, something thought peculiar to fish and amphibians. The snakes' litters also retained the mother's rare genetic coloring.
The asexual reproduction also wasn't due to a lack of options. Male boas were available to the boa mother and she had previously given birth to other snake litters by mating with males.
The news of the "virgin birth" comes almost four years after a Komodo dragon made headlines for a similar event. Flora, a female Komodo dragon, reproduced asexually at Chester Zoo in Britain in December 2006. The birth was documented in the journal Nature.
Parthenogenesis is so far known to occur in about 70 reptile species.
Related articles
Picture: new monkey discovered in Myanmar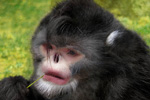 (10/26/2010) Hunters' reports have led scientists to discover a new species of monkey in the northern forests of Myanmar. Discovered by biologists from the Myanmar Biodiversity and Nature Conservation Association with support from primatologists with Fauna & Flora International (FFI) and the People Resources and Biodiversity Foundation, the strange looking primate is a member of the snub-nosed monkey family, adding a fifth member to this unmistakably odd-looking group of Asian primates. However, the species survives in only a small single population, threatened by Chinese logging and hunting.
Flickr reveals longest whale migration
(10/14/2010) Communal photo sharing site, Flickr, has allowed researchers to discover the longest migration by a whale yet recorded. Ten years ago a female humpback whale swam from Brazil to Madagascar, covering around 6,090 miles (9,800 kilometers). The migration tops the previous record by 2,485 miles (4,000 kilometers). Not only is this a record for a whale, it's a record for non-human mammals.
Monarch butterflies medicate their sick offspring
(10/12/2010) A new study in Ecology Letters has discovered that monarch butterflies employ medicinal plants to treat their larva. Researchers found that certain species of milkweed, which the larva feed on, can reduce the threat of a sometime deadly parasite. However, even more surprising: "we have also found that infected female butterflies prefer to lay their eggs on plants that will make their offspring less sick, suggesting that monarchs have evolved the ability to medicate their offspring," says lead author Jaap de Roode.
U.S. government bombs Guam with frozen mice to kill snakes
(09/28/2010) In a spectacularly creative effort to rid the island of Guam of an invasive species, the US Department of Agriculture is planning to 'bomb' the rainforests with dead frozen mice laced with acetaminophen. The mice-bombs are meant to target the brown tree snake, an invasive species which has ravaged local wildlife, and angered local residents, since arriving in the 1940s.
Photos: New species spins the world's strongest and largest spider web
(09/20/2010) A newly discovered species of spider in Madagascar spins the world's longest web, report scientists writing in the Journal of
Arachnology and PLoS ONE.
Beyond bizarre: strange hairy antelope photographed in Kenya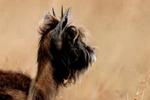 (08/19/2010) Is it a hairy goat roaming the plains? An antelope with some genetic mix-up? At this point no one knows. This strange creature was photographed in Kenya's Masai Mara National Reserve. Apart of the Serengeti plains, the Masai Mara covers 1,500 square kilometers and is home to a wide-range of iconic African savannah species, from elephants to lions and giraffes to hippos.The photos were first published on conservation organization WildlifeDirect's website.
With 'psychological cunning' wild cat lures monkeys by mimicking their babies' calls

(07/08/2010) It sounds like something out of a fairy-tale: the big bad predator lures its gullible prey by mimicking a loved one: 'why grandma, what big teeth you have!' But in this case it's the shocking strategy of one little-known jungle feline. In 2005 researchers with the Wildlife Conservation Society (WCS) were watching a group of eight pied tamarins ( Saguinus bicolor), squirrel-sized monkeys, feeding on a ficus tree in the Reserva Florestal Adolpho Ducke in Brazil. They then heard the sound of tamarin babies, but were surprised to see that the sound was not coming from young tamarins, but a hungry margay (Leopardus wiedii), a small cat native to Central and South America, which was hidden from the tamarins.
Uncovering the intelligence of insects, an interview with Lars Chittka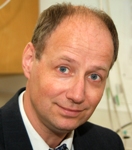 (06/29/2010) Many people would likely consider 'insect intelligence' a contradiction in terms, viewing insects—when they think of them as anything more than pests—as something like hardwired tiny robots, not adaptive, not intelligent, and certainly not conscious. However, research over the last few decades have shown that a number of well-studied insects are capable of performing amazing intellectual feats, from recognizing individuals to employing a symbolic language in a behavior known as a 'bee waggle'. "Already in 1900, Buttel-Reepen asked whether honeybees are mere reflex machines—and emphatically denied that claim," Dr. Lars Chittka, professor of Sensory and Behavioral Ecology at Queen Mary University in London, told mongabay.com in an interview. "Over the last century, we have seen a fundamental change in perspective on the learning capacities of insects, and there a now several credible lines of evidence that insects are capable of cognitive feats that had previously been ascribed only to 'higher' vertebrates".
World's largest snake discovered: prehistoric serpent was twice the size of an anaconda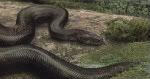 (02/04/2009) Paleontologists have recently uncovered the world's largest snake announces a paper in Nature. Measuring an astonishing 42 to 45 feet, the Titanoboa cerrejonensis makes the anaconda look diminutive. In fact the prehistoric serpent even makes once-ridiculous horror movie snakes appear conservative. "Truly enormous snakes really spark people's imagination, but reality has exceeded the fantasies of Hollywood," said Jonathan Bloch, one of the leaders of the party that discovered the prehistoric serpent. "The snake that tried to eat Jennifer Lopez in the movie Anaconda is not as big as the one we found."
Scientists discover world's smallest snake species
(08/03/2008) If one wanted to overcome their fear of snakes, they may want to start with the newly discovered Leptotyphlops carlae. Measuring less than four inches long, even stretched out this new species of threadsnake can't compete with the average pen or pencil.
Deforestation causes snake invasion in the Amazon
(03/11/2008) An official with Brazil's environmental protection agency Ibama claims that snakes are invading the city of Belem due to deforestation of the Amazon rainforest.
Squirrels use snake skin to disguise themselves from predators
(12/20/2007) California ground squirrels and rock squirrels chew up rattlesnake skin and smear it on their fur to mask their scent from predators, according to a new study by researchers at UC Davis. Barbara Clucas, a graduate student in animal behvaior at UC Davis, observed ground squirrels (Spermophilus beecheyi) and rock squirrels (Spermophilus variegates) applying snake scent to themselves by picking up pieces of shed snakeskin, chewing it and then licking their fur.
Snake uses trick to avoid poisoning from toxic frogs
(10/16/2007) An Australian snake employs a special feeding behvaior to avoid poisoning by toxic frogs, reports The American Naturalist.