A traditional Chinese medicine businessman has been sentenced to 12 years in prison for attempting to smuggler rhino horn from Vietnam to China, according to Saving Rhinos which has been following the case on ChinaCourt.org.
Last December, the Chinese suspect was arrested in Vietnam with two rhino horns worth over 100,000 US dollars. The suspect confessed to authorities to repeatedly smuggling rhino horns from Vietnam to China.
In court the suspect's defense argued that the rhino horn was for personal ailments and not for sale. However, the prosecution pointed out that the suspect had been a traditional Chinese medicine practitioner for over 10 years and had admitted previously to police to repeated smuggling.
In England an antiques dealer was recently sentenced to a year in jail for attempting to smuggle rhino horn out of the UK and into China. The horn had come from a rhino at the Essex Zoo whose head was stolen after dying from natural causes.
Although research has shown that rhino horn has no curative benefits, traditional Chinese medicine has been using ground-up rhino horn for centuries and is currently worth more than gold in weight. Combined with habitat loss, the illegal medicinal trade has pushed several species of rhinos to the very edge of extinction.
Rhino horn consumption recently made wider news after supermodel and host of Britain's Next Top Model, Elle Macpherson, said in an interview that she consumed powdered rhino horn, because "it works for me". She has since claimed that despite the statement, she had never knowingly taken a substance from an endangered species and her comments were merely "banter with an interviewer".
Related articles
Fighting poachers, going undercover, saving wildlife: all in a day's work for Arief Rubianto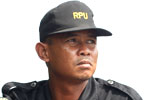 (09/29/2010) Arief Rubianto, the head of an anti-poaching squad on the Indonesian island of Sumatra best describes his daily life in this way: "like mission impossible". Don't believe me? Rubianto has fought with illegal loggers, exchanged gunfire with poachers, survived four days without food in the jungle, and even gone undercover—posing as a buyer of illegal wildlife products—to infiltrate a poaching operation. While many conservationists work from offices—sometimes thousands of miles away from the area they are striving to protect—Rubianto works on the ground (in the jungle, in flood rains, on rock faces, on unpredictable seas, and at all hours of the day), often risking his own life to save the incredibly unique and highly imperiled wildlife of Sumatra.
Already illegal, one man tests poisoning rhino horn too
(07/28/2010) Given the epidemic of rhino poaching across Africa and Asia, which has placed four out of five species in jeopardy of extinction, one fed-up game manager wants to take the fight beyond the poachers to the consumer. Ed Hern, owner of the Lion and Rhino Park near Johannesburg, told South Africa's The Times that he has begun working with a veterinarian on injecting poison into a rhino's horn to consumers. He told The Times that people who consumed poisoned rhino horn "would get very sick or die".
Elle MacPherson promotes consumption of illegal rhino horn [warning: graphic image]
(07/02/2010) Despite a number of scientific studies showing that rhino horn has no curative properties, supermodel, entrepreneur, and recent host of Britain's Next Top Model, Elle Macpherson, says she ingests powdered rhino horn because: '[it] works for me'. In an interview with The Sunday Times via Twitter, Elle Macpherson says the illegal substance tastes like 'crushed bone and fungus'.