BP, who was responsible for the US's worst environmental disaster to date, has been funneling thousands of dollars to politicians in the US known for denying the science of climate change according to the Guardian. A report by Climate Action Network Europe has found that a number of big European companies have been funding candidates such as James Inhofe from Oklahoma, who has called climate change a 'hoax' and compared environmentalists to the Third Reich.
Employing data from OpenSecrets.org the report found that 80 percent of funding from European companies, including BP, BASF, Bayer, and Solvay, went to candidates "who have been outspoken in their opposition to comprehensive climate policy in the US and candidates who actively deny the scientific consensus that climate change is happening and is caused by people."
In total the companies have funneled nearly a quarter million US dollars to climate change-denying candidates. At home these same companies have been arguing against stronger climate targets in Europe by saying that such actions should not occur until the US passes a climate bill.
For its part, BP has spent $18,000 on anti-climate change candidates.
Scientists overwhelmingly agree that the world is warming due to massive greenhouse gas emissions from human impacts, such as burning fossil fuels and deforestation. Among climate change impacts are rising sea levels, worsening and more frequent severe weather, melting glaciers, long-term droughts, and massive species extinction.
Related articles
Majority of Americans confused on climate change basics
(10/17/2010) Most Americans don't understand the basics of climate change, according to a new poll by researchers with Yale. The poll found that over half of Americans deserve an 'F' on basic understanding of climate science and climate change, while only 1% would receive an 'A'.
Citizens of 188 countries challenge leaders on climate change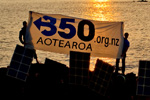 (10/11/2010) As world leaders continue to fumble a coherent, rapid, and comprehensive response to climate change, citizens from around the world yesterday sent a message to inert politicians by participating in over 7,300 events against climate change, according to 350.org, the head organizer of the day dubbed the 'Global Work Party'. "The fossil fuel industry may have thought that the collapse of the Copenhagen talks and its victory in the U.S. Congress were the final word—that people would give up in discouragement," said, Bill McKibben, founder of 350.org, so-called because 350 parts per millions (ppm) is the 'safe' amount of carbon in the atmosphere according to many scientists. Currently the concentration is around 390 ppm.
Obama science adviser wields evidence to undercut climate change denier
(10/04/2010) US President Barack Obama's science adviser, John Holdren, took on climate change deniers in a comprehensive, data-heavy speech last month at the Kavli Science Forum in Oslo, Norway. Proclaiming that "the earth is getting hotter", Holden went on to enumerate on the causes of climate change (human impacts) and its overall effect (not good), discussing at length the science that underpins the theory of climate change. For environmentalists and international officials frustrated with the US's slow pace on combating climate change—which is decades behind Europe's and many other nations'—Holdren touted that the Obama Administration had made progress on the issue and stated that the administration plans to pursue legislation again after a new congress is elected. However, given current predictions that Republicans will pick up seats in November, comprehensive climate and energy legislation seems unlikely since historically the majority of the GOP has been against tackling climate change.