Cheetah Conservation Fund (CCF)is supported in part by the Wildlife Conservation Network (WCN), an innovative group that uses a venture capital model to protect some of the world's most endangered species. WCN will be hosting Laurie Marker at its upcoming Wildlife Conservation Expo in San Francisco, California on October 3rd. Expo attendees will be able to meet Marker and learn more about CCF firsthand. The event, which is open to the public and costs $25-50 per person, also features other conservationists working to protect wildlife around the world.
Earlier this year, mongabay.com had the opportunity to interview world-renown conservationist Dr. Laurie Marker, Executive Director and Founder of the Namibia-based Cheetah Conservation Fund (CCF). Dr. Marker had just received the prestigious Tyler Prize for Environmental Achievement from the University of Southern California and was traveling throughout the US on one of her many international public relations tours.
Dr. Marker represents a new breed of "celebrity conservationists" those who find success by developing both field conservation programs and building strong media relations. Speaking with mongabay.com, Dr. Marker explains the level of dedication needed to build a successful conservation public relations campaign, providing her insights and perspective on the growing relationship between conservation and the media along the way.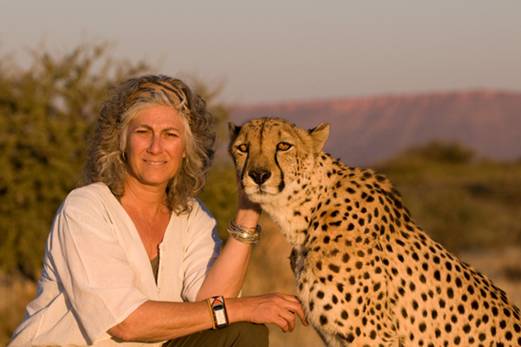 Dr Laurie Marker with "Chewbaaka" at CCF in Namibia. For more information on CCF.

Mongabay: Dr. Marker, please tell us about your recent visit to California and winning the Tyler Prize for Environmental Achievement.
Dr. Laurie Marker: I am over here in the United States in part because of the Tyler Prize and as part of an extended US goodwill tour for CCF. Every tour I take is different. A major issue at the start of this trip was that I could not travel from Africa to the United States through Europe (as usual) because of the aviation problems caused by ash and debris from the volcano in Iceland. I think this is really interesting and amazing. Here, we (humanity) think that we have such a level control over the world and it's humbling when the world shows us some limitations.
The environment goes on its own schedule and does not change to accommodate our wishes. Most animal species tend to be limited by and to their specific environments. However, as people, we have great ability to change: we can change planes, directions, the course, and our relationship with the environment. Coming from the Southern Hemisphere (Namibia), I had to travel through Brazil for this visit to America. For me, "changing course" offered some valuable perspectives on our true relationship with nature, which I hope to share with others during this goodwill tour.
The Tyler Prize for Environmental Achievement: The Tyler Prize for Environmental Achievement is an award for environmental science, environmental health, and energy that confers great benefit upon mankind. Through their work, Tyler Laureates have focused worldwide attention on environmental problems and the solutions that have resulted from their discoveries.
Tyler Laureates receive a $200,000 annual prize and are presented a gold medallion at ceremonies in Los Angeles. The Tyler Prize was established by the late John and Alice Tyler in 1973 and is administered by the University of Southern California. Dr. Marker and CCF were chosen this year as recipients of the Tyler Prize in recognition of her team's work in the development of "Bushblok Fuel Logs", a solutions-based program for the management of bush thorn, which, when growing unchecked, impacts the viability of cheetah habitats in Namibia. For further information, see: Bush Project.
Mongabay: Tell us about your travel schedule over the past year for CCF.
Dr. Laurie Marker: I travel a lot, and when on the road, I usually spend just two to three days in any given city. I visit the United States and Europe at least annually, and I also travel throughout Africa for my research work with the various cheetah populations (and related wildlife work) across the continent.
I typically travel three to four months a year. Travel plays an important role in public awareness and is necessary for the "friend building" that we at CCF need to let people across the globe know about our work with cheetahs.
Dr. Marker's 2010 U.S Spring Tour (5-week time period) – April 21 – May 29, 2010
Twelve States, including Arizona, California, Washington, Texas, Georgia, Indiana, etc.
Nineteen U.S. Cities, including Tucson, Phoenix, Los Angeles, Sacramento, San Diego, Seattle, Indianapolis, Dallas, Washington DC, etc.
Seventeen PR& Media Interviews and Twenty-One events, lectures, dinners, etc.


Other Well Known Conservationists in the Media Spotlight include: Dr Ian Douglas Hamilton of Save the Elephants; Jeff Corwin, CCF Trustee, photo Courtesy of Discovery Channel; and Dr Jane Goodall, Photo Courtesy of the Jane Goodall Institute.

Mongabay: CCF has worked to help save the cheetah for over 20 years, and your successful work with this species has drawn considerable media attention. How has the relationship between the media and conservation changed in this time period?
Dr. Laurie Marker: I think the media has become quite interested in conservation as the field offers good stories to tell, and the media has helped link people together in the cause of conservation on a global basis. The media plays a pivotal role in conservation, and what I hope to continue seeing is the development of media stories that are solutions based. Not just natural history: "how beautiful are these animals …and isn't it a shame that we are losing them," but rather stories of how we can develop solutions to safeguard our planet's natural resources. And real conservation messages are coming through increasingly in the form of people stories about the individuals working with embattled wildlife. Twenty years ago the media really didn't want to talk about the human factor in conservation, either that of conservationists trying to save wildlife or the threats from human pressures that many species face.
The work that we deal with at CCF in protecting cheetahs really revolves around human-based issues. The problems facing cheetahs and the solutions needed to save the species are going to come from direct human involvement.
Mongabay: How have media groups like the Discovery Channel or the Discovery Channel Animal Planet changed media demands on successful conservation public relations work?
| | |
| --- | --- |
| | Cheetahs in Namibia. |
Dr. Laurie Marker:In the years that we have worked with groups like the Discovery Channel, the producers of their programs have been more action oriented than interested in basic conservation stories. In past productions, the producers would like to see the darting of an animal, putting a radio collar on it, tracking it, etc. –all action items. A lot of this type of work has been done in the field for quite some time and, in my opinion, the real story to now tell is of workable conservation solutions. We have studied some wild species for years (like my group with cheetahs) and study in and of itself is not solutions-based but rather a baseline to be able to carry successful conservation work forward.
The world, or at least the developed world, lives at a fast pace, and the media is still looking for these quick, fast-paced stories and action items for their audience. The media challenge for the field conservationist is to offer compelling stories that entertain, educate, and point the way for solutions.
Mongabay: Cheetahs are obviously a very charismatic species, one that lends itself well to media attention. In your opinion, what is the best way to work with species that have less star appeal, but are nevertheless equally endangered?
Dr. Laurie Marker:I would link less charismatic species to those that generate stronger public attention or star appeal. The true work in conservation is going to be to preserve entire ecosystems, and in most endangered habitats, there is going to be a key or driver species. Work to protect a driver species should result in the protection of an entire ecosystem and, if we get it right, we should have healthy systems that link all the various species and components.
Taking this concept further, I believe that we in the field of conservation need to find ways to further link conservation issues into the public's daily lives, by putting conservation messaging on food, clothing, household products, etc., through certification programs, encouraging price premiums for products that support conservation, and, in general, developing media messaging that shows how we, the public, are a vital link in the global conservation story.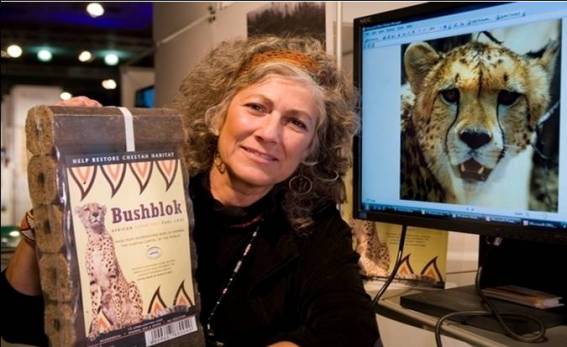 Dr. Laurie Marker.

Hear Dr Marker Speak at the Annual Wildlife Conservation Network Expo
Wildlife Conservation Expo Day
SUNDAY, October 3rd, 2010 – New Day for 2010!
10am-6pm
Mission Bay Conference Center
San Francisco, CA
Dr Marker's Lecture is at 10am
Mongabay: In conclusion, please tell us about your future travels and plans for CCF during the upcoming year?
Dr. Laurie Marker: Next week, after weeks of travel, I get to go to home to Namibia for a few weeks. Then, the travel starts again in the summer as I am back in Europe (England, Holland, Germany, France, Italy, etc.) then again to the United States in the fall of this year. While in the U.S., I usually visit 22 to 25 cities in a three-to-four week period (East Coast, West Coast, North, South, and the middle of the country). It's a lot of work these days getting on and off planes, and I must admit that extensive airline travel it is not the part of the job that I find compelling. But it is well worth it to meet the people who are our valued supporters and to encourage a broader conservation message as well.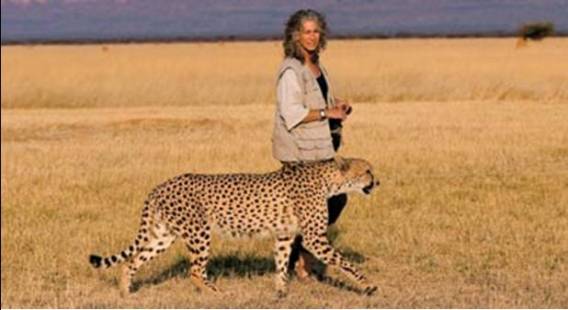 'On the Road for Cheetahs and the Wild Species that Share Their World' – Dr Laurie Marker and Friend in Namibia. For more information on CCF.
Related articles
India hopes to reintroduce cheetah 60 years after extinction
(07/09/2009) India hopes to reintroduce the world's fastest land animal some 60 years after it went extinct in the country, reports The Independent. India's Environment Minister Jairam Ramesh said the government has commissioned a study to determine whether it is possible to reintroduce the cheetah into India by importing pairs from Namibia.
Photos: Rarest cheetah photographed for the first time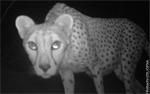 (02/23/2009) With only 250 individuals left the Saharan Cheetah is on the brink of extinction. Little-studied, this imperiled subspecies has been photographed for the fist time by scientists from by the Zoological Society of London (ZSL) and Office du Parc National de l'Ahaggar (OPNA) using camera traps. "The Saharan cheetah is critically endangered, yet virtually nothing is known about the population, so this new evidence, and the ongoing research work, is hugely significant," said Dr Sarah Durant, a Senior Research Fellow with ZSL.
Cheetah conservationist awarded for renewable energy product that helps wildlife
(11/14/2008) Dr. Laurie Marker, founder and Executive Director of the Cheetah Conservation Fund (CCF), has been awarded $50,000 by the Tech Museum of Innovation for her organization's Bushblok program which uses a high-pressure extrusion process to convert invasive, habitat-destroying bush into a clean-burning fuel log. Bushblok provides an alternative to products such as firewood, coal, lump charcoal and charcoal briquettes that are costly or result in environmental harm.
(12/30/2008) The discovery of a fossilized big cat skull in northwestern China provides new evidence that cheetah originated in the Old World, rather than the Americas, report scientists writing in the journal Proceedings of the National Academy of Sciences.
Cheetah population stabilizes in Namibia with support from farmers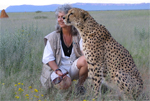 (10/02/2008) Viewing the world's fastest land animal as a threat to their livestock, in the 1980s farmers killed half of Namibia's cheetah population. The trend continued into the early 1990s, when the population was diminished again by nearly half, leaving less than 2,500 cheetah in the southern African country. Today cheetah populations have stabilized due, in large part, to the efforts of the Cheetah Conservation Fund, an organization founded by Dr. Laurie Marker.
Cheetah population declines 90% in 100 years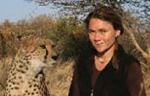 (09/30/2008) The planet's fastest land animal is falling behind in its race for survival against habitat encroachment, loss of prey, the illegal wildlife trade, and disease. Once found widely across the African continent to Kazakhstan in the north to Burma in the East, the cheetah has seen a dramatic reduction of its range and numbers in recent centuries as livestock holders have relentlessly killed off the cat as a threat to their livelihoods. Today the cheetah clings to strongholds in only a few African nations. Among these is the southern African country of Botswana, which harbors large expanses of prime cheetah habitat. Still even in Bostwana, the cheetah faces challenges.