The European Parliament today voted overwhelming to bar illegally logged timber from E.U. markets.
The legislation, which passed 644-25, will require all companies selling timber products in the E.U. to prove their wood is legally sourced. Companies that fail to demonstrate credible sourcing practices will be subject to fines.
The rules will go into effect in 2012, but paper products will be exempted for five years.
The legislation was supported by domestic timber producers and foreign exporters whose margins have been eroded by sales of illegal timber, which is usually less expensive than legal timber. The U.S. recently enacted a similar measure: the Lacey Act.
| | |
| --- | --- |
| | Oil palm development for palm oil production in Sumatra, Indonesia |
Green groups, which have long pushed for tighter controls on the timber trade, welcomed the move.
"This is a very important piece of legislation," said Faith Doherty, a campaigner with the Environmental Investigation Agency (EIA), who as a member of Indonesian NGO Telapak was kidnapped, beaten and threatened with death in January 2000 while investigating
illegal logging in central Kalimantan. "By having this law, Europe is taking responsibility for a huge market that has driven the demand for cheap tropical timber."
"This law hangs up a 'closed for business' sign to a destructive market," added Greenpeace EU forest policy director, Sébastien Risso, in a statement. "It promises to level the playing field so legitimate companies and customers are better able to act sustainably."
20 percent of timber imported to Europe — worth $1.1 billion — is estimated to come from illicit sources.
Related articles
Rainforest slaughter continues in Madagascar despite "ban" on timber exports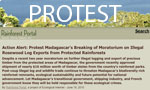 (06/21/2010) New eyewitness reports indicate continued logging of Madagascar's Masoala National Park for rosewood despite a government "moratorium" on logging and timber exports. A source near Marofinaritra, a town between Masoala and Antalaha, reports heavy night-time movement of trucks carrying illegally logged timber from the park. The wood is believed to be destined for Antalaha, a regional hub for the rosewood trade.
French company to break moratorium on shipments of illegally logged rosewood from Madagascar
(06/03/2010) SEAL, a French transport company, is scheduled to ship 79 containers of rosewood tomorrow from the port of Toamasina on its vessel Terra Bona, reports Midi Madagascar. The shipment comes less than three months after Madagascar's ruling authority banned timber exports after international uproar over the organized logging of the country's national parks in the aftermath of last year's military coup. SEAL's shipment of timber will be in direct violation of the moratorium.
International alliance created to help corporations avoid illegal wood
(06/01/2010) Given the complexities of the global wood trade and the difficulty of deciphering a product's source of wood, the World Resources Institute (WRI), the Environmental Investigation Agency (EIA-US and the US Agency for International Development (USAID) have banded together to create a global initiative, the Forest Legality Alliance, to aid private corporations to reduce the trade in illegal wood. The alliance's formation comes after the US amended the Lacey Act in 2008 to ban the trade of illegal wood products in the US.
Cameroon agrees to cut illegal wood out of its supply chain
(05/10/2010) One of Africa's largest exporters of tropical hardwoods, Cameroon, has announced today a trade agreement with the European Union (EU) to rid all illegal wood from its supply chain to the EU and worldwide. Cameroon signed a legally-binding Voluntary Partnership Agreement (VPA) that will cover all wood products produced in Cameroon.
US gun, guitar, and furniture-manufactures must declare basic information about wood sources
(03/31/2010) In May of last year federal agents raided Gibson Guitar headquarters in Nashville, Tennessee after they received information that the guitar-giant was using illegally logged rosewood from Madagascar in the construction of their musical instruments. The scandal forced Gibson's CEO to take a leave of absence as a member of Rainforest Alliance.
Asia's biggest logging company accused of bribery, violence in Papua New Guinea
(02/08/2010) A local organization in Papua New Guinea, known as Asples Madang, is fighting against one of the region's biggest industrial loggers, Rimbunan Hijau (RH) chaired by billionare Tiong Hiew King. Aspeles Madang has accused Malaysian company, RH, of acquiring land illegally and of using brute force and bribery in its dealing with locals.
Satellites being used to track illegal logging, rosewood trafficking in Madagascar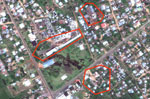 (01/28/2010) Analysts in Europe and the United States are using high resolution satellite imagery to identify and track shipments of timber illegally logged from rainforest parks in Madagascar. The images could be used to help prosecute traders involved in trafficking and put pressure on companies using rosewood from Madagascar.
Dispelling myths about the US Lacey Act
(01/21/2010) The Environmental Investigation Agency (EIA) has released a document to dispel common myths related to the 2008 amendment to the Lacey Act, which makes it possible for the United States to support efforts to combat illegal logging both abroad and at home.
Gibson Guitar under federal investigation for alleged use of illegal rainforest timber from Madagascar
(11/19/2009) Federal agents from the U.S. Fish and Wildlife Service raided Gibson Guitar's factory Tuesday afternoon, due to concerns that the company had been using illegally harvested wood from Madagascar, reports the Nashville Post.