The U.N. will appoint an independent board of scientists to review the Intergovernmental Panel on Climate Change (IPCC), the embattled U.N. climate body charged with evaluating the risk of climate change caused by human activity, reports Reuters.
The IPCC has been under fire from critics and supporters alike for its sloppy work in its latest assessment. The report, released in 2007, made inaccurate statements on the condition of Himalayan glaciers, the extent of the Netherlands that face flooding risk from rising seas, and agriculture in Africa. The mistakes — combined with a scandal involving leaked emails from the Climatic Research Unit at the University of East Anglia — has shaken public support for action on climate change.
The independent board will be part of a broader review of the IPPC that may prohibit the use of so-called "grey literature" — research not published in peer-reviewed journals — in reports. However Achim Steiner, executive director of UNEP, told reporters on Monday at a climate change meeting in Bali, Indonesia that he did not support such a ban.
Related articles
James Inhofe is not a climatologist: a journalist's perspective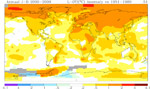 (02/25/2010) As a child when I came down with pneumonia my parents did not rush me to see a policeman, a cattle rancher, or a local businessman. Instead they took me to see a medical doctor—someone who had studied that science for at least twelve years—and I was quickly given injections and put on antibiotics. Thanks to my parents' ability to tell the difference between experts and non-experts, I survived.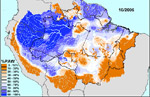 (02/03/2010) A claim published in the Sunday Times over the veracity of a statement published in an Intergovernmental Panel on Climate Change (IPCC) report may land the British newspaper in hot water. On Sunday, Jonathan Leake, Science & Environment Editor of the Sunday Times, accused the IPCC of making a "bogus rainforest claim" when it cited a report warning that up to 40 percent of the Amazon could be "drastically" affected by climate change. Climate change skeptics immediately seized on "Amazongate" as further evidence to discredit the IPCC just two weeks after it was found to be using shoddy glacier data in its 2007 climate assessment.