Last Friday, the government of Canada and the governments of the provinces of Newfoundland and Labrador signed a memorandum of understanding to create a the new Mealy Mountains National Park. Larger than Yellowstone National Park, the new Canadian park will span 11,000 square kilometers making it the largest protected area in Eastern Canada.
The park is home to woodland caribou, moose, black bear, osprey, bald eagles, brook trout, and a rare population of Harlequin ducks.
"As we enter into the International Year of Biodiversity, it is fitting that we are working to establish a
national park to protect this spectacular boreal landscape for all time for all Canadians," said Canada's
Environment Minister, Jim Prentice, in announcing the creation of the park.
Executive Secretary of the Convention on Biological Diversity, Ahmed Djoghlaf, said "this decision, taken by the host country of the Convention's Secretariat is of the greatest political significance and a befitting launch of the 2010 International Year of Biodiversity," adding that "the creation of this new protected area is a firm foundation towards achieving the post-2010 biodiversity target, and the effective implementation of the Convention's programs of work on protected areas and mountain biological diversity."
The park will allow traditional use for indigenous people living in the area, such as hunting, trapping, fishing, and chopping firewood for personal use. But no new developments will be allowed.
Conservationists were elated by the news. Many groups have been pushing for this designation since 2001.
"This announcement sets an important precedent for parks in Canada," said Larry Innes, director of the Canadian Boreal Initiative. "This is not a remote, off-limits park; this is a new approach to conservation, that incorporates traditional uses and celebrates Labrador's rich and diverse cultural heritage, while securing ecological values."
Plans are also in place to add a waterways park to Mealy Mountain National Park adding another 2,000 square kilometers to the protected area.
Related articles
New report: boreal forests contain more carbon than tropical forest per hectare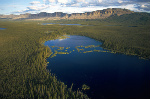 (11/12/2009) A new report states that boreal forests store nearly twice as much carbon as tropical forests per hectare: a fact which researchers say should make the conservation of boreal forests as important as tropical in climate change negotiations. The report from the Canadian Boreal Initiative and the Boreal Songbird Initiative, entitled "The Carbon the World Forgot", estimates that the boreal forest—which survives in massive swathes across Alaska, Canada, Northern Europe, and Russia—stores 22 percent of all carbon on the earth's land surface. According to the study the boreal contains 703 gigatons of carbon, while the world's tropical forests contain 375 gigatons.
500 scientists call on Quebec to keep its promise to conserve half of its boreal forest
(09/13/2009) This March, the Canadian province of Quebec pledged to conserve 50 percent of its boreal forest lying north of the 49th parallel, protecting the region from industrial, mining, and energy development. On Thursday 500 scientists and conservation professionals—65 percent of whom have PhDs—sent a letter to Quebec's Premier Jean Charest calling on him to make good on his promise.
b>Sears catalogue continues to harm boreal forest and caribou
(08/17/2009) Sears Holding Company, most known for their ubiquitous catalogues, continues to stall on releasing a more environmental paper policy, according to the nonprofit environmental organization ForestEthics. Sears' long delay to implement a more forest-friendly policy is adding pressure to already threatened caribou populations and deforesting forests in Canada, where the company sources much of its paper.
Boreal forests in wealthy countries being rapidly destroyed
(08/12/2009) Boreal forests in some of the world's wealthiest countries are being rapidly destroyed by human activities — including mining, logging, and purposely-set fires — report researchers writing in Trends in Ecology and Evolution.
Caribou and reindeer population plunges 60 percent in three decades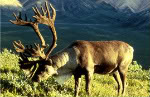 (06/14/2009) The first ever comprehensive survey of caribou worldwide (known as reindeer in Europe) has found that the species has suffered a staggering decline. Researchers from the University of Alberta discovered that the caribou population has fallen 60 percent in half as many years. The study published in Global Change Biology points to global warming and industrial development as the reasons behind the decline.
Boreal forest fires important source of emissions
(10/31/2007) Forest fires in the boreal forests of Canada are an important source of greenhouse gas emissions reports a new study published in the journal Nature.
Canada's boreal forest must be saved
(05/14/2007) At a conference Monday, 1500 prominent scientists called for protection of Canada's boreal forest, one of the largest intact forest and wetland ecosystems remaining on the planet.
Canada pledges $30 million for Great Bear Rainforest
(01/22/2007) Canada announced a $30 million plan to protect the Great Bear Rainforest, a 16-million-acre temperate rainforest on British Columbia's Pacific coast. The forest is the largest intact temperate rainforest left on Earth and is home to the 290-foot (90 meter) tall Sitka spruce, black bears, grizzlies and eagles.
Boreal forests worth $250 billion per year worldwide
(09/25/2006) Boreal forests provide services worth $250 billion per year globally according to estimates by Canadian researchers. Mark Anielski, an Edmonton economist, says that environmental services from the boreal — including carbon capture and storage, water filtration and waste treatment, biodiversity maintenance, and pest control — are worth about $160 per hectare, or $93 billion per year in Canada alone.
Carbon in Canada's boreal forest worth $3.7 trillion
(11/25/2005) Carbon stored in Canada's boreal forests and peatlands is worth $3.7 trillion according to research by the Pembina Institute for the Canadian Boreal Initiative.