Rescued in early October from a poacher's snare, a Malayan tiger has died from stress and infection due to its injuries. The 120 kilogram (264 pound) male tiger died on October 19th in the Malacca Zoo after undergoing surgery to amputate its right foreleg, which two weeks before had been caught in a poacher's snare and severely injured.
"It broke my heart as I was there during the rescue. Everyone had such high hopes of the tiger being released back into the wild after its treatment at the zoo, and no one spoke of the in-betweens," says WWF-Malaysia Species Communications Officer, Sara Sukor.
| | |
| --- | --- |
| | Top: cutting the tiger loose. Bottom: readying the animal for transport. Photos by WWF-Malaysia. |
The tiger was found on October 4th in the Belum-Temengor forest by WWF's Wildlife Protection Unit. WWF's anti-poaching team called in officials from the Department of Wildlife and National Parks (PERHILITAN) who freed the tiger from the snare. The animal was then transported to Malacca Zoo for treatment. It was decided that the right foreleg had to be amputated.
Sukor says that this incident highlights the need for Malaysia to bring in more resources to fight the illegal wildlife trade, which has decimated species across Southeast Asia.
"The government really needs to set up a task force to tackle rampant wildlife crime," Sukor says. "Stopping armed poachers is dangerous and difficult work that needs the support of many agencies. Therefore, we are calling for additional government agencies to join the fight in Belum-Temengor to stamp out poaching and cross-border encroachment."
Malaysia has set up a National Tiger Action Plan to double its number of animals within 10 years, but it is questionable how this will be achieved if poaching continues. An estimated 500 Malayan tigers (Panthera tigris jacksoni) survive on peninsular Malaysia: an 83 percent drop from a population estimate conducted in the 1950s.
"My commitment to help save tigers is even stronger now, as this incident clearly shows that we have to do more in order to eliminate the real reason that the tiger died – poaching," Sukor said.
No suspects have been charged or caught in the poaching of this tiger.
Updated video of the rescue, courtesy of WWF-Malaysia:
Related articles
Malayan tiger rescued from poacher's snare proves need for increased enforcement

(10/13/2009) Last week a Malayan tiger (Panthera tigris jacksoni) was found with its front right paw caught in a snare set by poachers. World Wildlife Fund's (WWF) Wildlife Protection Unit discovered the snared tiger in the Belum-Temengor forest, a wildlife-rich reserve that has become a hotspot for poaching. After finding the wounded tiger the anti-poaching team called in officials from the Department of Wildlife and National Parks (PERHILITAN) who freed the great cat. The animal was then transported to Malacca Zoo for treatment.
Saving the last megafauna of Malaysia, an interview with Reuben Clements

(09/15/2009) Reuben Clements has achieved one success after another since graduating from the National University of Singapore. Currently working in peninsular Malaysia, he manages conservation programs for the Endangered Malayan tiger and the Critically Endangered Sumatran Rhino with World Wildlife Fund. At the same time he has discovered three new species of microsnails, one of which was named in the top ten new species of 2008 (a BIG achievement for a snail) due to its peculiar shell which has four different coiling axes. ie7uhig
Tiger brutally killed in zoo, body parts taken to sell for Chinese medicine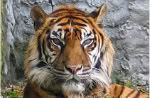 (08/25/2009) Poachers broke into the Jambi Zoo on Saturday morning in Indonesia. Using meat they drugged a female Sumatran tiger named Sheila and then skinned her in the cage. They left behind very little of the great cat: just her intestines and a few ribs. Authorities suspect that the tiger's body parts will be sold in the thriving black market for Chinese medicines where bones are used as pain killers and aphrodisiacs.