The Madagascar pochard, the world's rarest duck, was already thought to be extinct once. After a last sighting in 1991 the species was thought to have vanished until nine adults and four hatchlings were discovered in 2006. However, conservationists have begun to fear that the species will never recover after a survey this year found only six females.
In addition, the survey conducted by the Durrell Wildlife Trust, the Wildfowl and Wetlands Trust (WWT), and The Peregrine Fund (TPF) found that no young of the Critically Endangered species had survived from the previous year.
"The window of opportunity to save the species from extinction is incredibly small, and we must all muster the energy and resources necessary to stop another species from becoming extinct," said Durrell's Project Leader, Dr. Glyn Young.
A new recovery plan has been established to hold remaining ducks in secure conditions in a facility set to be finished in 2010. In addition, scientists are looking at potential lakes for reintroduction of the species.
"The original plan was to take the first batch of eggs in 2010 but, following the expedition, discussions are underway to see if the timetable can be brought forward to this year's breeding season, which would see the team return to the lake in October," WWT's Aviculture Manager, Nigel Jarrett, said. "Once we have secured eggs from the wild, WWT's and Durrell's extensive experience of rearing endangered wildfowl, at Slimbridge and Jersey, will be used to breed the birds at a purpose-built facility in Madagascar. This will act as a 'safety net', greatly reducing the immediate risk of extinction. Within three years, the hope is to at least double the total numbers of pochards. In time, these will be released into the wild on suitable sites."
Related articles
Priorities in global bird conservation 'misplaced'
(08/10/2009) Bird conservation is misplacing its priorities by focusing on non-threatened bird species in developed countries, rather than threatened species from tropical nations, report researchers writing in Tropical Conservation Science.
Lear's Macaw: back from the brink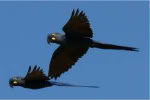 (06/09/2009) The 2009 IUCN Red List for birds broke records by listing more Critically Endangered birds than ever before. Despite this, there were individual species that bucked the global trend: Lear's Macaw Anodorhynchus leari, a bright blue parrot from northeastern Brazil, was one of these. Due to effective conservation measures the parrot's population has reached nearly a thousand birds (up from a low of just a hundred individuals in 1989), and therefore was moved down the list, from Critically Endangered to Endangered.
Updated Red-List: 192 birds are Critically-Endangered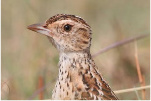 (05/14/2009) In this year's updated IUCN Red List on birds, six species were down-listed from Critically Endangered to Endangered, but eight species were up-listed to Critically Endangered, leading to the highest number of Critically Endangered birds ever on the list. In all 1,227 bird species (12 percent) are currently considered threatened with global extinction.