The conservation group, Birdlife International, has called on birders around the world to keep an eye out for birds classified—some over a centruy ago—as extinct.
"History has shown us that we shouldn't give up on species that are feared to have gone to their graves because some, such as Cebu Flowerpecker, have been rediscovered long after they were feared extinct, providing hope for the continued survival of other 'long-lost' species. Cebu Flowerpecker, of the Philippines, was only rediscovered at the eleventh hour just before the last remnants of its forest home were destroyed," said Dr. Marco Lambertini, BirdLife International's chief executive.
The organization wants to confirm whether or not 47 species of birds have actually disappeared from the face of the earth. Some of the species haven't been seen in 184 years. Since 1600, 133 bird species have gone extinct, such as the dodo, the great auk, and the passenger pigeon. However, Birdlife Internation is focusing on 47 speces that appear to have a chance to still exist.
"The mention of species such as Ivory-billed Woodpecker, Jamaican Petrel, Hooded Seedeater, Himalayan Quail, and Pink-headed Duck will set scientists' pulses racing. Some of these species haven't been seen by any living person, but birdwatchers around the world still dream of rediscovering these long lost ghosts," Lambertini said.
The announcement was made at the 21st British Birdwatching Fair in Rutland Water. Attracting over 20,000 birders, the funds from the event will go to Birdlife International's Preventing Extinctions Program.
The Cebu Flowerpecker was chosen as the emblem for the fair. The Critically-Endangered bird has recently received funding from the Philippines Tourism Board to implement a conservation plan through Birdlife International's Preventing Extinctions program, which works to save the world's birds listed as Critically Endangered by the IUCN. Currently 192 birds are considered Critically Endangered.
"The extinction crisis is gathering momentum, but that's no excuse for humanity to allow even more strands from the web of life to disappear, especially without giving them a final chance of life," Lambertini said.
Birdlife International is asking birders to look for these species (some species are listed twice due to migration patterns):
By Region:
Africa: Alaotra Grebe; Archer's Lark; Liberian Greenbul; and Slender-billed Curlew.
Asia: Banggai Crow; Blue-fronted Lorikeet; Crested Shelduck; Himalayan Quail; Javan Lapwing; Negros Fruit-dove; Pink-headed Duck; Rueck's Blue-flycatcher; Siau Scops-owl; Silvery Wood-pigeon; Slender-billed Curlew; Sulu Bleeding-heart; and White-eyed River-martin.
Australasia: Beck's Petrel; Makira Moorhen; New Caledonian Lorikeet; New Caledonian Owlet-nightjar; New Caledonian Rail; and Night Parrot.
Caribbean: Bachman's Warbler; Ivory-billed Woodpecker; Jamaica Petrel; Jamaican Pauraque; and Semper's Warbler.
Central America: Guadalupe Storm-petrel and Imperial Woodpecker.
Europe: Slender-billed curlew.
North America: Bachman's Warbler; Eskimo Curlew; Ivory-billed Woodpecker; Nukupuu (Hawaii); Oahu Alauahio (Hawaii); Olomao (Hawaii); Ou (Hawaii); and Poo-uli (Hawaii).
Oceania: Nukupuu; Oahu Alauahio; Olomao; Ou; Pohnpei Starling; Poo-uli; Red-throated Lorikeet; and Samoan Moorhen.
South America: Antioquia Brush-finch; Blue-eyed Ground-dove; Eskimo Curlew; Glaucous Macaw; Hooded Seedeater; Kinglet Calyptura; Rio de Janeiro Antwren; Spix's Macaw; Tachira Antpitta; and Turquoise-throated Puffleg.
Related articles
Priorities in global bird conservation 'misplaced'
(08/10/2009) Bird conservation is misplacing its priorities by focusing on non-threatened bird species in developed countries, rather than threatened species from tropical nations, report researchers writing in Tropical Conservation Science.
Birdwatching contributes $36 billion annually to U.S. economy
(07/15/2009) One fifth of Americans are birdwatchers, according to a report released today by the U.S. Fish and Wildlife Service.
Updated Red-List: 192 birds are Critically-Endangered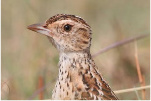 (05/14/2009) In this year's updated IUCN Red List on birds, six species were down-listed from Critically Endangered to Endangered, but eight species were up-listed to Critically Endangered, leading to the highest number of Critically Endangered birds ever on the list. In all 1,227 bird species (12 percent) are currently considered threatened with global extinction.