Brazil's Environment Minister Carlos Minc accused other government agencies of working to undermine environmental laws in favor of Amazon development projects, report Reuters and the Associated Press. His charge comes a year after his predecessor, Senator Marina Silva, resigned due to the same opposition from development interests.
After a meeting with President Luiz Inacio Lula da Silva on Thursday last week, Minc told reporters that government ministers "are going behind his back to Congress, 'each with their little hatchets, pushing amendments that tear to pieces and disfigure environmental legislation,'" according to the AP.
"I explained to President Lula that the (environment) ministry is under attack," he was quoted as saying by Reuters. "The environment is being attacked by Congress and society."
| | |
| --- | --- |
| | Rainforest, soy fields, and cattle pasture in the Brazilian Amazon |
Minc said that the paving of the BR-319 highway which runs through the heart of the Amazon from Manaus and Porto Velho would be an "environmental disaster."
"BR-319 crosses the heart of the best preserved parts of the Amazon, and with the announcement of its reconstruction, deforestation accelerated," he was quoted as saying by the AP.
Minc also complained about proposed changes to forestry regulations that would relax environmental safeguards including allowing landholders to convert more of their land for agriculture and cattle pasture and reducing the requirement to reforest some deforested areas.
| | |
| --- | --- |
| | Click image to enlarge |
Minc has taken an active role in battling Amazon deforestation, reducing credit access to illegal loggers and ranchers, seizing agricultural products and cattle produced on illegally deforested lands, and pushing for new protected areas. His efforts have angered powerful development interests and at times have put his at odds with President Lula, who is promoting new road and hydroelectric projects. Still Minc told reporters that Lula supported him on "six of the eight issues he raised, including a ban on sugar cane planting in the Pantanal," according to Reuters.
Last year President Lula unveiled an ambitious program to reduce Amazon deforestation by 70 percent from a 1996-2005 baseline, although bulk of the cuts are targeted for after he leaves office. Lula hopes to finance the $21 billion plan by soliciting donations from industrialized countries. To date only Norway has committed funds.
Brazil moves closer to legitimizing illegal land-grab in the Amazon
(05/17/2009) Brazil moved a step closer to approving a controversial law that would grant land title to 300,000 properties illegally established across some 600,000 square kilometers (230,000 square miles) of protected Amazon forest, reports AFP. The move may improve governance in otherwise lawless areas, but could carry a steep environmental cost without safeguards.
New legislation in Brazil opens up road-paving across country, threatening Amazon
(04/21/2009) Brazil's Chamber of Deputies has approved a measure that would speed up paving roads across the country, including paving a road that environmentalists have long-fought, BR-319. Environmental groups across the nation have warned of widespread deforestation if the measure passes the Senate and is signed by the president.
Brazil could triple agricultural output without touching the Amazon rainforest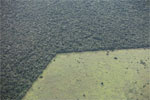 (04/15/2009) Brazil could triple its agricultural without the needing to clear additional rainforest in the Amazon Basin, Roberto Mangabeira Unger, Brazil's Minister of Strategic Affairs, told Bloomberg in an interview. The argument that Brazil can expand its agricultural production without harming the Amazon is a mantra among Brazilian officials. The country has vast tracts of pasture and agricultural land that are being underutilized or have been abandoned, but rapidly appreciating land prices, coupled with poor governance and inconsistent enforcement of environmental laws, means that it is often more profitable to clear new forest land than to rehabilitate pasture.
Brazil: 'Soy King', Environment Minister strike deal on Amazon deforestation
(04/02/2009) Meeting at the Katoomba payments-for-ecosystem-services conference in Cuiaba, Brazil, Carlos Minc, Brazil's Environment Minister, and Blairo Maggi, Governor of the State of Mato Grosso and the world's largest individual soy grower, put aside their ideological differences and agreed to grant a temporary reprieve for ranchers and farmers in the Amazonian state, allowing them up to four years to reforest their holdings to bring them up to legal code. Under Brazilian law landowners in the "legal Amazon" are required to maintain 80 percent forest cover on their holdings, but in practice, the regulation is widely ignored.
Land rights victory for Amazon Indians in Brazil
(03/20/2009) In what is being hailed as a victory for indigenous groups in the Brazilian Amazon, Brazil's Supreme Court sided with Indians from the Raposa Serra do Sol reservation in a 30-year land dispute with large-scale farmers in the northern state of Roraima, near the border with Venezuela, reports the Associated Press.
Brazil to boost spending on infrastructure to counter economic crisis
(02/05/2009) Brazil will increase spending on infrastructure projects by 28 percent to in response to the global financial crisis, reports Bloomberg.
Lula pledges big cuts in Amazon deforestation — after he leaves office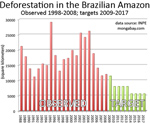 (12/12/2008) Last week Brazil unveiled plans to cut deforestation substantially from a 1996-2005 baseline of 19,533 squaure kilometers per year. The announcement met a mixed response from conservationists. Some applauded the decision to set hard targets for reducing deforestation, others say the targets were too low and that the country should aim for zero net deforestation by 2015. Nevertheless as more details have emerged, it becomes clear that the onus for reining in deforestation falls on Brazilian President Luiz Inacio Lula da Silva's successor.
Agricultural firms cut incentives for Amazon deforestation
(12/02/2008) As grain prices plummet and concerns over cash mount, agricultural giants are cutting loans to Brazilian farmers, reports the Wall Street Journal. Tighter farm credit may be contributing to a recent slowing in deforestation in the Brazilian Amazon, where agriculture is an increasingly important driver of forest clearing.
Slowing global economy will reduce Amazon deforestation
(10/08/2008) The global financial crisis will likely slow forest clearing in the Amazon rainforest, said Brazil's environment minister. Falling commodity prices combined with tighter credit and increased aversion to risk will undermine the economics of activities — including logging and agricultural expansion — that are key drivers of deforestation in the Brazilian Amazon. Forest clearing in the region has shown an increasingly tight correlation to beef and soy prices in recent years. Both products are produced on cleared rainforest lands.
Anti-NGO rhetoric in Brazil a response to environmental criticism says environment minister
(10/08/2008) Accusations against foreign environmental groups operating in the Brazilian Amazon are "exaggerated" to deflect criticism on high deforestation rates in the region said Brazil's environment minister at a summit in Brasilia.
Brazilian government is biggest destroyer of the Amazon rainforest
(09/30/2008) A Brazilian government agency changed with land distribution to the poor is the largest driver of deforestation since 2005, according to the country's environmental ministry.