Evolution is often thought of being a slow-process, taking thousands, if not millions, of years. However a new study in The American Naturalist found that Trinidadian guppies underwent evolution in just eight years, or thirty generations.
Less than a decade ago Swanne Gordon, a graduate student at UC Riverside, and her team introduced Trinidadian guppies into the Damier River in the Caribbean island of Trinidad. They placed the guppies above a waterfall to allow them to flourish in a largely predator-free environment.
In eight years the guppies had undergone noticeable evolution: they produced larger and fewer offspring.
| | |
| --- | --- |
| | Trinidadian guppies are small freshwater fish. Photo by: Paul Bentzen. |
"High-predation females invest more resources into current reproduction because a high rate of mortality, driven by predators, means these females may not get another chance to reproduce," explained Gordon. "Low-predation females, on the other hand, produce larger embryos because the larger babies are more competitive in the resource-limited environments typical of low-predation sites. Moreover, low-predation females produce fewer embryos not only because they have larger embryos but also because they invest fewer resources in current reproduction."
To test just how well-adapted to their environment the guppies in the test site had become, Gordon and her team introduced a new population of guppies, who lived under heavy predation, into the site.
The team studied the competing populations for four weeks, and found that the locally adapted guppies fared far better, especially the juveniles. Local juvenile survival was over 50 percent higher than the introduced juveniles from the predated population.
"This shows that adaptive change can improve survival rates after fewer than ten years in a new environment," Gordon said. "It shows, too, that evolution might sometimes influence population dynamics in the face of environmental change."
Related articles
Fastest evolving bird family produces new species
(03/16/2009) Discovered in the Solomon Island of Vanikoro, a new species of bird from the white-eye family leads credence to the belief that white-eyes are the world's fastest evolving family of birds.
Newly discovered pink iguana sheds light on Galapagos evolution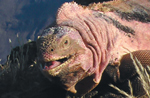 (01/06/2009) A newly identified, but already endangered species of pink land iguana may provide evidence of the lizard's evolution on the Galápagos Islands, report researchers writing in the Proceedings of the National Academy of Sciences.
Global warming may provoke evolution
(11/26/2007) Some 80 million years ago, during a period of global warming, a group of relatively immobile salamanders trekked from western North America to the continent that became Asia, report researchers writing in this week's issue of the journal Proceedings of the National Academy of Science.