Fall in palm oil price may lead to industry consolidation
Rhett A. Butler, mongabay.com
December 2, 2008
A dramatic fall in palm oil prices may provide an opportunity for plantation giants to add to their holdings, reports Reuters.
Palm oil prices have tumbled nearly 70 percent since reaching a high of 4,486 ringgit ($1,239) per ton in March. Closing at 1590 ringgit ($437) Tuesday, prices are now near the 1500 ringgit break-even point for smaller planerts plantations, according to Reuters.
Low prices may push acquisitions by well-established players, say industry executives.
"Takeover possibilities could appear if palm oil prices continue to stay at 1,400 to 1,500 ringgit for the next half year," Martin Bek-Nielson, executive director of the mid-sized United Plantations, told Reuters.
"The big boys that are cash-rich will have a lot to say and do," Reuters quoted Velayuthan Tan, chief executive of IJM Plantations, as saying.
While palm oil prices have plunged over the past several months, they are still higher than at the beginning of the run-up — which coincided with rising oil prices — in 2006. Plantation costs are still 50 percent higher than at the beginning of the boom, with land prices running at 40,000 ringgit per hectare in Sabah and Sarawak, according to the Malaysian Palm Oil Board.
Malaysia and Indonesia — which account for more than 85 percent of global palm oil production — recent moved to cut production in an effort to shore up prices. The agricultural ministers for both countries agreed to initiate a 300,000-hectare replanting program that will replace aging trees with seedlings of higher-yielding varieties. The seedlings will begin to bear oil palm fruit ("fresh fruit bunches") for harvest in three to four years' time.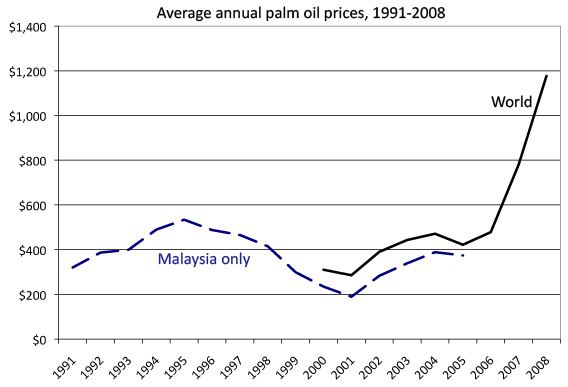 World palm oil prices from January 2000 through August 2008. Data from the World Bank.
Palm oil prices reached a three-year low of around $376 per ton on October 28. Palm oil prices have lately moved in step with the price crude oil, which has also rapidly retreated from recent record high nominal prices.
The decline in palm oil prices may slow expansion of oil palm plantations in Indonesia and Malaysia, a development that will please environmentalists who blame the palm oil industry for large-scale destruction of rainforests across Southeast Asia.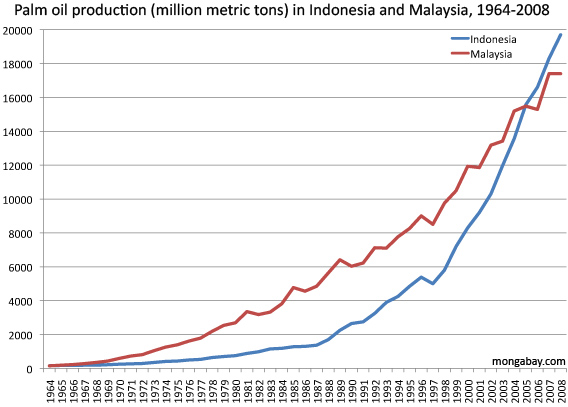 Palm oil production from 1964-2008 according to the U.S. Department of Agriculture (USDA).
References