Carbon footprint ranking for 100 U.S. cities
Honolulu, Los Angeles have the smallest carbon footprint among U.S. cities
mongabay.com
May 30, 2008
Honolulu, Los Angeles and metropolitan Portland have the smallest carbon footprint among American cities, while Cincinnati-Middletown area, Indianapolis, and Kentucky's Lexington-Fayette have the worst, according to a new report that analyzes carbon emissions from transportation and residential energy use by city dwellers.
The Brookings Institution study, released Thursday, shows that residents of the 100 largest metropolitan areas in the U.S. emit on average 2.47 metric tons of carbon per person per year, 14 percent less than the 2.87 ton average for the country. But the research revealed large differences in per capita energy use in cities across the U.S.
"Residential density and the availability of public transit are important to understanding carbon footprints, as are the carbon intensity of electricity generation, electricity prices, and weather," the Brookings Institution said in a statement.
"Numerous market and policy distortions inhibit metropolitan actors from more aggressively addressing the nation's climate challenge. Economy-wide problems include underpriced energy, underfunded energy research, missing federal standards, distorted utility regulations, and inadequate information," the statement continued. "Policy impediments include a bias against public transit, inadequate federal leadership on freight and land-use planning, failure to encourage energy- and location-efficient housing decisions, and the fragmentation of federal transportation, housing, energy, and environmental policies."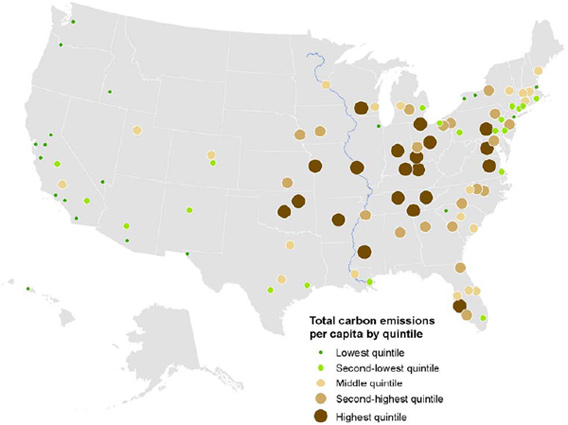 All metro areas with the largest per capita footprints were located in the east-central and eastern United States in 2005, while most of the metro areas with the smallest per capita footprints were located in the west.
The report recommends federal policy measures to reduce the carbon footprint of cities, including: promoting more transportation choices to expand transit and compact development options; introducing more energy-efficient freight operations with regional freight planning; requiring home energy cost disclosure when selling and "on-bill" financing to stimulate and scale up energy-efficient retrofitting of residential housing;
using federal housing policy to create incentives for energy- and location-efficient decisions; and issuing a metropolitan challenge to develop innovative solutions that integrate multiple policy areas.
Shrinking the Carbon Footprint of Metropolitan America
Per capita carbon emissions from transportation and residential energy use, 2005

Metropolitan Area
Rank
Carbon Footprint
(metric tons)
Honolulu, HI
1
1.356
Los Angeles-Long Beach-Santa Ana, CA
2
1.413
Portland-Vancouver-Beaverton, OR-WA
3
1.446
New York-Northern New Jersey-Long Island, NY-NJ-PA
4
1.495
Boise City-Nampa, ID
5
1.507
Seattle-Tacoma-Bellevue, WA
6
1.556
San Jose-Sunnyvale-Santa Clara, CA
7
1.573
San Francisco-Oakland-Fremont, CA
8
1.585
El Paso, TX
9
1.613
San Diego-Carlsbad-San Marcos, CA
10
1.63
Oxnard-Thousand Oaks-Ventura, CA
11
1.754
Sacramento–Arden-Arcade–Roseville, CA
12
1.768
Greenville, SC
13
1.859
Rochester, NY
14
1.908
Chicago-Naperville-Joliet, IL-IN-WI
15
1.965
Buffalo-Niagara Falls, NY
16
1.995
Tucson, AZ
17
2
Las Vegas-Paradise, NV
18
2.013
Stockton, CA
19
2.016
Boston-Cambridge-Quincy, MA-NH
20
2.024
Phoenix-Mesa-Scottsdale, AZ
21
2.072
Fresno, CA
22
2.076
Lancaster, PA
23
2.091
New Haven-Milford, CT
24
2.097
Poughkeepsie-Newburgh-Middletown, NY
25
2.133
Colorado Springs, CO
26
2.134
Philadelphia-Camden-Wilmington, PA-NJ-DE-MD
27
2.137
Miami-Fort Lauderdale-Miami Beach, FL
28
2.156
New Orleans-Metairie-Kenner, LA
29
2.162
Bridgeport-Stamford-Norwalk, CT
30
2.181
Cleveland-Elyria-Mentor, OH
31
2.235
Riverside-San Bernardino-Ontario, CA
32
2.257
San Antonio, TX
33
2.27
Pittsburgh, PA
34
2.276
Houston-Baytown-Sugar Land, TX
35
2.292
Virginia Beach-Norfolk-Newport News, VA-NC
36
2.34
Detroit-Warren-Livonia, MI
37
2.35
Albuquerque, NM
38
2.355
Allentown-Bethlehem-Easton, PA-NJ
39
2.364
Providence-New Bedford-Fall River, RI-MA
40
2.368
Hartford-West Hartford-East Hartford, CT
41
2.381
Denver-Aurora, CO
42
2.392
Charleston-North Charleston, SC
43
2.429
Milwaukee-Waukesha-West Allis, WI
44
2.436
Minneapolis-St. Paul-Bloomington, MN-WI
45
2.44
Springfield, MA
46
2.446
Tampa-St. Petersburg-Clearwater, FL
47
2.499
Baton Rouge, LA
48
2.511
Worcester, MA
49
2.517
Salt Lake City, UT
50
2.522
Albany-Schenectady-Troy, NY
51
2.524
Columbia, SC
52
2.534
Bakersfield, CA
53
2.54
Orlando, FL
54
2.551
Austin-Round Rock, TX
55
2.567
Greensboro-High Point, NC
56
2.576
Dallas-Fort Worth-Arlington, TX
57
2.582
Portland-South Portland-Biddeford, ME
58
2.599
Palm Bay-Melbourne-Titusville, FL
59
2.604
Grand Rapids-Wyoming, MI
60
2.609
Durham, NC
61
2.61
Akron, OH
62
2.637
Scranton–Wilkes-Barre, PA
63
2.66
Trenton-Ewing, NJ
63
2.66
Omaha-Council Bluffs, NE-IA
65
2.676
Wichita, KS
66
2.681
Syracuse, NY
67
2.682
Atlanta-Sandy Springs-Marietta, GA
67
2.682
Baltimore-Towson, MD
69
2.714
Cape Coral-Fort Myers, FL
70
2.739
Lansing-East Lansing, MI
71
2.754
Charlotte-Gastonia-Concord, NC-SC
72
2.757
Youngstown-Warren-Boardman, OH-PA
73
2.758
Des Moines, IA
74
2.765
Dayton, OH
75
2.769
Raleigh-Cary, NC
76
2.795
Memphis, TN-MS-AR
77
2.87
Augusta-Richmond County, GA-SC
78
2.885
Birmingham-Hoover, AL
79
2.901
Jacksonville, FL
80
2.905
Madison, WI
81
2.914
Sarasota-Bradenton-Venice, FL
81
2.914
Columbus, OH
83
2.952
Kansas City, MO-KS
84
2.969
Little Rock-North Little Rock, AR
85
3.009
Richmond, VA
86
3.039
Jackson, MS
87
3.063
Chattanooga, TN-GA
88
3.11
Washington-Arlington-Alexandria, DC-VA-MD-WV
89
3.115
Tulsa, OK
90
3.124
Knoxville, TN
91
3.134
Harrisburg-Carlisle, PA
92
3.19
Oklahoma City, OK
93
3.204
St. Louis, MO-IL
94
3.217
Nashville-Davidson–Murfreesboro, TN
95
3.222
Louisville, KY-IN
96
3.233
Toledo, OH
97
3.24
Cincinnati-Middletown, OH-KY-IN
98
3.281
Indianapolis, IN
99
3.364
Lexington-Fayette, KY
100
3.455