Greenpeace pressures China on global warming
mongabay.com
May 30, 2007
Greenpeace stepped up the pressure on China to do something about its surging greenhouse gas emissions, launching a campaign that warns melting glaciers could hurt Chinese agriculture and hydroelectric projects. The environmental group cited a Chinese Academy of Sciences' projection that 80 percent of the glaciers in Tibet and the surrounding region could melt by 2035, though other research suggests more moderate melting.
China is expected to surpass the United States as the world's leading of greenhouse gases this year or next. To date it has fiercely rejected taking action on climate, arguing that it is the responsibility of industrialized countries to address the issue. Before the May 3 release of the latest assessment by the Intergovernmental Panel on Climate Change (IPCC) China worked to insert language that would reduce the report's urgency.


Nevertheless, climate change is expected to have a significant impact in China, especially on the country's problematic water supplies–one third of rural inhabitants lack access to safe drinking water–and ambitious water-power projects like the Three Gorges Dam.


Greenpeace's web site campaign features an animated video showing cartoon glaciers melting due to global warming.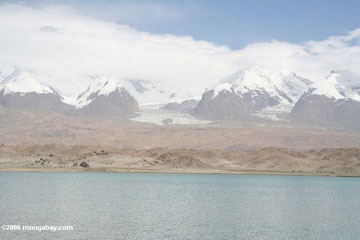 Glaciers in Xinjiang, western China.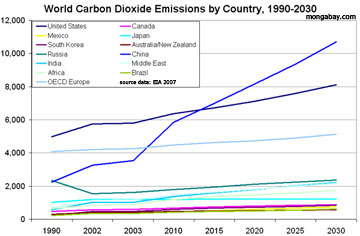 Carbon dioxide emissions, 1990-2030.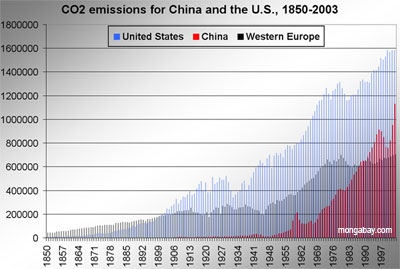 Historical carbon dioxide emissions for the United States, Europe, and China.

---