News articles on snakes

---
Mongabay.com news articles on snakes in blog format. Updated regularly.






Environmental wisdom: keeping indigenous stories alive
(01/21/2015) Enchanted lakes and magic hills: how traditional stories support conservation and abundance. 'Long ago, when animals were gente...' Those words, uttered countless times by indigenous Amazonian storytellers, blur the boundary between humans and other creatures in the forests and rivers, revealing a different view of the way human and non-human worlds intertwine.
Edited Reality: What I Learned from Filming Eaten Alive
(12/22/2014) On November 3, 2014, I woke up to check my flight status from Bangalore to New York. What I found when I opened my laptop was a mindboggling amount of emails, hate mail, death threats, and interview requests. The numbers were staggering. The night before, the Discovery Channel had aired the first trailers for the show they decided to call Eaten Alive.
New pit viper discovered in Sumatra
(12/10/2014) A new pit viper was discovered by researchers working in Sumatra, Indonesia. The viper, named Trimeresurus gunaleni, was identified by the researchers while they were studying a group of Trimeresurus sumanatrus, first described by Sir Thomas Stamford Raffles in 1822.
One-two punch: farming, global warming destroying unique East African forests
(12/03/2014) Lush mountains speckle East Africa's grasslands and desert, from Mozambique to Ethiopia. These isolated habitats are home to a plethora of species, and are considered by scientists to be some of the most biodiverse regions in the world. However, their forests are being cut down for farmland and are threatened by global warming, putting at risk multitudes of species that have nowhere else to go.
Did the world's only venomous primate evolve to mimic the cobra?
(09/29/2014) The bite of a slow loris can be painful, and sometimes even lethal. After all, this cute-looking YouTube sensation is the only known 'venomous' primate in the world—a trait that might have strangely evolved to mimic spectacled cobras, according to a recent paper. Mimicry in mammals is rare. But anecdotal evidence and studies in the past have noted the uncanny cobra-like defensive postures, sounds, and gait in slow lorises.
Drivers in Brazil will intentionally run-down small animals, but only if it is safe
(09/24/2014) Although not always very wide, roads can be huge barriers to wildlife. Not only do roads break up habitats, making animal movement more difficult, but they also allow people into long-inaccessible natural areas. A new study in mongabay.com's open-access journal Tropical Conservation Science looks at how drivers on Brazil's MG-010 road act when faced with small animals, such as snakes, on the path.
Please, don't hate us: celebrating World Snake Day!
(07/16/2014) Okay, so some snakes are so venomous they can kill you in 30 minutes (the inland taipan). And, yes, the fact that they don't have legs is a little creepy to many people. And, admittedly, some scientists have even suggested that humans may have an inborn genetic terror of snakes.
'Flying snakes' achieve surprising lift through unique body shape
(02/04/2014) Flying snakes achieve surprising amounts of lift through the shape of their bodies, report researchers from Virginia Tech in a paper recently published in the Journal of Experimental Biology. The study examined how paradise tree snakes—one of five species of so-called flying snake found in Southeast Asia—shape their bodies to achieve the lift that allows them to glide up to 30 meters between trees.
Sky islands: exploring East Africa's last frontier
(12/04/2013) The montane rainforests of East Africa are little-known to the global public. The Amazon and Congo loom much larger in our minds, while the savannas of East Africa remain the iconic ecosystems for the region. However these ancient, biodiverse forests—sitting on the tops of mountains rising from the African savanna—are home to some remarkable species, many found only in a single forest. A team of international scientists—Michele Menegon, Fabio Pupin, and Simon Loader—have made it their mission to document the little-known reptiles and amphibians in these so-called sky islands, many of which are highly imperiled.
Not just bats and frogs: snake fungal disease hits U.S.
(09/06/2013) A fungal outbreak in the eastern and Midwestern United States is infecting some populations of wild snakes. Snake Fungal Disease (SFD), a fungal dermatitis consistently associated with the fungus Ophidiomyces ophiodiicola, is showing recent spikes in occurrence according to the U.S. Geological Survey's National Wildlife Health Center (NWHC) and other diagnostic laboratories.
Scientists catch boa constrictor eating a howler monkey (photos)
(09/02/2013) In a world first, scientists have captured images and video of a boa constrictor attacking and devouring whole a femle howler monkey, one of the largest new world primates weighing in at around 4 kilograms (8.8 pounds). The rare predation event was recorded in a tiny forest fragment (2.5 hectares) in the Brazilian state of Rondonia by Erika Patricia Quintino, a PhD student at the Pontifical Catholic University of Rio Grande do Sul.
Cobra bust in Vietnam

(04/23/2013) Authorities in Vietnam arrested a man who they say was transporting 53 king cobras — a protected snake species — in his car, reports the Associated Press.
Animals of the Masai Mara - book review

(01/06/2013) Animals of the Masai Mara is the first illustrated guidebook to the Masai Mara region along the Kenya and Tanzania border. This is the world famous region of wildebeest migrations, large felines, towering African elephants, fascinating cultures, and great flora and fauna diversity. This is the guidebook for every child, and child inside of us, between the ages of 5 and 105 that has ever dreamt of learning about the fascinating animals seen on a safari in Africa.
Long and thin with a big head: new snake adds diversity to a bizarre group (photo)

(11/28/2012) There's no question that blunt-headed vine snakes are an odd lot: a thin body tapers into an even thinner neck which expands suddenly into a broad head with massive eyes. Until now only six species were recognized from this genus, known as Imantodes, but a new study in Zookeys describes a seventh species: Imantodes chocoensis from the Chocó Forests in northeastern Ecuador.
Indonesia remains epicenter for illegal wildlife trade in reptiles and amphibians
(10/24/2012) Demand for exotic pets is driving the illegal harvest and trade of herpetofauna (reptiles and amphibians) in Indonesian New Guinea, according to a recent study published in the journal Biodiversity and Conservation. Between September 2010 and April 2011, Daniel Natusch and Jessica Lyons of the University of New South Wales surveyed traders of amphibians and reptiles in the Indonesian provinces of Maluku, West Papua and Papua.
Scientists name new snake species to criticize mine plans in Panama (photos)
(09/18/2012) While scientists increasingly name new species after celebrities in order to gain much-needed attention for the world's vanishing biodiversity, researchers describing a new snake species from Panama have taken a different route. Dubbing the new serpent, Sibon noalamina ('no to the mine!' in Spanish), the scientists are hoping the multicolored snake's unusual name will draw attention to mining and deforestation issues in Panama's remote Tabasará mountains.
Arachnopocalypse: with birds away, the spiders play in Guam
(09/17/2012) The island of Guam is drowning in spiders. New research in the open-access journal PLOS ONE has found that in the wet season, Guam's arachnid population booms to around 40 times higher than adjacent islands. Scientists say this is because Guam, a U.S. territory in the Pacific, has lost its insect-eating forest birds. Guam's forests were once rich in birdlife until the invasion of non-native brown tree snake (Boiga irregularis) in the 1940s decimated biodiverse bird communities. Now, the island is not only overrun with snakes, but spiders too.
Pictures: Bolivian park may have the world's highest biodiversity
(09/12/2012) With over 90 species of bat, 50 species of snake, 300 fish, 12,000 plants, and 11 percent of the world's bird species, Madidi National Park in Bolivia may be the world's most biodiverse place, according to new surveys by the the Bolivian Park Service (SERNAP) with aid from the Wildlife Conservation Society (WCS).
'Beautiful' new snake discovered in Cambodia (photo)

(07/16/2012) Scientists have discovered a new snake species in the biodiverse rainforests of the Cardamom Mountains, reports Fauna & Flora International (FFI). The new reddish-hued serpent has been named after its country of origin by native herpetologist Neang Thy: the Cambodian kukri (Oligodon kampucheaensis).
Meet the world's rarest snake: only 18 left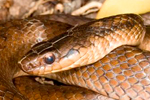 (07/10/2012) It's slithery, brown, and doesn't mind being picked up: meet the Saint Lucia racer (Liophis ornatus), which holds the dubious honor of being the world's most endangered snake. A five month extensive survey found just 18 animals on a small islet off of the Caribbean Island of Saint Lucia. The snake had once been abundant on Saint Lucia, as well, but was decimated by invasive mongooses. For nearly 40 years the snake was thought to be extinct until in 1973 a single snake was found on the Maria Major Island, a 12-hectare (30 acre) protected islet, a mile off the coast of Saint Lucia (see map below).
96 percent of the world's species remain unevaluated by the Red List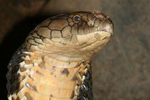 (06/28/2012) Nearly 250 species have been added to the threatened categories—i.e. Vulnerable, Endangered, and Critically Endangered—in this year's update of the International Union for Conservation of Nature's (IUCN) Red List. The 247 additions—including sixty bird species—pushes the number of threatened species globally perilously close to 20,000. However to date the Red List has only assessed 4 percent of the world's known species; for the other 96 percent, scientists simply don't know how they are faring.
Herp paradise preserved in Guatemala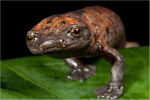 (05/29/2012) Fifteen conservation groups have banded together to save around 2,400 hectares (6,000 acres) of primary rainforest in Guatemala, home to a dozen imperiled amphibians as well as the recently discovered Merendon palm pit viper (Bothriechis thalassinus). The new park, dubbed the Sierra Caral Amphibian Reserve, lies in the Guatemalan mountains on the border with Honduras in a region that has been called the most important conservation area in Guatemala.
Scientists discover deadly new sea snake

(02/24/2012) Scientists in Australia have discovered a species of sea snake in estuaries of the Gulf of Carpenteria in northern Australia. The snake is described in the current issue of Zootaxa.
'Snakes on a Plane' trafficker freed early from jail

(02/22/2012) Notorious wildlife trafficker Anson Wong has been freed from prison after a court reduced his five-year term, reports Malaysian state media. Wong had served 17-and-a-half-months for illegally exporting nearly 100 reptiles from Malaysia.
Invasion!: Burmese pythons decimate mammals in the Everglades

(01/30/2012) The Everglades in southern Florida has faced myriad environmental impacts from draining for sprawl to the construction of canals, but even as the U.S. government moves slowly on an ambitious plan to restore the massive wetlands a new threat is growing: big snakes from Southeast Asia. A new paper in the Proceedings of the National Academy of Sciences (PNAS) has found evidence of a massive collapse in the native mammal population following the invasion of Burmese pythons (Python molurus bivittatus) in the ecosystem. The research comes just after the U.S. federal government has announced an importation ban on the Burmese python and three other big snakes in an effort to safeguard wildlife in the Everglades. However, the PNAS study finds that a lot of damage has already been done.
U.S. implements snake ban to save native ecosystems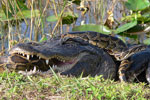 (01/25/2012) Last week the U.S. Fish and Wildlife Service (USFWS) announced it was banning the importation and sale across state lines of four large, non-native snakes: the Burmese python (Python molurus bivittatus), the yellow anaconda (Eunectes notaeus), and two subspecies of the African python (Python sebae). Although popular pets, snakes released and escaped into the wild have caused considerable environmental damage especially in the Florida Everglades.
Will Taiwan save its last pristine coastline?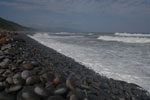 (01/05/2012) Voters in the January 14 Taiwanese presidential election will decide the fate of the island's last pristine wilderness known as the Alangyi Trail. Amongst the three candidates, only one (Tsai Ing-wen from the Democratic Progressive Party) may support the conservation of Alangyi Trail and its coastline. One of the top domestic stories of 2011 were the efforts by the Pingtung County government, indigenous tribes, and NGOs to preserve the Alangyi Trail, according to the Taiwan Environmental Information Center. Alangyi is now a major issue reflecting steadily growing environmental concern amongst the Taiwanese, but its fate is sadly uncertain.
The dark side of new species discovery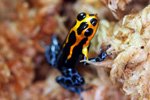 (12/21/2011) Scientists and the public usually rejoice when a new species is discovered. But biologist Bryan Stuart has learned the hard way that the discovery of new species, especially when that species is commercially valuable, has a dark side-one that could potentially wipe out the new species before protections can be put in place. Stuart has discovered 27 species unknown previously to scientists - so far. That includes 22 species of frogs, three types of snakes, and two salamanders. His experience with one of these, a warty salamander from Laos with striking markings (Laotriton laoensis), opened his eyes to a dark side of scientific discovery: commercial overexploitation before protections are in place. Shortly after Stuart described the previously unknown species Paramesotriton laoensis in a scientific paper published in 2002, commercial dealers began collecting this Lao newt for sale into the pet trade. In essence, the dealers used Stuart's geographic description in the paper as a "roadmap" to find the rare newt.
Herpetology curator: behind-the-scenes of 'new species' discoveries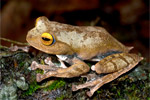 (12/18/2011) Bryan Stuart's mission as a curator of amphibians and reptiles at the North Carolina Museum of Natural Sciences is to understand the diversity of life on earth. For that, he documents what species occur where and why. He's particularly attracted to areas where there's a dearth of knowledge, like Laos, Cambodia, Vietnam and Gabon, and so far has discovered 27 species unknown previously to scientists: three species of snakes, two types of salamanders, and 22 kinds of frogs.
New large horned viper discovered, but biologists keep location quiet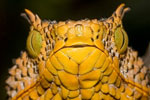 (12/15/2011) In a remote forest fragment in Tanzania, scientists have made a remarkable discovery: a uniquely-colored horned viper extending over two feet long (643 millimeters) that evolved from its closest relative over two million years ago. Unfortunately, however, the new species—named Matilda's horned viper (Atheris matildae)—survives in a small degraded habitat and is believed to be Critically Endangered. Given its scarcity, its discoverers are working to pre-empt an insidious threat to new species.
Giant snakes commonly attacked modern hunter-gatherers in Philippines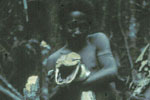 (12/13/2011) Humans have an ambivalent relationship with snakes. The legless reptiles are often feared and reviled, becoming stand-ins for the Devil and movie monster characters; yet many people have grown to love snakes, raising large, even dangerous, specimens as pets. Now, new research suggests that the ecological role between snakes and humans, as well as other primates, is more nuanced than expected. After spending decades living among the Agta Negritos people in the Philippines, anthropologist Thomas Headland has found that the hunter gatherer tribes were quite commonly attacked by reticulated pythons (Python reticulatus), while the people themselves had no qualms with hunting, killing, and consuming python.
$500 offered for rediscovery of extinct snake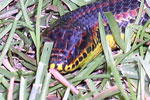 (11/29/2011) Need to make a quick 500 bucks? Easy: head to Glades County, Florida and find a specimen of the South Florida rainbow snake (Farancia erytrogramma seminola), which the US government says is extinct. In an unusual bid two NGOS, the Center for Biological Diversity (CBD) and the Center for Snake Conservation, are offering a substantial reward to the first person who can prove that the South Florida rainbow snake has not vanished forever.
Snake laundering rampant in the Indonesian reptile export market
(11/21/2011) Breeding farms in Indonesia are being used to launder illegally caught wildlife, finds a new study published in the journal Biological Conservation. The research is based on surveys of traders who supply the market for green pythons, a non-venomous snake popular in the pet trade for its many color forms. The authors tracked pythons from their point of capture in Indonesian New Guinea and Maluku to breeding farms in Jakarta where the snakes are exported for the pet trade as 'captive-bred'. They found that 80 percent of snakes exported annually from Indonesia are illegally wild-caught.
Photos: Halloween creepy-crawlies of the natural world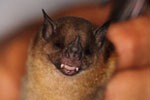 (10/31/2011) Everyone loves the beautiful animals, the playful orangutans, the rolly-polly pandas, the regal tigers, the wise elephants, the awe-inspiring whales, the silly penguins—and it shows. Aside from gracing calendars and starring in movies, these species receive millions in conservation funds and have no shortage of researchers devoted to them. But what about the ugly, crawly, shiver-inducing species? What about those animals that crawl instead of bound,that are slimy instead of furry, that inhabit the deep dark place of the world.
Old trees necessary for nesting animals

(10/17/2011) Aged, living trees are essential for over 1,000 birds and mammals that depend on such trees for nesting holes, according to a study in Frontiers in Ecology and the Environment. In much of the world, tree-nesting animals depend on holes formed through maturity and decay—and not woodpeckers—requiring standing old trees.
Florida loses two species to extinction

(10/06/2011) The US Fish and Wildlife Service announced yesterday that the believe two species in Florida have vanished into the long dark night: the South Florida rainbow snake (Farancia erytrogramma seminola) and the Florida fairy shrimp (Dexteria floridana). The species were under review for possibly being added to the Endangered Species Act (ESA), but it's likely the review came decades too late.
Escaped Bronx Zoo cobra found! (picture)

(03/31/2011) The missing Bronx Zoo cobra that caused consternation among some New York residents while becoming a pop culture icon has been found after a thorough search of the zoo's Reptile House.
Photo: new vipers discovered in Asia's rainforests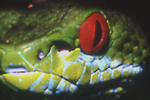 (03/30/2011) Researchers have discovered two new species of pitviper in Southeast Asia. After collecting snakes throughout the Asian tropics—Thailand, Laos, Vietnam, and Cambodia—researchers were able to parse out a more complex set of species than had been recognized. One of the new vipers has been dubbed Cryptelytrops rubeus for its ruby-colored eyes.
Kids found organization to save endangered species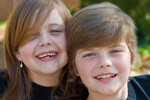 (02/22/2011) Many American children under ten spend their free time watching TV and movies, playing video games, or participating in sports, but for siblings Carter (9 years old) and Olivia Ries (8) much of their time is devoted to saving the world's imperiled species. The organization One More Generation (OMG) not only has a clever name (yes, it is meant to pun the common Oh-My-God acronym), but may have the two youngest founders of an environmental organization in the US. "We started OMG because it hurt our hearts to know that there were so many animals in danger of becoming extinct," Carter told mongabay.com. OMG, which is run with help from the Ries' parents as well as an impressive list of conservation and wildlife experts, has taken on a number of local and international campaigns, including raising money for cheetahs, working against throw-away plastic bags, and taking action to change the US tradition of Rattlesnake Roundups where thousands of rattlesnakes are killed for a community festival.
Malaysian customs seizes 1,800 trafficked reptiles

(01/04/2011) Malaysia ended 2010 with the confiscation of 4.3 metric tons of reptiles near the Thai border on December 20th, reports the Wildlife Trade Monitoring Network, TRAFFIC. The confiscation was the largest of the year and consisted of over 1,800 monitor lizards, snakes, freshwater turtles, and tortoises.
Biological shocker: snake reproduces asexually

(11/03/2010) Researchers have discovered a biological shocker: female boa constrictors are capable of giving birth asexually. But the surprise doesn't end there. The study in Biology Letters found that boa babies produced through this asexual reproduction—also known as parthenogenesis—sport a chromosomal oddity that researchers thought was impossible in reptiles.
World's rarest snake making a comeback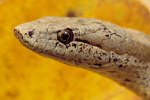 (11/02/2010) The Antiguan racer (Alsophis antiguae) shares a similar story with many highly endangered island species. Invasive mongoose killed every racer on the Caribbean island of Antigua, leaving only a small population on nearby Great Bird Island. Confined to 8 hectares, this final population was being killed-off by invasive Eurasian black rats. By the time conservationists took action, only 50 Antiguan racers survived in the world. But here's where the story turns out different: 15 years later, a partnership between six conservation groups has succeeded in raising the population tenfold to 500 snakes and expanded its territory to other islands through snake-reintroductions.
Life shocker: new species discovered every three days in the Amazon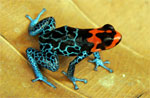 (10/26/2010) A new report by the World Wide Fund for Nature (WWF) confirms the Amazon rainforest, even as it is shrinking due to deforestation, remains among the world's most surprising places. According to the report, Amazon Alive, over the past decade (1999-2009) researchers have found 1,200 new species in the Amazon: one new species for every three days. Not surprisingly invertebrates, including insects, made up the bulk of new discoveries. But no type of species was left out: from 1999-2009 researchers discovered 637 new plants, 357 fish, 216 amphibians, 55 reptiles, 39 mammals, and 16 new birds. In new discoveries over the past decade, the Amazon has beaten out a number of high-biodiversity contenders including Borneo, the Eastern Himalayas, and the Congo rainforest.
U.S. government bombs Guam with frozen mice to kill snakes

(09/28/2010) In a spectacularly creative effort to rid the island of Guam of an invasive species, the US Department of Agriculture is planning to 'bomb' the rainforests with dead frozen mice laced with acetaminophen. The mice-bombs are meant to target the brown tree snake, an invasive species which has ravaged local wildlife, and angered local residents, since arriving in the 1940s.
'Snakes on a plane' trafficker gets 6 months in jail

(09/06/2010) Notorious wildlife trafficker Anson Wong has been fined 190,000 Malaysian ringgit ($61,000) and sentenced to 6 months in jail for attempting to smuggle 95 boa constrictors, reports the Malaysian Star.
Study points to global snake decline

(06/09/2010) A number of reports over the last decade have shown amphibians, lizards, fish, and birds facing steep population declines across species and continents, providing further evidence that the planet is undergoing a mass extinction. Now a new study in Biology Letters adds another group of animals to that list: snakes.
New blind snake discovery

(04/06/2010) Call them survivors: blindsnakes have been identified as one of the few groups of organisms that inhabited Madagascar when it broke from the Indian subcontinent around 100 million years ago. According to a new study in Biology Letters, blindsnakes not only survived the split of Madagascar and India, but likely traveled from Asia to Australia and Africa to South America on floating vegetation, the latter a journey that may have taken six months of drifting on ocean currents. "Blindsnakes are not very pretty, are rarely noticed, and are often mistaken for earthworms," says Blair Hedges of her subjects. "Nonetheless, they tell a very interesting evolutionary story."
Secrets of the Amazon: giant anacondas and floating forests, an interview with Paul Rosolie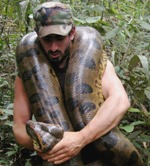 (03/10/2010) At twenty-two Paul Rosolie has seen more adventure than many of us will in our lifetime. First visiting the Amazon at eighteen, Rosolie has explored strange jungle ecosystems, caught anaconda and black caiman bare-handed, joined indigenous hunting expeditions, led volunteer expeditions, and hand-raised a baby giant anteater. "Rainforests were my childhood obsession," Rosolie told Mongabay.com. "For as long as I can remember, going to the Amazon had been my dream […] In those first ten minutes [of visiting], cowering under the bellowing calls of howler monkeys, I saw trails of leaf cutter ants under impossibly large, vine-tangled trees; a flock of scarlet macaws crossed the sky like a brilliant flying rainbow. I saw a place where nature was in its full; it is the most amazing place on earth."
Prehistoric snake gobbled-up dinosaur babies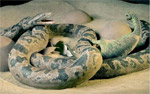 (03/02/2010) A fossilized snake has been discovered inside a titanosaur nest in India, leading researchers to conclude that the snake fed on newly-hatched dinosaur babies, rather than their eggs like modern snakes. Paleontologist and snake expert Jason Head says that the snake, known as Sanajeh indicus, lacked the wipe-jaws needed to swallow eggs, but just-hatched baby titanosaurs would have been perfect prey for the 3.5 meter (nearly 12 feet) long serpent. Titanosaurs belong to the sauropods, long-necked herbivorous dinosaurs which includes the world's largest animals to ever walk the land.
Starving hyenas kill and eat 12-foot-long python during drought

(01/05/2010) Members with the conservation group Lion Guardians stumbled on a rare site in the Amboseli area of Kenya recently: six hyenas and a number of jackals were attacking and eating a 12-foot-long python. On their blog at WildlifeDirect, Lion Guardians describe the attack: "[the hyenas and jackals] tore into its body from the back, and were taking their share while the upper part of the python was still alive! The Lion Guardian team was shocked and surprised at the same time, having never seen anything like it before."
New killer snake invades Florida

(09/22/2009) A new invasive python in Florida may be worse than the species already causing ecological havoc across the Everglades, reports the Miami Herald.
Photos of '100-foot monster snake' surface

(02/20/2009) A photo of '100-foot monster snake' that has surfaced on the Internet and is certainly fake has stirred up a lot of interest in recent days, reports the Telegraph Online.
Monstrous prehistoric snake provides glimpse of warmer tropical forests

(02/04/2009) On Wednesday scientists announced the discovery of the world's largest snake, a prehistoric beast which preyed on giant turtles and crocodile-like reptiles in South America after the demise of the dinosaurs. As amazing as the discovery is, its greatest importance may be the clues it provides conservationists about the future of tropical forests under various global warming scenarios.
World's largest snake discovered: prehistoric serpent was twice the size of an anaconda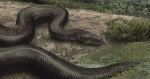 (02/04/2009) Paleontologists have recently uncovered the world's largest snake announces a paper in Nature. Measuring an astonishing 42 to 45 feet, the Titanoboa cerrejonensis makes the anaconda look diminutive. In fact the prehistoric serpent even makes once-ridiculous horror movie snakes appear conservative. "Truly enormous snakes really spark people's imagination, but reality has exceeded the fantasies of Hollywood," said Jonathan Bloch, one of the leaders of the party that discovered the prehistoric serpent. "The snake that tried to eat Jennifer Lopez in the movie Anaconda is not as big as the one we found."
Scientists discover world's smallest snake species

(08/03/2008) If one wanted to overcome their fear of snakes, they may want to start with the newly discovered Leptotyphlops carlae. Measuring less than four inches long, even stretched out this new species of threadsnake can't compete with the average pen or pencil.
How do snakes survive starvation?

(08/27/2007) Starving snakes employ novel survival strategies not seen before in vertebrates, according to research conducted by a University of Arkansas biologist. These findings could be used in conservation strategies to determine the health of snake populations.
Pythons turn bones of prey into calcium

(04/01/2007) Burmese pythons don't eat very often, but when they do they like to pig out, ingesting the whole of their prey. There's very little waste as they are able to digest everything, apart from hair and feathers. Dr Jean-Herv Lignot (Louis Pasteur University) and Dr Robert K. Pope (Indiana University South Bend) will talk about the implications this has on the way these snakes digest food on Saturday 31st March at the Society for Experimental Biology's Annual Meeting in Glasgow.
Blind pink snake discovered in Madagascar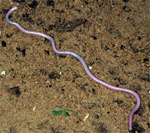 (02/14/2007) A pink worm-like snake has been rediscovered in Madagascar more than 100 years after it was first found. The snake, which is blind and measures about ten inches long, is described in the February 1, 2007 edition of Zootaxa, a leading taxonomic journal.
Snake becomes poisonous by eating toxic frogs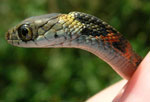 (01/29/2007) A new study shows that the Asian snake Rhabdophis tigrinus becomes poisonous by sequestering toxins from its prey which consists of venomous toads. While sequestering defensive toxins from prey is unusual among terrestrial vertebrates it is not unknown. Research published last year by Valerie C. Clark of Cornell University showed that poison dart frogs (Dendrobates species) and their Madagascar counterparts, the Mantella frogs, sequester toxic skin chemicals, called alkaloids, from the ants they eat. These alkaloids protect the frogs from predation. Similarly, some garter snakes are known to store tetrodotoxin from ingested newts while birds in New Guinea appear to sequester poisons from insects.
China uses snake-based earthquake prediction system

(12/27/2006) A province in southern China has come up with a unique way to predict earthquakes: snakes. According to China Daily and as reported by Reuters, the earthquake bureau in Nanning, capital of the Guangxi province, has set up a 24-hour video feed to monitor the behavior of snakes at snake farms. The scientists say that snakes are particularly sensitive to vibrations caused by impending earthquakes.
The science behind 'Snakes on a Plane'

(08/07/2006) Even in the dark, snakes on a plane could keep a close watch on terrorized passengers and crew thanks to small cavities near their snouts known as pit organs, according to a forthcoming article by Andreas B. Sichert, Paul Friedel, and J. Leo van Hemmen published in Physical Review Letters.
Venomous snakes key to human evolution says new theory

(07/21/2006) The ability to spot venomous snakes may have played a major role in the evolution of monkeys, apes and humans, according to a new hypothesis by Lynne Isbell, professor of anthropology at UC Davis. The work is published in the July issue of the Journal of Human Evolution.
Color-changing chameleon snake discovered in jungles of Borneo

(06/27/2006) Scientists discovered a species of snake capable of changing colors. The snake, called the Kapuas mud snake, resides in the rainforest on the island of Borneo, an ecosystem that is increasingly threatened by logging and agricultural development.