News articles on rspo

---
Mongabay.com news articles on rspo in blog format. Updated regularly.





Fast food companies are laggards on palm oil sourcing safeguards


(03/05/2014) Fast food companies are lagging behind other consumer products companies in efforts to establish policies that favor deforestation-free and conflict-free palm oil, finds a new assessment published by the Union of Concerned Scientists, an advocacy group. The report, titled 'Donuts, Deodorant, Deforestation: Scoring America's Top Brands on Their Palm Oil Commitments', looked at palm oil sourcing policies of 30 of the largest fast food, personal care, and packaged food corporations in the United States. It found leadership by a handful of firms.


Wilmar refutes Sarawak govt's claims on palm oil ban

(02/17/2014) Palm oil giant Wilmar has refuted a claim that it will stop buying crude palm oil from the Malaysian state of Sarawak due to its new 'no deforestation' policy.


In Girl Scouts vs. Kellogg's over palm oil, rainforests and orangutans win

(02/14/2014) After a campaign waged by two charismatic Girl Scouts over questionably-sourced palm oil used in Girl Scout Cookies, Kellogg Company today announced a policy that will move it toward deforestation-free palm oil.


Despite falling palm oil price, premium for 'sustainable' product rises


(02/12/2014) Despite a sharp drop in the price of palm oil since 2011, premiums for certificates representing palm oil produced under the Roundtable on Sustainable Palm Oil (RSPO) standard have risen due to increased demand for greener palm kernel oil (CPKO), reveals data released by GreenPalm.


Rainforest news review for 2013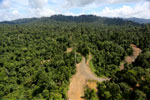 (12/26/2013) 2013 was full of major developments in efforts to understand and protect the world's tropical rainforests. The following is a review of some of the major tropical forest-related news stories for the year. As a review, this post will not cover everything that transpired during 2013 in the world of tropical forests. Please feel free to highlight anything this post missed via the comments section at the bottom. Also please note that this review focuses only on tropical forests.


Palm oil company Bumitama under fire for clearing rainforest, endangering orangutans


(12/02/2013) Bumitama Agri, an Indonesian palm oil producer, is breaking the law by clearing forests and developing plantations without the proper licenses, a coalition of NGOs said in a report released on Nov. 21. The groups have called on financiers to either force Bumitama to shape up or cut ties with the company and with global palm oil traders such as Wilmar and IOI that do business with Bumitama.


Palm oil workers stage massive protest at sustainability meeting in Indonesia


(11/19/2013) Protesters from 10 Indonesian labor unions and four NGOs descended on the Roundtable on Sustainable Palm Oil (RPSO) meetings in Medan last Tuesday, urging the industry body to take serious steps to end what they claim is rampant abuse of workers on RSPO-certified plantations.


Aiming to avoid deforestation, Unilever to trace all palm oil it sources


(11/12/2013) In a move that represents a significant development for efforts to reduce the environmental impact of palm oil, consumer products giant Unilever today announced it will be able to trace all of the palm oil it sources by the end of 2014. Implementing a traceability system means that by the end of next year, Unilever will able to pinpoint the origin of its palm oil back to the plantations that produce the fresh fruit bunches that are milled into the widely-used vegetable oil.


3.5 million ha of Indonesian and Malaysian forest converted for palm oil in 20 years


(11/12/2013) Some 3.5 million hectares (8.7 million acres) of forest in Indonesia, Malaysia, and Papua New Guinea was converted for oil palm plantations between 1990 and 2010, finds a comprehensive set of assessments released by the Roundtable on Sustainable Palm Oil (RSPO). The research, conducted by an international team of scientists from a range of institutions, is presented in a series of seven academic papers that estimate change in land use and greenhouse gas emissions from oil palm expansion in the three countries, review the social and environmental impacts of palm oil production, forecast potential growth in the sector across the region, and detail methods for measuring emissions and carbon stocks of plantations establishing on peatlands.


HBSC financing deforestation for palm oil in Borneo


(11/11/2013) HSBC, the world's third largest bank, continues to lend to companies linked to deforestation despite a policy explicitly prohibiting such practices, alleges a new report from the London-based Environmental Investigation Agency (EIA). The report, published last week, looks at two Indonesian palm oil companies that recently received finance from HSBC: Bumitama Agri and Triputra Agro Persada.


Palm oil companies ignoring community rights, new study shows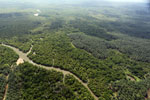 (11/07/2013) Some of the largest palm oil companies are clearing forests and peatlands without seeking consent of local communities, leading to a spate of unresolved conflicts in plantation concessions around the world, warns a coalition of NGOs and researchers. Members of the Roundtable on Sustainable Palm Oil (RSPO) are violating the rights of local communities in tropical forests and failing to live up to social and environmental commitments, the coalition said in a report released on Thursday.


The palm oil debate: can the world's most productive oilseed be less damaging to the environment?


(10/21/2013) On Thursday, 17 October 2013 Mongabay.com and the Roundtable on Sustainable Palm Oil (RSPO) co-hosted a discussion on environmental issues related to palm oil. The discussion involved representatives from WWF, Greenpeace and the RSPO. Mongabay.com Founder Rhett A. Butler served as the moderator.


Video depicting conversation between deaf girl, orangutan highlights palm oil risks

(10/14/2013) Environmental activists have released an emotive video that aims to raise awareness about the impact of converting rainforests into palm oil plantations.


Malaysia to launch palm oil certification scheme to compete with RSPO

(09/06/2013) Malaysia will launch its own certification standard for palm oil produced by local firms by 2014, reports Reuters. The initiative aims to differentiate Malaysian palm oil from that produced in other countries, while offering a less stringent alternative to the Roundtable on Sustainable Palm Oil, the sector's leading certification body.


Palm oil now biggest cause of deforestation in Indonesia


(09/03/2013) Conversion of forests for palm oil production now appears to be the single largest driver of deforestation in Indonesia, accounting for roughly a quarter of forest loss between 2009 and 2011, asserts a new Greenpeace report that accuses the sector's main certification standard of failing to stop forest destruction. The report, titled Certifying Destruction, uses satellite imagery, government concession data, field investigations, and third party analysis to conclude that several recent and current members of the Roundtable on Sustainable Palm Oil (RSPO) — the industry's chief eco-certification body — are continuing to buy or trade palm oil produced via the conversion of rainforests and carbon-dense peatlands in the Southeast Asian nation.


Palm oil body, Greenpeace spar over Indonesia fire blame

(07/16/2013) Greenpeace and the Roundtable on Sustainable Palm Oil (RSPO), a body that sets criteria for greener palm oil production, are caught up in a row over the origin of fires that cast a pall over Sumatra, Singapore, and Malaysia last month. The dispute started when media outlets, based on independent analysis of satellite data, identified several members of the RSPO as possible culprits in the fires in Riau Province. Greenpeace said the findings indicated that the RSPO is failing to hold its members accountable for burning. The activist group also criticized the RSPO for not expressly prohibiting deforestation and conversion of peatlands.


World's biggest companies lay out path toward zero-deforestation commodities

(06/28/2013) With a backdrop of fires raging across oil palm and timber plantations in Sumatra, business and political leaders convened in Indonesia to discuss a path forward for producing deforestation-free commodities by 2020.


Greenpeace releases dramatic pictures of haze and fires in Indonesia (photos)


(06/24/2013) Greenpeace has released a series of photos from the front lines of the peat fires that are casting a pall of haze and triggering health warnings across Singapore and Malaysia. The images were taken by Getty photographer Ulet Infansasti in Sumatra, where the fires are burning. Analysis of NASA hotspot data has revealed that the majority of fires are occurring within plantation concessions operated by palm oil and timber companies.


5 RSPO companies linked to haze


(06/24/2013) Five members of the Roundtable and Sustainable Palm Oil (RSPO) will be asked to submit digital maps of their plantations after media reports linked them to fires in Sumatra that are driving the haze across Singapore and Malaysia. The RSPO has given the companies — PT Jatim Jaya Perkasa, Tabung Haji Plantations, Sinar Mas, Kuala Lumpur Kepong, and Sime Darby — 48 hours to submit maps of their plantations in Sumatra and Kalimantan so the eco-certification body can compare them to fire hotspot data from NASA and NOAA.


Palm oil company violated RSPO standards, evicted from sustainability body

(05/13/2013) The Roundtable on Sustainable Palm Oil (RSPO) has evicted Indonesian palm oil giant Dutapalma Nusantara for violating key principles for sustainability.


Probe confirms Singapore-based palm oil company engaged in land-grabbing in Borneo

(04/26/2013) An independent investigation has shown that First Resources Ltd, a palm oil plantation company and member of the Roundtable on Sustainable Palm Oil (RSPO), failed to obtain proper consent from local communities before clearing rainforests for plantations in Indonesian Borneo, an Indonesian indigenous rights group reported last week.


Environmentalists unhappy with new palm oil standard


(04/25/2013) Environmentalists are unhappy with Thursday's approval of new criteria for the world's leading palm oil certification standard. After members of the Roundtable on Sustainable Palm Oil (RSPO) in a special assembly approved the body's new 'principles and criteria' (P&Cs) for palm oil certification, several groups voiced concern that the rules won't protect against conversion of carbon-dense rainforests and peatlands for oil palm plantations.


Indonesian palm oil giant clearing peat forest despite its RSPO membership, alleges Greenpeace

(04/25/2013) A major Indonesian palm oil producer continues to clear rainforests in Sumatra despite being a prominent member of the Roundtable on Sustainable Palm Oil (RSPO), casting doubts on the body's effectiveness in limiting deforestation, alleges a new report from Greenpeace.


RSPO failing to meet sustainability objectives for palm oil production, says WWF

(04/23/2013) An initiative that aims to improve the social and environmental performance of palm oil production is faltering in its mission by failing to establish strong performance standards on greenhouse gas emissions and pesticide use, argues a new statement issued by WWF, the initiative's biggest green supporter.


Indonesian palm oil industry would support land swaps to protect forest, while expanding production


(04/19/2013) Indonesian palm oil companies would support land swaps as a means to reduce carbon emissions from deforestation while simultaneously expanding production, representatives from the country's largest association of palm oil producers told mongabay.com in an interview last month.


Nordic energy giant launches 'no deforestation' policy

(04/07/2013) Neste Oil, a Finnish energy giant, has announced a new 'no deforestation' policy for sourcing palm oil. The company, which is one of the world's largest buyers of palm oil, had faced criticism from environmentalists for purchasing palm oil potentially linked to rainforest and peatland destruction in southeast Asia.


Cargill to boost investment in Indonesian oil palm plantations

(03/26/2013) Cargill plans to 'aggressively' expand its palm oil holdings in Sulawesi, Indonesian Borneo, and Sumatra, reports The Wall Street Journal.


Dunkin' Donuts to adopt palm oil policy

(03/07/2013) Doughnut and coffeehouse giant Dunkin' Donuts has agreed to source 100 percent of its palm oil under the Roundtable on Sustainable Palm Oil (RSPO), though the company has yet to set a date for the move, reports the New York State Comptroller's office.


Malaysian NGOs boldly demand forest conservation action in Borneo


(02/28/2013) In an unusually bold statement catalyzed by the deaths of 14 rare elephants, six Malaysian NGOs today called on the Sabah state government to pursue 'a more conservation focused agenda' in managing the state's forests. The demand comes shortly after the death of 14 endangered pygmy elephants — thought poisoned by an oil palm plantation developer — thrust Sabah's environmental problems into the international spotlight.


Guide for filing complaints on rule-breaking by palm oil companies published

(02/28/2013) Over the past 25 years palm oil production has emerged as one of the biggest drivers of deforestation and peatlands degradation in Southeast Asia. And there are fears that expansion in West and Central Africa could soon make palm oil a major cause of forest conversion on that continent.


Controversial palm oil project concession in Cameroon is 89 percent 'dense natural forest'


(02/21/2013) Satellite mapping and aerial surveys have revealed that a controversial palm oil concession in Cameroon is almost entirely covered by "dense natural forest," according to a new report by Greenpeace. The activist group alleges that the concession, owned by Herakles Farms, is under 89 percent forest cover. The U.S.-based corporation intends to build a 70,000 hectare palm oil plantation in a region surrounded by four protected areas, including Korup National Park, but has faced stiff criticism from numerous environmental groups as well as conflict with locals.


Palm oil sustainability initiative must rule out deforestation, says group

(01/18/2013) The Roundtable on Sustainable Palm Oil (RSPO) must implement standards that protect forests and account for greenhouse gas emissions to remain credible, said an environmental group ahead of a that will determine the body's 'Principles and Criteria' for the next five years.


RSPO rules against palm oil company in controversial deforestation case

(12/20/2012) The body that sets social and environmental criteria for greener palm oil production has taken action against a palm oil accused of clearing community forest in Indonesian Borneo, reports the Environmental Investigation Agency (EIA).


Cutting through the rhetoric on palm oil production


(12/14/2012) Palm oil is widely acknowledged as one of the most important drivers of deforestation and forest diminishment in Southeast Asia. Conversion of forests and peatlands for oil palm plantations is both a substantial source of greenhouse gas emissions and a major threat to biodiversity — one study called palm oil the 'single most immediate threat to the greatest number of species'.


Complaint filed with palm oil body over orangutan rescue case


(11/29/2012) Conservationists have filed a complaint against an Indonesian palm oil company for allegedly clearing an area of forest that contained orangutans. Earlier this month, the Sumatran Orangutan Society (SOS) filed a complaint against PT Sisirau for allegedly breaching the Roundtable on Sustainable Palm Oil's rules on sparing high conservation value forest. PT Sisirau is a member of the Roundtable on Sustainable Palm Oil (RSPO), a multistakeholder body that sets criteria for more environmentally responsible palm oil production.


E.U. OKs biofuels produced from certified palm oil


(11/28/2012) The European Commission has approved palm oil-based biodiesel for the renewable fuels standard provided it is certified under the Roundtable for Sustainable Palm Oil (RSPO), a body that sets social and environmental criteria for palm oil production. The move, which could dramatically boost sales of palm oil in Europe, was sharply criticized by environmental activists, who said that without stronger safeguards, increased palm oil production could increase deforestation and greenhouse gas emissions.


Photos reveal destruction of Cameroon rainforest for palm oil


(11/26/2012) Newly released photos by Greenpeace show the dramatic destruction of tropical forest in Cameroon for an oil palm plantation operated by SG Sustainable Oils Cameroon (SGSOC), a subsidiary of the U.S. company Herakles Farm. The agriculture company is planning to convert 73,000 hectares to palm oil plantations on the edge of several protected areas, but has faced considerable opposition from environmentalists and some local communities. In addition to the aerial photos, Greenpeace alleges that ongoing forest clearing by Herakles is illegal since the companies 99-year lease has yet to be fully approved by the Cameroonian government.


China, India should cut tariff on eco-certified palm oil to boost demand, says RSPO official


(11/02/2012) China and India, the world's largest palm oil buyers, should reduce or eliminate an import tariff on eco-certified palm oil to boost demand for less-damaging production of the widely-used oilseed, said the President of the Roundtable on Sustainable Palm Oil (RSPO) during the body's tenth annual meeting in Singapore.


Roundtable on Sustainable Palm Oil hits 10 year mark


(10/04/2012) The Roundtable on Sustainable Palm Oil (RSPO) is holding its tenth annual meeting later this month. The initiative, which aims to improve the social and environmental performance of palm oil production through a certification standard, has advanced considerably during that time, moving from an idea to a reality: RSPO-certified palm oil now accounts for 12 percent of global palm oil production. Yet the RSPO is not without controversy. Some palm oil companies say its criteria are too costly to adopt and are therefore discriminatory, while environmental critics argue its bar for "sustainable" palm oil is too low and the loopholes allow producers to claim membership even if they aren't actually producing certified palm oil across all their holdings. Nonetheless the RSPO has support from many of the world's largest palm oil producers, traders, and consumers as well as the biggest NGOs.


Palm oil company in Cameroon drops bid for eco-certification of controversial plantation

(09/05/2012) Herakles Farm, a U.S.-based agricultural developer, will no longer seek eco-certification of its 70,000-hectare oil palm plantation in Cameroon, reports the Roundtable on Sustainable Palm Oil (RSPO). The move comes amid criticism from environmental groups that Herakles is converting high conservation value rainforest for the plantation.


Palm oil giant to produce 100% segregated, RSPO-certified palm oil

(05/23/2012) 100 percent of New Britain Palm Oil Limited's palm oil will be eco-certified, segregated, and fully traceable by the end of the year, reports the Roundtable on Sustainable Palm Oil (RSPO).


In sustainability push, Unilever aims to build palm oil processing plant in Indonesia


(04/25/2012) Unilever is in talks to build a $130 million palm oil processing mill in Indonesia as part of its commitment to use more environmentally-friendly palm oil in its products, reports The Wall Street Journal. The mill, which would be located in Sumatra, would produce about 10 percent of Unilever's annual consumption of palm oil, which is produced from fruit from the oil palm tree. Unilever is the world's largest single consumer of palm oil, using 1.36 million tons a year for beauty and food products, including Dove soap, Ben & Jerry's ice cream, and Vasoline.


Green groups may call for boycott of Indonesian palm oil over forest destruction in Sumatra

(04/11/2012) Environmental groups are escalating their battle over an area of peat forest in Tripa, Sumatra that has been granted for oil palm plantations.


Certified palm oil profitable for companies, finds study

(04/06/2012) A new study suggests shifting to certified palm oil production increases profitability despite higher production costs.


Our success in transforming commodity markets will determine nature's fate


(04/01/2012) The success of governments and big corporations in eliminating environmental degradation from the products we consume will play a critical role in determining the fate of the world's remaining wild places, said a group of experts speaking at a panel during the Skoll World Forum on Social Entrepreneurship.


RSPO-certified palm oil production jumps, generates $21M in premiums for producers

(03/08/2012) Production and sales of palm oil certified under the Roundtable on Sustainable Palm Oil (RSPO) reached record volume in 2011, reports a new analysis published by the multistakeholder body.


Belgium to source only RSPO-certified palm oil by 2015

(01/31/2012) Belgium will source only palm oil certified under the Roundtable for Sustainable Palm Oil (RSPO) by 2015 under a pledge by an alliance of major processors, manufacturers, and industry associations, reports the RSPO.


The year in review for rainforests


(12/28/2011) 2011 was designated as "Year of the Forests" by the United Nations. While there was relatively little progress on intergovernmental forest protection programs during the year, a lot happened elsewhere. Below is a look at some of the biggest tropical forest-related news stories for 2011. We at mongabay readily acknowledge there were a number of important temperate and boreal forest developments, including Britain's decision not to privatize its forests and the severe drought in Texas, but this article will cover only tropical forest news.


Will 'sustainable' palm oil sell in China?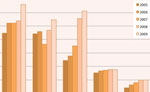 (12/19/2011) Owing to the high yield of the African oil palm tree, palm oil is today the cheapest commercial source of edible oil. But oil palm expansion in recent decades has at times had high indirect costs, including destruction of biologically diverse rainforests and further marginalization of forest-dependent people, especially in southeast Asia. Concerns over the environmental and social impact of palm oil production in the spurred a group of palm oil producers, processors, and buyers to team up with conservation groups to form the Roundtable on Sustainable Palm Oil (RSPO) in 2004. But a big question looms over all certification efforts: will the world's largest importers of palm oil — India and China — buy it?


Cargill should do more to end use of problematic palm oil, says RAN

(11/24/2011) As part of our coverage of the 9th Annual Roundtable Meeting on Sustainable Palm Oil currently underway in Kota Kinabalu in Sabah, Malaysia, mongabay.com is interviewing participants and attendees. In the following interview, mongabay.com speaks with the delegation from the Rainforest Action Network (RAN), an advocacy group which has been critical of some Roundtable on Sustainable Palm Oil (RSPO) members for what is sees as ongoing social and environmental problems.



Page 1 | Page 2 | Page 3