News articles on rainforests

---
Mongabay.com news articles on rainforests in blog format. Updated regularly.





Plantation companies in Sumatra failing to meet fire prevention standards

(10/14/2014) An inter-agency audit of 17 plantation and timber concessions in Riau Province, Indonesia, found that every company is failing to meet fire prevention and control standards. In addition, several companies are working in prohibited areas, including peatlands with depths over 3 meters.


'River wolves' recover in Peruvian park, but still remain threatened inside and out (photos)


(10/14/2014) Lobo de río, or river wolf, is the very evocative Spanish name for one of the Amazon's most spectacular mammals: the giant river otter. This highly intelligent, deeply social, and simply charming freshwater predator almost vanished entirely due to a relentless fur trade in the 20th Century. But decades after the trade in giant river otter pelts was outlawed, the species is making a comeback.


Forest restoration commitments: driven by science or politics?


(10/10/2014) During September's UN Climate Summit, three African nations were recognized for their commitments to restore collectively millions of hectares of forest. But several organizations declined invitations to sign the pact because they say it fails to lay out "concrete action" to fight climate change, and some experts in the field worry that the announcements are little more than political posturing.


'A remarkable conservation achievement': Ecuador reserve expands as forest disappears


(10/09/2014) A strip of rainforest running along the northwestern Ecuadorian coast and up through Colombia is one of the most biodiverse places in the world. Yet, less than 10 percent of Ecuador's portion remains intact, with more forest lost every year to human development. But a little more has been saved for now, with 500 hectares added to an area reserve.


Next big idea in forest conservation? Empower youth leaders


(10/09/2014) Want to save forests? Don't forget the youth, says Pedro Walpole, the Chair and Director of Research for the Environmental Science for Social Change, a Jesuit environmental research organization promoting sustainability and social justice across the Asia Pacific region. 'Youth leadership in environmental management is key,' Walpole told mongabay.com.


Forest fragmentation's carbon bomb: 736 million tonnes C02 annually

(10/09/2014) Scientists have long known that forest fragments are not the same ecologically as intact forest landscapes. When forests are slashed into fragments, winds dry out the edges leading to dying trees and rising temperatures. Biodiversity often drops, while local extinctions rise and big animals vanish. Now, a new study finds another worrisome impact of forest fragmentation: carbon emissions.


Brazil unlikely to sustain gains in reducing deforestation without new incentives for ranchers, says study


(10/09/2014) Cattle ranchers that drive the vast majority of forest clearing in the Brazilian Amazon are unlikely to be held at bay indefinitely unless they are afforded new incentives for keeping trees standing, argues new analysis published by an economic research group. The findings suggest that Brazil's recent progress in reducing deforestation — annual forest loss in the region has dropped by roughly 80 percent since 2004 — could easily be reversed.


Helping orangutans survive: new project aims to connect habitat fragments in Kalimantan (PART II)


(10/08/2014) Two decades ago, a project to convert one million hectares of forest to rice paddies was undertaken by the Indonesian government in southern Kalimantan. The project was a massive failure and was eventually abandoned, but not before it destroyed critical orangutan habitat. Now a new project is trying to knit together what's left and turn the area's isolated orangutan populations into one of Borneo's largest.


Marooned in shrinking forests, Bornean orangutans hang on as disaster looms (PART I)


(10/07/2014) The great apes are among some of the most endangered species on Earth, the targets of poachers and the victims of deforestation. However, from time-to-time there comes news of hope. A study published recently describes the dire situation faced by Bornean orangutans, as well as an ambitious project to help save them.


An impossible balancing act? Forests benefit from isolation, but at cost to local communities


(10/07/2014) The indigenous people of the Amazon live in areas that house many of the Amazon's diverse species. The Rupununi region of Guyana is one such area, with approximately 20,000 Makushi and Wapishana people living in isolation. According to a recent study published in Environmental Modelling & Software, a simulation model revealed a link between growing indigenous populations and gradual local resource depletion.


The Zanaga iron ore mine – a test of best laid plans for preserving wildlife


(10/06/2014) One of the largest iron ore deposits in Africa is located in a strip 47 kilometers long and three kilometers wide in the Republic of the Congo (RoC), bordering Gabon. A core section of the Guineo-Congolian Forest rises above this vast mineral deposit, and provides a home to flagship endangered species like western lowland gorillas, chimpanzees, and forest elephants.


Report rates palm oil companies on sustainability commitments


(10/05/2014) A new report published Forest Heroes, an advocacy campaign pushing for an end to deforestation, ranks global palm oil companies on their sustainability commitments. The Green Tigers, authored by Glen Hurowitz, reviews the recent history of environmental policies in the palm oil sector, beginning with the formation of the Roundtable on Sustainable Palm Oil (RSPO) in 2004 through the wave of comprehensive zero deforestation commitments in 2013-2014.


Central Kalimantan to set up palm oil monitoring system to in bid cut deforestation 80%


(10/05/2014) The Indonesian province of Central Kalimantan is moving forward on an oil palm plantation monitoring system it hopes will help meet a commitment to reduce deforestation 80 percent by 2020. The online monitoring system will include "information on the performance of plantation concessions such as productivity, the number of smallholder farmers, deforestation and other land cover change, and fire occurrence," according to Earth Innovation Institute which designed and is helping the provincial government implement the system.


Will 'Asia's unicorn' survive? Hunting and deforestation continue in Vietnam biosphere reserve PART II


(10/02/2014) Encompassing 1.3 million hectares, Western Nghe An Biosphere Reserve the largest such reserve in all of Southeast Asia. Because of the biological importance of the region, it was designated a biosphere reserve by UNESCO in 2007. But deforestation and bushmeat hunting continue, begging the question: is the wildlife of Western Nghe An Biosphere Reserve truly protected?


Despite high deforestation, Indonesia making progress on forests, says Norwegian official


(10/02/2014) Despite having a deforestation rate that now outpaces that of the Brazilian Amazon, Indonesia is beginning to undertake critical reforms necessary to curb destruction of its carbon-dense rainforests and peatlands, says a top Norwegian official. Speaking with mongabay.com in Jakarta on Monday, Stig Traavik, Norway's ambassador to Indonesia, drew parallels between recent developments in Indonesia and initiatives launched in Brazil a decade ago, when deforestation was nearly five times higher than it is today.


The largest biosphere reserve in Southeast Asia: Vietnam's success story or a conservation failure? PART I


(09/30/2014) In 2010, poachers shot and killed the last Javan rhino in Vietnam, wiping out an entire subspecies. The Sumatran rhino, the Malayan tapir and the civet otter, too, have disappeared from the country. Moreover, charismatic species like tigers, elephants, gibbons and the secretive saola discovered recently in Vietnam's forests are at risk of extinction in the coming decades as threats to wildlife continue unabated in the country.


Studying common birds could help save rare species in Vietnam

(09/30/2014) Studies in conservation biology often focus on rare, threatened species faced with impending extinction, but what about common animals of least concern? Could they too help conservationists fine-tune their approach? Doctoral researcher Laurel Yohe not only claims that they can, but demonstrates how in a new study. She and five other researchers compared ranges of five babblers with development across Vietnam.


Malaysian palm oil company destroys Borneo forests, despite buyer's zero deforestation commitment

(09/30/2014) Malaysian palm oil company Genting Plantations is continuing to destroy forests despite a high-profile pledge by one of its customers to eliminate deforestation from its supply chain, alleges a report published by Greenomics, an Indonesian environmental group.


A weed by any other name: remnant shrubs and trees play vital role in regenerating forests


(09/29/2014) Tropical forest restoration projects are exciting research sites for scientists studying factors that affect ecosystem recovery. Here, scientists are trying to understand plant community succession, i.e. the process of recovery after cleared lands are abandoned and allowed to regrow naturally. One of the most important components of this recovery process is seed dispersal, since seeds from nearby forests allow a deforested habitat to become populated again by native plants and trees.


Climate change to boost farmland, diminish harvests, says new study


(09/29/2014) Climate change is likely to alter how we humans grow adequate amounts of food for a swelling global population. Assessing just how much and where those changes will occur has been difficult. But a new study takes aim at those very questions and could provide a guide for the debate over feeding the planet while also preserving biodiversity and the forests that filter out the carbon we produce.


Diverse, deceptive, declining: orchids threatened by deforestation in South America


(09/26/2014) Pushing past a thick fern leaf, Crain stopped short, overcome by joy. As he broke into dance, his assistant peered curiously at the tiny lentil-shaped fruit dangling from a stem, and resolutely decided Crain was mad. After more than two years studying a rare Puerto Rican endemic orchid species, Crain had finally found his first specimen bearing fruit.


Reintroduction program ups Mexico's scarlet macaw population by 34 percent in one year


(09/25/2014) While listed as Least Concern by the IUCN, the scarlet macaw has disappeared from almost all of its native range in Mexico, is very rare in most Central America countries, and is locally extinct in El Salvador. A new paper published this week finds a reintroduction program was hugely successful in its first year of operation, with a 92 percent survival rate for released birds.


Four countries pledge to restore 30 million hectares of degraded lands at UN Summit

(09/25/2014) In 2011, Germany and the International Union for the Conservation of Nature launched the Bonn Challenge, which pledged to restore 150 million hectares of degraded and deforested lands by 2020. Several countries have already made commitments—including the U.S.—but this week at the UN Climate Summit four more jumped on board.


Scientists uncover six potentially new species in Peru, including bizarre aquatic mammal (photos)


(09/25/2014) A group of Peruvian and Mexican scientists say they have uncovered at least six new species near South America's most famous archaeological site: Machu Picchu. The discoveries include a new mammal, a new lizard, and four new frogs. While the scientists are working on formally describing the species, they have released photos and a few tantalizing details about the new discoveries.


In the shadows of Machu Picchu, scientists find 'extinct' cat-sized mammal


(09/25/2014) Below one of the most famous archaeological sites in the world, scientists have made a remarkable discovery: a living cat-sized mammal that, until now, was only known from bones. The Machu Picchu arboreal chinchilla rat (Cuscomys oblativa) was first described from two enigmatic skulls discovered in Inca pottery sculpted 400 years ago.


Turning point for Peru's forests? Norway and Germany put muscle and money behind ambitious agreement


(09/24/2014) From the Andes to the Amazon, Peru houses some of the world's most spectacular forests. Proud and culturally-diverse indigenous tribes inhabit the interiors of the Peruvian Amazon, including some that have chosen little contact with the outside world. And even as scientists have identified tens-of-thousands of species that make their homes from the leaf litter to the canopy.


Scientists use genes, feces to study disappearing monkeys


(09/24/2014) Human pressures through tree clearing and poaching are reducing both forest and fauna in West Africa. In response to dwindling primate populations, scientists used genetics techniques to examine their makeup and outlook – demonstrating the usefulness of such methods in the study of animals that are becoming ever-fewer in number and ever-harder to find.


Leaders pledge to end deforestation by 2030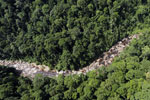 (09/24/2014) Dozens of companies, non-profit organizations, and governments pledged to work together to halve forest loss by 2020 and end it altogether by 2030. If implemented, the commitment could reduce annual carbon dioxide emissions by 4.5-8.8 billion tons annually, equivalent to removing a billion cars from the world's roads.


Cargill commits to zero deforestation across entire global supply chain: all commodities


(09/24/2014) Cargill, one of the world's largest agricultural companies, has extended its zero deforestation commitment for palm oil to all commodities it produces. The commitment, announced Tuesday at the United Nations Climate Summit in New York, is the most far-reaching zero deforestation policy ever established, covering Cargill's sprawling global empire of businesses, including palm oil, sugar, soy, cattle, and cocoa.


Fragmented forests hurt some bat species, may benefit others


(09/23/2014) Development of roads and other structures disturb large, continuous patches of habitat for wildlife. This habitat fragmentation is one of the biggest contributors to species extinction, as the local ecology and species interactions are altered. A new study finds that leaf-nosed bat abundances in Mexico are closely linked to how sensitive each species is to habitat fragmentation.


Dissolving pulp: the threat to Indonesia's forests you've probably never heard of


(09/23/2014) If the term "dissolving pulp" evokes nothing for you, you're not alone. Not many people have heard of it, and the very term "dissolving pulp" is so generic it's hard to imagine it could be a threat to anything.


Extinction island? Plans to log half an island could endanger over 40 species


(09/22/2014) Woodlark Island is a rare place on the planet today. This small island off the coast Papua New Guinea is still covered in rich tropical forest, an ecosystem shared for thousands of years between tribal peoples and a plethora of species, including at least 42 found no-where else. Yet, like many such wildernesses, Woodlark Island is now facing major changes: not the least of them is a plan to log half of the island.


Scientists rebut NYTimes op-ed 'To Save the Planet, Don't Plant Trees'


(09/22/2014) The following is a response from a group of scientists' -- including 6 members of the National Academy, 3 IPCC Lead Authors, and 1 IPCC Co-Chair -- to Dr. Nadine Unger's September 21, New York Times Op-Ed, "To Save the Planet, Don't Plant Trees"


Palm oil giants announce deforestation moratorium -- effective immediately


(09/20/2014) Five of the world's largest palm oil producers have announced an immediate moratorium on palm oil sourced via clearance of potential high carbon stock forests. On Friday, Asian Agri, IOI Corporation Berhad, Kuala Lumpur Kepong (KLK) Berhad, Musim Mas Group and Sime Darby Plantation said they will suspend forest clearing until they have completed a year-along study that aims to establish a threshold for defining what constitutes high carbon stock (HCS) forest.


Legislation protecting Indonesia's indigenous communities is not good enough, says advocacy group


(09/18/2014) Approaching final legalization, an advocacy group for Indonesia's indigenous communities has asked to postpone passing a bill granting protections to indigenous people, stating some demands still need to be addressed.


The cheap option on climate change: recognize indigenous rights to forests


(09/18/2014) Since 2008, governments have invested $1.64 billion in funds to kick-start REDD+, or Reducing Emissions from Deforestation and Degradation, the global effort to conserve the world's forests in order to better mitigate climate change. However, a new report by the Rights and Resources Initiative (RRI) finds that same amount of money could have secured the legal rights of indigenous and local people to 450 million hectares of forest, an area 40 percent larger than India.


'The green Amazon is red with indigenous blood': authorities pull bodies from river that may have belonged to slain leaders

(09/17/2014) Peruvian authorities have pulled more human remains from a remote river in the Amazon, which may belong to one of the four murdered Ashaninka natives killed on September 1st. It is believed the four Ashaninka men, including renowned leader Edwin Chota Valera, were assassinated for speaking up against illegal logging on their traditional lands.


Plantation companies agree to process to define zero deforestation commitments

(09/17/2014) A group of palm oil and timber companies that have pledged to eliminate deforestation from their supply chains have agreed to establish a standard for determining what constitutes forest in terms of carbon storage.


Activists urge outgoing Indonesian president to protect key forest area before he steps down

(09/17/2014) Activists have launched an urgent appeal calling upon outgoing Indonesian President Susilo Bambang Yudhoyono to step up protection of the only ecosystem that houses Sumatran orangutans, rhinos, elephants and tigers.


From 'production' forests to protected forests, groups work to save Sumatran orangutan habitat. But will it be enough?


(09/16/2014) The orangutan is native exclusively to the islands of Borneo and Sumatra — two regions that have seen the brunt of Indonesia's recent forest destruction due primarily to logging and plantation development. Although there are anywhere from 45,000 to 69,000 Bornean orangutans remaining in the wild, the Sumatran species numbers only about 7,300 according to a 2004 survey, and is dwindling further every year.


As Bolivia plans dramatic agro-expansion, forests may pay the price (PART II)


(09/12/2014) In an August 14 announcement, Bolivian Vice President, Alvaro Garcia Linera, laid out an ambitious plan to increase the country's cropland by 250 percent, and triple its agricultural output. The proposal is touted as way to increase both food and economic security for the inland South American country, but what will it mean for its forests?


Palm oil company continues to operate illegal plantation despite court ruling

(09/12/2014) A palm oil company in Central Kalimantan continues to operate business as usual, despite a Supreme Court ruling confirming it has no legal permit to do so. Since 2009, PT Hati Prima Agro (HPA), a subsidiary of palm oil giant Bumitama Gunajaya Agro Group (BGA), has cleared over 7,000 ha of land in Central Kalimantan, even though their permits were revoked by the Ministry of Forestry in 2008.


FSC passes motion for greater protection of primary forests

(09/12/2014) The Forest Stewardship Council (FSC) has passed a motion to increase protection of old-growth forests.


Brazil confirms last year's rise in Amazon deforestation

(09/12/2014) Brazil's National Space Agency INPE has officially confirmed last year's rise in Amazon deforestation.


FSC meeting weighs old-growth forest protection, smallholder participation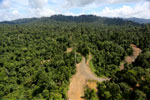 (09/11/2014) The Forest Stewardship Council (FSC), a body that sets social and environmental certification criteria for forestry products, is weighing measures that could step up protection for old-growth forests and make it easier for indigenous people and traditional forest communities to qualify for certification. The measures are set for a vote this week at the body's General Assembly, which is held every three years to establish and revise criteria that underpin the standard.


Elephants pay the price for palm oil in Malaysian Borneo, impact may reach far beyond reported kills


(09/10/2014) More than a dozen elephant kills were reported in Sabah in 2013 alone, but it is unknown exactly how many have lost their lives in recent years as palm plantations encroach further and further into the rainforest. What is clear is that if the loss of their forest habitat continues to drive conflicts with humans at the rate it is now, Borneo elephants' long-term survival may be in jeopardy.


Malaysian palm oil chief misleads on deforestation

(09/10/2014) One of Malaysia's top palm oil officials has once again misled the public on the state of forests in Malaysia.


4 Ashaninka tribesmen killed by loggers in Peru

(09/08/2014) One of those killed was Edwin Chota, the leader of the Alto Tamaya-Saweto indigenous community who won fame for fighting illegal loggers. As such, Chota was a top target for assassination, according to a conservationist familiar with the situation.


APP can meet projected pulp demand without clearing more forest

(09/05/2014) Indonesian forestry giant Asia Pulp & Paper (APP) won't need to clear additional forests to meet pulp requirements for current and forecast mill expansion, finds an independent assessment conducted by The Forest Trust (TFT) and Ata Marie.


How Islam could help save Aceh's forests

(09/05/2014) Aceh, Indonesia has found a new ally in the struggle to protect the province's remaining natural forests: Sharia law.



Page 1 | Page 2 | Page 3 | Page 4 | Page 5 | Page 6 | Page 7 | Page 8 | Page 9 | Page 10 | Page 11 | Page 12 | Page 13 | Page 14 | Page 15 | Page 16 | Page 17 | Page 18 | Page 19 | Page 20 | Page 21 | Page 22 | Page 23 | Page 24 | Page 25 | Page 26 | Page 27 | Page 28 | Page 29 | Page 30 | Page 31 | Page 32 | Page 33 | Page 34 | Page 35 | Page 36 | Page 37 | Page 38 | Page 39 | Page 40 | Page 41 | Page 42 | Page 43 | Page 44 | Page 45 | Page 46 | Page 47 | Page 48 | Page 49 | Page 50 | Page 51 | Page 52 | Page 53 | Page 54