News articles on rainforests

---
Mongabay.com news articles on rainforests in blog format. Updated regularly.






Indigenous leader murdered before he could attend Climate Summit
(12/08/2014) Days before José Isidro Tendetza Antún was supposed to travel to the UN Climate Summit in Lima to publicly file a complaint against a massive mining operation, he went missing. Now, the Guardian reports that the body of the Shuar indigenous leader has been found, bound and buried in an unmarked grave on the banks of the Zamora River.
A landmark year for forests (commentary)
(12/05/2014) About one year ago today, I was pretty down. It was Thanksgiving night, and the Forest Heroes campaign, which I chair, had been running a big global campaign to persuade Wilmar International, Asia's largest agribusiness company, to eliminate deforestation and human rights abuse throughout its enormous supply chain.
Tradeoff: Sabah banks on palm oil to boost forest protection
(12/05/2014) Last month Sabah set aside an additional 203,000 hectares of protected forest reserves, boosting the Malaysian state's extent of protected areas to 21 percent of its land mass. But instead of accolades, Sabah forestry leaders were criticized for how they went about securing those reserves: allowing thousands of hectares of deforested land within an officially designated forestry area to be converted for oil palm plantations
Giant stone face unveiled in the Amazon rainforest (video)
(12/04/2014) A new short film documents the journey of an indigenous tribe hiking deep into their territory in the Peruvian Amazon to encounter a mysterious stone countenance that was allegedly carved by ancient peoples. According to Handcrafted Films, which produced the documentary entitled The Reunion, this was the first time the Rostro Harakbut has been filmed.
Musim Mas says its palm oil will be deforestation-free
(12/04/2014) Singapore-based Musim Mas has established a new sustainability policy that it says will eliminate deforestation, peatlands conversion, and social conflict from its palm oil supply chain. The company, which operates plantations in Sumatra and Indonesian Borneo, has been under pressure from environmentalists to join a growing number of palm oil producers and traders that have made zero deforestation pledges.
Is the Gran Canal really a 'big Christmas present' for Nicaraguans?
(12/04/2014) "A big Christmas present"—that is how Paul Oquist, an advisor to Nicaraguan president, Daniel Ortega, described the country's plan to build a mega-canal across the nation. Preliminary construction on the canal is set to begin December 24th, despite major concerns over environmental destruction, forced removal of thousands of people, and a lack of transparency.
New survey finds surprisingly large population of endangered owl
(12/03/2014) The Anjouan scops owl—an elusive owl found only on its tiny eponymous island—was once considered among the world's most endangered owls, and even the most threatened birds. However, the first in-depth survey of the owls on the island finds that, in fact, the population is far larger than initially estimated.
Threatened indigenous forests store more than half the Amazon's carbon
(12/02/2014) A new study released today finds the total carbon load locked up in parts of the Amazon rainforest held by indigenous groups to be much higher than previously estimated – an amount that, if released, would be capable of destabilizing the earth's atmosphere. But because of flimsy land rights, these areas stand at risk of deforestation.
Pulp and paper giant violating its sustainability policy

(12/01/2014) Asia Pacific Resources International Limited (APRRIL) is violating its own sustainability policy by continuing to source fiber produced via the destruction peatlands on the island of Pulau Padang in Riau, Sumatra, argues a new report published by a coalition of Indonesian environmental groups.
Indonesia to audit licenses of palm oil companies that clear peatlands
(11/30/2014) New Indonesian president Joko Widodo has ordered the Ministry of Environment and Forestry to review licenses for companies that have converted peatlands for oil palm plantations, reports Antara. Jokowi, as the president is popularly known, announced the move after a visit last week to Sungai Tohor, a community in Riau that has been particularly affected by peatlands degradation and haze caused by fires set for land clearing.
Amazon deforestation in Brazil drops 18% in 2013/2014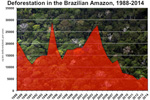 (11/26/2014) Figures published Wednesday by Brazil's National Space Research Institute (INPE) show that 4,848 square kilometers (1,871 square miles) of forest — an area about the size of the state of Rhode Island or the country of Brunei — were cleared between August 2013 and July 2014.
What we can learn from uncontacted rainforest tribes
(11/26/2014) If you have ever wondered about the connection between hallucinogenic frogs, uncontacted peoples, conservation, and climate change — and who hasn't? — check out this TED talk from ethnobotanist Mark Plotkin. An ethnobotanist by training, Plotkin serves as President of the Amazon Conservation Team. Plotkin took a few minutes from his busy schedule to answer a few questions from Mongabay.
Chinese logging company takes over Guyana's forests
(11/26/2014) Foreign companies investing in Guyana's substantial forests are supposed to adhere to national laws and international agreements. But civil society leaders and activists inside and outside the South American country are crying foul, saying foreign corporations and government officials are paying lip service to the accords while quietly building a timber-harvesting empire in the country with few benefits for the average Guyanese.
APP boosting timber productivity to support zero deforestation policy
(11/26/2014) Asia Pulp & Paper (APP) appears to have enough plantation fiber to operate existing mills as well as supply a new mill under construction in South Sumatra without having to pulp natural forests, argues a new report that also finds the forestry giant is successfully improving yields to support its zero deforestation commitment.
Meet the world's rarest chameleon: Chapman's pygmy
(11/25/2014) In just two forest patches may dwell a tiny, little-known chameleon that researchers have dubbed the world's most endangered. Chapman's pygmy chameleon from Malawi hasn't been seen in 16 years. In that time, its habitat has been whittled down to an area about the size of just 100 American football fields.
Amazon deforestation moratorium extended 18 months
(11/25/2014) The Brazilian soy industry has extended its deforestation moratorium for another 18 months. The moratorium, which was established in 2006 after a high-profile Greenpeace campaign, bars conversion of forests in Brazilian Amazon for soy production. Independent analysis has shown it to be highly effective — just prior to the moratorium, soy accounted for roughly a fifth of recent deforestation, while today its share is less than one percent.
Indonesia's anti-corruption agency questions former Minster of Forestry

(11/21/2014) Indonesia's Corruption Eradication Commission (KPK) questioned the former Minister of Forestry about his role in altering zoning to facilitate oil palm expansion into public lands. The case centers around Riau Governor Annas Maamun, who allegedly accepted bribes to convert an area's status from 'production forest' into 'non-forested land'.
Indonesia imposes moratorium on new logging permits
(11/20/2014) Indonesia's new Minister of Environment and Forestry Siti Nurbaya Bakar imposed a moratorium on the issuance of all new logging permits a little over a week after being appointed in late October. The move is being celebrated by conservation groups and signals that interest in reforming Indonesia's notoriously corrupt and dysfunctional forestry sector has reached the highest levels of government, with direction coming from President Joko Widodo.
A tale of 2 Perus: Climate Summit host, 57 murdered environmentalists
(11/18/2014) On September 1st, indigenous activist, Edwin Chota, and three other indigenous leaders were gunned down and their bodies thrown into rivers. Chota, an internationally-known leader of the Asháninka in Peru, had warned several times that his life was on the line for his vocal stance against the destruction of his peoples' forests, yet the Peruvian government did nothing to protect him—or others.
Field plots offer biased view of the Amazon
(11/17/2014) Field plots in the Amazon are often not representative of the habitats surrounding them, potentially biasing extrapolations made across the region, argues a new paper published in the Proceedings of the National Academy of Sciences (PNAS). The research is based on advanced three-dimensional mapping of forest structure within field plots and in surrounding areas using sensors aboard the Carnegie Airborne Observatory, an airplane-based system.
Cargill to use drones to monitor zero deforestation commitment
(11/17/2014) Cargill will use Unmanned Aerial vehicles (UAVs) and 'solar-powered, satellite-connected remote sensor networks' to monitor compliance with its new zero deforestation policy for palm oil, reports the agribusiness giant in its first progress report on its recent forest commitments.
Brazilian government silent as deforestation rises in the Amazon
(11/17/2014) Deforestation in the Brazilian Amazon continues to outpace last year's rate by a significant margin, reveals data released today by Imazon, a Brazilian non-profit. Imazon's analysis of satellite data shows that for the 3-month period ended October 31, 2014, deforestation is running 226 percent of last year's rate. Forest degradation, which often precedes outright clearing, is pacing 691 percent ahead of last year.
Surprising reasons to be optimistic about saving forests
(11/14/2014) In the 1990s, the world watched with alarm as vast tracts of tropical rainforest were torn down for timber and croplands, dug up for minerals and energy, and flooded for hydroelectric projects. Conservation groups, governments, philanthropists, and institutions like the World Bank collectively spent billions of dollars on programs to stop the carnage. But as viewed from satellites high above Earth's surface, those efforts barely dented deforestation rates.
New tapir? Scientists dispute biological discovery of the century
(11/13/2014) Nearly a year ago, scientists announced an incredible discovery: a new tapir species from the western Amazon in Brazil and Colombia. The announcement was remarkable for a number of reasons: this was the biggest new land mammal discovered in more than 20 years and was only the fifth tapir known to the world. But within months other researchers expressed doubt over the veracity of the new species.
Australia's small rainforest conservation steps overshadowed by broader assault on environment (commentary)
(11/13/2014) On the eve of the World Parks Congress in Sydney, the Australian government has just hosted the 'Asia-Pacific Rainforest Summit', a two-day event that brought together political leaders, academics, environmental managers and NGO staff in an effort to devise strategies to conserve endangered forests in the Asia-Pacific region. Here, Bill Laurance, a leading rainforest researcher, takes a critical look at the event.
Leaf bacteria are important to tree health, may help forests adapt to climate change
(11/13/2014) Leaves are vital trees organs that support many important functions. A recent study published in PNAS found that each tree species in tropical rainforests possesses distinctive bacterial communities – called microbiomes – on their leaves. Understanding how leaf microbiomes vary among species may in the future be applied for maintaining healthy forests and predicting how forests will react to climate change.
Reducing deforestation is good for business, argues report

(11/12/2014) Some of the world's largest companies are making progress in disclosing and addressing deforestation risk within their commodity supply chains, but much work is left to be done to shift to more sustainable practices, argues a new report from the Climate Disclosure Project.
Local people are not the enemy: real conservation from the frontlines
(11/12/2014) Saving one of the world's most endangered primates means re-thinking conservation. When Noga Shanee and her colleagues first arrived in Northeastern Peru on a research trip to study the yellow-tailed woolly monkey (Oreonax flavicauda), she was shocked by what she observed.
'Guns kill trees too': overhunting raises extinction threat for trees
(11/12/2014) A new paper confirms what ecologists have long feared: hunting birds and mammals drastically raises the risk of extinction for tropical trees. Following the long-lifespan of a single canopy tree, Miliusa horsfieldii, researchers discovered that overhunting of animals could increase the chances of extinction for the species fourteen times over a century, from 0.5 percent to seven percent.
Only place where rhinos, tigers, elephants, and orangutans coexist is under threat
(11/12/2014) A forest that is the only place where rhinos, tigers, elephants, and orangutans coexist is under threat from planned infrastructure, mining, logging, and plantation projects, warns a new report from the Rainforest Action Network. The report looks at one of the last vestiges of wilderness on the island of Sumatra, which for the past three decades has been heavily ravaged by logging, fires, and conversion to industrial timber and oil palm plantations. This area, known as the Leuser Ecosystem, is today a battleground between business-as-usual interests seeking to mine its forests and a collection of conservationists, local communities, and a collection of companies seeking to steward its resources.
Peru has massive opportunity to avoid emissions from deforestation
(11/10/2014) Nearly a billion tons of carbon in Peru's rainforests is at risk from logging, infrastructure projects, and oil and gas extraction, yet opportunities remain to conserve massive amounts of forest in indigenous territories, parks, and unprotected areas, finds a study published this week in Proceedings of the National Academy of Sciences (PNAS).
Will merging competing ministries help save Indonesia's forests?
(11/10/2014) Newly elected Indonesian president Joko 'Jokowi' Widodo announced on October 26th that the Ministry of Forests and the Ministry of Environment would be combined and that Siti Nurbaya would become Forests and Environment Minister. The move was part of Jokowi's appointment of 34 cabinet level positions, ranging from Foreign Minister to Religious Affairs Minister.
New laws may turn Brazil's forests into mines
(11/07/2014) With the world's largest system of protected areas and a 70 percent drop in the deforestation rate of the Amazon over the past decade, Brazil has made huge strides in safeguarding what's left of its wilderness. However, this progress now hangs in the balance, with new laws threatening to turn many of the country's protected areas into mines and dams.
Facing severe drought, 'war effort' needed to save the Amazon, says scientist
(11/03/2014) Severe droughts in southern Brazil may be linked to deforestation and degradation of Earth's largest rainforest, argues a new report published by a Brazilian scientist. Reviewing data from roughly 200 studies, Antonio Donato Nobre of Brazil's National Institute for Space Research (INPE) warns that reducing deforestation will not be enough to restore the ecological function of the Amazon rainforest, which acts as a giant water pump that delivers precipitation across much of South America.
De-protection of Protected Areas ramps up in Brazil, 'compromises the capacity' of ecosystems
(10/31/2014) Brazil has reserved about 17.6 percent of its land (1.5 million square kilometers) to receive protection from unauthorized exploitation of resources. However, despite significant expansions in protected areas since the mid-2000s, the formation of Protected Areas has stagnated in the country since 2009, and many have had their protections completely revoked.
'Too many people': Philippine island being deforested despite extensive protections
(10/31/2014) About an hour and a half plane ride from the Philippine capital Manila is Palawan, a long, narrow island home to about a quarter of all the animal species found in the country. But the province is losing its forests at a rapid clip due to human population increases, logging, quarrying, mining, and even a huge palm plantation.
Destroyed habitat, fewer resources, Ebola: the many repercussions of Liberia's deforestation
(10/29/2014) Liberia is one of the last strongholds of intact forest in West Africa. These forests are the home of many unique species of plants and animals, and many Liberians rely on the forests for direct economic benefits. The presence of intact forests may even be important for preventing the future outbreak of disease such as Ebola, which can be transmitted to people from animal vectors displaced by deforestation.







Scientific association calls on Nicaragua to scrap its Gran Canal

(10/27/2014) ATBC—the world's largest association of tropical biologists and conservationists—has advised Nicaragua to halt its ambitious plan to build a massive canal across the country. The ATBC warns that the Chinese-backed canal, also known as the Gran Canal, will have devastating impacts on Nicaragua's water security, its forests and wildlife, and local people.




Page 1 | Page 2 | Page 3 | Page 4 | Page 5 | Page 6 | Page 7 | Page 8 | Page 9 | Page 10 | Page 11 | Page 12 | Page 13 | Page 14 | Page 15 | Page 16 | Page 17 | Page 18 | Page 19 | Page 20 | Page 21 | Page 22 | Page 23 | Page 24 | Page 25 | Page 26 | Page 27 | Page 28 | Page 29 | Page 30 | Page 31 | Page 32 | Page 33 | Page 34 | Page 35 | Page 36 | Page 37 | Page 38 | Page 39 | Page 40 | Page 41 | Page 42 | Page 43 | Page 44 | Page 45 | Page 46 | Page 47 | Page 48 | Page 49 | Page 50 | Page 51 | Page 52 | Page 53 | Page 54 | Page 55