News articles on Polar Bears

---
Mongabay.com news articles on Polar Bears in blog format. Updated regularly.





The only solution for polar bears: 'stop the rise in CO2 and other greenhouse gases'


(10/08/2014) Steven Amstrup, Chief Scientist for Polar Bears International, has worked diligently on polar bears for over 30 years. He radio-collared some of the first bears and discovered that annual activity areas for 75 tracked females averaged at a stunning 149,000 square kilometers. His recent work highlighted the cost of global warming to these incredible animals and the sea ice they so closely depend on.


Scientists can now accurately count polar bears...from space

(07/17/2014) Polar bears are big animals. As the world's largest land predators, a single male can weigh over a staggering 700 kilograms (about 1,500 pounds). But as impressive as they are, it's difficult to imagine counting polar bears from space. Still, this is exactly what scientists have done according to a new paper in the open-access journal PLOS ONE.


From seals to starfish: polar bears radically shift diet as habitat melts


(04/07/2014) One of the most iconic species of the ongoing climate change drama, polar bears have dropped in numbers as their habitat melts, with previous estimates forecasting a further 30 percent reduction within three generations. However, their situation may not be as dire as it seems.


Predator appreciation: how saving lions, tigers, and polar bears could rescue ourselves


(01/29/2014) In the new book, In Predatory Light: Lions and Tigers and Polar Bears, authors Elizabeth Marshall Thomas, Sy Montgomery, and John Houston, and photographers Cyril Christo and Marie Wilkinson share with us an impassioned and detailed appeal to appreciate three of the world's biggest predators: lions, tigers, and polar bears. Through lengthy discussions, combining themes from scientific conservation to local community folklore, In Predatory Light takes us step by step deeper into the wild world of these awe-inspiring carnivores and their varied plight as they facedown extinction.


Tiny algae signal big changes for warming Arctic lakes


(11/15/2013) The mighty polar bear has long been the poster child for the effects of global warming in the Arctic, but the microscopic diatom tells an equally powerful story. Diatoms are a type of algae that form the base of the food chain in watery habitats the world over. Disturbances among lake diatoms have exposed the impacts of rapid warming in the Hudson Bay Lowlands of eastern Canada, researchers reported Oct. 9 in the Proceedings of the Royal Society B


Yeti may be undescribed bear species


(10/20/2013) The purported Yeti, an ape-like creature that walks upright and roams the remote Himalayas, may in fact be an ancient polar bear species, according to new DNA research by Bryan Sykes with Oxford University. Sykes subjected two hairs from what locals say belonged to the elusive Yeti only to discover that the genetics matched a polar bear jawbone found in Svalbard, Norway dating from around 120,000 (though as recent as 40,000 years ago).


Overview of the CITES 16th Conference of Parties in Bangkok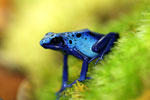 (03/01/2013) When countries meet in Bangkok, Thailand for the Convention on International Trade in Endangered Species of Wild Fauna and Flora (CITES) 16th Conference of Parties (CoP16), to be held from March 3-14, they'll consider 70 proposals submitted by 55 States regarding a range of species, from polar bears to turtles and tropical timbers. To help sort through the many agenda items, CITES Secretary-General John Scanlon provided the following overview of the most significant issues.


Photos: emperor penguins take first place in renowned wildlife photo contest


(10/18/2012) Photographer, Paul Nicklen, says he'll never forget the moment when a slew of emperor penguins burst by him in the frigid Ross Sea; he'd waited in the cold water, using a snorkel, to capture this image. Now, Nicklen has won the much-coveted Veolia Environnement Wildlife Photographer of the Year Competition for the antic, bubbling photograph. Owned by the Natural History Museum and BBC Worldwide, this is the 48th year of the Veolia Environnement Wildlife Photographer of the Year, which hands out awards to 100 notable wildlife and environment photos.


Arctic sea ice is 'toast' as old record shattered

(09/19/2012) Some twenty days after breaking the record for the lowest sea ice extent, the Arctic sea ice has hit a new rock bottom and finally begun its seasonal recovery. In the end, the Arctic sea ice extent fell to just 3.4 million square kilometers (1.32 million square miles) when only a few months ago scientists were wondering if it would break the 4 million square kilometers. The speed of the sea ice decline due to climate change has outpaced all the computer models, overrun all expert predictions, and shocked even the gloomiest scientists.


Sea ice falls to record low with over two weeks of melting left

(08/27/2012) One of the most visible impacts of climate change—melting summer sea ice in the Arctic—just hit a new milestone. Scientists with the U.S. National Snow and Ice Data Center (NSIDC) have declared that this year's Arctic sea ice extent dipped below the previous record set in 2007 as of yesterday. The record is even more notable, however, as it occurred more than a fortnight before the Arctic's usual ice melt season ends, meaning the old record will likely not just be supplanted, but shattered.


Just how far can a polar bear swim?

(05/03/2012) Polar bears (Ursus maritimus) are capable of swimming incredible distances, according to a new study published in Zoology, which recorded polar bears regularly swimming over 30 miles (48 kilometers) and, in one case, as far as 220 miles (354 kilometers). The researchers believe the ability of polar bears to tackle such long-distance swims may help them survive as seasonal sea ice vanishes due to climate change.


87 marine mammals still eaten by people

(01/24/2012) Threats to marine mammals usually include climate change, drowning as by-catch, pollution, depletion of prey, but what about eating marine mammals? A new study in Biological Conservation finds that a surprising 87 marine mammals—including polar bears, small whales, and dolphins—have been eaten as food since 1990 in at least 114 countries.


Mass walrus haul-outs, polar bear cub mortality linked to climate change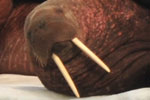 (09/01/2011) Recent, unprecedented walrus haul-outs and increased instances of long-distance swims by polar bears show the direct impacts on wildlife of dwindling Arctic sea ice from climate change. These threatened species also face the prospect of offshore drilling in the Arctic after the Obama Administration recently approved a number of plans to move forward on oil exploration. At least 8,000 walruses hauled out on an Alaskan beach along the Chukchi Sea on August 17. Only a day before, the U.S. Geological Survey announced it would begin tagging walruses near Point Lay, Alaska to study how a lack of sea ice is affecting the species.


'Heatwave' in Arctic decimating sea ice

(07/21/2011) Arctic sea ice could hit a record low by the end of the summer due to temperatures in the North Pole that are an astounding 11 to 14 degrees Fahrenheit (6 to 8 degrees Celsius) above average in the first half of July, reports the National Snow and Ice Data Center (NSIDC). Already the sea ice extent is tracking below this time in 2007, which remains the record year for the lowest sea ice extent. The sea ice hits its nadir in September before rebounding during the Arctic winter.


The truth about polar bears and climate change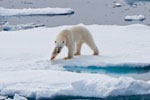 (06/21/2011) Although scientists say innumerable species are threatened by climate change, polar bears have been the global symbol of the movement to rein-in greenhouse gas emissions. This is perhaps not surprising, since polar bears are well known to the public—even though they inhabit a region largely absent of humans—and they make a big impression. Their glaringly white coat contrasts with their deadly skills: as the world's biggest terrestrial predators, they are capable of killing a seal with single blow. When young they are ridiculously adorable, but when adults they are stunning behemoths. But that's not all. Unlike many other species, the perils of climate change are also easy to visualize in connection with polar bears: their habitat is literally melting away.


Ringed and bearded seals to be listed as Threatened

(12/29/2010) The National Oceanic and Atmospheric Administration has proposed listing bearded and ringed seals as threatened under the Endangered Species Act. NOAA highlights the disappearance of arctic sea ice and reduced snow cover as the major threats to the species.


Disappearance of arctic ice could create 'grolar bears', narlugas; trigger biodiversity loss

(12/22/2010) The melting of the Artic Ocean may result in a loss of marine mammal biodiversity, reports a new study published in the journal BNature and conducted jointly by the National Oceanic and Atmospheric Association (NOAA), the University of Alaska, and the University of Massachusetts. The study is the first to project what might happen if species pushed into new habitats because of ice loss hybridize with one another, resulting in such crossbreeds as "narlugas" and "grolar bears".


New hope for polar bears

(12/17/2010) Once thought of as a doomed species, new research published in the journal Nature and conducted by scientists from several institutions, including the National Science Foundation and the U.S. Geological Survey, finds that polar bears could be saved from extinction - if certain measures are taken.


Polar bears are newcomers on the world stage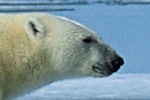 (03/01/2010) One of the most well-known animals, the polar bear, is a newcomer on the world stage, according to research published in the Proceedings of the National Academy of Sciences. By studying the DNA of an ancient polar bear jawbone uncovered in 2004 in Norway scientists have for the first time pinpointed the time when the polar bear split from its closest relative, the brown bear. "Our results confirm that the polar bear is an evolutionarily young species that split off from brown bears some 150,000 years ago and evolved extremely rapidly during the late Pleistocene, perhaps adapting to the opening of new habitats and food sources in response to climate changes just before the last interglacial period."


Grizzly bears move into polar bear territory, threatening polar cubs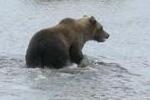 (02/24/2010) Two of the world's largest land carnivores are converging on the same territory, according to data recently published in Canadian Field Naturalist. Grizzly bears ( Ursus arctos horribilis) are moving into an area that has long been considered prime polar bear habitat in Manitoba, Canada. Although polar bears (Ursus maritimus) are bigger than their grizzly relatives—they are the world's largest land carnivores—biologists are concerned that grizzlies will kill polar cubs, further threatening the polar bear, which is already thought to be imperiled by ice loss in the Arctic.


Is a polar bear worth more than a lion?

(12/08/2009) For most environmentalists and animal rights activists it is an almost blasphemous idea to compare the value of one species with that of another, especially when that value is measured in terms of marketing potential for climate change awareness. In recent years, broad media coverage has turned the polar bear into a global symbol for the effects of climate change not only in the Arctic, but in the rest of the world too. In Germany particularly, the birth and highly publicized early life of the polar bear "Knut" at the Berlin City Zoo has intensified this symbolic effect. The fact that the Arctic ice is melting due to global warming is an established fact, and environmentalists the world over are lucky to have the polar bear and its disappearing habitat as a symbol for the global effects of pollution. All this publicity has, however, spread the exaggerated idea that polar bears are already on the verge of extinction.


U.S. to ban oil drilling in new Arctic reserves for polar bears

(10/07/2008) The U.S. Department of the Interior will designate two Arctic reserves in areas considered critical habitat for polar bears as part of a legal settlement with environmental groups, reports Reuters. The reserves will be off-limits of oil development and must be established by June 30, 2010.


Researchers evacuated due to polar bear trapped on land by melting sea ice

(08/07/2008) The Wildlife Conservation Society (WCS) evacuated five of its scientists from a remote camp in northern Alaska because of a new and unusual threat: a polar bear stuck on land due to climate change. Polar bears would normally be out on sea ice this time of year, but with recent warming the ice is miles from shore and bears are becoming increasingly trapped on land well away from their usual seal prey.


U.S. lists the polar bear as threatened, but decision won't affect emissions rules

(05/14/2008) The U.S. Interior Department has decided to list the polar bear as a threatened species due to declining sea ice cover in the Arctic, according to the The Associated Press. Interior Secretary Dirk Kempthorne has scheduled a news conference Wednesday to announce the action.


Endangered species status of the polar bear to be decided May 15

(04/29/2008) A federal judge has ordered the Bush administration to stop delaying its decision on whether to list the polar bear as an endangered species. Environmentalists say the bear is threatened by melting sea ice in its Arctic habitat.


Arctic sea ice thickness only half of 2001 level

(09/14/2007) Arctic sea is thinning and disappearing, report German researchers. An Alfred-Wegener-Institute for Polar and Marine Research expedition to the North Polar Sea found that large areas of the Arctic sea-ice are only one meter thick this year -- half the thickness found in 2001. The findings support concerns that large expanses of polar ice could soon disppaear from the Arctic during summer months.


Arctic sea ice melts to all-time record low

(09/12/2007) Sea ice cover in the Arctic Ocean is presently 20 percent below its all time lowest extent and may decline further before winter, said scientists from the National Snow and Ice Data Center in Boulder (NSIDC).


Environmentalists may use Endangered Species Act to pressure gov't on global warming

(09/07/2007) The addition of elkhorn and staghorn corals to the Endangered Species Act due to threats from climbing ocean temperatures, may be environmentalists' best weapon for levering the U.S. government into action on global warming, writes Mark Clayton of The Christian Science Monitor.


Two-thirds of polar bears at risk of extinction by 2050

(09/07/2007) Two-thirds the world's polar bears could be threatened with extinction by 2050 due to melting sea ice, said U.S. government scientists Friday. U.S. Geological Survey scientists said that the United States (the north coast of Alaska) and Russian would likely lose all of their polar bear populations. The only bears expected to survive would be those in the northern Canadian Arctic islands and the west coast of Greenland. Overall, bears are forecast to lose 42 percent of the Arctic range they need to hunt and breed during summer months.


Experts forecast large decline in Arctic sea ice

(09/07/2007) Summer sea ice off Alaska's north coast will likely shrink to nearly half the area it covered in the 1980s by 2050, report scientists from the National Oceanic and Atmospheric Administration. The loss of ice would have a significant impact on mammals dependent on sea ice, including polar bear and walrus.


Polar bears avoiding sea ice for cub dens

(07/15/2007) Polar bears in Alaska are increasingly setting up dens on sea on land because sea ice is thinning, reports a new study by U.S. Geological Survey (UCGS) researchers.


Sea ice forecasts to be used to save polar bears

(05/30/2007) In the wake of the U.S. government's watershed decision to propose listing the polar bear as 'Threatened' under the Endangered Species Act, the Wildlife conservation Society (WCS) is launching a bold initiative to save the Earth's largest terrestrial predator, not by following the bears themselves, but the receding sea ice habitat that may drastically shrink as a result of global warming. In a project named 'Warm Waters for Cool Bears,' WCS will use both current and historical satellite imagery to predict where sea ice is likely to persist and where subsequent conservation efforts to save the species will be most effective.


Bush administration issues gag order on polar bear discussions



(03/08/2007) The Bush administration has banned discussion of polar bears, sea ice, and global warming among officials traveling overseas according to environmental groups and the director of the U.S. Fish and Wildlife Service.


Bush administration says polar bears under threat

(12/27/2006) Today the Bush Administration said polar bears are in need of protection. The reason? Global warming. The administration says that climate change is causing sea ice to melt, putting the polar bear in peril.


Global warming reduces polar bear survival rate

(11/16/2006) Polar bear survival rates have dropped significantly in the past 20 years, probably due to melting sea ice caused by higher temperatures, according to a study released this week.


Polar bear may be listed as endangered species

(02/09/2006) The U.S. Fish and Wildlife Service today announced that it is considering a petition to list the polar bear (Ursus maritimus) as threatened under the Endangered Species Act. Scientists believe polar bear populations are increasingly in danger due to the effects of climate change, specifically receding ice and warming temperatures.


Is Global Warming Killing Polar Bears? -- WSJ

(12/14/2005) Today The Wall Street Journal ran an article asking "Is Global Warming Killing the Polar Bears?" The article cited several recent studies that suggest polar bears are increasingly under threat from receding ice and warming temperatures.