News articles on petm

---
Mongabay.com news articles on petm in blog format. Updated regularly.






Global warming - 56 million years ago
(01/23/2013) Sandy, Irene, Katrina... Hurricanes are fast becoming household names and have many people worried over the connection between extreme weather and the amount of greenhouse gases people are pumping into the atmosphere. No one can predict for sure what will happen decades or centuries from now as such gas concentrations increase. But scientists have a pretty good picture of what did happen in the past; greenhouses gases were released into the atmosphere in massive amounts at least once before—around 56 million years ago.
Current carbon releases faster than at any time on record

(06/13/2011) The Paleocene-Eocene Thermal Maximum (PETM), a period of global warming that occurred nearly 56 million years ago due to massive releases of greenhouse gases, is frequently referenced as an analogue for projected climate change. However, recent findings suggest the current rate of carbon release is almost 10 times as rapid as at the peak of the PETM—and that biological systems may be significantly less able to adapt.
Carbon dioxide, methane levels rise sharply in 2007

(04/23/2008) Atmospheric concentrations of carbon dioxide and methane rose sharply in 2007, according to NOAA. The U.S. weather agency said that global levels of atmospheric carbon dioxide, the primary driver of global climate change, climbed by 0.6 percent, or 19 billion tons in 2007. Methane levels increased by 27 million tons after nearly a decade with little or no increase.
Past greenhouse warming events offer clues on future climate change

(02/16/2008) If carbon dioxide emissions from the burning of fossil fuels continue on a "business-as-usual" trajectory, humans will have added about 5 trillion metric tons of carbon to the atmosphere by the year 2400. A similarly massive release of carbon accompanied an extreme period of global warming 55 million years ago known as the Paleocene-Eocene Thermal Maximum (PETM).
Volcanoes linked to massive global warming event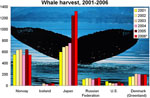 (04/26/2007) Scientists have linked a sharp spike in ocean temperatures 55 million years ago to massive volcanic eruptions that created the North Atlantic Ocean when Greenland and northwestern Europe separated.
Past global warming suggests massive temperature shift in our future

(12/07/2006) If past climate change is any indication, Earth could be in store for some significant global warming according to research published in the December 8, 2006, issue of the journal Science. The work suggests that climate change skeptics may be fighting a losing cause. The study, led by Mark Pagani, associate professor of geology and geophysics at Yale, looked at an episode of rapid climate change that occurred some 55 million years ago. Known as the Paleocene-Eocene Thermal Maximum (PETM), the period was marked by a rapid rise in greenhouse gases that heated Earth by roughly 9 F (5 C), in less than 10,000 years. The climate warming caused widespread changes including mass extinction in the world's oceans due to acidification and shifts of plant communities due to changes in rainfall. The era helped set the stage for the "Age of Mammals," which included the first appearance of modern primates.
Worst mass extinction shifted entire ecology of the world's oceans

(11/24/2006) New research suggests that Earth's greatest mass extinction did more than wipe out an estimated 95% of marine species and 70% of land species; it fundamentally changed the ecology of the world's oceans. The study, published in tomorrow's issue of the journal Science, found that 'ecologically simple marine communities were largely displaced by complex communities', a shift that continues has continue since.
Massive climate change rocked ecosystems, animals 55 million years ago

(11/14/2005) Continued increases in greenhouse gas concentrations in the atmosphere from the combustion of fossil fuels could trigger large-scale changes in global biodiversity and require thousands of years of recovery according to recent research on an extreme global warming episode 55 million years ago.
Climate change brought tropical forest to Wyoming

(11/09/2005) Climate change 55 million years ago caused significant changes in forest composition and the distribution of mammals according to a new study in Science. The Paleocene-Eocene Thermal Maximum, in which temperatures rose by as much as 10 degrees in a relatively short period of time, helped bolster the "Age of Mammals," which included the first appearance of modern primates. After an initial period of increasing aridity in northern latitudes like the study site of Bighorn Basin in northwestern Wyoming, it appears that forests transitioned towards warm tropical ecosystems with closely spaced trees, ideal for the evolution of primates.