News articles on peru

---
Mongabay.com news articles on peru in blog format. Updated regularly.





4 Ashaninka tribesmen killed by loggers in Peru

(09/08/2014) One of those killed was Edwin Chota, the leader of the Alto Tamaya-Saweto indigenous community who won fame for fighting illegal loggers. As such, Chota was a top target for assassination, according to a conservationist familiar with the situation.


Conservationists use social media to take on Peru's booming illegal wildlife trade


(09/04/2014) Illegal wildlife trafficking is thriving in Peru. But a Peruvian organization is now using a public campaign, via social media and press releases, to track and rescue illegally kept wildlife in the country. 'I have filed 47 complaints from 14 different states in Peru including hundreds of animals commercialized illegally in markets, kept as pets, and used as tourist attractions,' said Noga Shanee, Co-founder and project director of Neotropical Primate Conservation.


Scientists uncover five new species of 'toupee' monkeys in the Amazon


(09/02/2014) While saki monkeys may be characterized by floppy mops of hair that resemble the worst of human toupees, these acrobatic, tree-dwelling primates are essential for dispersing seeds. After long being neglected by both scientists and conservationists, a massive research effort by one intrepid researcher has revealed the full-scale of saki monkey diversity, uncovering five new species.


How do we save the world's vanishing old-growth forests?


(08/26/2014) There's nothing in the world like a primary forest, which has never been industrially logged or cleared by humans. They are often described as cathedral-like, due to pillar-like trees and carpet-like undergrowth. Yet, the world's primary forests—also known as old-growth forests—are falling every year, and policy-makers are not doing enough to stop it.


A paradise being lost: Peru's most important forests felled for timber, crops, roads, mining


(08/12/2014) In 1988, when British environmentalist Norman Myers first described the concept of a "biodiversity hotspot," he could have been painting a picture of the highly threatened Peruvian Andes mountain range. Today, the Andes are an immediate and looming portent of the fate of the Peruvian Amazon rainforest.


NASA: Forest loss leaps in Bolivia, Mekong region

(08/08/2014) New satellite data from NASA suggests that deforestation is sharply increasing in Bolivia and Mekong countries during the second quarter of 2014.


Stunning high-resolution map reveals secrets of Peru's forests


(07/30/2014) Peru's landmass has just been mapped like never before, revealing important insights about the country's forests that could help it unlock the value healthy and productive ecosystems afford humanity.


Peruvian oil spill sparks concern in indigenous rainforest community

(07/29/2014) A ruptured pipeline that spilled tens of thousands of gallons of crude oil into the Marañón River in late June is fueling concerns about potential health impacts for a small indigenous community.


Short-eared dog? Uncovering the secrets of one of the Amazon's most mysterious mammals


(07/28/2014) Fifteen years ago, scientists knew next to nothing about one of the Amazon's most mysterious residents: the short-eared dog. Although the species was first described in 1883 and is considered the sole representative of the Atelocynus genus, biologists spent over a century largely in the dark about an animal that seemed almost a myth.


Peru slashes environmental protections to attract more mining and fossil fuel investment


(07/23/2014) In an effort to kickstart investment in mining and fossil fuels, Peru has passed a controversial law that overturns many of its environmental protections and essentially defangs its Ministry of Environment. The new law has environmentalists not only concerned about its impact on the country but also that the measures will undermine progress at the up-coming UN Climate Summit in December.


Roads through the rainforest: an overview of South America's 'arc of deforestation'


(07/21/2014) When a new road centipedes its way across a landscape, the best of intentions may be laid with the pavement. But roads, by their very nature, are indiscriminate pathways, granting access for travel and trade along with deforestation and other forms of environmental degradation. And as the impacts of roads on forest ecosystems become clear, governments and planning agencies reach a moral crossroads.


Fly and wasp biodiversity in Peru linked to strange defense strategy


(06/18/2014) Entomologists working in Peru have revealed new and unprecedented layers of diversity amongst wasps and flies. The paper, published in the journal Science, also describes a unique phenomenon in which flies actually fight back and kill predatory parasitic wasps.


Feather forensics: scientist uses genes to track macaws, aid bird conservation


(06/17/2014) When a massive road project connected the ports of Brazil to the shipping docks of Peru in 2011, conservationists predicted widespread impacts on wildlife. Roads are a well-documented source of habitat fragmentation, interfering with access to available habitat for many terrestrial and tree-dwelling species. However, it wasn't clear whether or not birds are able to fly over these barriers.


Oil drilling causes widespread contamination in the Amazon rainforest

(06/13/2014) Decades of oil extraction in the Western Amazon has caused widespread pollution, raising questions about the impact of a new oil boom in the region, according to a team of Spanish researchers presenting at a conference in California.


Of jaguars and loggers: new film to showcase one of the least-known regions in the deep Amazon


(06/02/2014) In August, three young filmmakers will go on the expedition of a lifetime. They plan to spend six months filming in one of the most remote, most spectacular, and most endangered ecosystems on the planet: the Las Piedras River system. This unprotected swathe of Amazon jungle contains massive anacondas, prowling jaguars, and even uncontacted indigenous people.


53 indigenous activists on trial for police-protester massacre in Peru


(05/15/2014) In the summer of 2009, on a highway in Peru known as Devil's Curve: everything went wrong. For months, indigenous groups had protested new laws by then President Alan Garcia opening up the Amazon to deregulated logging, fossil fuels, and other extractive industries as a part of free trade agreements with the U.S.


New report reveals human rights abuses by corporations, governments in the Amazon


(05/14/2014) Regnskogfondet (the Rainforest Foundation of Norway) recently released a 52-page report that gives an in-depth account of the conflicts activists and indigenous peoples (IPs) are having with corporations and governmental agencies. It relays a situation that does not look good.


Legal logging concessions drive illegal logging in Peru, threatening forests and indigenous people


(04/17/2014) Nearly 70 percent of officially inspected logging concessions in Peru have had their permits canceled or are under investigation for major breaches of forestry laws, finds a new study published in the journal Scientific Reports. Worryingly, the research also concludes that forestry permits are being widely used to launder timber illegally logged from outside concession areas.


Saving rainforests by buying them


(04/04/2014) For more than twenty five years, an international non-profit known as the World Land Trust has been working to protect tropical forests through land purchase and partnerships with local groups. Last year, the U.S. arm of the group decided to rebrand itself as the Rainforest Trust to better convey its core mission to the outside world. Since then, the Rainforest Trust has launched its most ambitious project yet: conserving 5.9 million acres of tropical forest in Peru.


Several Amazonian tree frog species discovered, where only two existed before


(03/18/2014) We have always been intrigued by the Amazon rainforest with its abundant species richness and untraversed expanses. Despite our extended study of its wildlife, new species such as the olinguito (Bassaricyon neblina), a bear-like carnivore hiding out in the Ecuadorian rainforest, are being identified as recently as last year. In fact, the advent of efficient DNA sequencing and genomic analysis has revolutionized how we think about species diversity. Today, scientists can examine known diversity in a different way, revealing multiple 'cryptic' species that have evaded discovery by being mistakenly classified as a single species based on external appearance alone.


Mother of God: meet the 26 year old Indiana Jones of the Amazon, Paul Rosolie


(03/17/2014) Not yet 30, Paul Rosolie has already lived a life that most would only dare dream of—or have nightmares over, depending on one's constitution. With the Western Amazon as his panorama, Rosolie has faced off jaguars, wrestled anacondas, explored a floating forest, mentored with indigenous people, been stricken by tropical disease, traveled with poachers, and hand-reared a baby anteater. It's no wonder that at the ripe age of 26, Rosolie was already written a memoir: Mother of God.


Photos: Weird aquatic lizard discovered in mountain streams of Peru

(03/13/2014) A 'new' species of lizard has been described from the cloud forests of Peru's Manu National Park, reports SERNANP, the Peruvian National Park Service.


The price of gold: winners and losers in Latin America's mining industry


(03/05/2014) On a Friday afternoon in June, the Plaza de Armas in Cajamarca is pulsing with life. It's winter here, and although thick white clouds hover low in the distance, the sun in this northern Peruvian city is warm. Couples sit on benches facing one another. Kids run in the grass between flowerbeds. Men in suits stride along the perimeter. It's an idyllic day. But signs of something more ominous are not far from sight. On the mountainside overlooking the town the words Nova Conga have been carved into the vegetation. It is a constant reminder that beyond the square, hemmed with international hotels and expensive restaurants, there is another reality.


The making of Amazon Gold: once more unto the breach


(02/19/2014) When Sarah duPont first visited the Peruvian Amazon rainforest in the summer of 1999, it was a different place than it is today. Oceans of green, tranquil forest, met the eye at every turn. At dawn, her brain struggled to comprehend the onslaught of morning calls and duets of the nearly 600 species of birds resounding under the canopy. Today, the director of the new award-winning film, Amazon Gold, reports that "roads have been built and people have arrived. It has become a new wild west, a place without law. People driven by poverty and the desire for a better life have come, exploiting the sacred ground."


Helping the Amazon's 'Jaguar People' protect their culture and traditional wisdom


(02/11/2014) Tribes in the Amazon are increasingly exposed to the outside world by choice or circumstance. The fallout of outside contact has rarely been anything less than catastrophic, resulting in untold extinction of hundreds of tribes over the centuries. For ones that survived the devastation of introduced disease and conquest, the process of acculturation transformed once proud cultures into fragmented remnants, their self-sufficiency and social cohesion stripped away, left to struggle in a new world marked by poverty and external dependence


Gas company to drill in Manu National Park buffer zone, imperiling indigenous people

(02/04/2014) The Peruvian government has approved plans for gas company Pluspetrol to move deeper into a supposedly protected reserve for indigenous peoples and the buffer zone of the Manu National Park in the Amazon rainforest. The approval follows the government rescinding a highly critical report on the potential impacts of the operations by the Culture Ministry (MINCU), the resignation of the Culture Minister and other Ministry personnel, and repeated criticism from Peruvian and international civil society.


Total says it will not drill in any World Heritage Sites

(02/03/2014) One of the world's largest oil and gas companies, Total, has committed to leave the planet's UNESCO World Heritage Sites untouched, according to the United Nations. The UN says the French energy giant has sent written confirmation that it will not explore or extract fossil fuels from any of the world's over 200 natural World Heritage Sites.


287 amphibian and reptile species in Peruvian park sets world record (photos)


(01/28/2014) It's official: Manu National Park in Peru has the highest diversity of reptiles and amphibians in the world. Surveys of the park, which extends from high Andean cloud forests down into the tropical rainforest of the Western Amazon, and its buffer zone turned up 155 amphibian and 132 reptile species, 16 more than the 271 species documented in Ecuador's Yasuní National Park in 2010.


Red toad discovered in the upper reaches of the Amazon

(01/19/2014) Scientists have described a previously unknown species of toad in the Peruvian Andes.


Environmental groups: top secret Pacific trade agreement to sacrifice wildlife, environment

(01/16/2014) Environmental groups have blasted draft text of the Trans-Pacific Partnership (TPP) released yesterday by WikiLeaks as potentially devastating to the environment and wildlife. The massive 12-nation free trade agreement has been negotiated in secret now for almost four years, and the information release by WikiLeaks shows that key environmental safeguards in the agreement are being stripped away, including a ban on shark finning and illegal logging, as well as legally-enforced pollution regulations.


Rainforest news review for 2013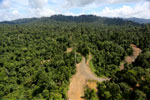 (12/26/2013) 2013 was full of major developments in efforts to understand and protect the world's tropical rainforests. The following is a review of some of the major tropical forest-related news stories for the year. As a review, this post will not cover everything that transpired during 2013 in the world of tropical forests. Please feel free to highlight anything this post missed via the comments section at the bottom. Also please note that this review focuses only on tropical forests.


Satellites reveal browning mountain forests


(11/22/2013) In a dramatic response to global warming, tropical forests in the high elevation areas of five continents have been "browning" since the 1990s. They have been steadily losing foliage, and showing less photosynthetic activity. Scientists analyzed the forest cover by using satellites to measure sunlight bouncing off the surface of the earth, then determining the different surface types via reflection patterns.


Canopy crusade: world's highest network of camera traps keeps an eye on animals impacted by gas project


(11/21/2013) Oil, gas, timber, gold: the Amazon rainforest is rich in resources, and their exploitation is booming. As resource extraction increases, so does the development of access roads and pipelines. These carve their way through previously intact forest, thereby interrupting the myriad pathways of the species that live there. For species that depend on the rainforest canopy, this can be particularly problematic.


The quicksilver demon: rogue gold-mining is the world's largest source of mercury pollution


(11/20/2013) In 1956, in the quiet seaside town of Minamata on the southwestern coast of Japan's Kyushu Island, cats began to behave very strangely. They convulsed, displayed excessive salivation, and gradually lost the ability to walk. Then, dead birds began to fall out of the sky. Shellfish opened and decomposed. Fish also displayed abnormal behaviors, eventually floating up to the surface of the Shiranui Sea. Many of the ailing cats wandered into the sea and drowned. Soon, there were no more cats alive in the area.


Prize exploring the next big idea in rainforest conservation announced


(11/16/2013) Mongabay.org, a non-profit that aims to raise awareness about social and environmental issues relating to tropical forests and other ecosystems, has announced the first winner of its environmental reporting prize its Special Reporting Initiative (SRI) program. The prize sought proposals to explore the question of what's the next big idea in tropical biodiversity conservation. After a two-month application window and a month of deliberations, this week an independent panel of journalists and tropical forest specialists selected environmental journalist Wendee Nicole as the first recipient of the Mongabay Prize for Environmental Reporting.


Scientists identify 137 protected areas most important for preserving biodiversity


(11/14/2013) Want to save the world's biodiversity from mass extinction? Then make certain to safeguard the 74 sites identified today in a new study in Science. Evaluating 173,000 terrestrial protected areas, scientists pulled out the most important ones for global biodiversity based on the number of threatened mammals, birds, and amphibians found in the parks. In all they identified 137 protected areas (spread over 74 sites as many protected areas were in the same region) in 34 countries as 'irreplaceable.'


Rebranded as the Rainforest Trust, green group launches push to protect 6M acres of Amazon rainforest

(10/30/2013) The Rainforest Trust, which from 1988 until last month was known as the World Land Trust-US, has kicked off an effort to preserve some 2.4 million hectares (5.9 million acres) of rainforest in a remote part of the Peruvian Amazon.


Gold mining in the Amazon rainforest surges 400%


(10/28/2013) The extent of gold mining in the Peruvian Amazon has surged 400 percent since 1999 due to rocketing gold prices, wreaking havoc on forests and devastating local rivers, finds a new study published in the Proceedings of the National Academy of Sciences (PNAS). The assessment, led by Greg Asner of the Carnegie Institution for Science, is based on a combination of satellite imagery, on-the-ground field surveys, and an advanced airplane-based sensor that can accurately measure the rainforest canopy and sub-canopy vegetation at a resolution of 1.1 meters (42 inches).


Fishermen illegally killing dolphins for shark-bait in Peru (video)


(10/23/2013) Peruvian fishermen slaughtered dolphins to use as bait for shark fishing, an undercover investigation has revealed. Footage showed infant and adult dolphins being harpooned then stabbed and clubbed before, in some cases, being cut open and butchered while still alive. The slaughtered dolphins were cut up and used as bait. Dolphins are also killed for human consumption in Peru even though it is illegal.


Map reveals gas company flying over Manu National Park


(10/17/2013) A map in an internal Peruvian government report reveals that gas company Pluspetrol has been flying over the protected Manu National Park (MNP) in the south-eastern Peruvian Amazon where UNESCO says the biodiversity "exceeds that of any other place on earth." The over-flight was done via helicopter on 3 February, 2012 by Pluspetrol personnel together with a team from the National Institute e Development of Andean, Amazonian and Afroperuvian Peoples (INDEPA).


Featured video: 22-year-old produces documentary on the Peruvian Amazon


(10/15/2013) Spending a year on the Tambopata River in Peru's deep Amazon, allowed 22-year-old Tristan Thompson, to record stunning video of the much the region's little seen, and little known, wildlife. Thompson, a student at the University of the West of England, has turned his footage into a new documentary An Untamed Wilderness that not only gives viewers an inside look at the world's greatest forests, but also records the secretive behavior of many species, including howler monkeys, aracaris, leaf-cutter ants, hoatzin, and giant river otters.


3 Peruvian states join sub-national push for REDD+

(10/11/2013) An initiative that is developing a framework for REDD+ programs at state and provincial levels gained three more members last week.


Video of Amazon gold mining devastation goes viral in Peru


(09/26/2013) Video of illegal gold mining operations that have turned a portion of the Amazon rainforest into a moonscape went viral on Youtube after a popular radio and TV journalist in Peru highlighted the story. Last week Peruvian journalist and politician Guido Lombardi directed his followers to video shot from a wingcam aboard the Carnegie Airborne Observatory (CAO), an airplane used by researchers to conduct advanced monitoring and analysis of Peru's forests. The video quickly received more than 60,000 views on Youtube.


Climate change could kill off Andean cloud forests, home to thousands of species found nowhere else


(09/18/2013) One of the richest ecosystems on the planet may not survive a hotter climate without human help, according to a sobering new paper in the open source journal PLoS ONE. Although little-studied compared to lowland rainforests, the cloud forests of the Andes are known to harbor explosions of life, including thousands of species found nowhere else. Many of these species—from airy ferns to beautiful orchids to tiny frogs—thrive in small ranges that are temperature-dependent. But what happens when the climate heats up?


Scientists discover that threatened bird migrates entirely within Amazon Basin


(09/11/2013) When one thinks of bird migrations, it's usually a north-south route that follows seasonal climates. But researchers in the Amazon have tracked, for the first time, a largely-unknown long-distance migration that sticks entirely to the Amazon Basin. Using satellite telemetry, scientists tracked a pair of Orinoco geese (Neochen jubata) from Peru and a male from Western Brazil, who both migrated to the Llanos de Moxos, a vast savanna and Amazonian watershed in Bolivia. The research has shown that the Orinoco geese—which breeds in both Peru and Brazil—depends on wetlands in the Llanos de Moxos for much of the year.


Satellite reveals 'hidden' 1000-ha oil palm plantation in Amazon rainforest in Peru

(09/06/2013) A regional forestry official in Peru has expressed surprise over the sudden appearance of a 1000-hectare oil palm plantation in the heart of the Amazon rainforest.


Isolated Amazonian tribe makes another appearance in Peru (video)

(08/26/2013) Over 100 members of a voluntarily isolated tribe emerged from the jungles of Peru in a rare appearance on the Las Piedras River across from the a Yine Indian community in late June. Belonging to the Mascho-Piro Indians, members of the "uncontacted" tribe are occasionally seen on riverbanks during the dry season, but appearances in such numbers and so close to a local community was unprecedented.


New bird species discovered in Peruvian cloud forest

(08/02/2013) A new bird species has been discovered in the montane forests of Peru.


Coffee and climate change: an uncertain future for millions of farmers around the world

(07/29/2013) An inconvenient truth is not what most people want to hear before they've had their first cup of coffee in the morning. Our coffee break is 'me time,' and we want to enjoy it. If the temperature is too high, put some ice in your cup. But for some 26 million people around the world who make it their business to produce our coffee, change is impossible to ignore.


Amazonian students help monitor threatened frog populations


(07/01/2013) According to the International Union for Conservation of Nature, amphibians are the most threatened group of animals on Earth: currently around 30 percent of the world's amphibians are listed as threatened with extinction. However this percentage doesn't include those species about which too little is known to evaluate (26 percent). Amphibians face many threats but two of the largest are habitat loss and the lethal chytrid fungus, which has rapidly spread worldwide and is likely responsible for numerous extinctions. But conservationists are coming up with innovative and creative ways to keep amphibians from disappearing, including a program from the Detroit Zoological Society (DZS) that is working with students in the Peruvian Amazon to monitor frog populations.


Deforestation rates for Amazon countries outside Brazil


(06/26/2013) Deforestation has sharply increased in Amazon countries outside of Brazil, finds a new analysis based on satellite data. Using data from Terra-i, O-Eco's InfoAmazonia team has developed updated forest cover maps for Bolivia, Colombia, Ecuador, Guyana, French Guyana, Peru, Suriname and Venezuela. The results reveal an increasing trend in forest clearing since 2004.


Over 30 tons of explosives to be detonated in Manu National Park buffer zone

(06/24/2013) A consortium of gas companies headed by Pluspetrol and including Hunt Oil plans on detonating approximately 38 tons of explosives in the south-east Peruvian Amazon in one of the most biodiverse regions in the world. The detonations are part of 2D and 3D seismic tests planned by Pluspetrol in its search for new gas deposits in the Camisea region—plans that are currently pending approval by Peru's Ministry of Energy and Mines (MEM).


Peru opens deforestation data to the public, shows drop in Amazon forest clearing

(06/13/2013) Peru has made its comprehensive deforestation data available to the public.


Bird extravaganza: scientists discover 15 new species of birds in the Amazon

(06/12/2013) From 2000-2009, scientists described on average seven new bird species worldwide every year. Discovering a new bird is one of the least common of any species group, given that birds are highly visible, mobile, and have been scrutinized for centuries by passionate ornithologists and birders. But descriptions this year already blows away the record year over the last decade (in 2001 when nine new birds were described): scientists working in the southern Amazon have recorded an incredible 15 new species of birds according to the Portuguese publication Capa Aves. In fact, this is the largest group of new birds uncovered in the Brazilian in the Amazon in 140 years.


11,000 barrels of oil spill into the Coca River in the Amazon

(06/12/2013) On May 31st, a landslide ruptured an oil pipeline in Ecuadorean Amazon, sending around 11,000 barrels of oil ( 420,000 gallons) into the Coca River. The oil pollution has since moved into the larger Napo River, which borders Yasuni National Park, and is currently heading downstream into Peru and Brazil. The spill has occurred in a region that is notorious for heavy oil production and decades of contamination, in addition to resistance and lawsuits by indigenous groups.


Scientists discover high mercury levels in Amazon residents, gold-mining to blame


(05/28/2013) The Madre de Dios region in Peru is recognized for its lush Amazon rainforests, meandering rivers and rich wildlife. But the region is also known for its artisanal gold mining, which employs the use of a harmful neurotoxin. Mercury is burned to extract the pure gold from metal and ore producing dangerous air-borne vapors that ultimately settle in nearby rivers. 'Mercury in all forms is a potent neurotoxin affecting the brain, central nervous system and major organs,'Luis Fernandez, an ecologist and research associate at the Carnegie Institution's Department of Global Ecology, told mongabay.com. 'At extremely high exposure levels, mercury has been documented to cause paralysis, insanity, coma and death.'


Peru delays oil drilling in the Amazon to consult with indigenous peoples

(05/20/2013) Peru has delayed auctioning off 27 oil blocs in the Amazon in order to conduct legally-required consultations with indigenous groups in the region, reports the Guardian. Perupetro S.A., Peru's state oil and gas company, has announced it will auction 9 blocs off the Pacific coast, but will hold auctioning off the controversial oil blocs in the Amazon rainforest at least until later this year.


Crazy cat numbers: unusually high jaguar densities discovered in the Amazon rainforest


(05/16/2013) Jaguars (Panthera onca) are the biggest cat in the Americas and the only member of the Panthera genus in the New World; an animal most people recognize, the jaguar is also the third largest cat in the world with an intoxicatingly dangerous beauty. The feline ranges from the harsh deserts of southern Arizona to the lush rainforests of Central America, and from the Pantanal wetlands all the way down to northern Argentina. These mega-predators stalk prey quietly through the grasses of Venezuelan savannas, prowl the Atlantic forests of eastern Brazil, hunt along the river of the Amazon, and even venture into lower parts of the Andes.


NGO: conflict of interests behind Peruvian highway proposal in the Amazon


(05/16/2013) As Peru's legislature debates the merits of building the Purús highway through the Amazon rainforest, a new report by Global Witness alleges that the project has been aggressively pushed by those with a financial stake in opening up the remote area to logging and mining. Roads built in the Amazon lead to spikes in deforestation, mining, poaching and other extractive activities as remote areas become suddenly accessible. The road in question would cut through parts of the Peruvian Amazon rich in biodiversity and home to indigenous tribes who have chosen to live in "voluntary isolation."


Is it possible to reduce the impact of oil drilling in the Amazon rainforest?


(05/02/2013) Oil extraction in the Amazon rainforest has been linked to severe environmental degradation — including deforestation and pollution — which in some areas has spurred violent social conflict. Yet a vast extent of the Colombian, Peruvian, Ecuadorian, Bolivian, and Brazilian Amazon is currently under concession for oil and gas exploration and production. It seems clear that much of this hydrocarbon development is going to proceed whether environmentalists and human rights groups like it or not.


Conservation without supervision: Peruvian community group creates and patrols its own protected area


(04/30/2013) When we think of conservation areas, many of us think of iconic National Parks overseen by uniformed government employees or wilderness areas purchased and run from afar by big-donor organizations like The Nature Conservancy, Wildlife Conservation Society, WWF, or Conservation International. But what happens to ecosystems and wildlife in areas where there's a total lack of government presence and no money coming in for its protection? This is the story of one rural Peruvian community that took conservation matters into their own hands, with a little help from a dedicated pair of primate researchers, in order to protect a high biodiversity cloud forest.


Featured video: Earth Day message from indigenous tribes in the Peruvian Amazon

(04/23/2013) A new video by Alianza Arkana includes an Earth Day message from the indigenous peoples in the Peruvian Amazon who are facing the existential threats of logging and fossil fuel development on their traditional lands.


After decades of turning a blind eye, Peru declares state of emergency due to oil contamination in Amazon


(03/26/2013) The Peruvian government has declared an environmental state of emergency after finding elevated levels of lead, barium, and chromium in the Pastaza River in the Amazon jungle, reports the Associated Press. Indigenous peoples in the area have been complaining for decades of widespread contamination from oil drilling, but this is the first time the Peruvian government has acknowledged their concerns. Currently 84 percent of the Peruvian Amazon is covered by potential oil blocs, leading to conflict with indigenous people and environmental degradation.


Scientists discover two new remarkably-colored lizards in the Peruvian Amazon (photos)


(03/21/2013) Scientists have discovered two new species of woodlizards from the Peruvian Amazon. Woodlizards, in the genus Enyalioides, are little-known reptiles with only 10 described species found in South and Central America. Described in a new paper in ZooKeys, both new woodlizards were found in Cordillera Azul National Park, the nations third-largest.


Disney buys $3.5M in REDD credits from rainforest conservation project in Peru

(03/20/2013) The Walt Disney Company has purchased $3.5 million dollars' worth of carbon credits generated via rainforest conservation in Peru, reports Point Carbon.


Peruvian night monkey threatened by vanishing forests, lost corridors


(03/18/2013) The Peruvian night monkey (Aotus miconax) is one of the world's least known primates, having never been studied in the wild--until now. Found only in the cloud forests of northern Peru, a group of scientists with Neotropical Primate Conservation and the National University of Mayor San Marcos have spent 12 months following a single group of this enigmatic monkey species in a small forest patch. The results of their research, published in mongabay.com's open access journal Tropical Conservation Science, shows that protecting forests, even small forest fragments, is vital to the species' survival.


Palm oil company destroys 7,000 ha of Amazon rainforest in Peru

(03/04/2013) A palm oil producer has leveled some 7,000 hectares of rainforest in the Peruvian Amazon, highlighting the risks of oil palm expansion in the world's largest tropical forest, reports El Comercio.


First strike: nearly 200 illegal loggers arrested in massive sting across 12 countries

(02/20/2013) One-hundred-and-ninety-seven illegal loggers across a dozen Central and South American countries have been arrested during INTERPOL's first strike against widespread forestry crime. INTERPOL, or The International Criminal Police Organization, worked with local police forces to take a first crack at illegal logging. In all the effort, known as Operation Lead, resulted in the seizure of 50,000 cubic meters of wood worth around $8 million.


Jaguars, tapirs, oh my!: Amazon explorer films shocking wildlife bonanza in threatened forest


(02/19/2013) Watching a new video by Amazon explorer, Paul Rosolie, one feels transported into a hidden world of stalking jaguars, heavyweight tapirs, and daylight-wandering giant armadillos. This is the Amazon as one imagines it as a child: still full of wild things. In just four weeks at a single colpa (or clay lick where mammals and birds gather) on the lower Las Piedras River, Rosolie and his team captured 30 Amazonian species on video, including seven imperiled species. However, the very spot Rosolie and his team filmed is under threat: the lower Las Piedras River is being infiltrated by loggers, miners, and farmers following the construction of the Trans-Amazon highway.


Fossil fuel company looking to exploit deposits in Manu National Park

(02/11/2013) Pluspetrol, an Argentine oil and gas company, is eyeing a UNESCO World Heritage site in the Amazon rainforest for gas production, according to documents seen by the Guardian. Manu National Park in eastern Peru is considered one of the most biodiverse places on Earth and is home to indigenous tribes living in voluntary isolation.


From slash-and-burn to Amazon heroes: new video series highlights agricultural transformation


(01/31/2013) A new series of short films is celebrating the innovation of rural farmers in the Manu region of Peru. Home to jaguars, macaws, and tapirs, the Manu region is also one of the top contenders for the world's most biodiverse place. It faces a multitude of threats from road-building to mining to gas and oil concessions. Still the impact of smallscale slash-and-burn farming—once seen as the greatest threat to the Amazon and other rainforest—may be diminishing as farmers, like the first film's Reynaldo (see below), turn to new ways of farming, ones that preserve the forest while providing a better life overall.


Photos: Scientists discover tapir bonanza in the Amazon


(01/22/2013) Over 14,000 lowland tapirs (Tapirus terrestris), also known as Brazilian tapirs, roam an Amazonian landscape across Bolivia and Peru, according to new research by scientists with the Wildlife Conservation Society (WCS). Using remote camera trapping, thousands of distribution records, and interviews, the researchers estimated the abundance of lowland tapirs in the Greater Madidi-Tambopata Landscape Conservation Program made up of three national parks in Bolivia (Madidi, Pilón Lajas and Apolobamba) and two in Peru (Tambopata and Bahuaja Sonene).


Climate change melting glaciers in the Andes

(01/22/2013) Glaciers are melting faster than ever in the tropical Andes, warns a new study published in The Cryosphere, which puts the blame for vanishing glaciers squarely on climate change. The study — the most comprehensive to date — found that since the 1970s glacier melt in the region has been speeding up, threatening freshwater supplies in Peru and Bolivia.


The year in rainforests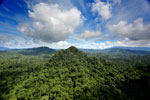 (12/31/2012) 2012 was another year of mixed news for the world's tropical forests. This is a look at some of the most significant tropical rainforest-related news stories for 2012. There were many other important stories in 2012 and some were undoubtedly overlooked in this review. If you feel there's something we missed, please feel free to highlight it in the comments section. Also please note that this post focuses only on tropical forests.


Advanced technology reveals massive tree die-off in remote, unexplored parts of the Amazon


(12/12/2012) Severe drought conditions in 2010 appear to have substantially increased tree mortality in the Western Amazon, a region thought largely immune from the worst effects of changes occurring in other parts of the world's largest rainforest, reported research presented last week at the fall meeting of the American Geophysical Union (AGU). The findings suggest that the Amazon may face higher-the-expected vulnerability to climate change, potentially undercutting its ability to help mitigate greenhouse gas emissions by absorbing carbon dioxide through faster growth.


Tribes to sue Peru over planned oil expansion

(12/12/2012) Indigenous groups plan to sue the government of Peru over the expansion of a oil concession they say intrudes on their native lands.


Dams are rapidly damning the Amazon

(12/08/2012) Dam-builders seeking to unlock the hydroelectric potential of the Amazon are putting the world's mightiest river and rainforest at risk, suggests a new assessment that charts the rapid expansion of dams in the region.


108 million ha of Amazon rainforest up for oil and gas exploration, development

(12/08/2012) Concessions for oil and gas exploration and extraction are proliferating across Amazon countries, reports a comprehensive new atlas of the region.


Deforestation rate falls across Amazon rainforest countries


(12/06/2012) The average annual rate of deforestation across Amazon rainforest countries dropped sharply in the second half of the 2000s, reports a comprehensive new assessment of the region's forest cover and drivers of deforestation. While the drop in deforestation in the Brazilian Amazon has been widely reported, several other Amazon countries saw their rates of forest loss drop as well, according to the report, which was published by a coalition of 11 Latin American civil society groups and research institutions that form the Amazonian Network of Georeferenced Socio-Environmental Information (RAISG).


UNESCO disturbed by gas plans for Peru's Manu National Park


(10/15/2012) Major concerns about the danger posed by gas exploration in a UNESCO World Heritage site in the Amazon rainforest has prompted UNESCO to promise to lobby the Peruvian government. Manu National Park's biological diversity exceeds "that of any other place on Earth," according to UNESCO's website, and is inhabited by indigenous people living in "voluntary isolation" who could be decimated if they come into contact with gas workers.


Photos: new mammal menagerie uncovered in remote Peruvian cloud forest


(10/03/2012) Every year scientists describe around 18,000 new species, but mammals make up less than half a percent of those. Yet mammal surprises remain: deep in the remote Peruvian Andes, scientists have made an incredible discovery: a rich cloud forest and alpine grassland ecosystem that may be home to no less than eight new mammal species. Although most of these new mammals are currently under study—and have not been officially described yet (a process which can take several years)—lead scientists, Horacio Zeballos of Peru and Gerardo Ceballos of Mexico are certain they have uncovered a small forest, surrounded by deforestation and farmland, that shelters a remarkable menagerie of mammals unknown to scientists until now.


Greenpeace targets forest carbon offsets in California's cap-and-trade

(09/25/2012) California's inclusion of forest conservation-based carbon offsets in its climate change legislation may not lead to net reductions in greenhouse gas emissions and could exacerbate social conflict in places like southern Mexico, argues a report released Monday by Greenpeace. But the activist group faced sharp criticism from backers of California's initiative.


New forest map shows 6% of Amazon deforested between 2000 and 2010


(09/21/2012) An update to one of the most comprehensive maps of the Amazon basin shows that forest cover across the world's largest rainforest declined by about six percent between 2000 and 2010. But the map also reveals hopeful signs that recognition of protected areas and native lands across the eight countries and one department that make up the Amazon is improving, with conservation and indigenous territories now covering nearly half of its land mass.


Wax palm can be sustainably harvested

(09/17/2012) The wax palm can be harvested sustainably with just a few management restrictions, according to a new study in mongabay.com's open access journal Tropical Conservation Science (TCS). Found only in the Peruvian and Ecuadorian Andes, the leaves of the wax palm (Ceroxylon echinulatum) are used to make Easter handicrafts. But the practice has caused fears that the species, which is currently categorized as Vulnerable by the IUCN Red List, is being overexploited.


Talisman abandons Amazon oil development in Peru's rainforest

(09/13/2012) Talisman Energy (TLM) is abandoning oil exploration in a block of forest in the Peruvian Amazon, reports Amazon Watch, an activist group that has campaigned against the driller since 2004.


Dry forests disappearing faster than rainforests in Latin America

(08/21/2012) Countries across Latin America lost 78,000 square kilometers of subtropical and tropical dry broadleaf forests between 2001 and 2010, according to a new satellite-based assessment published in the journal Biotropica.


Evidence of 'isolated' indigenous people found in Peru where priest is pushing highway

(08/14/2012) Evidence of indigenous people living in "voluntary isolation" in a remote part of the Amazon has been found where an Italian Catholic priest is campaigning for Peru's government to build a highway. The discovery is controversial because the priest has questioned the existence of the isolated people, sometimes referred to as uncontacted, who live without regular contact with anyone else.


Beautiful new bird discovered in Peruvian cloud forest

(08/07/2012) Four years ago in a remote cloud forest in Peru's Cerros del Sira mountain range, three recently graduated students from Cornell University discovered a never-before-recorded species of black, white, and scarlet bird. Now described in the scientific journal, The Auk, the bird has been dubbed the Sira barbet (Capito fitzpatricki).


Peru considers big changes to its environmental reviews

(08/01/2012) The Peruvian government is looking into making large-scale changes to its Environment Impact Assessments (EIA) after a review found significant problems with the vast majority of past reviews, reports the Inter Press Service. The news comes a few weeks after protests over a proposed gold and copper mine in the Andes left five people dead, including a 17-year-old boy.


Indonesia, Brazil, Mexico, Peru get big boost in deforestation tracking, biomass measurement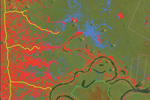 (07/11/2012) Efforts to rapidly and accurately track deforestation and forest degradation in Indonesia, Brazil, Mexico, and Peru got a boost this week with a special technical training session organized by the Governors Climate and Forest Task Force. The meeting, convened at Stanford University and Google's Silicon Valley campus, paired staffers from government agencies and NGOs in the four tropical countries with technical experts from the Amazon Environmental Research Institute (IPAM), the Carnegie Institution for Science, the Forum on Readiness for REDD, Woods Hole Research Center, and Google Earth Outreach. The participants received training to augment existing deforestation, forest degradation and biomass monitoring capabilities, which are highly variable both between countries and within sub-national agencies and jurisdictions.


Vietnam buys stakes in controversial oil blocks threatening Peru's most vulnerable indigenous people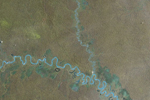 (07/11/2012) Vietnam's state oil and gas company, PetroVietnam Exploration and Production (PVEP), has announced its intention to acquire a major stake in controversial oil operations in the remote Peruvian Amazon. This area, known as Lot 67, is one of the most biodiverse in the world and home to indigenous people living without regular contact with outsiders, sometimes dubbed 'isolated' or 'uncontacted', who could be decimated by contact with oil company workers because they are highly vulnerable to disease.


Critically Endangered capuchins discovered in four new locations

(07/09/2012) The Ecuadorian capuchin, a Critically Endangered subspecies of the white-fronted capuchin (Cebus albifrons), has been discovered in four new locations according to a new study in mongabay.com's open access journal Tropical Conservation Science. Found only in Ecuador and northern Peru, the scientists say the monkey may be unique enough to warrant consideration as a distinct species.


Fire risk to increase in the Amazon rainforest

(06/20/2012) The risk of fire could increase across large parts of the Amazon rainforest due to increasing incident of drought, expansion of road networks, and rural outmigration, said a scientist speaking at the annual meeting of the Association for Tropical Biology and Conservation (ATBC) in Bonito, Brazil.


Over 700 people killed defending forest and land rights in past ten years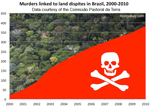 (06/19/2012) On May 24th, 2011, forest activist José Cláudio Ribeiro da Silva and his wife, Maria do Espírito Santo da Silva, were gunned down in an ambush in the Brazilian state of Pará. A longtime activist, José Cláudio Ribeiro da Silva had made a name for himself for openly criticizing illegal logging in the state which is rife with deforestation. The killers even cut off the ears of the da Silvas, a common practice of assassins in Brazil to prove to their employers that they had committed the deed. Less than a year before he was murdered, da Silva warned in a TEDx Talk, "I could get a bullet in my head at any moment...because I denounce the loggers and charcoal producers."


Tropical dams are a false solution to climate change

(05/27/2012) Tropical dams emit considerably more greenhouse gas emissions than their temperate counterparts yet are being treated as a solution to climate change, warns a report published in Nature Climate Change.


Permaculture: a path toward a more sustainable Amazon?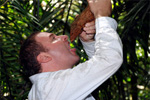 (05/03/2012) Communities living in and around tropical forests remain highly dependent on forest products, including nuts, resins, fruit and vegetables, oils, and medicinal plants. But relatively few of these products have been successfully commercialized in ways that generates sustained local benefits. When commercialization does happen, outsiders or a few well-placed insiders usually see the biggest windfall. Large-scale exploitation can also lead to resource depletion or conversion of forests for monoculture-based production. The ecosystem and local people lose.


Oil company Perenco endangering 'uncontacted' indigenous people, says Peru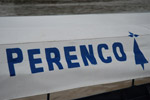 (04/25/2012) The company hoping to exploit the oil deposits slated to transform Peru's economy has been declared to be endangering the lives of indigenous people living in "voluntary isolation" by the country's indigenous affairs department (INDEPA). Perenco, an Anglo-French company with headquarters in London and Paris, is currently seeking approval from Peru's Energy Ministry (MEM) to develop its operations in the Loreto region in the north of the country.


Indigenous groups oppose priest pushing for road through uncontacted tribes' land

(04/19/2012) A grassroots indigenous organization in Peru is calling for the removal of an Italian Catholic priest from the remote Amazon in response to his lobbying to build a highway through the country's biggest national park.


U.S. gobbling illegal wood from Peru's Amazon rainforest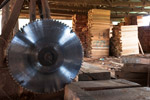 (04/10/2012) The next time you buy wood, you may want to make sure it's not from Peru. According to an in-depth new report by the Environmental Investigation Agency (EIA), the illegal logging trade is booming in the Peruvian Amazon and much of the wood is being exported to the U.S. Following the labyrinthian trail of illegal logging from the devastated forests of the Peruvian Amazon to the warehouses of the U.S., the EIA identified over 112 shipments of illegally logged cedar and big-leaf mahogany between January 2008 and May 2010. In fact, the group found that over a third (35 percent) of all the shipments of cedar and mahogany from Peru to the U.S. were from illegal sources, a percentage that is likely conservative.


Indigenous groups fight for recognition and illumination in Peru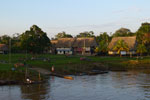 (03/26/2012) "Shh, wait here," Wilson told me. I ducked down behind the buttress of a large tree to wait. We had been walking through the jungle for a few hours. At first we followed a path through the undergrowth, a wet world of ferns, trunks and lianas speckled with the sunlight that made it down through the canopy and understory, but soon we simply walked along a route Wilson picked out. I had been trying to concentrate on the myriad sounds: cicadas were the background and various small birds tweeted from different points. We were listening and looking for signs that would lead us to prey—perhaps the calm whistle of a perdiz or the scent—marking of a boar—but just before Wilson became excited I had heard nothing. He stopped and said, "Red monkeys," pointing ahead.



Page 1 | Page 2 | Page 3