News articles on greenwashing

---
Mongabay.com news articles on greenwashing in blog format. Updated regularly.





Wilmar refutes Sarawak govt's claims on palm oil ban

(02/17/2014) Palm oil giant Wilmar has refuted a claim that it will stop buying crude palm oil from the Malaysian state of Sarawak due to its new 'no deforestation' policy.


Featured video: U.S. forests decimated for 'green' bio-energy in Europe

(12/12/2013) Wetland forests in the southern U.S. are becoming the victims of a drive for so-called green energy in Europe, according to activist group Dogwood Alliance, which has produced a new video highlighting the issue. The activists contend that bio-energy that depends on chopping down forests not only devastates vital ecosystems, but actually emits more greenhouse gases than traditional fossil fuels.


Environmental journalism: rich with stories but 'extremely under-resourced'


(10/15/2013) Erik Hoffner is an environmental journalist and photographer whose work has appeared in a wide range of publications, including Orion, The Sun, Northern Woodlands, Yale Environment 360, Earth Island Journal, and World Ark. Recently two of his stories triggered strong public reactions: an exposé on damaging logging practices in Sweden and a photo feature on suburban fracking in Colorado. In an October interview with Mongabay.com, Hoffner discusses the fallout from these stories as well as his career in environmental journalism.


Malaysian NGOs form alliance to address palm oil concerns

(07/31/2013) Seven Malaysia-based NGO's have banded together to form an alliance to provide a Malaysian civil society perspective on social and environmental issues related to palm oil production. The initiative aims to counter Malaysian industry claims that concerns over palm oil are purely driven by Western NGO's.


Palm oil lobby group misleads on origin of haze, fires

(07/09/2013) World Growth International, a group that lobbies on behalf of industrial forestry and palm oil companies, is clouding the origin of the fires that triggered 'haze' air pollution alerts across Singapore and Malaysia last month.


Indonesian logging giant pulls out of FSC certification scheme

(06/22/2013) Following a complaint filed by environmental groups, Indonesian forestry giant Asia Pacific Resources International Limited (APRIL) has pulled out of the Forest Stewardship Council (FSC), an eco-labeling initiative for timber and other forest products.


Indigenous groups protest hydropower congress as controversy hits meeting in Malaysia


(05/22/2013) The opening of the International Hydropower Association (IHA) World Congress in the Malaysian state of Sarawak was marred today by indigenous protests and controversy after a local indigenous leader was barred from attending a pre-conference workshop. Over 300 people from local indigenous people protested the ongoing construction of around a dozen mega-dams in the state that threaten to flood traditional lands, force villages to move, and upend lives in the state. The Sarawak hydropower plans are some of the most controversial in the world—making the choice of Kuching, Sarawak for the IHA meeting an arguably ironic one—with critics contending that the dams are have been mired in political corruption, including kickbacks and bribes. IHA brings together dam builders, banks, and various related organizations worldwide every two years.


Debate heats up over California's plan to reduce emissions via rainforest protection


(05/07/2013) As the public comment period for California's cap-and-trade program draws to a close, an alliance of environmental activists have stepped up a heated campaign to keep carbon credits generated by forest conservation initiatives in tropical countries out of the scheme. These groups say that offsets generated under the so-called Reducing Emissions from Deforestation and Degradation (REDD+) mechanism, will undermine efforts to cut emissions as home, while potentially leading to abuses abroad. However supporters of forest conservation-based credits say the program may offer the best hope for saving the world's beleaguered rainforests, which continue to fall at a rate of more than 8 million hectares per year.


What if companies actually had to compensate society for environmental destruction?


(04/29/2013) The environment is a public good. We all share and depend on clean water, a stable atmosphere, and abundant biodiversity for survival, not to mention health and societal well-being. But under our current global economy, industries can often destroy and pollute the environment—degrading public health and communities—without paying adequate compensation to the public good. Economists call this process "externalizing costs," i.e. the cost of environmental degradation in many cases is borne by society, instead of the companies that cause it. A new report from TEEB (The Economics of Ecosystems and Biodiversity), conducted by Trucost, highlights the scale of the problem: unpriced natural capital (i.e. that which is not taken into account by the global market) was worth $7.3 trillion in 2009, equal to 13 percent of that year's global economic output.


Featured documentary: Damocracy, highlighting the battles over the Belo Monte and Ilisu dams

(04/29/2013) A new short documentary highlights the battles over monster dam projects imperiling local people and wild rivers. Examining the Belo Monte dam in Brazil and the Ilisu dam in Turkey, the documentary argues that such hydroelectric projects cannot be deemed "green" energy as they overturn lives, livelihoods, and ecosystems.


Controversial palm oil project concession in Cameroon is 89 percent 'dense natural forest'


(02/21/2013) Satellite mapping and aerial surveys have revealed that a controversial palm oil concession in Cameroon is almost entirely covered by "dense natural forest," according to a new report by Greenpeace. The activist group alleges that the concession, owned by Herakles Farms, is under 89 percent forest cover. The U.S.-based corporation intends to build a 70,000 hectare palm oil plantation in a region surrounded by four protected areas, including Korup National Park, but has faced stiff criticism from numerous environmental groups as well as conflict with locals.


Paradigm shift needed to avert global environmental collapse, according to author of new book The Blueprint: Averting Global Collapse


(01/10/2013) Global strategist, trained educator, and international lecturer Daniel Rirdan set out to create a plan addressing the future of our planet. His book The Blueprint: Averting Global Collapse, published this year, does just that. "It has been a sixty hour a week routine," Rirdan told mongabay.com in a recent interview. "Basically, I would wake up with the burden of the world on my shoulders and go to sleep with it. It went on like this for eighteen months." It becomes apparent when reading The Blueprint that it was indeed a monumental undertaking.


China plans over 300 dam projects worldwide

(12/10/2012) A new report by the NGO, International Rivers, takes an in-depth look at the role China is playing in building mega-dams worldwide. According to the report, Chinese companies are involved in 308 hydroelectric projects across 70 nations. While dams are often billed as "green energy," they can have massive ecological impacts on rivers, raise local conflict, and even expel significant levels of greenhouse gases when built in the tropics.


Asia Pulp & Paper hires top U.S. lobbyist to help 'green' its image


(12/05/2012) Indonesian forestry giant Asia Pulp & Paper (APP) has hired a top U.S. official to help it work through trade and environmental issues. In November, APP announced it had retained Stuart Eizenstat of Covington & Burling, a U.S.-based law firm, to help 'ensure APP's trade and sustainability compliance in North America'. Eizentstat's hiring is notable because he led the U.S. delegation that negotiated the Kyoto Protocol and has served in a number of high-level government positions, including U.S. Ambassador to the European Union; Under Secretary of Commerce for International Trade; Under Secretary of State for Economic, Business and Agricultural Affairs; and Deputy Secretary of the Treasury in the Clinton Administration.


Photos reveal destruction of Cameroon rainforest for palm oil


(11/26/2012) Newly released photos by Greenpeace show the dramatic destruction of tropical forest in Cameroon for an oil palm plantation operated by SG Sustainable Oils Cameroon (SGSOC), a subsidiary of the U.S. company Herakles Farm. The agriculture company is planning to convert 73,000 hectares to palm oil plantations on the edge of several protected areas, but has faced considerable opposition from environmentalists and some local communities. In addition to the aerial photos, Greenpeace alleges that ongoing forest clearing by Herakles is illegal since the companies 99-year lease has yet to be fully approved by the Cameroonian government.


HSBC bank funding large-scale rainforest destruction and invasion of indigenous lands in Borneo, alleges report


(11/02/2012) HSBC has earned tens of millions financing the destruction of rainforests and invasion of indigenous land in the Malaysian state of Sarawak on the island of Borneo, alleges an explosive new report from Global Witness.


Gibson Guitar to pay $300,000 for violating Lacey Act with illegal timber imports from Madagascar

(08/06/2012) Gibson Guitar Company has avoided criminal prosecution under the Lacey Act — a law that aims to curb illegal logging abroad — by settling with the Department of Justice.


APP's new 'sustainability roadmap' won't spare unprotected tiger habitat in Sumatra

(07/27/2012) Asia Pulp & Paper's new sustainability commitment represents a scaling back of earlier environmental pledges and does not offer new protection for natural forests in Sumatra, alleges a new report from Eyes on the Forest, a coalition of green groups based in Riau, Sumatra.


Scientists slam Telegraph blogger's claims that climate change will be good for the Amazon


(07/12/2012) Recent blog posts on The Telegraph and the Register claiming that tropical rainforests like the Amazon are set to benefit from climate change are 'uninformed' and 'ridiculous' according to some of the world's most eminent tropical forest scientists. The posts, published Sunday and Monday by Tim Worstall, a Senior Fellow at London's Adam Smith Institute, asserted that a new Nature study indicates that 'climate change will mean new and larger tropical forests.' But some of the world's leading tropical forest experts took aim at Worstall's logic, noting the limitations of the study as well as the other factors that are endangering rainforests.


Dams are 'centerpiece of greenwashing' in the Amazon

(06/25/2012) Brazil's ambitious plans to build 30 dams in the Amazon basin could trump the country's efforts to protect the world's largest rainforest, said a leading Amazon scientist speaking at the annual meeting of the Association for Tropical Biology and Conservation (ATBC) in Bonito, Brazil.


IKEA logging old-growth forest for low-price furniture in Russia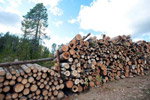 (05/30/2012) A new campaign is targeting IKEA, the world's biggest furniture retailer, for logging old-growth forests in the Karelia region of Russia. An alliance of groups, headed by the Swedish NGO Protect the Forest, allege that IKEA's subsidiary, Swedwood, is clearcutting thousands of hectares of old and biodiverse forests. But, Swedwood's 300,000 hectare concession is certified by the Forest Stewardship Council (FSC), generally considered the world's strongest forestry certifier.


Another red herring from Asia Pulp & Paper on its deforestation problem


(05/29/2012) In a press release issued last Thursday, Asia Pulp & Paper (APP) asserted that the presence of mixed tropical hardwood fiber (MTH) in its products 'does not come from the felling of virgin tropical rainforest trees in Indonesia'. The embattled paper giant goes on to say that 'the presence of MTH fiber says nothing about whether the product is sustainable or not" and that "MTH can be found easily in recycled paper.' All these points are true. But what APP doesn't tell you is that its response is yet another facade in its effort to deflect criticism from its forestry practices.


Asia Pulp & Paper to temporarily suspend rainforest clearing in Indonesia

(05/16/2012) Asia Pulp & Paper (APP), a forestry giant that has been heavily criticized for destroying rainforests and peatlands in Indonesia, will temporarily suspend clearing of natural forest areas until conservation assessments have been conducted.


New attack on Greenpeace in Indonesia

(05/01/2012) As fallout from its campaign against Asia Pulp & Paper grows, Greenpeace's critics have opened a new front on the environmental group, accusing it of "embezzlement", reports Mongabay-Indonesia.


Pictures: Destruction of the Amazon's Xingu River begins for Belo Monte Dam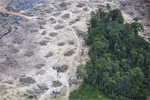 (04/18/2012) The Xingu River will never be the same. Construction of Belo Monte Dam has begun in the Brazilian Amazon, as shown by these photos taken by Greenpeace, some of the first images of the hugely controversial project. Indigenous groups have opposed the dam vigorously for decades, fearing that it will upend their way of life. Environmentalists warn that the impacts of the dam—deforestation, methane emissions, and an irreparable changes to the Xingu River's ecosystem—far outweigh any benefits. The dam, which would be the world's third largest, is expected to displace 16,000 people according to the government, though some NGOs put the number at 40,000. The dam will flood over 40,000 hectares of pristine rainforest, an area nearly seven times the size of Manhattan.


APP affiliates in U.S., Australia, pledge to drop controversial pulp supplier linked to deforestation

(03/17/2012) Two affiliates of Asia Pulp & Paper (APP) have announced they are severing at least some ties with the beleaguered paper giant, according to the Northern Virginia Daily and Greenpeace, an environmental group whose recent undercover investigation found ramin, a protected species, at APP's pulp mill in Sumatra.


Scientists say massive palm oil plantation will "cut the heart out" of Cameroon's rainforest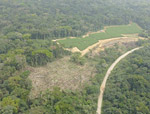 (03/15/2012) Eleven top scientists have slammed a proposed palm oil plantation in a Cameroonian rainforest surrounded by five protected areas. In an open letter, the researchers allege that Herakles Farm, which proposes the 70,000 hectare plantation in southwest Cameroon, has misled the government about the state of the forest to be cleared and has violated rules set by the Roundtable on Sustainable Palm Oil (RSPO), of which it's a member. The scientists, many of whom are considered leaders in their field, argue that the plantation will destroy rich forests, imperil endangered species, and sow conflict with local people.


Surging demand for vegetable oil drives rainforest destruction


(03/14/2012) Surging demand for vegetable oil has emerged as an important driver of tropical deforestation over the past two decades and is threatening biodiversity, carbon stocks, and other ecosystem functions in some of the world's most critical forest areas, warns a report published last week by the Union of Concerned Scientists (UCS). But the report sees some reason for optimism, including emerging leadership from some producers, rising demand for "greener" products from buyers, new government policies to monitor deforestation and shift cropland expansion to non-forest area, and partnerships between civil society and key private sector players to improve the sustainability of vegetable oil production.


Paper giant hammered on forest certification claims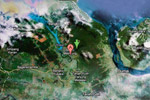 (02/15/2012) Beleaguered paper giant Asia Pulp & Paper was sharply criticized Wednesday for its claims that its operations are certified sustainable by independent auditors. WWF said its survey of certifiers and certification schemes shows that none apply to 'the most controversial operations' of APP's suppliers: clearing of rainforests and peatlands that are home to endangered tigers, elephants, and orangutans. In responding to complaints from environmentalists that its operations are responsible for large-scale destruction of native forests, APP often touts various certification standards which it says demonstrate its commitment to sustainability. Yet the new WWF survey found that these standards don't apply across all of the paper giant's operations — APP's suppliers in Indonesia continue to harvest and convert natural forests. Nor do the certification standards necessarily prove that APP's forest management practices are 'sustainable'.


Some toilet paper production destroys Indonesian rainforests, endangering tigers and elephants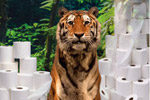 (02/09/2012) American consumers are unwittingly contributing to the destruction of endangered rainforests in Sumatra by purchasing certain brands of toilet paper, asserts a new report published by the environmental group WWF. The report, Don't Flush Tiger Forests: Toilet Paper, U.S. Supermarkets, and the Destruction of Indonesia's Last Tiger Habitats, takes aim at two tissue brands that source fiber from Asia Pulp & Paper (APP), a paper products giant long criticized by environmentalists and scientists for its forestry practices on the Indonesian island of Sumatra. The brands — Paseo and Livi — are among the fastest growing, in terms of sales, in the United States.


Economic slowdown leads to the pulping of Latvia's forests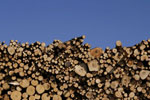 (01/23/2012) The economic crisis has pushed many nations to scramble for revenue and jobs in tight times, and the small Eastern European nation of Latvia is no different. Facing tough circumstances, the country turned to its most important and abundant natural resource: forests. The Latvian government accepted a new plan for the nation's forests, which has resulted in logging at rates many scientists say are clearly unsustainable. In addition, researchers contend that the on-the-ground practices of state-owned timber giant, Latvijas Valsts meži (LVM), are hurting wildlife and destroying rare ecosystems.


The year in review for rainforests


(12/28/2011) 2011 was designated as "Year of the Forests" by the United Nations. While there was relatively little progress on intergovernmental forest protection programs during the year, a lot happened elsewhere. Below is a look at some of the biggest tropical forest-related news stories for 2011. We at mongabay readily acknowledge there were a number of important temperate and boreal forest developments, including Britain's decision not to privatize its forests and the severe drought in Texas, but this article will cover only tropical forest news.


WWF: Asia Pulp & Paper misleads public about its role in destroying Indonesia's rainforests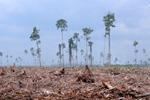 (12/16/2011) Asia Pulp & Paper (APP) continues to mislead the public about its role in destroying rainforests and critical tiger habitat across the Indonesian island of Sumatra, alleges a new report from Eyes on the Forest, a coalition of Indonesian environmental groups including WWF-Indonesia. The report, titled The truth behind APP's Greenwash, is based on analysis of satellite imagery as well as public and private documentation of forest cleared by logging companies that supply APP, which is owned by the Indonesian conglomerate, Sinar Mas Group (SMG). The report concludes APP's fiber suppliers have destroyed 2 million hectares of forest in Sumatra since 1984.


Paper commitments for the Indonesian industry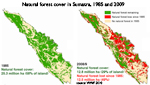 (12/13/2011) The Indonesian group Asia Pulp & Paper (APP) has been the target of many NGOs for years due to its alleged negative impacts on tropical forests. This culminated in a spectacular campaign launched by Greenpeace in 2011 based on Ken "dumping" Barbie. The rationale was that toy brand Mattel was accused of using APP paper products linked to the clear-cutting of natural forests in the Indonesian archipelago. APP organized a counter-attack in the media with the daily publication of advertisements promoting its sustainable development practices. Journalists from all over the world were also invited to attend guided tours of APP concessions to demonstrate their conservation efforts, and a number of articles were subsequently written.


Controversial pulp and paper companies underwrite Indonesia's climate change pavilion in Durban

(12/10/2011) A 'significant proprtion' of Indonesia's $3.3. million pavilion at climate talks in Durban was funded by Indonesian pulp and paper companies companies, reports Reuters Alertnet.


Palm oil, pulp companies commit to zero-tolerance policy for orangutan killing


(12/06/2011) Two Indonesian plantation companies have signed an agreement to train workers not to kill or injure orangutans and other protected species. The agreement was brokered by the Indonesian government between Orangutan Foundation International (OFI), a non-profit with operations in Central Kalimantan, Indonesian Borneo, and two major plantation firms: PT Smart, one of Indonesia's largest palm oil producers, and PT Lontar Papyrus, which supplies wood-pulp to Asia Pulp & Paper (APP). Both companies are holdings of the Sinar Mas Group. Under the terms of the deal, OFI will assist the companies 'in delivering a best management practices training program on orangutans and endangered species for its employees, affiliates and pulpwood suppliers.'


Featured video: are hydroelectric dams a solution to climate change?

(11/28/2011) A new video from NGOs International Rivers and Friends of the Earth International argues that a spree of dam building in the tropics is a false solution to the climate crisis. The video has been released to coincide with the UN's 17th Climate Summit now beginning in Durban, South Africa.


Greenpeace NZ: APP misrepresented test results

(11/27/2011) Asia Pulp & Paper (APP) misled the public when the paper products giant claimed a paper testing company had found its fiber clear of rainforest fiber, says Greenpeace.


Report questions legitimacy of Asia Pulp & Paper's conservation initiatives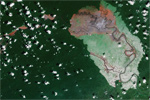 (11/22/2011) A new report by an Indonesian environmental group casts doubt on Asia Pulp & Paper's commitment to sustainability. In its corporate social responsibility reports and advertisements, Asia Pulp & Paper (APP), one of Indonesia's largest pulp and paper suppliers, has touted several forest reserves as indicators of its commitment to environmental stewardship. APP has portrayed these as voluntary, goodwill efforts to conserve Sumatra's endangered wildlife. But in a new report, Greenomics-Indonesia, a Jakarta-based NGO, says that at best these projects represent compliance with existing Indonesian laws or are in areas where commercial exploitation isn't viable.


Malaysia to spend $7.7M to defend palm oil from criticism

(11/09/2011) The Malaysian government will spend 24 million ringgit ($7.7 million) in 2011 and 2012 to counter criticism over the social and environmental impact of palm oil, reports ANTARA.


The dam-maker: China involved in 289 dam projects worldwide

(11/06/2011) China is currently involved in 289 hydroelectric projects worldwide, as reported by International Rivers. Most of the dams are built for hydropower, and over half are considered 'large' projects. The list includes completed dams, one currently under construction, and ones in initial planning stages.


Hydroelectric dam still a greenhouse gas source after 10 years

(11/01/2011) Hydroelectric power is often promoted as green energy, yet dams, especially in the tropics, can be significant sources of greenhouse gas emissions. When built, reservoirs trap vegetation, which, as it rots, emits both methane and carbon into the atmosphere. A new study in Science of the Total Environment found that a dam in Lao PDR remained a significant source of greenhouse gas emission even a decade after construction.


Why is Indonesia afraid of Greenpeace?


(10/18/2011) Last week Indonesian immigration officials in Jakarta blocked Greenpeace director John Sauven from entering the country. Sauven, who two weeks earlier had obtained the proper business visa for his visit from the Indonesian embassy in London, was scheduled to convene with his team in Jakarta, travel to the island of Sumatra, and meet with officials and Indonesian businesses at a forestry conference. The following day, Greenpeace campaigner Andrew Tait was harassed by unknown individuals who attempted to serve him with a deportation warrant.


Tea Party rallies in favor of Gibson Guitar, ignores reasons instrument-maker is under investigation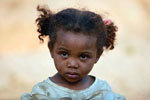 (10/10/2011) This weekend around 500 people showed up for a rally and concert in Nashville, Tennessee. The rally was in support of Gibson Guitars, a US-company currently under investigation for allegedly importing illegally logged wood into the country, an action that breaks a recent bipartisan amendment to the Lacey Act. While the Tea Party-affiliated groups that held the rally were expressing frustration with perceived over-regulation by the federal government, the issue at stake—a global effort to help stem illegal logging—was actually overlooked by the organizers.


Toy giant Mattel drops paper from APP and other 'controversial sources'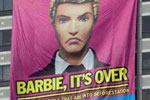 (10/05/2011) The world's biggest toy-maker Mattel has pledged to overhaul its paper sourcing policies after a hard-hitting campaign from Greenpeace linked the toy giant to rainforest destruction in Indonesia by Asia Pulp and Paper (APP). Today, Mattel pledged to increase the use of recycled paper and sustainably-certified fiber to 70 percent by the year's end, and 85 percent by 2015. In addition, the company has said any 'controversial' company engaged in natural forest destruction will be kept out of its supply line, referring to, but not naming directly, APP. Surprisingly, APP told mongabay.com that it 'applauds' Mattel's new commitments.


Tea party versus Madagascar's forests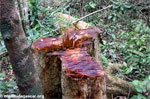 (10/02/2011) The Tea Party and the African island-nation of Madagascar are having dueling concerts over the issue of illegal logging, reports the Associated Press. A concert in Madagascar over the weekend was meant to highlight the problem of illegal deforestation in one of the world's poorest countries. Meanwhile the Tea Party is holding a rally and concert on October 8th to support Gibson Guitar, a musical instruments company currently under investigation for breaking US law by allegedly purchasing illegally logged wood products from Madagascar.


Supermarket challenges toilet paper marker to disprove deforestation allegations

(08/31/2011) A major New Zealand supermarket chain has asked Cottonsoft to prove its environmental credentials after testing by WWF and Greenpeace revealed the toilet paper maker was using mixed tropical hardwoods sourced from Indonesia's rainforests in its tissue. reports The Dominion Post.


APP affiliate 'regrets' astroturfing on Indonesia deforestation claims

(08/21/2011) Solaris, an Australian affiliate of Asia Pulp and Paper (APP), has been caught astroturfing an article that repeated criticism of APP from Greenpeace. The article, which appeared on Mumbrella—an Australian media and marketing news site—garnered a multitude of negative comments which were later tracked to IP addresses used by Solaris. Astroturfing is corporate or government messaging falsified as coming from the public or a grassroots movement.


WWF to investigate program that partners with notorious loggers

(08/14/2011) The World Wide Fund for Nature (WWF) has announced an independent review of its Global Forest and Trade Network (GFTN) following a report from Global Witness that criticized the conservation organization for working with a number of logging companies that destroy forests, imperil species, and abuse human rights. While WWF's GTFN is meant to support companies in changing their ways, Global Witness' report argued that it led to greenwashing forest destruction, including illegal logging.


Congo to 'reforest' with plantations across one million hectares

(08/10/2011) The Republic of the Congo has announced a new program to create plantations across one million hectares (2.47 million acres) of degraded forest lands. The program, known as the national program of afforestation and reforestation (RAN), is being pushed to support various industries, carbon sequestration and to take pressure off native forests. According to Reuters, the Republic of the Congo is seeking donor and international investment of $2.6 billion for the initiative. However, plantations are controversial in conservation-terms as they store significantly less carbon and support little biodiversity when compared to natural forest.



Page 1 | Page 2 | Page 3