News articles on extinction and climate change

---
Mongabay.com news articles on extinction and climate change in blog format. Updated regularly.






Empty seas? Scientists warn of an industrialized ocean
(01/15/2015) This is obvious, but still important: humans are not a marine species. Even as we have colonized most of our planet's terrestrial landscapes, we have not yet colonized the oceans. And for most of our history, we have impacted them only on the periphery. A new review in Science finds that this has saved marine species and ecosystems from large-scale damage—that is, until the last couple centuries.
Thought wiped out by climate change, 'extinct' snail rediscovered in Seychelles
(09/09/2014) The Aldabra banded snail was declared extinct in 1997 as one of the world's first recorded direct casualties of climate change. But last month, a monitoring team found a population on one of the atoll's islands, surprising the team and giving hope that other species whose habitats are being degraded by climate change may still be able to cling to existence.
Extinction crisis: rising sea levels will submerge thousands of islands
(04/08/2014) Sea levels are rising at the highest rate in thousands of years, putting at risk low-lying islands around the world. In a new study published in Nature Conservation, researchers found that projected rises in sea level stand to swamp more than 10,000 islands, displacing human communities and wiping many unique species off the face of the earth.
Microhabitats could buffer some rainforest animals against climate change

(11/25/2013) As temperatures increase worldwide due to anthropogenic climate change, scientists are scrambling to figure out if species will be able to survive rapidly warming ecosystems. A new study in Global Change Biology offers a little hope. Studying reptiles and amphibians in the Philippines, scientists say some of these species may be able to seek refuge in cooler microhabitats, such as tree holes or under the soil, in order to stay alive during intensifying heatwaves. But, the scientists' stress, the shelter from microhabitats can only protect so far.
Climate change could kill off Andean cloud forests, home to thousands of species found nowhere else
(09/18/2013) One of the richest ecosystems on the planet may not survive a hotter climate without human help, according to a sobering new paper in the open source journal PLoS ONE. Although little-studied compared to lowland rainforests, the cloud forests of the Andes are known to harbor explosions of life, including thousands of species found nowhere else. Many of these species—from airy ferns to beautiful orchids to tiny frogs—thrive in small ranges that are temperature-dependent. But what happens when the climate heats up?
The Hawaiian silversword: another warning on climate change
(05/06/2013) The Hawaiian silversword (Argyroxyphium sandwicense), a beautiful, spiny plant from the volcanic Hawaiian highlands may not survive the ravages of climate change, according to a new study in Global Change Biology. An unmistakable plant, the silversword has long, sword-shaped leaves covered in silver hair and beautiful flowering stalks that may tower to a height of three meters.
Will Amazon species lose the climate change race?
(02/14/2013) Deforestation could increase the risk of biodiversity loss in the Amazon by forcing species to migrate further in order to remain at equilibrium with changing climates, says new research. "As migration models are made more realistic through the inclusion of multiple climatic, biotic, abiotic and human factors, the predicted distances between current and future climate analogues invariably increases," Kenneth Feeley, lead author of the paper published in Global Change Biology, told mongabay.com.
Scientists could name every species on Earth in 50 years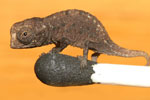 (01/28/2013) A bold new paper in Science argues that the world's species could be named and described before they vanish into extinction, though the threat of eventual extinction will remain for many, especially as climate change worsens. The scientists say that contrary to popular belief, there are more taxonomists working than ever before and there are likely less species on Earth than often reported, making finding and naming the world's species within reach this century.
Scientists: if we don't act now we're screwed
(06/07/2012) Scientists warn that the Earth may be reaching a planetary tipping point due to a unsustainable human pressures, while the UN releases a new report that finds global society has made significant progress on only four environmental issues out of ninety in the last twenty years. Climate change, overpopulation, overconsumption, and ecosystem destruction could lead to a tipping point that causes planetary collapse, according to a new paper in Nature by 22 scientists. The collapse may lead to a new planetary state that scientists say will be far harsher for human well-being, let alone survival.
For Earth Day, 17 celebrated scientists on how to make a better world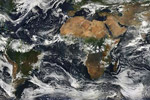 (04/22/2012) Seventeen top scientists and four acclaimed conservation organizations have called for radical action to create a better world for this and future generations. Compiled by 21 past winners of the prestigious Blue Planet Prize, a new paper recommends solutions for some of the world's most pressing problems including climate change, poverty, and mass extinction. The paper, entitled Environment and Development Challenges: The Imperative to Act, was recently presented at the UN Environment Program governing council meeting in Nairobi, Kenya.
Carbon emissions paving way for mass extinction in oceans

(03/05/2012) Human emissions of carbon dioxide may be acidifying the oceans at a rate not seen in 300 million years, according to new research published in Science. The ground-breaking study, which measures for the first time the rate of current acidification compared with other occurrences going back 300 million years, warns that carbon emissions, unchecked, will likely lead to a mass extinction in the world's oceans. Acidification particularly threatens species dependent on calcium carbonate (a chemical compound that drops as the ocean acidifies) such as coral reefs, marine mollusks, and even some plankton. As these species vanish, thousands of others that depend on them are likely to follow.
Ocean prognosis: mass extinction
(06/20/2011) Multiple and converging human impacts on the world's oceans are putting marine species at risk of a mass extinction not seen for millions of years, according to a panel of oceanic experts. The bleak assessment finds that the world's oceans are in a significantly worse state than has been widely recognized, although past reports of this nature have hardly been uplifting. The panel, organized by the International Program on the State of the Ocean (IPSO), found that overfishing, pollution, and climate change are synergistically pummeling oceanic ecosystems in ways not seen during human history. Still, the scientists believe that there is time to turn things around if society recognizes the need to change.
Warmer temperatures may be exterminating pika populations one-by-one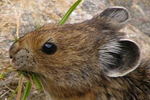 (04/21/2011) The last decade has not been a good one for the American pika (Ochotona princeps) according to a new study in Global Change Biology. Over the past ten years extinction rates have increased by nearly five times for pika populations in the Great Basin region of the US. Examining extinctions of pike populations in the region over the past 110 years, researchers found that nearly half of the extinction events occurred since 1999.
Climate change caused by deforestation triggers species migration

(03/23/2011) Local climate shifts caused by deforestation and land cover change are causing insects to migrate to higher — and cooler — habitats, reports a new study published in the journal Biotropica. The research has implications for predicting how species will respond to climate change.
Not enough data on world's tropical plants to predict impact of warming world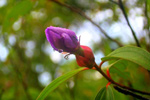 (02/14/2011) How many tropical plant species are threatened by climate change? Which plants have big enough ranges to survive a warming world, not to mention deforestation? How likely is it that the tropics are undergoing a current mass extinction? These questions may appear straight forward, but a new study in Global Change Biology finds that researchers lack the hard data necessary to come to any confident conclusions. According to the study, nine out of ten tropical plants from Africa, Asia, and South America lack the minimum number of collections needed (at least 20) to determine the species' range, and therefore predict the impact of climate change.
The ocean crisis: hope in troubled waters, an interview with Carl Safina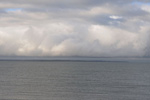 (02/07/2011) Being compared—by more than one reviewer—to Henry Thoreau and Rachel Carson would make any nature writer's day. But add in effusive reviews that compare one to a jazz musician, Ernest Hemingway, and Charles Darwin, and you have a sense of the praise heaped on Carl Safina for his newest work, The View from Lazy Point: A Natural Year in an Unnatural World. Like Safina's other books, The View from Lazy Point focuses on the beauty, poetry, and crisis of the world's oceans and its hundreds-of-thousands of unique inhabitants. Taking the reader on a journey around the world—the Arctic, Antarctic, and the tropics—Safina always returns home to take in the view, and write about the wildlife of his home, i.e. Lazy Point, on Long Island. While Safina's newest book addresses the many ways in which the ocean is being degraded, depleted, and ultimately imperiled as a living ecosystem (such as overfishing and climate change) it also tweezes out stories of hope by focusing on how single animals survive, and in turn how nature survives in an increasingly human world. However, what makes Safina's work different than most nature writing is his ability to move seamlessly from contemporary practical problems to the age-old philosophical underpinnings that got us here. By doing so, he points a way forward.
Photos: Scientists race to protect world's most endangered corals

(01/11/2011) As corals around the world disappear at alarming rates, scientists are racing to protect the ones they can. At a workshop led by the Zoological Society of London (ZSL), the world's foremost coral experts met in response to a decade of unprecedented reef destruction to identify and develop conservation plans for the ten most critically endangered coral species.
Disappearance of arctic ice could create 'grolar bears', narlugas; trigger biodiversity loss

(12/22/2010) The melting of the Artic Ocean may result in a loss of marine mammal biodiversity, reports a new study published in the journal BNature and conducted jointly by the National Oceanic and Atmospheric Association (NOAA), the University of Alaska, and the University of Massachusetts. The study is the first to project what might happen if species pushed into new habitats because of ice loss hybridize with one another, resulting in such crossbreeds as "narlugas" and "grolar bears".
African apes threatened by rising temperatures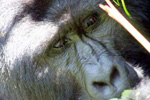 (11/10/2010) Most people wish each day had more than 24 hours. But as the planet heats up, that limited number of hours might push endangered African apes even closer to extinction by making their current habitats unsuitable for their lifestyle, according to a controversial study published on 23 July in the Journal of Biogeography.
Carbon emissions hurting coral recruitment

(11/08/2010) While research has shown that ocean acidification from rising CO2 levels in the ocean imperils the growth and survival mature coral reefs, a new study has found that it may also negatively impact burgeoning corals, by significantly lowering the success of coral recruitment. A study in the Proceedings of the National Academy of Sciences (PNAS) has found that coral recruitment could fall by 73% over the next century due to increasing acidification.
Photos: world's top ten 'lost frogs'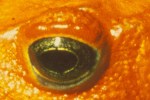 (08/09/2010) The International Union for the Conservation of Nature (IUCN) and Conservation International (CI) have sent teams of researchers to 14 countries on five continents to search for the world's lost frogs. These are amphibian species that have not been seen for years—in some cases even up to a century—but may still survive in the wild. Amphibians worldwide are currently undergoing an extinction crisis. While amphibians struggle to survive against habitat loss, climate change, pollution, and overexploitation, they are also being wiped out by a fungal disease known as chytridiomycosis.
Scientists hunt for 'lost frogs' around the globe
(08/09/2010) From now through October, teams of scientists will be scouring through leaf litters, in shallow pools, under rocks, and in tree trunks for the world's 'lost frogs'. Searching in 14 countries on five continents, the researchers are looking for some 100 species of frogs that have not been seen in decades and in some cases up to a century. While some of the species may well be extinct, researchers are holding out hope that they can find the ones that are still hanging on, albeit by a thread.
Coral reefs doomed by climate change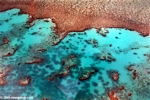 (07/22/2010) The world's coral reefs are in great danger from dual threats of rising temperatures and ocean acidification, Charlie Veron, Former Chief Scientist of the Australian Institute of Marine Science, told scientists attending the Association for Tropical Biology and Conservation meeting in Sanur, Bali. Tracing the geological history of coral reefs over hundreds of millions of years, Veron said reefs lead a boom-and-bust existence, which appears to be correlated with atmospheric carbon dioxide levels. With CO2 emissions rising sharply from human activities, reefs—which are home to perhaps a quarter of marine species and provide critical protection for coastlines—are poised for a 'bust' on a scale unlike anything seen in tens of millions of years.
Study points to global snake decline

(06/09/2010) A number of reports over the last decade have shown amphibians, lizards, fish, and birds facing steep population declines across species and continents, providing further evidence that the planet is undergoing a mass extinction. Now a new study in Biology Letters adds another group of animals to that list: snakes.
Already on the edge, lemurs could become victims of climate change

(06/08/2010) Expanding beyond well-known victims such as polar bears and coral reefs, the list is growing of species likely to be hard hit by climate change: from lizards to birds to amphibians. Now a new study has uncovered another group of species vulnerable to a warmer world: lemurs.
Climate change devastating lizards worldwide: 20 percent estimated to face extinction

(05/13/2010) Lizards have evolved a variety of methods to escape predators: some will drop their tail if caught, many have coloring and patterning that blends in with their environment, a few have the ability to change their colors as their background changes, while a lot of them depend on bursts of speed to skitter away, but how does a lizard escape climate change? According to a new study in Science they don't. The study finds that lizards are suffering local extinctions worldwide due exclusively to warmer temperatures. The researchers conclude that climate change could push 20 percent of the world's lizards to extinction within 70 years.
World failing on every environmental issue: an op-ed for Earth Day
(04/22/2010) The biodiversity crisis, the climate crisis, the deforestation crisis: we are living in an age when environmental issues have moved from regional problems to global ones. A generation or two before ours and one might speak of saving the beauty of Northern California; conserving a single species—say the white rhino—from extinction; or preserving an ecological region like the Amazon. That was a different age. Today we speak of preserving world biodiversity, of saving the 'lungs of the planet', of mitigating global climate change. No longer are humans over-reaching in just one region, but we are overreaching the whole planet, stretching ecological systems to a breaking point. While we are aware of the issues that threaten the well-being of life on this planet, including our own, how are we progressing on solutions?
Seed dispersal in the face of climate change, an interview with Arndt Hampe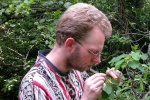 (04/05/2010) Without seed dispersal plants could not survive. Seed dispersal, i.e. birds spreading seeds or wind carrying seeds, means the mechanism by which a seed is moved from its parent tree to a new area; if fortunate the seed will sprout in its new resting place, produce a plant which will eventually seed, and the process will begin anew. But in the face of vast human changes—including deforestation, urbanization, agriculture, and pasture lands, as well as the rising specter of climate change, researchers wonder how plants will survive, let alone thrive, in the future?
The Asian Animal Crisis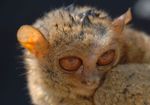 (03/18/2010) The United Nation declared 2010 as the International Year of Biodiversity (IYB). One of the goals of the IYB is to celebrate the achievements of the Convention of Biological Diversity signed by 192 countries since 1992. But what have we accomplished since 1992? Did we put an end to biodiversity loss? The truth is that there is not much to celebrate at all. Asia is a perfect example where the animal crisis and the loss of biodiversity have worsened over decades. The first question that should come to mind is: how many species have vanished in Asia because of human activities? Records of recently extinct species in Asia show 71 species that have disappeared in the wild. Examples include the Yunnan lake newt (Cynops wolterstorffi) from China, the Bonin thrush (Zoothera terrestris) from Japan, or the redtailed black shark (Epalzeorhynchos bicolor) from Thailand.
Falklands Dispute: Argentine Sovereignty Won't Solve the Problem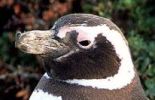 (03/15/2010) With Britain now moving to explore for oil and gas in the Falkland Islands, Argentina has cried foul. Buenos Aires claims that the Falklands, or the Malvinas as Argentines refer to the islands, represent a "colonial enclave" in the south Atlantic. The islands have been a British possession since 1833, and the local inhabitants consider themselves thoroughly British. Yet, Argentina claims the Malvinas as the country inherited them from the Spanish crown in the early 1800s. In 1982 Argentina seized the islands but was later expelled by a British naval force. The war was short but bloody, costing 650 Argentine and 250 British lives.
Why seed dispersers matter, an interview with Pierre-Michel Forget, chair of the FSD International Symposium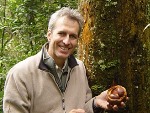 (03/07/2010) There are few areas of research in tropical biology more exciting and more important than seed dispersal. Seed dispersal—the process by which seeds are spread from parent trees to new sprouting ground—underpins the ecology of forests worldwide. In temperate forests, seeds are often spread by wind and water, though sometimes by animals such as squirrels and birds. But in the tropics the emphasis is far heavier on the latter, as Dr. Pierre-Michel Forget explains to mongabay.com. "[In rainforests] a majority of plants, trees, lianas, epiphytes, and herbs, are dispersed by fruit-eating animals. […] As seed size varies from tiny seeds less than one millimetres to several centimetres in length or diameter, then, a variety of animals is required to disperse such a continuum and variety of seed size, the smaller being transported by ants and dung beetles, the larger swallowed by cassowary, tapir and elephant, for instance."
Photos: Madagascar's wonderful and wild frogs, an interview with Sahonagasy

(03/03/2010) To save Madagascar's embattled and beautiful amphibians, scientists are turning to the web. A new site built by herpetologists, Sahonagasy, is dedicated to gathering and providing information about Madagascar's unique amphibians in a bid to save them from the growing threat of extinction. "The past 20 years have seen resources wasted because of a poor coordination of efforts," explains Miguel Vences, herpetologist and professor at the Technical University of Braunschweig. "Many surveys and reports have been produced that were never published, many tourists found and photographed amphibians but these photos were not made available to mapping projects, many studies carried out by Malagasy students did not make use of literature because it was not available."
Polar bears are newcomers on the world stage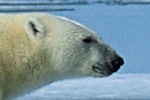 (03/01/2010) One of the most well-known animals, the polar bear, is a newcomer on the world stage, according to research published in the Proceedings of the National Academy of Sciences. By studying the DNA of an ancient polar bear jawbone uncovered in 2004 in Norway scientists have for the first time pinpointed the time when the polar bear split from its closest relative, the brown bear. "Our results confirm that the polar bear is an evolutionarily young species that split off from brown bears some 150,000 years ago and evolved extremely rapidly during the late Pleistocene, perhaps adapting to the opening of new habitats and food sources in response to climate changes just before the last interglacial period."
New study: overhunting by humans killed off Australia's megafauna

(01/21/2010) For over a century and a half researchers have debated whether humans or climate change killed off Australia's megafuana. A new paper in Science argues with new evidence that Australia's giant marsupials, monstrous reptiles, and large flightless birds were brought to extinction not by an unruly climate, but by the arrival of humans.
Photos: expedition in Ecuador reveals numerous new species in threatened cloud forest

(01/14/2010) An expedition into rainforests on Ecuador's coast by Reptile & Amphibian Ecology International (RAEI) have revealed a number of possible new species including a blunt-snouted, slug-eating snake; four stick insects; and up to 30 new 'rain' frogs. The blunt-snouted snake, which feeds on gastropods like slugs, is especially interesting, as its closest relative is in Peru, 350 miles away. In addition, a fifteen-year-old volunteer with the organization found a snake that specializes on snails. The researchers are unsure of this is a new species: the closest similar snake is 600 miles away in Panama.
Gone: a look at extinction over the past decade

(01/03/2010) No one can say with any certainty how many species went extinct from 2000-2009. Because no one knows if the world's species number 3 million or 30 million, it is impossible to guess how many known species—let alone unknown—may have vanished recently. Species in tropical forests and the world's oceans are notoriously under-surveyed leaving gaping holes where species can vanish taking all of their secrets—even knowledge of their existence—with them.
Climate change causing irreversible acidification in world's oceans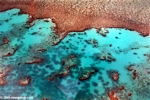 (12/15/2009) A new study from the Secretariat of the Convention on Biological Diversity has synthesized over 300 reports on ocean acidification caused by climate change. The report finds that increasing acidification will lead to irreversible damage in the world's oceans, creating a less biodiverse marine environment. Released today the report determines that the threat to marine life by ocean acidification must be considered by policymakers at the UN Climate Change Conference in Copenhagen.
Photos: ten beloved species threatened by global warming

(12/14/2009) The International Union for the Conservation of Nature (IUCN) has released a list of ten species that are likely to be among the hardest hit by climate change, including beloved species such as the leatherback sea turtle, the koala, the emperor penguin, the clownfish, and the beluga whale. The timing of the list coincides with the negotiations by world leaders at the UN Climate Change Conference to come up with an international agreement to combat climate change.
Extinctions on the rise in the Galapagos: fishing and global warming devastating islands' species

(12/03/2009) We may never see again the Galapagos black-spotted damselfish, the beautiful 24-rayed sunstar, or the Galapagos stringweed. These species from Galapagos waters may all very well be extinct. Other species are on the brink, such as the Galapagos penguin and the Floreana cup coral. A new report in Global Change Biology reveals that in just a matter of decades, overfishing and climate change has devastated the Galapagos' unique and famous ecosystems.
Zoos call for deeper emission cuts to save life on Earth

(11/30/2009) To save species around the world zoos say deeper emission cuts are needed than governments are currently proposing. Over 200 zoos worldwide have signed a petition calling on governments to set the target of atmospheric carbon below 350 parts per million (ppm) far lower than most government targets.
Declaration calls for more wilderness protected areas to combat global warming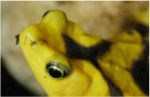 (11/11/2009) Meeting this week in Merida, Mexico, the 9th World Wilderness Congress (WILD9) has released a declaration that calls for increasing wilderness protections in an effort to mitigate climate change. The declaration, which is signed by a number of influential organizations, argues that wilderness areas—both terrestrial and marine—act as carbon sinks, while preserving biodiversity and vital ecosystem services.
Global warming threatens desert life

(11/09/2009) There have been numerous studies showing how climate change is impacting a variety of environments—from the Arctic to coral reefs to alpine—but how could a warmer world damage deserts, already the world's warmest and driest environments?
Hunting across Southeast Asia weakens forests' survival, An interview with Richard Corlett
(11/08/2009) A large flying fox eats a fruit ingesting its seeds. Flying over the tropical forests it eventually deposits the seeds at the base of another tree far from the first. One of these seeds takes root, sprouts, and in thirty years time a new tree waits for another flying fox to spread its speed. In the Southeast Asian tropics an astounding 80 percent of seeds are spread not by wind, but by animals: birds, bats, rodents, even elephants. But in a region where animals of all shapes and sizes are being wiped out by uncontrolled hunting and poaching—what will the forests of the future look like? This is the question that has long occupied Richard Corlett, professor of biological science at the National University of Singapore.
Present day tropical plant families survived in warmer, wetter tropics 58 million years ago
(10/18/2009) Fifty eight million years ago the tropical rainforests of South America shared many similarities with today's Neotropical forests, according to research published in the Proceedings of the National Academy of Sciences. Looking at over 2,000 fossils in Colombia from one of the world's largest open pit coal mines, scientists were able to recreate for the first time the structure of a long vanished rainforest. One inhabited by a titanic snake, giant turtles, and crocodile-like reptiles.
Freshwater species worse off than land or marine

(10/15/2009) Scientists have announced that freshwater species are likely the most threatened on earth. Extinction rates for freshwater inhabitants are currently four to six times the rates for terrestrial and marine species. Yet, these figures have not lead to action on the ground.
To save species conservationists must focus on conserving at least 5,000 individuals

(10/15/2009) The tiger has an estimated population of 3,400-5,000 individuals; the giant panda, 1,000-2,000; the North Atlantic right whale, 350-400; the Sumatran rhino, 250; and the California condor, 170. A new study shows that none of these species is safe from extinction yet, although each has received considerable conservation attention compared to most imperiled species.
Will tropical trees survive climate change?, an interview with Kenneth J. Feeley

(09/24/2009) One of the most pressing issues in the conservation today is how climate change will affect tropical ecosystems. The short answer is: we don't know. Because of this, more and more scientists are looking at the probable impacts of a warmer world on the Earth's most vibrant and biodiverse ecosystems. Kenneth J. Feeley, tropical ecologist and new professor at Florida International University and the Center for Tropical Plant Conservation at the Fairchild Tropical Botanic Garden, is conducting groundbreaking research in the tropical forests of Peru on the migration of tree species due to climate change.
Economic crisis threatens conservation programs and endangered species, an interview with Paula Kahumbu of WildlifeDirect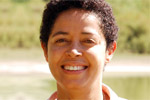 (08/17/2009) Founded in 2004 by legendary conservationist Richard Leakey, WildlifeDirect is an innovative member of the conservation community. WildlifeDirect is really a meta-organization: it gathers together hundreds of conservation initiatives who blog regularly about the trials and joys of practicing on-the-ground conservation. From stories of gorillas reintroduced in the wild to tracking elephants in the Okavango Delta to saving sea turtles in Sumatra, WildlifeDirect provides the unique experience of actually hearing directly from scientists and conservationists worldwide.
Photos: hundreds of new species discovered in Himalayan region, threatened by climate change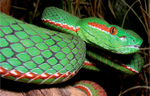 (08/10/2009) Scientists from a variety of organizations have found over 350 new species in the Eastern Himalayas, including a flying frog, the world's smallest deer, and a gecko which has walked the earth for 100-million-years, according to a new report by the World Wildlife Fund (WWF). The report, entitled Where World's Collide, warns that these rare biological treasures, as well as numerous other species, are threatened in the Eastern Himalayas by climate change.
First comprehensive study of insect endangerment: ten percent of dragonflies threatened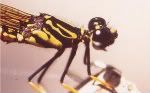 (06/23/2009) A lot of time, effort, and funds have been spent on programs evaluating the threat of extinction to species around the world. Yet insects have not benefited from these programs, which have largely focused on more 'charismatic' species such as mammals, birds, amphibians, and reptiles. This gap is clearly shown by the fact that 42 percent of vertebrates have been assessed by the International Union for the Conservation of Nature (IUCN), and only 0.3 percent of invertebrates.
New report predicts dire consequences for every U.S. region from global warming
(06/17/2009) Government officials and scientists released a 196 page report detailing the impact of global warming on the U.S. yesterday. The study, commissioned in 2007 during the Bush Administration, found that every region of the U.S. faces large-scale consequences due to climate change, including higher temperatures, increased droughts, heavier rainfall, more severe weather, water shortages, rising sea levels, ecosystem stresses, loss of biodiversity, and economic impacts.
Network of parks can save Africa's birds in warmer world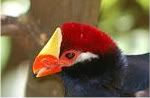 (06/02/2009) As Africa's birds are forced to move habitats due to climate change, a new study finds that the continent's current park system will continue to protect up to 90 percent of bird species. "We looked at bird species across the whole network of protected areas in Africa and the results show that wildlife conservation areas will be essential for the future survival of many species of birds," said Dr. Stephen Willis from Durham University. "Important Bird Areas (IBAs) will provide new habitats for birds that are forced to move as temperatures and rainfall change and food sources become scarce in the areas where they currently occur. Protected areas are a vital conservation tool to help birds adapt to climate change in the 21st century."
Permian mass extinction caused by giant volcanic eruption

(05/28/2009) Two hundred and sixty million years ago the Earth experienced its worst mass extinction: 95 percent of marine life and 70 percent of terrestrial life vanished. Long a subject of dispute, researchers from the University of Leeds believe they have confirmed the reason behind the so-called Permian extinction.
Study refutes criticism of polar bear listing under the Endangered Species Act

(05/20/2009) In May 2008 the Bush Administration listed the polar bear under the Endangered Species Act (ESA). The listing immediately received allegations of being politically biased and not based on sound science. However, a new paper addresses the allegations point by point and concludes that the decision to add the polar bear under the ESA was not only scientifically sound, but right.
Bird migrations lengthen due to global warming, threatening species
(04/15/2009) Global warming is likely to increase the length of bird migrations, some of which already extend thousands of miles. The increased distance could imperil certain species, as it would require more energy reserves than may be available. The new study, published in the Journal of Biogeography, studied the migration patterns of European Sylvia warblers from Africa to breeding grounds in Europe every spring. They discovered that climate change would likely push the breeding ranges of birds north, causing migrations to lengthen, in some cases by a total of 250 miles.
Cutting greenhouse gases now would save world from worst global warming scenarios
(04/14/2009) If nations worked together to produce large cuts in greenhouse gases, the world would be saved from global warming's worst-case-scenarios, according to a new study from the National Center for Atmospheric Research (NCAR). The study found that, although temperatures are set to rise this century, cutting greenhouse gases by 70 percent the globe could avoid the most dangerous aspects of climate change, including a drastic rise in sea level, melting of the Arctic sea ice, and large-scale changes in precipitation. In addition such cuts would eventually allow the climate to stabilize by the end of the century rather than a continuous rise in temperatures.
Revolutionary new theory overturns modern meteorology with claim that forests move rain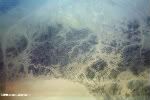 (04/01/2009) Two Russian scientists, Victor Gorshkov and Anastassia Makarieva of the St. Petersburg Nuclear Physics, have published a revolutionary theory that turns modern meteorology on its head, positing that forests—and their capacity for condensation—are actually the main driver of winds rather than temperature. While this model has widespread implications for numerous sciences, none of them are larger than the importance of conserving forests, which are shown to be crucial to 'pumping' precipitation from one place to another. The theory explains, among other mysteries, why deforestation around coastal regions tends to lead to drying in the interior.
Climate change could devastate lizards in the tropics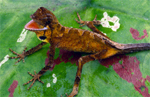 (03/04/2009) With help from data collected thirty years ago, scientists have discovered that tropical lizards may be particularly sensitive to a warming world. Researchers found that lizards in the tropics are more sensitive to higher temperatures than their relatives in cooler, yet more variable climates. "The least heat-tolerant lizards in the world are found at the lowest latitudes, in the tropical forests. I find that amazing," said Raymond Huey, lead author of a paper appearing in the March 4 Proceedings of the Royal Society B.
Salamander populations collapse in Central America

(02/09/2009) Salamanders in Central America — like frogs, toads, and other amphibians at sites around the world — are rapidly and mysteriously declining, report researchers writing in the journal Proceedings of the National Academy of Sciences. Disturbingly, salamanders are disappearing from protected areas and otherwise pristine habitats.
Monstrous prehistoric snake provides glimpse of warmer tropical forests

(02/04/2009) On Wednesday scientists announced the discovery of the world's largest snake, a prehistoric beast which preyed on giant turtles and crocodile-like reptiles in South America after the demise of the dinosaurs. As amazing as the discovery is, its greatest importance may be the clues it provides conservationists about the future of tropical forests under various global warming scenarios.
Symposium tackles big question: how many species will survive our generation

(01/16/2009) Nine scientists dusted off their crystal balls Monday at the National Museum of Natural History in Washington DC, weighing in on the future of the world's tropical forest. Despite the most up-to-date statistics, prognosis for the future of tropical forests varied widely. In the last few years a schism has occurred among biologists regarding the future of the tropics. No tropical scientist denies that rainforests and the species which inhabit them face unprecedented threats; neither do they argue that some of these forested regions and species will likely not survive the next fifty years. What has sparked debate, sometimes heated, is how bad will is it really? When the dust settles, what percentage of species will survive and how much forest will remain?
Tropical species face high extinction risk

(12/10/2008) Tropical plant species face an inherently high extinction risk due to small populations and restricted ranges relative to temperate species, reports research published in PLoS ONE. These traits leave them vulnerable to habitat disturbance and climate change.
Armageddon for amphibians? Frog-killing disease jumps Panama Canal

(10/12/2008) Chytridiomycosis — a fungal disease that is wiping out amphibians around the world — has jumped across the Panama Canal, report scientists writing in the journal EcoHealth. The news is a worrying development for Panama's rich biodiversity of amphibians east of the canal.
Past climate change drove mass extinction in Pakistan

(09/26/2008) Research on long-vanished mammals in the Siwalik region of Northern Pakistan has yielded results relevant for today. In the span of two-and-a-half million years climate change caused a shift in Siwalik habitat from wet monsoon forest to savannah, dooming over half the mammal species to local extinction. The research was published by the Proceedings of the National Academy of Sciences.
Coral susceptibility to bleaching due to small differences in symbiotic relationship

(07/22/2008) Coral reefs are now considered the second most threatened group of animals in the world, with nearly one-third of corals listed as endangered (amphibians retain the dubious honor of being number one). Although corals face many threats, the greatest is bleaching caused by warming oceans due to climate change. However, some coral populations are more susceptible to bleaching than others, even including corals of the same species. New research has uncovered that the reason lies in small differences in the symbiotic relationship between corals and their symbionts, small marine animals and protozoa. Such differences, however minuscule, have a huge impact on the likelihood of a coral's ability to survive warming oceans.
Moving species may be only way to save them from climate change

(07/17/2008) Desperate times call for desperate measures, according to a new paper in Science. conservation scientists from the US, the UK, and Australia are calling for the consideration of a highly controversial conservation technique: assisted migration. According to the policy piece, species would be relocated to sites "where they do not currently occur or have not been known to occur in recent history".
Birds face higher risk of extinction than conventionally thought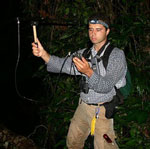 (07/14/2008) Birds may face higher risk of extinction than conventionally thought, says a bird ecology and conservation expert from Stanford University. Dr. Cagan H. Sekercioglu, a senior research scientist at Stanford and head of the world's largest tropical bird radio tracking project, estimates that 15 percent of world's 10,000 bird species will go extinct or be committed to extinction by 2100 if necessary conservation measures are not taken. While birds are one of the least threatened of any major group of organisms, Sekercioglu believes that worst-case climate change, habitat loss, and other factors could conspire to double this proportion by the end of the century. As dire as this sounds, Sekercioglu says that many threatened birds are rarer than we think and nearly 80 percent of land birds predicted to go extinct from climate change are not currently considered threatened with extinction, suggesting that species loss may be far worse than previously imagined. At particular risk are marine species and specialists in mountain habitats.
1/3 of corals face extinction

(07/10/2008) Nearly one-third of reef-building corals are vulnerable to extinction, according to an assessment of 845 species of coral. Rising temperatures, increased incidence of disease, and human disturbance are driving the trend.
Humans, and global warming, responsible for extinction of mammoths

(03/31/2008) The combination of human hunting pressure and climate change was responsible for the extinction in woolly mammoths, claims new research published in the open-access journal PLoS Biology. Scientists have long debated whether climate change or human hunting were the more important driver in the demise of North America's megafauna towards the end of the last Ice Age. Now new modeling by David Nogues-Bravo, a biologist at the National Museum of Natural Sciences in Madrid, Spain, and colleagues supports the theory that synergistic effects of warming climate and new human predators drove mammoths to extinction.
Global warming will significantly increase bird extinctions

(12/06/2007) Where do you go when you've reached the top of a mountain and you can't go back down? It's a question increasingly relevant to plants and animals, as their habitats slowly shift to higher elevations, driven by rising temperatures worldwide. The answer, unfortunately, is you can't go anywhere. Habitats shrink to the vanishing point, and species go extinct. That scenario is likely to be played out repeatedly and at an accelerating rate as the world continues to warm, Stanford researchers say.
Global warming may provoke evolution

(11/26/2007) Some 80 million years ago, during a period of global warming, a group of relatively immobile salamanders trekked from western North America to the continent that became Asia, report researchers writing in this week's issue of the journal Proceedings of the National Academy of Science.
Mass extinctions happen when temperatures are the warmest

(10/24/2007) Warming temperatures could trigger a mass extinction event, warn scientists writing in the latest issue of Proceedings of the Royal Society B. Comparing ancient records of marine and terrestrial diversity with historical temperature estimates, researchers from the Universities of York and Leeds found a close correlation between Earth climate and extinctions over the past 520 million years: higher extinction rates occur at higher temperatures.
European blood-sucker falls victim to global warming

(08/26/2007) Europe's only known land leech may be on the brink of extinction due to shifts in climate, report researchers writing in the journal Naturwissenschaften. The findings are significant because they suggest that "human-induced climate change without apparent habitat destruction can lead to the extinction of populations of cold-adapted species that have a low colonization ability," according to the authors.
Climate change claims a snail

(08/12/2007) The Aldabra banded snail (Rachistia aldabrae), a rare and poorly known species found only on Aldabra atoll in the Indian Ocean, has apparently gone extinct due to declining rainfall in its niche habitat. While some may question lamenting the loss of a lowly algae-feeding gastropod on some unheard of chain of tropical islands, its unheralded passing is nevertheless important for the simple reason that Rachistia aldabrae may be a pioneer. As climate change increasingly brings local and regional shifts in precipitation and temperature, other species are expected to follow in its path.
10-20% of birds extinct by 2100 due to global warming, deforestation
(06/04/2007) Ten to twenty percent of the world's terrestrial bird species could be threatened with extinction by 2100 due to climate change and habitat destruction reports a study published in the June 5 issue of the journal PLoS Biology. The numbers are in line with estimates published last year in The Proceedings of the National Academy of Sciences. Combining future projections on global warming, agricultural expansion and human population growth from the global Millennium Ecosystem Assessment with current geographic ranges of the world's 8,750 species of terrestrial birds, researchers Walter Jetz, David Wilcove, and Andrew Dobson estimate that 950 to 1800 species may be condemned to extinction by 2100.
Protected areas must be adapted to survive global warming

(04/03/2007) Protected areas can play an important role in reducing biodiversity loss due to global warming, reports a new study published March 30 in the journal Frontiers in Environment and Ecology (FREE). The research says that conservation efforts must factor in shifts in species' ranges to be successful.
Global warming could hurt salmon fisheries in Pacific Northwest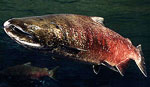 (04/02/2007) Global warming could cause Chinook salmon populations in Washington state to decline 20-40 percent by 2050 according to a new study published in the online early edition of PNAS. The researchers urge policymakers to focus on restoration of lower elevation habitats in order to reduce the expected impact of climate change on salmon populations.
Climate change will cause biomes to shift and disappear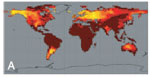 (03/26/2007) Many of the world's local climates could be radically changed if global warming trends continue, reports a new study published in the early online edition of the journal Proceedings of the National Academy of Sciences. The authors warn that current climates may shift and disappear, increasing the risk of biodiversity extinction and other ecological changes.
Extinction, like climate change, is complicated
(03/26/2007) Extinction is a hotly debated, but poorly understood topic in science. The same goes for climate change. When scientists try to forecast the impact of global change on future biodiversity levels, the results are contentious, to say the least. While some argue that species have managed to survive worse climate change in the past and that current threats to biodiversity are overstated, many biologists say the impacts of climate change and resulting shifts in rainfall, temperature, sea levels, ecosystem composition, and food availability will have significant effects on global species richness.
Global warming may cause biodiversity extinction

(03/21/2007) Extinction is a hotly debated, but poorly understood topic in science. The same goes for climate change. When scientists try to forecast the impact of global change on future biodiversity levels, the results are contentious, to say the least. While some argue that species have managed to survive worse climate change in the past and that current threats to biodiversity are overstated, many biologists say the impacts of climate change and resulting shifts in rainfall, temperature, sea levels, ecosystem composition, and food availability will have significant effects on global species richness.
Biodiversity extinction crisis looms says renowned biologist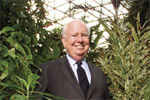 (03/12/2007) While there is considerable debate over the scale at which biodiversity extinction is occurring, there is little doubt we are presently in an age where species loss is well above the established biological norm. Extinction has certainly occurred in the past, and in fact, it is the fate of all species, but today the rate appears to be at least 100 times the background rate of one species per million per year and may be headed towards a magnitude thousands of times greater. Few people know more about extinction than Dr. Peter Raven, director of the Missouri Botanical Garden. He is the author of hundreds of scientific papers and books, and has an encyclopedic list of achievements and accolades from a lifetime of biological research. These make him one of the world's preeminent biodiversity experts. He is also extremely worried about the present biodiversity crisis, one that has been termed the sixth great extinction.
Role of global warming in extinction may be overestimated
(03/01/2007) Extinction is a hotly debated, but poorly understood topic in science. The same goes for climate change. When you bring the two together to forecast the impact of global change on biodiversity, chaos reigns. While many ecologists argue that climate change could well doom many more species to extinction, others say that the threat is overstated.
Past global warming suggests massive temperature shift in our future

(12/07/2006) If past climate change is any indication, Earth could be in store for some significant global warming according to research published in the December 8, 2006, issue of the journal Science. The work suggests that climate change skeptics may be fighting a losing cause. The study, led by Mark Pagani, associate professor of geology and geophysics at Yale, looked at an episode of rapid climate change that occurred some 55 million years ago. Known as the Paleocene-Eocene Thermal Maximum (PETM), the period was marked by a rapid rise in greenhouse gases that heated Earth by roughly 9 F (5 C), in less than 10,000 years. The climate warming caused widespread changes including mass extinction in the world's oceans due to acidification and shifts of plant communities due to changes in rainfall. The era helped set the stage for the "Age of Mammals," which included the first appearance of modern primates.
Fragmentation killing species in the Amazon rainforest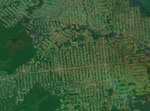 (11/27/2006) Forest fragmentation is rapidly eroding biodiversity in the Amazon rainforest and could worsen global warming according to research to be published this week in the journal Proceedings of the National Academy of Sciences. "Rainforest trees can live for centuries, even millennia, so none of us expected things to change too fast. But in just two decades-a wink of time for a thousand year-old tree-the ecosystem has been seriously degraded." said Dr. William Laurance, a scientist at the Smithsonian Tropical Research Institute in Panama and leader of the international team of scientists that conducted the research.





Worst mass extinction shifted entire ecology of the world's oceans

(11/24/2006) New research suggests that Earth's greatest mass extinction did more than wipe out an estimated 95% of marine species and 70% of land species; it fundamentally changed the ecology of the world's oceans. The study, published in tomorrow's issue of the journal Science, found that 'ecologically simple marine communities were largely displaced by complex communities', a shift that continues has continue since.







Global warming reduces polar bear survival rate

(11/16/2006) Polar bear survival rates have dropped significantly in the past 20 years, probably due to melting sea ice caused by higher temperatures, according to a study released this week.





Species evolution not making up for extinction caused by climate change

(11/14/2006) Current global warming has already caused extinctions in the world's most sensitive habitats and will continue to cause more species to go extinct over the next 50 to 100 years says a new study published in Annual Review of Ecology, Evolution, and Systematics by a University of Texas at Austin biologist. The study, Dr. Camille Parmesan, an associate professor of integrative biology, also showed that species are not evolving fast enough to avoid extinction.





Global warming could doom many bird species

(11/14/2006) Up to 72 percent of bird species in northeastern Australia and more than a third in Europe could go extinct unless action is taken to address global warming said a report from environmental group WWF. The report, "Bird Species and Climate Change: The Global Status Report", reviews more than 200 scientific articles on birds and identifies groups of birds at high risk from climate change: migratory, mountain, island, wetland, Arctic, Antarctic and seabirds. It says that species that can easily migrate to new habitats will likely thrive, while birds that live in niche environments may decline.





Climate Change Threatens Lemurs

(09/18/2006) Tropical rainforests are among the most stable environments on Earth, but they are still no match for global climate change. Dr. Patricia Wright, the widely admired primatologist and Professor of Anthropology at Stony Brook University, finds that climate change could mean the difference between survival and extinction for endangered lemurs.





Recovery of biodiversity after dinosaurs was chaotic

(08/24/2006) The recovery of biodiversity after the end-Cretaceous mass extinction was much more chaotic than previously thought, according to paleontologists. New fossil evidence shows that at certain times and places, plant and insect diversity were severely out of balance, not linked as they are today. The extinction took place 65.5 million years ago. Labeled the K-T extinction, it marks the beginning of the Cenozoic Era and the Paleocene Epoch.





Climate change, not hunters, killed ancient Australia's giant kangaroos

(08/16/2006) Scientists at the University of Melbourne and La Trobe University have found strong evidence for the cause of the extinction of Australia's giant marsupials some 50,000 years ago. Cold, arid climates of the last ice age have been identified as a likely cause, casting doubt on the alternative hypothesis which blames human hunters.




Page 1 | Page 2