News articles on Environmental Refugees

---
Mongabay.com news articles on Environmental Refugees in blog format. Updated regularly.






U.S. Admiral: climate change, not North Korea, biggest threat in the Pacific

(03/13/2013) This week, Admiral Samuel J. Locklear II, the head of U.S. military forces in the Pacific, told The Boston Globe that climate change was the gravest threat in the region. While such an assessment may be surprising, given North Korea's recent nuclear tests, the U.S. military has long viewed climate change as a massive destabilizing force on global security.
As a tiny island nation makes a big sacrifice, will the rest of the world follow suit?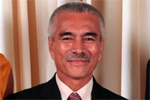 (09/15/2010) Kiribati, a small nation consisting of 33 Pacific island atolls, is forecast to be among the first countries swamped by rising sea levels. Nevertheless, the country recently made an astounding commitment: it closed over 150,000 square miles of its territory to fishing, an activity that accounts for nearly half the government's tax revenue. What moved the tiny country to take this monumental action? President Anote Tong, says Kiribati is sending a message to the world: 'We need to make sacrifices to provide a future for our children and grandchildren.'
Kenyan community displaced by nature reserve seeks justice

(09/22/2008) Lake Bogoria is a fascinating nature reserve in Kenya's Rift Valley. Set in a strange arid landscape, the lake attracts tens of thousands of flamingos. The multitudes of bright pink birds contrast with the grayish-blue landscape. The lake itself is shallow and saline; boiling hot springs and geysers can be found along its western shore. Fish eagles and marabou storks haunt the waters, seeking out flamingo for dinner. Antelope, even the greater kudu, can sometimes be seen, while hyraxes make their homes in the surrounding bare rock. However, the strange beauty of this reserve comes with a grim reality not shown to tourists.
Climate change may increase global conflict

(08/25/2008) The signs of a warming world are everywhere: birds are migrating with changing temperatures; coral reefs are dying out due to bleaching; warmer winters are allowing beetles to devour Canadian forests; and the Northwest Passage has opened for the second year in a row. While scientists work to understand how climate change is affecting the worldÕs ecosystems, others are attempting to predict how societies may respond. Jurgen Scheffran, a scientist with the Program in Arms Control, Disarmament and International Security at the University of Illinois, believes a warmer world will lead to an increase in armed conflicts. He concludes that societies stressed by increased competition for natural resources are more likely to engage in warfare.
Does drought cause war?

(05/30/2007) A new study links drought to the outbreak of war, reports New Scientist Magazine.
Hundreds of millions at risk from rising sea levels

(03/27/2007) Hundreds of millions are at risk from cyclones and rising seas resulting from climate change reports a new study by researchers from the International Institute for Environment and Development (IIED) in the UK, the City University of New York, and Columbia University.
Looming desertification could spawn millions of environmental refugees

(12/14/2006) Africa may be able to feed just 25% of its population by 2025 if soil degradation on the continent continues at its current pace, according to a water expert presenting at an upcoming United Nations University (UNU) conference on desertification in Algiers, Algeria. Karl Harmsen, Director of UNU's Ghana-based Institute for Natural Resources in Africa, says that should soil conditions continue to decline in Africa, nearly 75% of the continent could come to rely on some sort of food aid by 2025.
Global water problem: one in three face water scarcity

(08/21/2006) One in three people is enduring one form or another of water scarcity, according to a new report from the International Water Management Institute (IWMI). The assessment, carried out by 700 experts from around the world over the last five years, was released at World Water Week in Stockholm, a conference exploring the management of global water resources.
Environmental refugees to top 50 million in 5 years

(10/11/2005) Amid predictions that by 2010 the world will need to cope with as many as 50 million people escaping the effects of creeping environmental deterioration, United Nations University experts say the international community urgently needs to define, recognize and extend support to this new category of 'refugee'.