News articles on education

---
Mongabay.com news articles on education in blog format. Updated regularly.






To collect or not to collect? Experts debate the need for specimens
(12/10/2014) In 1912, a group of intrepid explorers led by Rollo and Ida Beck, widely acknowledged to be the foremost marine bird collectors of their time, embarked on a most remarkable effort to catalogue South America's oceanic birds. Museums of the day held opportunistically collected specimens from scattered sources, but rarely did these include ocean-bound birds that spent little time near the coast.
Jane Goodall: 5 reasons to have hope for the planet
(11/19/2014) Jane Goodall is not only arguably the most famous conservationist who ever lived, but also the most well-known and respected female scientist on the planet today. Her path to reach that stature is an unlikely as it is inspiring. Told to 'never give up' by her mother, Goodall set out in her 20s to pursue her childhood dream: to live with animals in Africa. By the time she was 26 she doing just this.
Using games to teach kids the value of nature and philanthropy
(11/18/2014) Kids are spending more time using tablets and smart phones for learning and entertainment. But hours spent gaming, Tweeting, and playing on Instagram and Facebook, may mean less engagement with nature, potentially making it more difficult for conservation organizations to inspire and influence the next generation of donors and decision makers. Given the state of the world's environment, that is a troubling thought.
Chief Curiosity Correspondent tackles sexism, aids conservation
(11/11/2014) Have you ever been offered the job of your dreams without knowing you were being interviewed? Have you ever communicated with a 5-year-old about the wonders of Salmonella? Have you ever been disappointed not to have larvae hatching from your skin? If you answered yes to all three questions, then you are either Emily Graslie herself or you should subscribe to her YouTube channel. Immediately.
Indigenous uprising earned tribe territories, but greatest challenges lie ahead
(11/06/2014) In 1925, Nele Kantule led a revolution that would make Guna Yala an independent and sovereign indigenous territory within Panama. Since then, the Guna have maintained a way of life that has allowed them to preserve their natural resources and mainland forest to an exceptional degree. But today, like many indigenous groups around the world, the Guna face some of their greatest challenges yet: the impacts of climate change, encroaching outside influences, and a younger generation that many elders feel is drifting from its roots.
Next big idea in forest conservation? Empower youth leaders
(10/09/2014) Want to save forests? Don't forget the youth, says Pedro Walpole, the Chair and Director of Research for the Environmental Science for Social Change, a Jesuit environmental research organization promoting sustainability and social justice across the Asia Pacific region. 'Youth leadership in environmental management is key,' Walpole told mongabay.com.
On babies and motherhood: how giant armadillos are surprising scientists (photos)
(07/01/2014) Until ten years ago scientist's knowledge of the reproductive habits of the giant armadillo— the world's biggest— were basically regulated to speculation. But a long-term research project in the Brazilian Pantanal is changing that: last year researchers announced the first ever photos of a baby giant armadillo and have since recorded a second birth from another female.
Unrelenting population growth driving global warming, mass extinction
(06/26/2014) It took humans around 200,000 years to reach a global population of one billion. But, in two hundred years we've septupled that. In fact, over the last 40 years we've added an extra billion approximately every dozen years. And the United Nations predicts we'll add another four billion—for a total of 11 billion—by century's end.
Two kids, one year, from the Amazon to the Arctic: the environmental adventure of a lifetime
(02/19/2014) The Kraft family—Larry, Lauri, Jamie (age 8), and Jason (age 6)—are on the trip of a lifetime, a round-the-world tour with an environmental focus. Currently in India, the family has already made their way through the Amazon, Vietnam, Costa Rica, Australia, and the Galapagos, among other wild places. Still left on their itinerary: the Arctic. But the trip isn't all fun and games, instead the Kraft's are using the year abroad to learn first hand about global environmental issues and solutions.
Using stories to connect people to biodiversity: an interview with Tara Waters Lumpkin, PhD
(12/18/2013) In a world where extinctions are almost commonplace and global warming barely raises an eyebrow, very few of us can return to find the places we grew up in unsullied by development. Sometimes, all that is left of a favorite grove of trees or strip of forest are memories. Through Izilwane: Voices for Biodiversity Project, an online magazine for story-tellers, Tara Waters Lumpkin has succeeded in bringing together more than one hundred "eco-writers" who have shared their memories, highlighted environmental crises in their localities and raised their voices against habitat destruction.
New children's book celebrates the rich wildlife of Kibale National Park
(11/25/2013) There are many ways in which people practice conservation. The most well-known are working to save species in the field or setting up protected areas. But just as important—arguably more important for long-term conservation success—is conservation education, especially with children. Anyone who grew up watching David Attenborough documentaries, reading Gerald Durrell books, or simply exploring ecosystems on their own can tell you how important it is to encounter the wonders of wildlife at a young age. And for many of us most of our first encounters with wild animals are in illustrated books. Eric Losh's new book, The Chorus of Kibale, not only provides an educational opportunity for children to become acquainted with the many animals in Kibale National park in Uganda—through wonderful pictures and sounds—but proceed also go directly to two conservation groups working in the region, U.N.I.T.E. for the environment and the Primate Education Network (PEN).
America's growing inequality helped scuttle the global climate change initiative
(10/28/2013) The link between good economic policy and climate change mitigation is instigated by policies such as the triple-bottom line, carbon limitations, and pro-environmental legislation. However, economic inequality is a little explored piece of the successful fight against climate change. For climate change mitigation and good economic policy to work, economic growth must be broad-based. Indeed, the inability for the United States to make a coherent and progressive stance on climate change has effectively stymied the global initiative—and is in part due to growing inequality. Due to the nation's market size and political power, U.S. policy is often a decisive factor for many global issues.
Art, education, and health: holistic conservation group embarks on new chapter
(10/21/2013) It's unlikely conservation organizations can survive if they are unwilling to embrace change: as an endeavor, conservation requires not just longterm planning, but also an ability to move proactively and fluidly to protect species and safeguard ecosystems. Environmental and education NGO, the Art of Conservation, is currently embarking on its biggest change since its foundation in 2006: moving away from its base in Rwanda, while leaving a legacy behind.
Unlikely success: how Zimbabwe has become a global leader in rhino conservation
(10/02/2013) With its collapsed economy, entrenched poverty, and political tremors, one would not expect that a country like Zimbabwe would have the capacity to safeguard its rhinos against determined and well-funded poachers, especially as just across the border South Africa is currently losing over two rhinos a day on average. And indeed, without the Lowveld Rhino Trust (LRT), rhinos in Zimbabwe would probably be near local extinction. But the LRT, which is centrally involved in the protection of around 90 percent of the country's rhinos in private reserves along with conservancy members, has proven tenacious and innovative in its battle to safeguard the nation's rhinos from the poaching epidemic.
Lions rising: community conservation making a difference for Africa's kings in Mozambique
(09/17/2013) Everyone knows that tigers, pandas, and blue whales are threatened with extinction—but lions!? Researchers were shocked to recently discover that lion populations have fallen precipitously: down to around 30,000 animals across the African continent. While 30,000 may sound like a lot, this is a nearly 70 percent decline since 1960. In addition, lion populations are increasingly fragmented with a number of populations having vanished altogether. However, there is hope: one place where lion populations are actually on the rise is Niassa National Reserve in Mozambique. Here, lion populations have risen by around 60 percent in just seven years. In part this is due to the effort of Colleen and Keith Begg.
Little NGO takes on goliath task: conserving the vanishing ecosystems of Paraguay
(08/12/2013) Landlocked in the navel of South America, the forests, wetlands and savannahs of Paraguay boast rich biodiversity and endemic species, yet the unique landscapes of Paraguay also face increasing threats, primarily from agricultural expansion. Controlled burns and clear cutting have become common practice as wildlands are converted for soy and cattle production. In some areas this land conversion is rapid: the Paraguayan Chaco, for instance, is being lost at a rate of 10% per year. One organization is working to reverse this trend. Para La Tierra (PLT) is a small NGO dedicated to the conservation of threatened habitats in Paraguay. Located on the Reserva Natural Laguna Blanca, in-between two of South America's most threatened habitats: the Atlantic Forest and the vast topical savannah known as the cerrado, PLT is in a unique position to champion conservation.
Engaging the public on green issues via environmental cartoons
(07/29/2013) Engaging the general public on issues like extinction, climate change, habitat destruction, and pollution can be a challenge due to the generally downbeat nature of environmental problems. But an illustrator in Nagpur, India is taking a different approach: cartoons. Rohan Chakravarty, a designer, artist, and ardent wildlife enthusiast, has been posting environmental-themed cartoons on his blog, Green Humour, since 2009. His work has garnered wide attention, including publication in several wildlife and environment magazines and web sites as well as accolades in the form of the Sanctuary Asia Young Naturalist Award 2012 and winning a climate change cartoon contest sponsored by the U.N. Development Program (UNDP).
Making movies to save Uganda's great apes
(07/03/2013) A new series of films aims to protect Uganda's great ape species (mountain gorillas and chimpanzees) by bringing entertaining and educational movies to a rural audience living on the edges of Kibale National Park and Bwindi Impenetrable National Park. Produced with heavy input from locals, these films are acted with an all-Ugandan task to teach those living near great apes about the species and their conservation-needs.
Building a new generation of local conservationists: how improving education in Uganda may save one of the world's great forests
(06/20/2013) Conservation work is often focused on the short-term: protecting a forest from an immediate threat, saving a species from pending extinction, or a restoring an ecosystem following degradation. While short-term responses are often borne of necessity, one could argue that long-term thinking in conservation and environmental work (as in all human endeavors) is woefully neglected, especially in the tropics. This is why programs like the Kasiisi Project are so important: by vastly improving education for primary kids near a threatened park in Uganda, the project hopes to create a "generation of committed rural conservationists," according to founder and director, Elizabeth Ross.
Should zoos educate the public about climate change?
(06/18/2013) Zoos are usually thought of as entertainment destinations. As a place to take the kids on a nice afternoon, they are sometimes perceived to lack the educational heft of an art museum or a theatre. However, over the past few decades many of the world's best zoos and aquariums have also worked to educate their visitors about conservation issues, in addition to funding and supporting programs in the field to save the ever-growing number of imperiled species. But as threats to the world's species mount—including climate change—many are beginning to ask what, if anything, zoos and aquariums should do to address the global environmental crisis.
New global network bridges gap for primate conservation educators
(05/21/2013) Drawing from her personal experience as a primate educator and the challenges she saw others facing, Amy Clanin envisioned a network that would advance the field of primate conservation education by addressing three needs of educators: connections, resources, and services. It was this vision that led her to create the Primate Education Network (PEN). PEN is at the forefront of primate conservation education, providing a community and collaboration platform for primate educators.
Improving the rigor of measuring emissions from deforestation, agriculture
(04/03/2013) While much has been written about the potential of reducing greenhouse gas emissions by protecting tropical forests, a proposed program to do just that has been challenged by a number of factors, including concerns about the accuracy of measuring for carbon reductions. Failure to properly account for carbon could undermine the effectiveness of the Reducing Emissions from Deforestation and Degradation (REDD+) program as a tool for mitigating climate change and securing benefits for local people. To help address the technical issues that underpin carbon measurement, the University of California, San Diego (UC San Diego) and the World Wildlife Fund (WWF) have launched a new Certificate in Advanced Terrestrial Carbon Accounting.
Extinction warning: racing to save the little dodo from its cousin's fate
(03/04/2013) Sometime in the late 1600s the world's last dodo perished on the island of Mauritius. No one knows how it spent its final moments—rather in the grip of some invasive predator or simply fading away from loneliness—but with its passing came an icon of extinction, that final breath passed by the last of its kind. The dodo, a giant flightless pigeon, was a marvel of the animal world: now another island ground pigeon, known as the little dodo, is facing its namesake's fate. Found only in Samoa, composed of ten islands, the bird has many names: the tooth-billed pigeon, the Manumea (local name), and Didunculus ("little dodo") strigirostris, which lead one scientist to Christen it the Dodlet. But according to recent surveys without rapid action the Dodlet may soon be as extinct as the dodo.
New video game turns kids into conservationists

(02/28/2013) Count coral in the Chagos Archipelago, save amphibians from the deadly chytrid fungus, replant trees in the Atlantic Forest, and count predators and prey in the African Savannah—a new free online game by Wildscreen, dubbed Team WILD, allows young players to learn about science and conservation while moving fast-paced through different ecosystems. Wildscreen is a conservation charity devoted to using imagery to raise awareness and protect wildlife.
The challenge of putting Brazil's forests in good hands
(02/28/2013) People often associate Brazil with its forests. It's no wonder given that nearly 60% of the country's territory is covered by forest and it holds about one-third of the world's remaining tropical rainforests. You might assume that a country like this would care about educating people to sustainably manage this precious heritage. Well, you'd be wrong!
Vatican condemns elephant poaching, pledges steps

(02/04/2013) Responding to an investigative report by National Geographic, the Vatican has condemned elephant poaching for ivory and pledged three steps to help in the battle to save the world's elephants. The National Geographic article Ivory Worship, by Bryan Christy, looked at how religions—specifically religious items for Christians and Buddhists—were playing in the growing demand for black-market ivory, which is currently resulting in the violent deaths of tens-of-thousands of endangered elephants every year.
Gaming for rainforests
(10/03/2012) The average gamer will spend thousands of hours playing video games by the time they reach adulthood, but the most popular games among some demographics — shoot-em-up and sports games — don't seem to offer many dividends to society or the environment. However Jan Dwire doesn't believe that has to be the case. With a small team in Costa Rica, Dwire has developed "Rainforest Rangers", a multi-platform game that teaches kids about rainforests, including their importance and the threats they face.
Elephant ancestors and Africa's Bigfoot: new initiative works to preserve a continent's wildest tales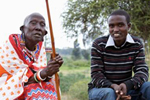 (08/20/2012) Paula Kahumbu, the Executive Director of WildlifeDirect and a 2011 National Geographic Emerging Explorer, is on a mission to reconnect young Africans with the natural world through storytelling. In a new initiative dubbed Africa's Wildest Stories, Kahumbu and others are recording the wit and wisdom of African elders in Kenya as they share their love of nature and the way in which Africans, for millennia, have co-existed with their environment and its astounding wildlife.
Innovative conservation: bandanas to promote new park in the Congo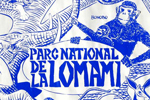 (07/16/2012) American artist, Roger Peet—a member of the art cooperative, Justseeds, and known for his print images of vanishing species—is headed off to the Democratic Republic of the Congo (DRC) to help survey a new protected area, Lomami National Park. With him, he'll be bringing 400 bandanas sporting beautifully-crafted images of the park's endangered fauna. Peet hopes the bandanas, which he'll be handing out freely to locals, will not only create support and awareness for the fledgling park, but also help local people recognize threatened species.
Congolese experts needed to protect Congo Basin rainforests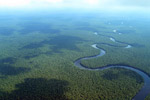 (06/20/2012) This summer, the Democratic Republic of Congo (DRC) is expected to approve a new higher education strategy which the country has developed with the World Bank and other international donors. The shape of this educational reform initiative will be critical to Congo's future in many ways. It could finally offer Congo's long-suffering people a route into the 21st century. It will also help determine the future of the DRC's forests. Nearly half of the Congo Basin's remaining rainforest is in the DRC—yet the critical role of Congolese experts in forestry, agricultural science, wildlife management and other rural sciences in protecting this forest is not widely recognized.
Educating the next generation of conservation leaders in Colombia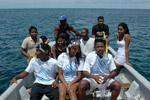 (05/14/2012) Colombia's northern departments of Cordoba and Bolivar are home to an abundance of coral reefs, estuaries, mangroves forests, and forests. Rich in both marine and terrestrial wildlife, local communities depend on the sea and land for survival, yet these ecosystems are imperiled by booming populations, overexploitation, and unsustainable management. Since 2007, an innovative education program in the region, the Guardians of Nature, has worked to teach local children about the ecology of the region, hoping to instill a conservation ethic that will aid both the present and the future.
Doing good and staying sane amidst the global environmental crisis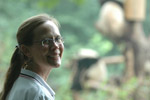 (04/23/2012) Several years ago while teaching a course in environmental science a student raised her hand during our discussion of the circumstances of modern ecological collapse and posed the question, "what happens when there is no more environment?" At the time I had no response and stumbled to formulate some sort of reply based on the typical aseptic, apathetic logic with which we are programmed through education in the scientific tradition: that there will always be some sort of environment, that life has prospered through the five previous mass extinctions and that something will survive. While this may be the case, the time has come for more of us to consider the broader spectrum of what global humanity is facing as the planet's ecology is decimated.
Turkey's rich biodiversity at risk
(03/28/2012) Turkey: the splendor of the Hagia Sophia, the ruins of Ephesus, and the bizarre caves of the Cappadocia. For foreign travelers, Turkey is a nation of cultural, religious, and historic wonders: a place where cultures have met, clashed, and co-created. However, Turkey has another wealth that is far less known: biodiversity. Of the globe's 34 biodiversity hotspots, Turkey is almost entirely covered by three: the Caucasus, the Irano-Anatolian, and the Mediterranean. Despite its wild wealth, conservation is not a priority in Turkey and recent papers in Science and Biological Conservation warn that the current development plans in the country, which rarely take the environment into account, are imperiling its species and ecosystems.
Teaching Sustainability/Teaching Sustainably: Book Review

(02/07/2012) In Teaching Sustainability/Teaching Sustainably, Danielle Lake writes the best sentence I have ever read summarizing sustainability: "Understanding sustainability as a wicked problem, and recognizing how an egoist ethic otherizes the environment and is thus in large part responsible for the abuses that have led to a number of current environmental and social problems, are central to the resolution of this pressing situation."
Fungus from the Amazon devours plastic

(02/02/2012) Students from Yale University have made the amazing discovery of a species of fungus that devours one of the world's most durable, and therefore environmentally troublesome, plastics: polyurethane. The new species of fungus, Pestalotiopsis microspora, is even able to consume polyurethane in zero-oxygen (anaerobic) conditions, which would be important in eating plastics in the deep dark layers of landfills where little sunlight, water, or oxygen is found.
Saving the world's biggest river otter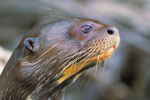 (01/30/2012) Charismatic, vocal, unpredictable, domestic, and playful are all adjectives that aptly describe the giant river otter (Pteronura brasiliensis), one of the Amazon's most spectacular big mammals. As its name suggest, this otter is the longest member of the weasel family: from tip of the nose to tail's end the otter can measure 6 feet (1.8 meters) long. Living in closely-knit family groups, sporting a complex range of behavior, and displaying almost human-like capricious moods, the giant river otter has captured a number of researchers and conservationists' hearts, including Dutch conservationist Jessica Groenendijk.
New book series hopes to inspire research in world's 'hottest biodiversity hotspot'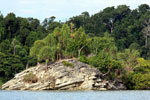 (01/17/2012) Entomologist Dmitry Telnov hopes his new pet project will inspire and disseminate research about one of the world's last unexplored biogeographical regions: Wallacea and New Guinea. Incredibly rich in biodiversity and still full of unknown species, the region, also known as the Indo-Australian transition, spans many of the tropical islands of the Pacific, including Indonesia's Sulawesi, Komodo and Flores, as well as East Timor—the historically famous "spice islands" of the Moluccan Archipelago—the Solomon Islands, and, of course, New Guinea. Telnov has begun a new book series, entitled Biodiversity, Biogeography and Nature Conservation in Wallacea and New Guinea, that aims to compile and highlight new research in the region, focusing both on biology and conservation. The first volume, currently available, also includes the description of 150 new species.
New app works to raise awareness of endangered species

(11/16/2011) Want to learn more about gorillas, whales, elephants, sharks, and penguins? A new mobile app hopes to raise awareness and conservation efforts for the world's endangered species. Dubbed 'Survival', the new app is a game that also raises knowledge about endangered species. Created by wildlife and media NGO, Wildscreen, the app is available free on the App store and Android Market.
11 challenges facing 7 billion super-consumers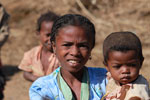 (10/31/2011) Perhaps the most disconcerting thing about Halloween this year is not the ghouls and goblins taking to the streets, but a baby born somewhere in the world. It's not the baby's or the parent's fault, of course, but this child will become a part of an artificial, but still important, milestone: according to the UN, the Earth's seventh billionth person will be born today. That's seven billion people who require, in the very least, freshwater, food, shelter, medicine, and education. In some parts of the world, they will also have a car, an iPod, a suburban house and yard, pets, computers, a lawn-mower, a microwave, and perhaps a swimming pool. Though rarely addressed directly in policy (and more often than not avoided in polite conversations), the issue of overpopulation is central to environmentally sustainability and human welfare.
Saving (and studying) one of Nigeria's last montane forests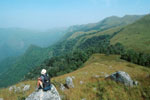 (07/26/2011) Between 2000 and 2010, Nigeria lost nearly a third (31 percent) of its forest cover, while its primary forests suffered even worse: in just five years (2000 to 2005) over half of the nation's primary forests were destroyed, the highest rate in the world during that time. Yet, Nigeria's dwindling forests have never received the same attention as many other country's, such as Indonesia, Brazil, Malaysia, or Peru, even though in many ways Nigeria struggles with even deeper problems than other developing nations. Despite vast oil business, the nation is plagued by poverty and destitution, a prime example of what economists call the 'resource curse'. Environmentally, it has been named one of the worst in the world. Yet, not all forest news out of Nigeria is bleak: the success of the Nigerian Montane Forest Project in one of the country's remaining forests is one such beacon of hope, and one example of how the country could move forward.
Do kids learn anything at zoos?

(06/07/2011) A new study shows that zoos aren't just a fun place for kids to visit; they are also a teaching opportunity. Interviewing more than 3,000 children between 7 and 14, the largest study of its kind found that just over half of the kids (53 percent) showed improvement in at least one of three areas: conservation-related knowledge, concern for endangered species, or desire to participate in conservation efforts.
Belief and butchery: how lies and organized crime are pushing rhinos to extinction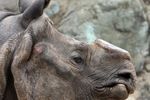 (05/11/2011) Few animals face as violent, as well organized, and as determined an enemy as the world's rhinos. Across the globe rhinos are being slaughtered in record numbers; on average more than one rhino is killed by poachers everyday. After being shot or drugged, criminals take what they came for: they saw off the animal's horn. Used in Traditional Chinese Medicine, which claims that it has curative properties, rhino horn is worth more than gold and cocaine on the black market. However, science proves all this cash and death is based on a lie. 'There is no medicinal benefit to consuming rhino horn. It has been extensively analyzed in separate studies, by different institutions, and rhino horn was found to contain no medical properties whatsoever,' says Rhishja Larson.
Rainforest information in Thai

(03/26/2011) Mongabay.com, a leading forest conservation and environmental science news web site, today announced the availability of its rainforest site for children in Thai. The site is available at world.mongabay.com/thai.
Pet trade, palm oil, and poaching: the challenges of saving the 'forgotten bear'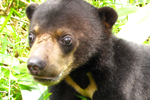 (03/20/2011) Siew Te Wong is one of the few scientists who study sun bears (Ursus malayanus). He spoke with Laurel Neme on her "The WildLife" radio show and podcast about the interesting biological characteristics of this rare Southeast Asian bear, threats to the species and what is being done to help them. Sun bears are the smallest of the eight bear species. They're about half the size of a North American black bear and typically sport a tan crescent on their chests. Similar to the "moon bear," or Asian black bear, the sun bear's name comes from this marking, which looks like a rising or setting sun.
Reaching kids with a conservation message via animation

(03/06/2011) During the Wildlife Conservation Network's October 2010 Wildlife Expo, mongabay.com encountered an animation that powerfully illustrates the concept of biodiversity loss in less than two-and-a-half minutes. Yesterday's Zoo recounts species that have disappeared and warns that a similar fate could befall many more unless urgent conservation action is taken. The animation is being used to raise money for wildlife protection efforts. In a March Q&A with Shane DeRolf, President & Executive Producer of Yesterday's Zoo, Mongabay learned more the project.
Kids found organization to save endangered species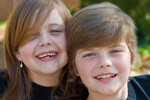 (02/22/2011) Many American children under ten spend their free time watching TV and movies, playing video games, or participating in sports, but for siblings Carter (9 years old) and Olivia Ries (8) much of their time is devoted to saving the world's imperiled species. The organization One More Generation (OMG) not only has a clever name (yes, it is meant to pun the common Oh-My-God acronym), but may have the two youngest founders of an environmental organization in the US. "We started OMG because it hurt our hearts to know that there were so many animals in danger of becoming extinct," Carter told mongabay.com. OMG, which is run with help from the Ries' parents as well as an impressive list of conservation and wildlife experts, has taken on a number of local and international campaigns, including raising money for cheetahs, working against throw-away plastic bags, and taking action to change the US tradition of Rattlesnake Roundups where thousands of rattlesnakes are killed for a community festival.
Paradise & Paradox: a semester in Ecuador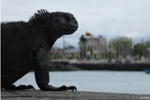 (02/02/2011) A semester abroad is an opportunity to live a sort of compacted life. In a few short months you seem to gain the experience of a much longer time and make enough memories to fill years. I recall a weeklong trip to the Alvord Desert with a field biology class from Portland Community College: the adventure of living out of a van, conducting research, and experiencing a place with classmates turned colleagues and professors turned friends who knew the desert like the backs of their hands. In that regard, it had a lot in common with my semester in Ecuador, but I can't think of anything that could have prepared me for a four month stay in a small South American country that I knew very little about.
Rainforest information in Romanian

(01/26/2011) Mongabay.com, a leading forest conservation and environmental science news web site, today announced the availability of its rainforest site for children in Romanian. The site is available at world.mongabay.com/romanian.
Lack of schools, trade drive exodus from remote parts of the Amazon

(12/17/2010) Lack of school access and higher costs of trade are driving an exodus from remote areas in the Amazon, a new study published in Population & Environment reveals. The research sheds light on to why people are leaving remote forest areas. It follows an earlier publication indicating that migration away from remote rural areas may have repercussions on deforestation.
Amazon tribe establishes first indigenous forest carbon fund

(12/04/2010) A half-century ago, Brazil's Suruí people knew little of the world beyond their cluster of villages – and nothing of the European settlers who dominated their continent. By 2006, that world beyond had engulfed them – a fact their young chief, Almir Narayamoga Suruí, saw all too clearly the first time he logged onto Google Earth.
Flight of the Monarchs Reveals Environmental Connections across a Continent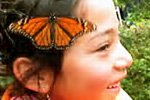 (11/08/2010) As autumn settles across North America, one hallmark of the season is the gentle southward flight of the Monarch Butterflies as they migrate towards the forests that shelter their species during the winter months. Unfortunately, as with other forests across the planet, the Monarch's "over- wintering grounds" in Mexico are suffering from increased human pressures. An innovative conservation group called the ECOLIFE Foundation has stepped up to help safeguard the Monarch's winter forests, and in the process discovered that addressing the Monarch's plight came only after uncovering connections that bind us all. The following article is an interview with Bill Toone, the Executive Director of ECOLIFE.
Undergrads in the Amazon: American students witness beauty and crisis in Yasuni National Park, Ecuador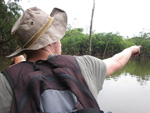 (10/28/2010) Although most Americans have likely seen photos and videos of the world's largest rainforest, the Amazon, they will probably never see it face-to-face. For many, the Amazon seems incredibly remote: it is a dim, mysterious place, a jungle surfeit in adventure and beauty—but not a place to take a family vacation or spend a honeymoon. This means that the destruction of the Amazon, like the rainforest itself, also appears distant when seen from Oregon or North Carolina or Pennsylvania. Oil spills in Ecuador, cattle ranching in Brazil, hydroelectric dams in Peru: these issues are low, if not non-existent, for most Americans. But a visit to the Amazon changes all that. This was recently confirmed to me when I traveled with American college students during a trip to far-flung Yasuni National Park in Ecuador. As a part of a study abroad program with the University of San Francisco in Quito and the Galapagos Academic Institute for the Arts and Sciences (GAIAS), these students spend a semester studying ecology and environmental issues in Ecuador, including a first-time visit to the Amazon rainforest at Tiputini Biodiversity Station in Yasuni—and our trips just happened to overlap.
Majority of Americans confused on climate change basics

(10/17/2010) Most Americans don't understand the basics of climate change, according to a new poll by researchers with Yale. The poll found that over half of Americans deserve an 'F' on basic understanding of climate science and climate change, while only 1% would receive an 'A'.
Rainforest information in Vietnamese

(10/11/2010) Mongabay.com, a leading forest conservation and environmental science news web site, today announced the availability of its rainforest site for children in Vietnamese.
Fighting poachers, going undercover, saving wildlife: all in a day's work for Arief Rubianto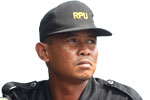 (09/29/2010) Arief Rubianto, the head of an anti-poaching squad on the Indonesian island of Sumatra best describes his daily life in this way: "like mission impossible". Don't believe me? Rubianto has fought with illegal loggers, exchanged gunfire with poachers, survived four days without food in the jungle, and even gone undercover—posing as a buyer of illegal wildlife products—to infiltrate a poaching operation. While many conservationists work from offices—sometimes thousands of miles away from the area they are striving to protect—Rubianto works on the ground (in the jungle, in flood rains, on rock faces, on unpredictable seas, and at all hours of the day), often risking his own life to save the incredibly unique and highly imperiled wildlife of Sumatra.
Into the Congo: saving bonobos means aiding left-behind communities, an interview with Gay Reinartz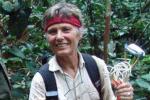 (09/23/2010) Unlike every other of the world's great apes—the gorilla, chimpanzee, and orangutan—saving the bonobo means focusing conservation efforts on a single nation, the Democratic Republic of the Congo. While such a fact would seem to simplify conservation, according to the director of the Bonobo and Congo Biodiversity Initiative (BCBI), Gay Reinartz, it in fact complicates it: after decades of one of world's brutal civil wars, the DRC remains among the world's most left-behind nations. Widespread poverty, violence, politically instability, corruption, and lack of basic infrastructure have left the Congolese people in desperate straits.
Could camera traps save wildlife worldwide?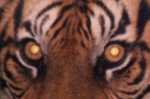 (08/31/2010) It's safe to say that the humble camera trap has revolutionized wildlife conservation. This simple contraption—an automated digital camera that takes a flash photo whenever an animal triggers an infrared sensor—has allowed scientists to collect photographic evidence of rarely seen, and often globally endangered species, with little expense and relative ease—at least compared to tromping through tropical forests and swamps looking for endangered rhino scat . Now researchers with the Wildlife Conservation Society (WCS) and the Zoological Society of London (ZSL) are taking the utility of the camera trap one step further: a study in Animal Conservation uses a novel methodology, entitled the Wildlife Picture Index (WPI), to analyze population trends of 26 species in Bukit Barisan Selatan National Park on the Indonesian island of Sumatra. While the study found a bleak decline in species, it shows the potential of camera traps for moving conservation forward since it marks the first time researchers have used camera traps to analyze long-term population trends of multiple species.
Camp merges technology and conservation for local students

(08/03/2010) From July 23-25, Taiwanese undergraduates held a camp in Bukit Lawang, Sumatra, that taught local high school students to use technology as a conservation tool. The Taiwanese volunteers aimed to help local people in this popular rainforest tourism destination to use the Internet to research and promote sustainable tourism practices. The high school students, who had no formal training in using the Internet, learned to use email, produce a blog, conduct research, and use GPS devices to create a map of part of the local trail system.
Endangered Animals: 10 Reasons for Hope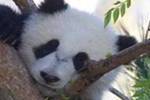 (08/03/2010) Earlier last month the Zoological Society of San Diego launched two far reaching media and development projects which showcase the Zoo's extensive global field conservation programs. Mongabay had the opportunity to attend the launch ceremony of the Zoo's new 'Global Action Team' and the accompanying 'Ten Reasons for Hope' campaign. While at this event, we spoke with Alan Lieberman, Director of Regional Conservation Programs, about the development of both projects.
Conservation photography: on shooting and saving the world's largest temperate rainforest, an interview with Amy Gulick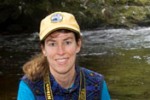 (07/11/2010) Most of the US's large ecosystems are but shadows of their former selves. The old-growth deciduous forests that once covered nearly all of the east and mid-west continental US are gone, reduced to a few fragmented patches that are still being lost. The tall grassy plains that once stretched further than any eye could see have been almost wholly replaced by agriculture and increasing suburbs. Habitats, from deserts to western forests, are largely carved by roads and under heavy impact from resource exploitation to invasive species. Coastal marine systems, once super abundant, have partially collapsed in many places due to overfishing, as well as pollution and development. Despite this, there are still places in the US where the 'wild' in wilderness remains largely true, and one of those is the Tongass temperate rainforest of Southeast Alaska.
An interview with Rhett Butler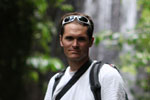 (06/16/2010) Rhett Butler, founder of Mongabay.com, spoke with Laurel Neme on her "The WildLife" radio show and podcast about what prompted him to develop this top environmental website and also about some of the more interesting and bizarre stories he's pursued in Madagascar, the Amazon and around the world. Rhett founded Mongabay.com in 1999 with the mission of raising interest in and appreciation of wild lands and wildlife, while examining the impact of emerging local and global trends in technology, economics, and finance on conservation and development. Mongabay.com is an independent information source, not affiliated with any other organization.
Children prioritize TV, video games over saving the environment

(05/18/2010) When asked to rank what was most important to them children across the world chose watching TV and playing video games ahead of saving the environment, according to an Airbus survey of 10,000 children, ages 5-18, from ten countries. Forty percent of children ranked watching TV and playing video games as most important to them, while 4 percent put 'saving the environment' as number one. Nine percent of the children said that protecting animals was most important to them.
One man's mission to save Cambodia's elephants

(05/17/2010) Since winning the prestigious 2010 Goldman Environmental Prize in Asia, Tuy Sereivathana has visited the US and Britain, even shaking hands with US President Barack Obama, yet in his home country of Cambodia he remains simply 'Uncle Elephant'. A lifelong advocate for elephants in the Southeast Asian country, Sereivathana's work has allowed villagers and elephants to live side-by-side. Working with Fauna and Flora International (FFI) he has successfully brought elephant-killing in Cambodia to an end. As if this were not enough, Sereivathana has helped curb the destruction of forests in his native country and built four schools for children who didn't previously have formal education opportunities.
A nation of tragedies: the unseen elephant wars of Chad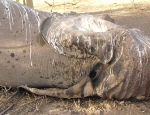 (05/12/2010) Stephanie Vergniault, head of SOS Elephants in Chad, says she has seen more beheaded corpses of elephants in her life than living animals. In the central African nation, against the backdrop of a vast human tragedy—poverty, hunger, violence, and hundreds of thousands of refugees—elephants are quietly vanishing at an astounding rate. One-by-one they fall to well-organized, well-funded, and heavily-armed poaching militias. Soon Stephanie Vergniault believes there may be no elephants left. A lawyer, screenwriter, and conservationist, Vergniault is a true Renaissance-woman. She first came to Chad to work with the government on electoral assistance, but in 2009 after seeing the dire situation of the nation's elephants she created SOS Elephants, an organization determined to save these animals from local extinction.
Japan suggests a 'Biodiversity Decade'

(05/10/2010) Japan, the host nation for the Nagoya Biodiversity Summit in October, has suggested adding a few more years to the UN's awareness-raising efforts on the biodiversity crisis. Instead of having the International Year of Biodiversity conclude after this December, Japan says it will propose making 2010-2019 the International Decade of Biodiversity.
Face-to-face with what may be the last of the world's smallest rhino, the Bornean rhinoceros

(12/01/2009) Nothing can really prepare a person for coming face-to-face with what may be the last of a species. I had known for a week that I would be fortunate enough to meet Tam. I'd heard stories of his gentle demeanor, discussed his current situation with experts, and read everything I could find about this surprising individual. But still, walking up to the pen where Tam stood contentedly pulling leaves from the hands of a local ranger, hearing him snort and whistle, watching as he rattled the bars with his blunted horn, I felt like I was walking into a place I wasn't meant to be. As though I was treading on his, Tam's space: entering into a cool deep forest where mud wallows and shadows still linger. This was Tam's world; or at least it should be.
The faster, fiercer, and always surprising sloth, an interview with Bryson Voirin

(10/25/2009) Sloths sleep all day; they are always slow; and they are gentle animals. These are just some of the popular misconceptions that sloth-scientist and expert tree-climber, Bryson Voirin, is overturning. After growing up among the wild creatures of Florida, spending his high school years in Germany, and earning a Bachelors degree in biology and environment at the New College of Florida, Voirin found his calling. At the New College of Florida, Voirin "met Meg Lowman, the famous canopy pioneer who invented many of the tree climbing techniques everyone uses today."
Working to save the 'living dead' in the Atlantic Forest, an interview with Antonio Rossano Mendes Pontes
(09/23/2009) The Atlantic Forest may very well be the most imperiled tropical ecosystem in the world: it is estimated that seven percent (or less) of the original forest remains. Lining the coast of Brazil, what is left of the forest is largely patches and fragments that are hemmed in by metropolises and monocultures. Yet, some areas are worse than others, such as the Pernambuco Endemism Centre, a region in the northeast that has largely been ignored by scientists and conservation efforts. Here, 98 percent of the forest is gone, and 70 percent of what remains are patches measuring less than 10 hectares. Due to this fragmentation all large mammals have gone regionally extinct and the small mammals are described by Antonio Rossano Mendes Pontes, a professor and researcher at the Federal University of Pernambuco, as the 'living dead'.
After declining 95% in 15 years, Saiga antelope begins to rebound with help from conservationists
(09/20/2009) In a decline on par with that suffered by the American bison in the Nineteenth Century, in the 1990s the saiga antelope of the Central Asian steppe plummeted from over one million individuals to 50,000, dropping a staggering 95 percent in a decade and a half. Since then new legislation and conservation measure have helped the species stabilize in some areas but in others the decline continues. Working for six years with the Saiga Conservation Alliance, Founding Member and Executive Secretary Elena Bykova has helped bring the species back from the very brink of extinction.
Saving gorillas by bringing healthcare to local people in Uganda, an interview with Dr. Gladys Kalema-Zikusoka
(09/16/2009) How can bringing healthcare to local villagers in Uganda help save the Critically Endangered mountain gorilla? The answer lies in our genetics, says Dr. Gladys Kalema-Zikusoka, wildlife veterinarian and director of Conservation through Public Health (CTPH). "Because we share 98.4% genetic material with gorillas we can easily transmit diseases to each other." Therefore, explains Kalema-Zikusoka "our efforts to protect the gorillas will always be undermined by the poor public health of the people who they share a habitat with. In order to effectively improve the health of the gorillas we needed to also improve the health of the people, which will not only directly reduced the health threat to gorillas through improvement of public health practices, but also improved community attitudes toward wildlife conservation."
Discovering nature's wonder in order to save it, an interview with Jaboury Ghazoul

(09/08/2009) Sometimes we lose sight of the forest by staring at the trees. When this happens we need something jarring and eloquent to pull us back to view the big picture again. This is what tropical ecologist Jaboury Ghazoul provided during a talk at the Association of Tropical Biology and Conservation (ATBC) meeting this summer in Marburg, Germany. Throwing out a dazzling array of big ideas and even bigger questions—incorporating natural history, biodiversity, morality, philosophy, and art—the enthusiastic Ghazoul left his audience in a state of wonder.
World's rarest tree kangaroo gets help from those who once hunted it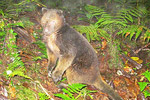 (08/17/2009) The world's rarest tree kangaroo is in the midst of a comeback in a remote part of Papua New Guinea. On the brink of extinction in 2001 with a population estimated at fewer than 100 individuals, Scott's Tree Kangaroo (Dendrolagus scottae), or the tenkile, is recovering, thanks to the efforts of the Tenkile Conservation Alliance to motivate local communities to reduce hunting and respect critical forest habitat. The tenkile Conservation Alliance, led by Australians Jim and Jean Thomas, works to provide alternative sources of protein and raise environmental awareness among local communities.
Saving the tsingy forests in Madagascar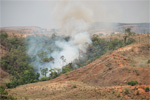 (08/17/2009) After the success of their Sahafina Forest project, Biodiversity Conservation Madagascar is now branching out to the tsingy forest of Beanka, a project set to launch in October this year. Biodiversity Conservation Madagascar (BCM) has been granted a 25-year lease on a 14,000-hectare area of dry hardwood forest, the Beanka tsingy, situated 75 km east of Maintirano in western Madagascar. 'Tsingy' are spectacular razor-sharp limestone pinnacles found on the west and north of the island, formed by acidic rain erosion. The deciduous forests that inhabit them are characterized by high plant and animal endemism. The Malagasy organization plans to apply the same principles here – protection of the forest, socio-economic development and forest restoration – that brought them success with their last project, the 2,500-hectare forest block of Sahafina on Madagascar's east coast.
Saving one of the last tropical dry forests, an interview with Edwina von Gal
(06/29/2009) Often we hear about endangered species—animals or plants on the edge of extinction—however we rarely hear about endangered environments—entire ecosystems that may disappear from Earth due to humankind's growing footprint. Tropical dry forests are just such an ecosystem: with only 2 percent of the world's tropical dry forest remaining it is one of the world's most endangered ecosystems. A newly established organization, the Azuero Earth Project, is working not only to preserve some of the world's last tropical dry forest on the Azuero peninsula in Panama, but also to begin restoration projects hoping to aid both the forest's viability and the local people. Edwina von Gal, a landscape designer, is one of the founders of the Azuero Earth Project, as well as president of the organization.
More US students tackling science and engineering

(06/25/2009) In 2007 the number of US students enrolling in graduate programs in either science or engineering rose by 3.3 percent, nearly double the increase from the previous year, according to new data collected by The National Science Foundations Division of Science Resources Statistics (SRS). Science programs, excluding engineering, saw a rise of 2.4 percent and added the most students in absolute numbers.
Conservation through commerce in Costa Rica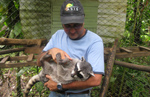 (05/25/2009) While Costa Rica is lauded for its conservation ethic, environmental concerns remain in the country. Overdevelopment is tied to many issues, including pollution, degradation of ecosystems, deforestation, and soil erosion, while unsustainable fishing plagues coastal waters. Costa Rica's wildlife is also directly affected by hunting as crop and livestock pests, predation and displacement by introduced species, and the illegal pet trade.
New rainforest reserve in Congo benefits bonobos and locals

(05/25/2009) A partnership between local villages and conservation groups, headed up by the Bonobo Conservation Initiative (BCI), has led to the creation of a new 1,847 square mile (4,875 square kilometer) reserve in the Democratic Republic of Congo (DRC). The reserve will save some of the region's last pristine forests: ensuring the survival of the embattled bonobo—the least-known of the world's four great ape species—and protecting a wide variety of biodiversity from the Congo peacock to the dwarf crocodile. However, the Kokolopori Bonobo Reserve is worth attention for another reason: every step of its creation—from biological surveys to reserve management—has been run by the local Congolese NGO and villages of Kokolopori.
Plant communities changing across the globe, says scientist Sasha Wright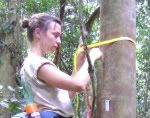 (03/29/2009) Having studied plant communities across three continent and within widely varied ecosystems—lowland tropics, deciduous forests, grasslands, and enclosed ecosystems on hill-tops—graduate student Sasha Wright has gained a unique understanding of shifts in plant communities worldwide as they respond to pressures from land use and global climate change. "Plant communities are certainly changing," Wright told Mongabay.com in a March 2009 interview. "These changes are undoubtedly affected by an increased occurrence of extreme weather events, temperature fluctuations, atmospheric CO2 concentrations, human land use, and in some cases urbanization of populations."
Seeking out the world's rarest and most endangered birds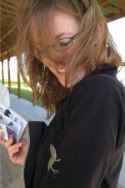 (02/02/2009) For an evolutionary biologist there is no conservation group whose work is more exciting than EDGE, a program developed by the Zoological Society of London (ZSL). Unique in the conservation world, EDGE chooses the species to focus on based on a combination of their threat of extinction and evolutionary distinctness. Katrina Fellerman, an evolutionary biologist herself and the EDGE birds' coordinator, describes the organization as one that focuses on species, which "to put it bluntly, if lost, there would be nothing like them left in the world today". Explaining further Fellerman says "We use evolutionary distinctiveness (ED) as a species-specific measure of the relative evolutionary value of species - it is a way of apportioning conservation value according to a species' phylogenetic position. Species with few or no close relatives on the 'tree of life' have the highest ED scores."
Review of the indoor rainforest at San Francisco's new Academy of Sciences

(11/04/2008) As a longtime resident of San Francisco's Inner Sunset district, I am quite familiar with the Academy of Sciences which is a short walk from my domicile. While I had visited it many times in its previous incarnation, the old (now demolished) museum was a far cry from the new high-tech building that opened this Fall. Both as someone who has traveled extensively in the tropics, and as the author of a number of travel guides which cover tropical rainforests and their ecosystems as well, I was looking forward to one of its most highly touted new features: the "rainforest dome."
Zoos: Why a Revolution is Necessary to Justify Them

(10/05/2008) Watching a Siberian tiger kill a grey squirrel for a half-hour proved to be one of my most enlightening experiences at a zoo. It was a weekday; I was alone, not even an employee passed by. The tiger pounced on the squirrel, flipped it into the air like a juggler's ball, pinned it and rolled it. A short reprieve from this unlikely encounter and the bloodied, half-crushed squirrel attempted an escape, dragging itself across the grass; the tiger watched curiously, let it go a few feet then pounced again. My whole self suffered over the squirrel's pain and torture while marveling in the same instance at the tiger's power, the ease with which it knocked the rodent along the ground. Here in an institution where nature is faked was a relatively truthful half-hour: nature's brutality, grace, ugliness, awe, beauty, and tragedy were reveled. I never could conclude whether the Asian terror was just playing or if it simply lacked the knowledge (as has been proven with many captive cats) to finish off the squirrel. Either way, it took a long time for the rodent to die.
7 steps to solve the global biodiversity crisis

(08/11/2008) Many biologists believe Earth is entering a sixth mass extinction event, one that has is the direct of human activities, including over-exploitation, habitat destruction and introduction of alien species and pathogens. Climate change — largely driven by anthropogenic forces — is expected to soon increase pressure on Earth's biodiversity. With population and per-capita consumption expected to grow significantly by the mid 21st century, there seems little hope that species loss can be slowed. Nevertheless, writing in the journal PNAS, Stanford biologists Paul R. Ehrlich and Robert M. Pringle suggest seven steps to help improve the outlook for the multitude of species that share our planet.
conservationists need to work with, not against, rural poor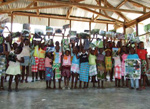 (10/24/2007) Rural populations have long been demonized by conservationists, but this is changing. Increasingly, conservation groups see that without the support of rural populations, protected areas can in places be little more than ineffective "paper parks". As such, today community involvement is viewed as a critical part of any conservation program, whether it be protecting biodiversity, slowing deforestation, curtailing illegal logging and poaching, or establishing reserves.
$100 laptop hit with production delays

(10/24/2007) The "$100 laptop" -- a computer designed for children in poor countries -- has been hit by production delays and will likely miss an important target date for a charity program, according to reports from InformationWeek and other outlets.
Education key to financial support for biodiversity

(09/06/2007) On the coast of south-western Spain, Coto Donana National Park posses a unique wealth of wildlife; its proximity to Africa has allowed for several African species to mix with a wide variety of European: Egyptian Mongooses and the Greater Flamingo live alongside wild boar and Spanish Red Deer. The coastal and wetland park provides a continual respite for hundreds of species of African and European birds. As well, the park is home to several endangered species including the Spanish Imperial Eagle, the Andalusian toothcarp, the Sabine (a variety of juniper pine), and the world's most endangered cat, the Iberian Lynx.
Rainforest educational resource launched in 19 languages

(06/05/2007) Mongabay.com, a leading tropical rainforest information web site, today announced the availability of a rainforest educational resource in 19 languages at world.mongabay.com. The site explains what constitutes a tropical rainforest, why they are important, why they are threatened, and how they can be saved.
conservation is saving lemurs and helping people in Madagascar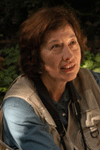 (05/07/2007) Madagascar, an island nation that lies off the coast of southeastern Africa, has long been famous for its unique and diverse species of wildlife, especially lemurs--primates found nowhere else on the planet. In recent years, the island country has also become world-renowned for conservation efforts that are succeeding in spite of extraordinary pressures from a poor population that relies heavily on forest burning for basic subsistence. A large part of this success is due to the early efforts of Patricia Wright, a primatologist who has been working in the country for more than 20 years. Wright led the effort to launch the country's leading protected area and helped Madagascar become a leading global example of conservation despite its economic adversity.
Summer babies do worse in school due to pesticides

(05/06/2007) A new study links conception date to academic achievement later in life. The reason? Summertime pesticide use in the U.S. Midwest. Analyzing standardized test scores (Indiana Statewide Testing for Educational Progress) for 1,667,391 students in Indiana, neonatologist Paul Winchester, of the Indiana University School of Medicine, and colleagues found that children conceived in June through August had lower test scores than average.
Rainforest education site recognized with community award

(03/29/2007) Mongabay.com, a leading environmental science web site, was awarded as this week's Cingular Spotlight community hero.by San Francisco-based radio station Energy 92.7 FM. The $500 cash prize was donated to the Amazon conservation Team, a group doing pioneering work in protecting the Amazon rainforest.
Biodiversity extinction crisis looms says renowned biologist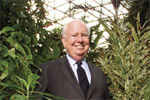 (03/12/2007) While there is considerable debate over the scale at which biodiversity extinction is occurring, there is little doubt we are presently in an age where species loss is well above the established biological norm. Extinction has certainly occurred in the past, and in fact, it is the fate of all species, but today the rate appears to be at least 100 times the background rate of one species per million per year and may be headed towards a magnitude thousands of times greater. Few people know more about extinction than Dr. Peter Raven, director of the Missouri Botanical Garden. He is the author of hundreds of scientific papers and books, and has an encyclopedic list of achievements and accolades from a lifetime of biological research. These make him one of the world's preeminent biodiversity experts. He is also extremely worried about the present biodiversity crisis, one that has been termed the sixth great extinction.




Page 1 | Page 2