News articles on disease

---
Mongabay.com news articles on disease in blog format. Updated regularly.






Conservationists appeal to donors after mystery kills 134,252 saiga
(06/10/2015) The good news: conservationists believe that whatever killed off over a hundred thousand saiga in Kazakhstan in less than a month has abetted. The bad news: the final death tally is 134,252 saiga or around half the population of an animal already considered Critically Endangered. Given the dire situation, conservationists are now asking for emergency donations.
120,000 dead: half of the world's saiga die in less than a month

(05/28/2015) No one knows what's killing them, but scientists estimate that almost half of the world's saiga (Saiga tatarica) have perished since May 10th. To date, researchers on-the-ground unofficially estimate that 120,000 saiga have died in Kazakhstan from what appears to be a wildly virulent disease, although no cause has been ruled out.
Biodiversity may reduce the threat of disease
(02/19/2015) Biodiversity level changes can have consequences for species and habitats around the world. A new study published in the Proceedings of the Royal Society B, reaffirms previous findings that higher diversity in ecological communities may lead to reduced disease threat.
Brazilian indigenous populations grow quickly after first contact devastation

(02/18/2015) Indigenous communities in South America have long experienced devastating impacts from contact with Western society. In the Sixteenth Century, European colonists brought slavery, war, and violence, but disease proved the most devastating. In all, European contact destroyed over 95 percent of the native population.
Did palm oil expansion play a role in the Ebola crisis?
(01/14/2015) The Ebola outbreak in West Africa may have been the result of complex economic and agricultural policies developed by authorities in Guinea and Liberia, according to a new commentary in Environment and Planning A. Looking at the economic activities around villages where Ebola first emerged, the investigators analyzed a shift in land-use activities in Guinea's forested region, particularly an increase in oil palm.
Top 10 Environmental Stories of 2014
(12/23/2014) In 2014, the unimaginable happened: companies representing the majority of palm oil production and trade agreed to stop cutting down rainforests and draining peatlands for new oil palm plantations. After years of intense campaigning by environmentalists and dire warnings from scientists, nearly two dozen major producers, traders, and buyers established zero deforestation policies.
Human infections by 'monkey malaria' increasing as forests disappear
(11/10/2014) 68% of malaria hospitalizations in Malaysia last year were caused by a once-rare strain of the disease traditionally limited to macaque monkeys. However, as deforestation has put humans and wild animals in closer proximity, Plasmodium knowlesi infections and deaths have increased rapidly. The strain is now responsible for three times the severe malaria infections in Malaysian Borneo than P. falciparum—the world's deadliest form of the parasite.
Pet trade likely responsible for killer salamander fungus
(10/30/2014) As if amphibians weren't facing enough—a killer fungal disease, habitat destruction, pollution, and global warming—now scientists say that a second fungal disease could spell disaster for dozens, perhaps hundreds, of species. A new paper finds that this disease has the potential to wipe out salamanders and newts across Europe, the Middle East, North Africa, and the Americas.
The Search for Lost Frogs: one of conservation's most exciting expeditions comes to life in new book
(10/30/2014) One of the most exciting conservation initiatives in recent years was the Search for Lost Frogs in 2010. The brainchild of scientist, photographer, and frog-lover, Robin Moore, the initiative brought a sense of hope—and excitement—to a whole group of animals often ignored by the global public—and media outlets. Now, Moore has written a fascinating account of the expedition: In Search of Lost Frogs.
Destroyed habitat, fewer resources, Ebola: the many repercussions of Liberia's deforestation
(10/29/2014) Liberia is one of the last strongholds of intact forest in West Africa. These forests are the home of many unique species of plants and animals, and many Liberians rely on the forests for direct economic benefits. The presence of intact forests may even be important for preventing the future outbreak of disease such as Ebola, which can be transmitted to people from animal vectors displaced by deforestation.
How did Ebola Zaïre Get to Guinea?
(08/05/2014) The vicious Ebola outbreak that has already killed over 800 people this year was not a strain endemic to the region as initially believed. Instead the University of Edinburgh found that the strain is the same as the Ebola Zaïre found in the Democratic Republic of Congo (DRC), formerly Zaïre. Does this mean the strain could have come from illegally-trafficked great apes instead of fruit bats as widely reported?
Don't eat or touch bat bushmeat amid worsening Ebola outbreak, UN warns

(07/29/2014) The world's worst Ebola outbreak was likely begun by a hunter shooting a fruit bat for their dinner or the market, according to the UN. The outbreak has killed over 660 people in six months to date, and recently spread via plane to Nigeria. The disease is particularly deadly with a mortality rate of around 90 percent.
Apeidemiology: researchers model ape disease transmission for the first time
(06/20/2014) In a nine-year-long study published recently in PLOS ONE, a team of researchers attempted to understand how diseases spread and differ among orangutans (Pongo pygmaeus wurmbii) and chimpanzees (Pan troglodytes schweinfurthii), creating the first-ever epidemiological model for great ape populations.
Loss of wildlife and deforestation can increase human disease
(05/08/2014) Deforestation is wiping out habitat for plants and animals around the world. It is linked to reductions in air and water quality, hastening climate change, and is contributing to increased rates of drought and fire. Now, for the first time, researchers have found that deforestation may also lead to a heightened risk of human disease
Will yellow fever drive brown howler monkeys to extinction in Argentina?
(04/04/2014) The brown howler monkey is listed as Critically Endangered in Argentina, where a small number persist in the northeastern portion of the country. Although habitat loss and other human impacts have contributed to the populations' decline, a new report indicates that yellow fever outbreaks in the region are primarily to blame.
Next big idea in forest conservation? Connecting deforestation to disease
(04/03/2014) Thomas Gillespie is concerned with the connections between conservation and disease, with a particular emphasis on primates. Much of his research examines the places where humans and animals are at a high risk of exchanging pathogens, and how human-caused disturbances, such as deforestation, can change disease dynamics and impacts.
Chile turns to owls to combat fatal disease
(04/01/2014) This year the Hanta virus has already caused 15 deaths in Chile, according to reports in The Santiago Times. It isn't always fatal—the 15 deaths were of a total of 36 cases over six months—but the symptoms are severe. Those affected experience flu-like symptoms, as well as nausea, vomiting, diarrhoea and trouble breathing. But now Chile is using a novel method to fight the disease: owls.
Environmental degradation leads to public health crises
(01/07/2014) A 'systematic and comprehensive' approach is needed to understand the impact of human behavior on the world's public health, according to a new report. Written by the Heal (Health & Ecosystems Analysis of Linkages) consortium, the study highlights multiple examples of the impact on human health from environmental degradation, including sickness, death and even childhood reductions in IQ.
Strange mouth-brooding frog driven to extinction by disease
(11/21/2013) An unusual species of mouth-brooding frog was likely driven to extinction by the fungus Batrachochytrium dendrobatidis (Bd), making an unusual example of 'extinction by infection', argue scientists writing in the open-access journal PLOS ONE. Rhinoderma rufum has not been seen in the wild since 1980.
Armored giant turns out to be vital ecosystem engineer
(10/24/2013) The giant armadillo (Priodontes maximus) is not called a giant for nothing: it weighs as much as a large dog and grows longer than the world's biggest tortoise. However, despite its gigantism, many people in its range—from the Amazon to the Pantanal—don't even know it exists or believe it to be more mythology than reality. This is a rare megafauna that has long eluded not only scientific study, but even basic human attention. However, undertaking the world's first long-term study of giant armadillos has allowed intrepid biologist, Arnaud Desbiez, to uncovered a wealth of new information about these cryptic creatures. Not only has Desbiez documented giant armadillo reproduction for the first time, but has also discovered that these gentle giants create vital habitats for a variety of other species.
Small invertebrates could be key to uncovering the mysteries of killer amphibian fungus
(10/22/2013) In 2004, the first-ever Global Amphibian Assessment (GAA) reviewed all 5,743 amphibian species known to science and concluded that 32% were threatened with extinction - a number far exceeding corresponding figures for birds and mammals (12 to 23% respectively). In addition to the usual culprits of climate change and habitat destruction, a startling 92.5% of amphibians listed as Critically Endangered were found to be undergoing enigmatic declines linked to an unexpected perpetrator - the chytrid fungus, Batrachochytrium dendrobatidis (Bd).
Art, education, and health: holistic conservation group embarks on new chapter
(10/21/2013) It's unlikely conservation organizations can survive if they are unwilling to embrace change: as an endeavor, conservation requires not just longterm planning, but also an ability to move proactively and fluidly to protect species and safeguard ecosystems. Environmental and education NGO, the Art of Conservation, is currently embarking on its biggest change since its foundation in 2006: moving away from its base in Rwanda, while leaving a legacy behind.
WHO: air pollution causes cancer

(10/17/2013) Outdoor air pollution has been officially classified as carcinogenic by the cancer arm of the World Health Organization. The International Agency for Research on Cancer (IARC) said air pollution from traffic and industrial fumes was a definite cause of lung cancer and also linked to bladder cancer. The strong verdict from IARC, a cautious body that pronounces only when the evidence is strong, will put pressure on governments to take action.
Climate change could increase diarrheal disease in Botswana

(10/03/2013) Climate change may increase the incidence of diarrheal disease in Botswana, according to a recent study in the International Journal of Environmental Research and Public Health. "Diarrheal disease is a very important public health problem in Botswana," said lead author Kathleen Alexander, who led a unique 30-year analysis (1974-2003) on the incidence of diarrhea in Botswana. "As a water-restricted country, Botswana is predicted to be heavily impacted by climate change.
Newly discovered chytrid fungus devastates salamander populations
(09/19/2013) A frightening disease has been ravaging amphibians across the planet. At least 350 species have been infected, two hundred of which have suffered massive population reductions or extinctions, some even occurring within the space of weeks. In 1999, a single fungal species called Batrachochytrium dendrobatidis (Bd), commonly known as the chytrid fungus, was identified as the causative agent for these rapid die-offs.
Not just bats and frogs: snake fungal disease hits U.S.
(09/06/2013) A fungal outbreak in the eastern and Midwestern United States is infecting some populations of wild snakes. Snake Fungal Disease (SFD), a fungal dermatitis consistently associated with the fungus Ophidiomyces ophiodiicola, is showing recent spikes in occurrence according to the U.S. Geological Survey's National Wildlife Health Center (NWHC) and other diagnostic laboratories.
Hope rises as new malaria vaccine shows promise
(08/12/2013) Last week U.S. scientists with the biotech company, Sanaria, announced a possible breakthrough on an experimental malaria vaccine: an early trial led to a success rate of 80 percent for the two highest doses. Malaria remains one of the world's worst scourges. In 2010, the World Health Organization reported 219 million documented cases of malaria (millions more likely went undocumented) and estimated that between 660,000 and 1.2 million died of the disease, mostly children in Africa, that year alone. Mortality is not the only impact of the disease, however: experts have long noted circular links between malaria, poverty, and stalled development.
Last disease-free Tasmanian devils imperiled by mine
(08/07/2013) The federal environment minister, Mark Butler, has given the go-ahead to a controversial mine that the courts halted amid concerns it could drastically affect the last stronghold of the Tasmanian devil. Butler said he had granted approval to Shree Minerals to proceed with its iron ore mine at Nelson Bay River in the north-west of Tasmania, subject to 30 conditions.
Burning coal responsible for over 20,000 deaths a year in Europe
(06/13/2013) Air pollution from Europe's 300 largest coal power stations causes 22,300 premature deaths a year and costs companies and governments billions of pounds in disease treatment and lost working days, says a major study of the health impacts of burning coal to generate electricity. The research, from Stuttgart University's Institute for energy economics and commissioned by Greenpeace International, suggests that a further 2,700 people can be expected to die prematurely each year if a new generation of 50 planned coal plants are built in Europe. "The coal-fired power plants in Europe cause a considerable amount of health impacts," the researchers concluded.
Turning up the temperature might save frogs' lives
(05/28/2013) Over the past 30 years, amphibians worldwide have been infected with a lethal skin disease known as the amphibian chytrid fungus (Batrachochytrium dendrobatidis). "The disease can cause rapid mortality, with infected frogs of susceptible species dying within weeks of infection in the laboratory." Jodi Rowley, a herpetologist with the Australian Museum told mongabay.com. "This disease has now been associated with declines and extinctions in hundreds of species of amphibians worldwide, and is a serious threat to global amphibian biodiversity."
U.S. loses nearly a third of its honey bees this season
(05/09/2013) Nearly a third of managed honeybee colonies in America died out or disappeared over the winter, an annual survey found on Wednesday. The decline—which was far worse than the winter before—threatens the survival of some bee colonies. The heavy losses of pollinators also threatens the country's food supply, researchers said. The US Department of Agriculture has estimated that honeybees contribute some $20bn to the economy every year.
Saviors or villains: controversy erupts as New Zealand plans to drop poison over Critically Endangered frog habitat
(04/10/2013) New Zealand's Department of Conservation (DOC) is facing a backlash over plans to aerially drop a controversial poison, known as 1080, over the habitat of two endangered, prehistoric, and truly bizarre frog species, Archey's and Hochsetter's frogs, on Mount Moehau. Used in New Zealand to kill populations of invasive mammals, such as rats and the Australian long-tailed possum, 1080 has become an increasingly emotive issue in New Zealand, not just splitting the government and environmentalists, but environmental groups among themselves. Critics allege that the poison, for which there is no antidote, decimates local animals as well as invasives, while proponents say the drops are the best way to control invasive mammals that kill endangered species like birds and frogs and may spread bovine tuberculosis (TB).
Burning coal may be killing over 100,000 people in India every year
(03/13/2013) India's dependence on coal-fired power plants for energy may be leading directly to the deaths of 80,000 to 115,000 of its citizens every year, according to the first ever report on the health impacts of coal in the country. The report, commissioned by the Conservation Action Trust and Greenpeace-India, deals only with the direct health impact of coal and not climate change. But even ignoring the rising pain of global warming, the bleak report outlines that coal consumption in India is causing over 20 million asthma attacks, nearly a million emergency room visits, and killing some 10,000 children under five annually.
Captive frogs may be spreading diseases to wild cousins across Southeast Asia

(03/07/2013) Scientists have documented a series of links between exotic frogs for trade and diseases in wild frogs in Southeast Asia, including the first documented case of the chytrid fungus—a virulent and lethal disease—in Singapore. According to researchers writing in a new study in EcoHealth, frogs imported into Southeast Asia as pets, food, or traditional medicine are very likely spreading diseases to wild populations.
Scientist: releasing invasive birds in Turkey to eat ticks will backfire
(02/04/2013) As Turkey raises and releases thousands of non-native helmeted guineafowl (Numida meleagris) to eat ticks that carry the deadly Crimean-Congo hemorrhagic fever virus, new research suggests guineafowl actually eat few ticks, carry the parasites on their feathers, and further spread the disease.
Cute koalas have become 'urban refugees'
(01/28/2013) According to Susan Kelly, koalas have become "urban refugees," under siege by expanding cities that bring with them deforestation, dogs, traffic, and other ills for native wildlife. Director of Global Witness, and writer, producer and director of the new documentary Koala Hospital, Kelly has spent 3 years working to understand the rising threats to one of the world's most beloved marsupials. While Koala Hospital highlights the many perils facing koalas, including climate change due to record fires across Australia, it also looks at the efforts of individuals who work to save koalas one—by—one at Port Macquarie Koala Hospital, taking in patients who have been orphaned, hit by cars, scarred in fires, or attacked by dogs.
Presence of trees may mitigate cardiovascular and respiratory disease

(01/17/2013) Scientists with the U.S. Forest Service have observed a link between human health and trees, implying that trees may actually mitigate both cardiovascular and lower respiratory disease. Although the researchers do not yet put forward a reason why or how the presence of trees save lives, they are convinced there is a link.
Gold mine approved in French Guiana's only national park
(01/15/2013) Tensions have risen in the small Amazonian community of Saül in French Guiana after locals discovered that the French government approved a large-scale gold mining operation near their town—and inside French Guiana's only national park—against their wishes. Run by mining company, Rexma, locals and scientists both fear that the mine would lead to deforestation, water pollution, and a loss in biodiversity for a community dependent on the forest and ecotourism.
Common toads ravaged by killer disease in Portugal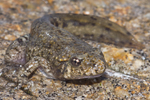 (01/14/2013) The chytrid fungus—responsible for millions of amphibian deaths worldwide—is now believed to be behind a sudden decline in the common midwife toad (Alytes obstetricans), according to a new paper in Animal Conservation. Researchers have detected the presence of the deadly fungus in the Serra da Estrela, north-central Portugal, home to a population of the midwife toad.
Mercury hurts birds and people: what we can learn from studying our feathered friends
(01/07/2013) Birds aren't that different from people. We learn from our parents, just like zebra finches learn songs from their fathers. We are active and noisy during the day, like birds, and we can also be territorial. Also like birds, we try to attract mates through colorful displays and beautiful songs. Birds are sensitive to pollution in their environment just like we are: harmful elements such as mercury wreak similar havoc on human and bird biology alike. Because our species share so many attributes, studying birds illustrates the connections between them and us.
Cell phones help decipher malaria transmission in Kenya
(11/19/2012) Malaria parasites can stow away silently in a person's bloodstream. Without any symptoms to betray them, their human host can unwittingly transport the parasites hundreds or thousands of miles. Tracking them has been nearly impossible, especially in poor countries. Now, researchers have harnessed a new tool: the burgeoning number of cell phone users in Africa, which help trace how malaria spreads.
El Salvador mulls total ban on mining
(10/22/2012) On hot days the broken stone and dried up silt from the San Sebastian mine in Eastern El Salvador bake in the sun. The slew of refuse is freckled with rock stained bright blue with cyanide, open to the elements that on rainier days will wash it downhill into the Rio San Sebastian below. The openings of passages into the mine dot the mountainside, and further downhill a bright orange stream with a chemical stench flows into another. The American Commerce Group ceased operating here in 1999 but sought to return when the price of gold began its current escalation.
Turning gorilla poachers into conservationists in the Congo [warning: graphic photos]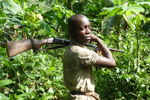 (08/13/2012) Although founded only four years ago, Endangered Species International-Congo, has ambitious plans to protect dwindling Western gorilla populations and aid local people in the Republic of the Congo. The organization, an offshoot of Endangered Species International (ESI), has been spending the last few years studying the bushmeat trade in Pointe-Noire, the country's second largest city, and developing plans for turning hunters into conservationists.
Scientists testing anti-fungal bacteria on diseased frogs in California

(07/23/2012) Researchers are treating tadpoles in Kings Canyon National Park with a bacteria they hope will provide immunity to an infamous fungal disease, reports the San Francisco Gate. The bacteria could be key not only to saving California's mountain yellow-legged frog (Rana muscosa), which is listed as Endangered by the IUCN Red List, but also frog species around the planet, many of which have been decimated by the chytrid fungal disease.
Vietnam buys stakes in controversial oil blocks threatening Peru's most vulnerable indigenous people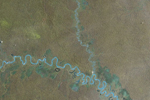 (07/11/2012) Vietnam's state oil and gas company, PetroVietnam Exploration and Production (PVEP), has announced its intention to acquire a major stake in controversial oil operations in the remote Peruvian Amazon. This area, known as Lot 67, is one of the most biodiverse in the world and home to indigenous people living without regular contact with outsiders, sometimes dubbed 'isolated' or 'uncontacted', who could be decimated by contact with oil company workers because they are highly vulnerable to disease.
Frog plague found in India

(01/03/2012) The chytrid fungus, which is responsible for the collapse of numerous amphibian populations as well as the extinction of entire species, has been located for the first time in India, according to a paper in Herpetological Review. Researchers took swabs of frog in the genus Indirana in the Western Ghats and found the killer fungus known as chytridiomycosis.
New site is a match-maker for world's endangered frogs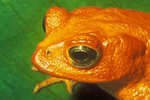 (11/03/2011) A new initiative by the conservation group, Amphibian Ark, hopes to match lonely, vanishing frogs with a prince/princess to to save them. Dubbed FrogMatchMaker.com after online dating sites, the program is working to connect supporters and donors with amphibian conservation programs in need. Currently, amphibians are among the world's most imperiled species with 41 percent threatened with extinction according to the IUCN Red list.
Bat-killing culprit identified by scientists

(10/31/2011) First identified in 2005, white-nose syndrome has killed over a million bats in the US, pushing once common species to the edge of collapse and imperiling already-endangered species. Striking when bats hibernate, the disease leaves a white dust on the bat's muzzle, causing them to starve to death. Long believed to be caused by a fungus in the genus Geomyces, researchers publishing in Nature have confirmed that the disease is produced by the species, Geomyces destructans.
Isolated indigenous people and tourists collide in Peru park

(10/19/2011) New video released by the Peruvian government shows a potentially disastrous encounter between tourists and indigenous people long isolated from the outside world. In a motor boat tourists follow a group of Mashco-Piro people walking along the shores of the Manu River in Manu National Park. At one point one of the tribal members prepares to fire at the boat with an arrow. But danger doesn't only come from the possibility of a violent clash: uncontacted indigenous people, those who have chosen isolation from the world, are incredibly susceptible to disease.
Scientists find frog genes that provide immunity to extinction plague

(09/27/2011) Scientists with Cornell have discovered genetics that may provide immunity to frogs in face of the killer amphibian-disease chytridiomycosis. This plague, which is spreading to amphibian populations worldwide, is responsible for a number of frog species' recent extinction. But now researchers report in a new study in the Proceedings of the National Academy of Sciences (PNAS) that they are one step closer to understanding why some frog populations are able to fend off the disease, while others succumb with lightning-speed. In time, the results may lead to breeding strategies in captivity that could produce immune populations.
Amphibian-plague strikes frogs harder in pristine ecosystems

(05/31/2011) Frog populations worldwide are facing two apocalypses: habitat destruction and a lethal plague, known as chytridiomycosis. Over 30 percent of the world's amphibians are currently threatened with extinction and it is thought at least 120 species have gone extinct in just the last 30 years. Unfortunately, a new study in Proceedings of the National Academy of Sciences (PNAS) finds that the two threats—habitat loss and chytridiomycosis—are likely to leave no frog population undisturbed. According to the study, frogs that live in still-pristine habitats are more susceptible to chytridiomycosis than those that are already suffering from habitat loss.
North America's tiniest turtle vanishing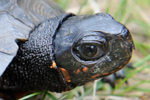 (05/12/2011) Despite decades of conservation work, populations of North America's smallest turtle, the bog turtle (Glyptemys muhlenbergii), is continuing to decline. Habitat destruction, invasive plants, road-kill, and the illegal pet trade have all played a role in the bog turtle historic decline, but researchers are now reporting increased mortalities across bog turtle populations, bringing fears of disease or an as-yet-unnamed environmental issue.
Indigenous group claims Ecuadorian government complicit in 'genocide'

(04/06/2011) Ecuador's paramount indigenous organization has filed a legal complaint against the government, including President Rafael Correa, for allegedly participating in 'genocide' against indigenous people in the Amazon. The Confederation of Indigenous Nationalities of Ecuador (CONAIE) is arguing that expanding oil exploration and mining is imperiling the lives of uncontacted tribes that have chosen voluntary isolation known as the Tagaeri and the Tarmenane, reports the AFP.
The value of the little guy, an interview with Tyler Prize-winning entomologist May Berenbaum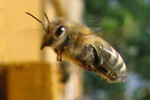 (04/06/2011) May Berenbaum knows a thing or two about insects: in recognition of her lifelong work on the interactions between insects and plants, she has had a character on The X-Files named after her, received the Public Understanding of Science and Technology Award for her work in making science accessible to the public, and this year has been awarded the prestigious Tyler Environmental Prize. "Winning the Tyler Prize is an incredible honor—most of my scientific heroes have been Tyler Prize winners and I'm exceedingly grateful to be considered worthy of being included among their ranks," Berenbaum told mongabay.com in an interview. "The Prize is also tremendously enabling—because the money is unrestricted I can use it to carry out projects that have been difficult to fund."
Bats worth billions

(04/03/2011) US agriculture stands to lose billions in free ecosystem services from the often-feared and rarely respected humble bat. According to a recent study in Science bats in North America provide the US agricultural industry at least $3.7 billion and up to a staggering $53 billion a year by eating mounds of potentially pesky insects. Yet these bats, and their economic services, are under threat by a perplexing disease known as white-nose syndrome (WNS) and to a lesser extent wind turbines.
15 conservation issues to watch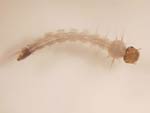 (03/14/2011) Deforestation, oil spills, coral acidification: these are just a few examples of ongoing, and well-researched, environmental changes that are imperiling the world's biodiversity. But what issues are on the horizon? At the end of 2010, experts outlined in Trends in Ecology & Evolution 15 issues that may impact conservation efforts this year and beyond, but are not yet widely known. These are issues you may never hear about it again or could dominate tomorrow's environmental headlines. "Our aim was to identify technological advances, environmental changes, novel ecological interactions and changes in society that could have substantial impacts on the conservation of biological diversity […] whether beneficial or detrimental," the authors write in the paper. Experts originally came up with 71 possible issues and then whittled it down to the 15 most important—and least known.
Forgotten species: the plummeting cycad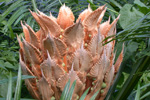 (12/06/2010) I have a declarative statement to make: cycads are mind-blowing. You may ask, what is a cycad? And your questions wouldn't be a silly one. I doubt Animal Planet will ever replace its Shark Week with Cycad Week (perhaps the fact that it's 'animal' planet and not 'plant' planet gave that away); nor do I expect school children to run to see a cycad first thing when they arrive at the zoo, rushing past the polar bear and the chimpanzee; nor do I await a new children's book about a lonely little anthropomorphized cycad just looking for a friend. In the world of species-popularity, the cycad ranks pretty low. For one thing, it's a plant. For another thing, it doesn't produce lovely flowers. And for a final fact, it looks so much like a palm tree that most people probably wouldn't know it wasn't. Still, I declare the cycad to be mind-blowing.
Climate change to take the lives of 5 million by 2020, mostly children

(12/06/2010) A new report by humanitarian research organization DARA and the Climate Vulnerable Forum finds that if nations continue to fail at lowering greenhouse gas emissions, five million people—mostly children—are likely to die from climate change impacts over the next 10 years. The report, called the Climate Vulnerability Monitor, predicts, in addition, that by 2030, one million people every year will perish from climate change impacts. The dire predictions come as nations struggle at a UN Climate Summit in Mexico this week to come up with a coordinated response to climate change, although an agreement is not expected this year.
Epidemic hits Amazonian indigenous group

(10/31/2010) An epidemic, suspected to be malaria, has struck down dozens of people of the Yanomami tribe in the Venezuelan Amazon, reports the Associated Press. Leaders of the three impacted village told health workers that approximately 50 people have died so far, many of them children.
Monarch butterflies medicate their sick kids

(10/12/2010) A new study in Ecology Letters has discovered that monarch butterflies employ medicinal plants to treat their larva. Researchers found that certain species of milkweed, which the larva feed on, can reduce the threat of a sometime deadly parasite. However, even more surprising: "we have also found that infected female butterflies prefer to lay their eggs on plants that will make their offspring less sick, suggesting that monarchs have evolved the ability to medicate their offspring," says lead author Jaap de Roode.
Losing nature's medicine cabinet
(10/04/2010) In all the discussions of saving the world's biodiversity from extinction, one point is often and surprisingly forgotten: the importance of the world's species in providing humankind with a multitude of life-saving medicines so far, as well as the certainty that more vital medications are out there if only we save the unheralded animals and plants that contain cures unknown. Already, species have provided humankind everything from quinine to aspirin, from morphine to numerous cancer and HIV-fighting drugs. "As the ethnobotanist Dr. Mark Plotkin commented, the history of medicine can be written in terms of its reliance on and utilization of natural products," physician Christopher Herndon told mongabay.com. Herndon is co-author of a recent paper in the journal Biotropica, which calls for policy-makers and the public to recognize how biodiversity underpins not only ecosystems, but medicine.
The true cost of the Commonwealth Games

(09/30/2010) UK newspapers have been flooded this week and last by reports of the Commonwealth Games' venue literally caving in and collapsing, athletes have deemed their village accommodation "filthy" and terrorists have apparently threatened attacks. Thanks to the late monsoon this year, floods are now a fear, and the Games' venue has been choked by a cloud of toxic insect repellent due to further fears of an outbreak of the potentially fatal dengue fever because of mosquitoes being drawn to the floods' stagnant water.
Photos: world's top ten 'lost frogs'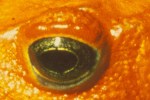 (08/09/2010) The International Union for the Conservation of Nature (IUCN) and Conservation International (CI) have sent teams of researchers to 14 countries on five continents to search for the world's lost frogs. These are amphibian species that have not been seen for years—in some cases even up to a century—but may still survive in the wild. Amphibians worldwide are currently undergoing an extinction crisis. While amphibians struggle to survive against habitat loss, climate change, pollution, and overexploitation, they are also being wiped out by a fungal disease known as chytridiomycosis.
Scientists hunt for 'lost frogs' around the globe
(08/09/2010) From now through October, teams of scientists will be scouring through leaf litters, in shallow pools, under rocks, and in tree trunks for the world's 'lost frogs'. Searching in 14 countries on five continents, the researchers are looking for some 100 species of frogs that have not been seen in decades and in some cases up to a century. While some of the species may well be extinct, researchers are holding out hope that they can find the ones that are still hanging on, albeit by a thread.
Following public outcry, New Zealand drops plan to mine protected areas

(07/20/2010) The New Zealand government has caved to public pressure, announcing that it is dropping all plans to mine in protected areas. The plan to open 7,000 hectares of protected areas to mining would have threatened a number of rare and endemic species, including two frogs that are prehistoric relics virtually unchanged from amphibian fossils 150 million years old: Archey's frog (Leiopelma archeyi) and Hochstetter's frog (Leiopelma hochstetteri).
Mahogany market in US threatening the lives of uncontacted natives in the Amazon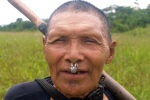 (07/20/2010) Consumers in the US purchasing mahogany furniture may be unwittingly supporting illegal logging in a Peruvian reserve for uncontacted indigenous tribes, imperiling the indigenous peoples' lives. A new report by the Upper Amazon Conservancy (UAC) provides evidence that loggers are illegally felling mahogany trees in the Murunahua Reserve where it is estimated some 200 uncontacted natives live.
30 frog species, including 5 unknown to science, killed off by amphibian plague in Panama

(07/19/2010) With advanced genetic techniques, researchers have drawn a picture of just how devastating the currently extinction crisis for the world's amphibians has become in a new study published in the Proceedings of the Nation Academy of Sciences (PNAS). Studying frog populations using DNA barcoding in Panama's Omar Torrijos National Park located in El Copé researchers found that 25 known species and 5 unknown species have vanished since 1998. None have returned.
Malaria increases 50 percent following deforestation in the Amazon

(06/16/2010) A new study shows that deforestation in the Amazon helps spread disease by creating an optimal environment for malaria-carrying mosquitoes. The study, published in the online issue of the CDC journal Emerging Infectious Diseases, found that clearing forests in the Brazilian Amazon raised incidences of malaria by almost 50 percent.
Australian rainforest plant yields possible cancer killer

(06/14/2010) A drug derived from a plant native to the Australian rainforest may prove to be a new weapon against cancer, according to the AFP. QBiotics Ltd has released a statement announcing that a drug made from the seeds of a rainforest shrub has successfully treated tumors in over 150 animals, and the company is now preparing to test the drug on humans.
World's 'number one frog' faces extinction from New Zealand government

(05/26/2010) Archey's frog is a survivor: virtually unchanged evolutionarily for 150 million years, the species has survived the comet that decimated the dinosaurs, the Ice Age, and the splitting of continents. Seventy million years ago New Zealand broke away from Australia, essentially isolating Archey's frog and its relatives from all predatory mammals. Yet, if the New Zealand government has its way this species may not survive the century, let alone the next few decades. The New Zealand government has put forward a controversial proposal to begin opening three of the nation's protected areas to mining: Great Barrier Island, Paparoa National Park, and Coromandel Peninsula where the last populations of Archey's frogs live. According to critics, the government's proposal could push Archey's frog toward extinction, while negatively impacting a number of other endangered species, beloved wild lands, and a nation driven by tourism.
When it comes to Yellow Fever, conserving howler monkeys saves lives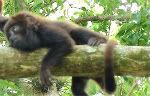 (03/29/2010) Abundant and diverse wildlife help people in many ways: for example bees pollinate plants, birds and mammals disperse seeds, bats control pest populations, and both plants and animals have produced life-saving medicines and technological advances. But how could howler monkeys save people from a Yellow Fever outbreak? A new study in the open-access journal Tropical Conservation Science explores the link between howler monkeys, mosquitoes, and humans during a recent yellow fever outbreak in the state of Rio Grande do Sul, Brazil.
Frog in Australia goes from 'extinct' to very, very endangered

(03/08/2010) Facing habitat loss, pollution, climate change, and the devastating chytrid fungus, there has been little positive news about amphibians recently. However, a story out of Australia brings a much needed respite from bad news. In 2008 Luke Pearce, a fisheries conservation officer, stumbled on a frog that had been thought to be extinct for over thirty years. Not recorded since the 1970s, Pearce rediscovered the yellow-spotted bell frog (Litoria castanea) on rural Australian farmland in the Southern Tableland of New South Wales.
Photos: Madagascar's wonderful and wild frogs, an interview with Sahonagasy

(03/03/2010) To save Madagascar's embattled and beautiful amphibians, scientists are turning to the web. A new site built by herpetologists, Sahonagasy, is dedicated to gathering and providing information about Madagascar's unique amphibians in a bid to save them from the growing threat of extinction. "The past 20 years have seen resources wasted because of a poor coordination of efforts," explains Miguel Vences, herpetologist and professor at the Technical University of Braunschweig. "Many surveys and reports have been produced that were never published, many tourists found and photographed amphibians but these photos were not made available to mapping projects, many studies carried out by Malagasy students did not make use of literature because it was not available."
Photos: ten beloved species threatened by global warming

(12/14/2009) The International Union for the Conservation of Nature (IUCN) has released a list of ten species that are likely to be among the hardest hit by climate change, including beloved species such as the leatherback sea turtle, the koala, the emperor penguin, the clownfish, and the beluga whale. The timing of the list coincides with the negotiations by world leaders at the UN Climate Change Conference to come up with an international agreement to combat climate change.
Kihansi spray toad goes extinct in the wild
(11/04/2009) This year's IUCN Red List has updated its assessment of the Kihansi spray toad, moving the species from Critically Endangered to Extinct in the Wild. With that another amphibian species has been lost to a combination of habitat loss and the devastating amphibian disease, the chytrid fungus. The Kihansi spray toad Nectophrynoides asperginis, which still survives in a number of zoos in the United States, had lived on just two hectares along the Kihansi gorge in Tanzania. The toad was specially adapted to the spray region of the Kihansi waterfall, which kept its small environment at a constant temperature and humidity.
Scientists uncover mystery of how frog plague kills its victims

(10/22/2009) One hundred and twenty species of frogs are reported to have gone extinct since 1980 (although the number is likely even higher). While devastated by habitat loss, pollution, and climate change, a baffling disease may be the biggest factor behind the alarming extinctions of frogs. Called chytridiomycosis, the disease is caused by the microscopic fungus Batrachochytrium dendrobatidis which kills its tiny victims indiscriminately.
Saving gorillas by bringing healthcare to local people in Uganda, an interview with Dr. Gladys Kalema-Zikusoka
(09/16/2009) How can bringing healthcare to local villagers in Uganda help save the Critically Endangered mountain gorilla? The answer lies in our genetics, says Dr. Gladys Kalema-Zikusoka, wildlife veterinarian and director of Conservation through Public Health (CTPH). "Because we share 98.4% genetic material with gorillas we can easily transmit diseases to each other." Therefore, explains Kalema-Zikusoka "our efforts to protect the gorillas will always be undermined by the poor public health of the people who they share a habitat with. In order to effectively improve the health of the gorillas we needed to also improve the health of the people, which will not only directly reduced the health threat to gorillas through improvement of public health practices, but also improved community attitudes toward wildlife conservation."
Did malaria come from chimps?

(08/03/2009) Malaria may have jumped from chimpanzees to humans much like AIDS did, report researchers writing in Proceedings of the National Academy of Sciences.
Ebola virus found in pigs

(07/09/2009) A variant of the deadly Ebola virus has turned up in pigs in the Philippines, report researchers writing in the journal Science.
Research into drugs derived from natural products declining

(07/09/2009) Although the majority of drugs available today have been derived from natural products, research into nature-based pharmaceuticals has declined in recent years due to high development costs and the drug approvals process. However this trend is likely to reverse due to new approaches and technologies, according researchers from the University of Alberta.
The unknown role of coextinctions in the current extinction crisis
(05/28/2009) Scientists have long recognized 'coextinctions' as a major concern when it comes to the current mass extinction crisis. Despite such recognition, however, the role of coextinctions remains largely mysterious and little-studied. A new paper attempts to address this by settling what is known (and unknown) about the phenomenon of coextinctions and where research needs to go next.
After disease engulfs island, rare mountain chicken frogs airlifted to safety

(04/23/2009) In a rescue operation that sounds straight out of an action film, 50 mountain chicken frogs were airlifted from the Caribbean island Montserrat after the discovery of Chytridomycosis, a fungal disease that has wiped out amphibian populations worldwide. Already, hundreds of the critically-endangered mountain chicken frogs succumbed to the disease, which is thought to have made its way to the island in late 2008 or early 2009.
Howler monkeys poisoned because of misinformed link to yellow fever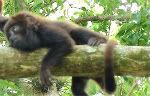 (04/22/2009) There have been numerous reports of howler monkeys poisoned in the southernmost Brazilian state of Rio Grande do Sul due to misinformation regarding the monkeys and the yellow fever virus. Some locals believed that the monkeys, which also suffer from yellow fever, were in fact the disease-carriers, but yellow fever is carried by mosquitoes not monkeys. A new campaign headed by Dr. Julio Cesar Bicca Marques wants to set the record straight. The campaign, entitled 'Save Our Guardian Angels', is working to inform the public of the actual and important role of howler monkeys in yellow fever outbreaks.
Flu epidemic killing bonobos in Congo sanctuary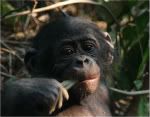 (03/29/2009) Six bonobos, a species of chimpanzee, have died from a flu epidemic in a month at the Lola Ya Bonobo in the Democratic Republic of Congo (DRC). Ten more have contracted the flu. "There is no fever. Antibiotics don't do anything. The bonobos have severe respiratory infections and then they can't breath for 3 days then they die," writes a staff member on the sanctuary's blog through the conservation organization WildlifeDirect. The staff of Lola Ya Bonobo have sent out a plea for help and donations, as the flu continues to sweep through their center.
'Stopgap' to preserve US bats from devastating fungus
(03/05/2009) Half a million bats have succumbed to a mysterious fungal disease known as white-nose syndrome in two years. Found in seven states in the northeastern US, this syndrome has left biologists baffled since first discovered in 2006. While researchers are still trying to uncover the relationship of the syndrome to the bats, a recent study published in Frontiers in Ecology and the Environment e-View suggests a way to mitigate the syndrome devastating affect. Employing a mathematical simulation the researchers found that using localized heat sources on hibernating bats may preserve populations while a long-term solution is found.
Infecting mosquitoes with parasite could reduce dengue fever outbreaks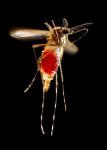 (01/05/2009) With an average of 50 million cases worldwide dengue fever is second only to malaria in terms of concern for mosquito-borne illnesses. Carried primarily by the mosquito species Aedes aegypti, the fever is usually not fatal; however a particular strain of disease can be especially dangerous to children. However, early this year new research brings hope to the tropical areas where dengue fever is prevalent. Scientists have discovered a new possibility in debilitating the mosquitoes carrying dengue fever: the Wolbachia parasite.





A cure for the Tasmanian devil's strange and fatal cancer?

(11/21/2008) Researchers have announced that two Tasmanian devils have survived a cancer devastating their species after receiving inoculations of dead tumor cells, according to the International Herald. However, the inoculations have not worked on every devil – despite being inoculated four devils died from the cancer during the work.







Does logging contribute to AIDS deaths in Africa?

(06/14/2008) Logging activities in tropical Africa may pose hidden health risks to wildlife and humans according to a veterinary pathobiologist speaking at a scientific conference in Paramaribo, Suriname.





Global warming could worsen HIV/AIDS epidemic

(04/30/2008) A number of studies have suggested that climate change could expand the range of tropical diseases like Dengue fever and Encephalitis. Now a researcher from the University of New South Wales (UNSW) in Australia says that global warming could lead to an increase in HIV infection rates worldwide.





Illegal wildlife trade worth $20B/yr

(03/19/2008) The illegal wildlife trade generates $5 to $20 billion annually, making it the largest illicit market after guns and drugs trafficking, reports a study released by the Congressional Research Service.











Clearing rainforest for cattle pasture drives surge in vampires

(08/15/2007) A new study confirms that vampire bats are thriving due to the clearing of rainforest for cattle pasture in Costa Rica. Instead of having to seek out scarce wildlife in the forest, vampire bats now prey on cattle kept in high densities on ranches.






Page 1 | Page 2