News articles on biodiesel

---
Mongabay.com news articles on biodiesel in blog format. Updated regularly.





Europe importing more palm oil for biofuels, raising risks for rainforests


(09/09/2013) Palm oil imports into Europe for use as car fuel increased by more than three-fold since 2006, raising concerns than renewable fuels targets may be contributing to deforestation, displacing marginalized communities, and driving greenhouse gas emissions in Southeast Asia, finds a new study published by the International Institute for Sustainable Development (IISD).


Sugarcane production impacting local climate in Brazil


(05/01/2013) Intensification of Brazil's sugarcane industry in response to rising demand for sugar-based ethanol could have impacts on the regional climate reports a new study by researchers from Arizona State University, Stanford University and the Carnegie Institution for Science. Following the conversion of cerrado grasslands into sugarcane in Brazil, a recent study in Geophysical Research Letters found local cooling that approached 1 degree Celsius during the growing season and maximum local warming near 1 degree Celsius post-harvest.


Despite deforestation worries, U.K. approves palm oil for power production

(03/07/2013) British Parliament has approved new government subsidies for biofuel use in U.K. power stations. Controversially the new measure would potentially subsidize fuels produced from palm oil, a move environmentalists warn could exacerbate deforestation in Africa and Southeast Asia.


Palm oil company destroys 7,000 ha of Amazon rainforest in Peru

(03/04/2013) A palm oil producer has leveled some 7,000 hectares of rainforest in the Peruvian Amazon, highlighting the risks of oil palm expansion in the world's largest tropical forest, reports El Comercio.


E.U. may eliminate subsidies for crop-based biofuels

(09/13/2012) The European Union may cap the use of crop-based biofuels over fears they can drive up food prices and aren't effective in reducing greenhouse gas emissions relative to conventional fuels, reports Reuters.


Palm oil industry hires lobbying powerhouse to overturn EPA ruling on biofuels

(05/18/2012) The palm oil industry has hired lobbying powerhouse Holland & Knight to help overturn the Environmental Protection Agency's finding that palm oil-based biodiesel fails to meet greenhouse gas emissions targets under the country's Renewable Fuels Standard, reports The Hill.


Palm oil industry lobbies EPA to reverse palm oil biofuel findings

(04/26/2012) Wilmar International, the world's largest palm oil processor and trader, has hired a major lobbying firm to overturn the Environmental Protection Agency's ruling that palm oil-based biodiesel will not meet greenhouse gas emissions standards under America's Renewable Fuels Standard, reports The Hill.


Surging demand for vegetable oil drives rainforest destruction


(03/14/2012) Surging demand for vegetable oil has emerged as an important driver of tropical deforestation over the past two decades and is threatening biodiversity, carbon stocks, and other ecosystem functions in some of the world's most critical forest areas, warns a report published last week by the Union of Concerned Scientists (UCS). But the report sees some reason for optimism, including emerging leadership from some producers, rising demand for "greener" products from buyers, new government policies to monitor deforestation and shift cropland expansion to non-forest area, and partnerships between civil society and key private sector players to improve the sustainability of vegetable oil production.


Palm oil does not meet U.S. renewable fuels standard, rules EPA

(01/27/2012) The U.S. Environmental Protection Agency (EPA) ruled on Friday that palm oil-based biofuels will not meet the renewable fuels standard due to carbon emissions associated with deforestation.


Palm oil biofuel from peatlands has big climate impact, finds study

(11/08/2011) Biofuels produced from oil palm plantations established on tropical peatlands are a substantial source of greenhouse gas emissions, reports a comprehensive new assessment conducted for the International Council on Clean Transportation (ICCT).


Could palm oil help save the Amazon?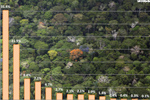 (06/14/2011) For years now, environmentalists have become accustomed to associating palm oil with large-scale destruction of rainforests across Malaysia and Indonesia. Campaigners have linked palm oil-containing products like Girl Scout cookies and soap products to smoldering peatlands and dead orangutans. Now with Brazil announcing plans to dramatically scale-up palm oil production in the Amazon, could the same fate befall Earth's largest rainforest? With this potential there is a frenzy of activity in the Brazilian palm oil sector. Yet there is a conspicuous lack of hand wringing by environmentalists in the Amazon. The reason: done right, oil palm could emerge as a key component in the effort to save the Amazon rainforest. Responsible production there could even force changes in other parts of the world.


Brazilian mining giant buys Amazon palm oil company

(02/03/2011) Vale, a Brazilian mining giant, will buy palm oil producer Biopalma da Amazonia SA Reflorestamento Industria & Comercio, reports Bloomberg.


Longtime target of green groups, Cargill, to supply sustainably-certified palm oil to Unilever


(07/30/2010) Agriculture giant Cargill has announced an agreement to supply Unilever with 10,000 metric tons of palm oil sustainably-certified from the Round Table for Sustainable Palm Oil (RSPO). Cargill has often come under fire from green groups for being linked to the rainforest destruction. The Dutch-English company Unilever—the world's biggest buyer of palm oil—has been trying to move its palm oil sources away from deforestation with a goal of sourcing only 'sustainable' palm oil by 2015.


EU mandates biofuel environmental standards to protect forests, wetlands

(06/10/2010) The E.U. today moved to establish environmental standards for biofuels used in Europe, requiring biofuels to deliver "substantial reductions" in greenhouse gas emissions and not result in conversion of forests or wetlands, according to a statement from the European Commission.


Brazil launches major push for sustainable palm oil in the Amazon


(05/07/2010) Brazilian President Lula da Silva on Thursday laid out plans to expand palm oil production in the Amazon while minimizing risk to Earth's largest rainforest. The plan, called the Program for Sustainable Production of Palm Oil (O Programa de Produção Sustentável de Óleo de Palma), will provide $60 million to promote cultivation of oil palm in abandoned and degraded agricultural areas, including long-ago deforested lands used for sugar cane and pasture. Brazilian officials claim up to 50 million hectares of such land exist in the country.


UK failing to meet biofuel sustainability standard

(02/01/2010) Only 4 percent of biofuel imported for use in the UK meets the environmental sustainability standard set by the Renewable Transport Fuel Obligation (RFTO), reports a new assessment from the Renewable Fuels Agency.


US subsidies of oil and coal more than double the subsidies of renewable energy

(09/21/2009) During the fiscal years of 2002-2008 the United States handed out subsidies to fossil fuel industries to a tune of 72 billion dollars, while renewable energy subsidies, during the same period, reached 29 billion dollars.


Concerns over deforestation may drive new approach to cattle ranching in the Amazon


(09/08/2009) While you're browsing the mall for running shoes, the Amazon rainforest is probably the farthest thing from your mind. Perhaps it shouldn't be. The globalization of commodity supply chains has created links between consumer products and distant ecosystems like the Amazon. Shoes sold in downtown Manhattan may have been assembled in Vietnam using leather supplied from a Brazilian processor that subcontracted to a rancher in the Amazon. But while demand for these products is currently driving environmental degradation, this connection may also hold the key to slowing the destruction of Earth's largest rainforest.


Oil companies in the UK are big users of palm oil biodiesel

(08/17/2009) British motorists are unwittingly big consumers of palm oil produced on rainforest lands in southeast Asia, reports The Times.


Will hydrocarbon biofuels replace gasoline and ethanol?

(08/13/2009) In a Perspectives piece in Science, John R. Regalbuto argues that the world will soon see a revolution in biofuels, but not those made from corn. Instead Regalbuto, program director of Catalysis and Biocatalysis at the National Science Foundation, says that the future of biofuels is in substances that can be converted into hydrocarbons, such as switch grass, woody biomass, corn stover, and even algae.


Issues around palm oil development prove complex, controversial


(08/12/2009) A new report from published by the Center for International Forestry Research (CIFOR) highlights the benefits — and controversies — of large-scale expansion of oil palm agriculture in Southeast Asia. The review, titled "The impacts and opportunities of oil palm in Southeast Asia: What do we know and what do we need to know?", notes that while oil palm is a highly productive and profitable crop, there are serious concerns about its environmental and social impact when established on disputed land or in place of tropical forests and peatlands.


LUSH cosmetics launches campaign against palm oil


(08/10/2009) LUSH Cosmetics, a leading cosmetics-maker, will no longer use palm oil due to environmental concerns over its production. LUSH, which is now selling a palm oil-free soap, has launched a two-pronged campaign to make consumers aware of the impacts of palm cultivation on tropical forests and encourage other consumer-products companies, including Procter & Gamble, Unilever and Nestle, to reformulate their products using alternatives to palm oil.


Limit palm oil development to lands that store less than 40 tons of carbon/ha - study

(08/06/2009) A new study finds oil palm plantations store less carbon than previously believed, suggesting that palm oil produced through the conversion of tropical forests carries a substantial carbon debt.


Smart biofuels that don't hurt people or the environment are possible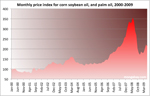 (07/16/2009) Sustainable biofuels can be a reality but only in combination with reductions in fuel demand and increased productivity on existing agricultural lands, argue researchers writing in the journal Science. Five years ago biofuels were seen as a panacea for the world's energy hunger and the need to address climate change, but increased production of biofuels soon contributed to a clutch of problems, including competition with food, resulting in rising prices, and large-scale conversion of rainforests and tropical grasslands for feedstocks, resulting in biodiversity loss and increased greenhouse gas emissions. Environmentalists and scientists condemned many biofuels — including ethanol produced from Midwestern corn ethanol and biodiesel generated from European rapeseed and Southeast Asian palm oil — as a short-sighted energy solution. Some biofuels were found to be even worse for the environment, and more costly, than conventional gasoline. However some researchers remain optimistic that smart biofuel production could help meet energy demand without hurting people or the planet. In a Science Policy Forum piece, David Tilman and colleagues explore some of these options, noting that biofuels can be produced in substantial quantities at low environmental cost


China to establish giant oil palm plantation in DR Congo

(07/10/2009) ZTE Agribusiness Company Ltd, a Chinese firm, plans to establish a one million hectare oil palm plantation in the Democratic Republic of Congo (DR Congo) for biofuel production, reports China state media.


Brazilian miner Vale signs $500M palm oil deal in the Amazon


(06/25/2009) Vale, the world's largest miner of iron ore, has signed a $500 million joint venture with Biopalma da Amazonia to produce 160,000 metric tons of palm oil-based biodiesel per year, reports Reuters. Vale says the deal will save $150 million in fuel costs starting in 2014, with palm oil biodiesel replacing up to 20 percent of diesel consumption in the company's northern operations. The biodiesel will be produced from oil palm plantations in the Amazon state of Pará. The move is likely to stir up criticism from environmentalists that fear palm oil production could soon become a major driver of deforestation in the region.


Rich countries buy up agricultural land in poor countries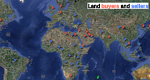 (05/26/2009) Over two-and-half million hectares in the Democratic Republic of the Congo; half a million hectares in Tanzania; and a quarter of a million hectares in Libya: these figures represent just some of the recent international land deals where wealthy countries buy up land in poorer nations for food, and sometimes biofuel, production. The controversial trend has sparked a recent report from the International Food Policy Research Institute (IFPRI) highlighting what nations have to gain—and lose—from participating in such deals.


Bioelectricity bests ethanol on two fronts: land use and global warming



(05/07/2009) Yesterday the Obama Administration established a Biofuels Interagency Working Group to oversee implementation of new rules and research regarding biofuels. On the group's first day of work they would do well to look at a new study in Science Magazine comparing the efficacy of ethanol versus bioelectricity.


Sime Darby signs palm oil deal in Liberia

(05/04/2009) Sime Darby, a Malaysian palm oil producer, will invest $800 million in palm oil and rubber plantations in Liberia, reports Reuters.


Malaysian palm oil targets the Amazon

(03/25/2009) Malaysia's Land Development Authority FELDA will soon break ground on a joint venture with a Brazilian firm to establish 30,000-100,000 hectares (75,000 - 250,000 acres) of oil palm plantations in the heart of the Amazon rainforest, reports the Malaysian Star.


80% of agricultural expansion since 1980 came at expense of forests


(02/15/2009) More than half of cropland expansion between 1980 and 2000 occurred at the expense of natural forests, while another 30 percent of occurred in disturbed forests, reported a Stanford University researcher presenting Saturday at the annual meeting of the American Association for the Advancement of Science (AAAS) in Chicago.


Finland, Sweden push for loophole that would drive destruction of peatlands around the world

(12/09/2008) Finland and Sweden are pushing for a loophole in the E.U.'s Renewable Energy Directive that would open up vast tracts of peatlands around the world to development for biofuels production. The move could have drastic consequences for climate and biodiversity, warns Wetlands International, an environmental group.


Degraded grasslands better option for palm oil production relative to rainforests, finds study

(12/03/2008) Producing biofuels from oil palm plantations established on degraded grasslands rather than tropical rainforests and peat lands would result in a net removal of carbon from the atmosphere rather than greenhouse gas emissions, report researchers writing in Conservation Biology. The results confirm that benefits to climate from biofuel production depend greatly on the type of land used for feedstocks.


Fall in palm oil price may lead to industry consolidation

(12/02/2008) A dramatic fall in palm oil prices may provide an opportunity for plantation giants to add to their holdings, reports Reuters.


Biodiversity of rainforests should not be compared with oil palm plantations says palm oil council chief

(11/11/2008) Scientists should compare the biodiversity oil palm plantations to other industrial monocultures, not the rainforests they replace, said Dr. Yusof Basiron, CEO of the Malaysian Palm Oil Council (MPOC), in a post on his blog. Basiron's comments are noteworthy because until now he has maintained that oil palm plantations are "planted forests" rather than an industrial crop.


First RSPO-certified ("eco-friendly") palm oil shipment to arrive in Europe

(11/10/2008) The first shipment of palm oil certified under the Roundtable on Sustainable Palm Oil (RSPO) is expected to arrive in Europe Tuesday, but an environmental group is already criticizing the initiative's credentials.


EU's sustainable biofuels push angers Malaysia, Brazil

(11/07/2008) Eight developing countries threatened to file a World Trade Organization complaint against the E.U. for its proposed legislation to require imported biofuels to meet environmental standards, reports Reuters.


Rainforest fungus generates biodiesel, may drive energy of the future

(11/04/2008) A fungus recently discovered in the Patagonian rainforest has shocked biologists and environmentalists: the fungus produces gas almost identical to diesel. In a paper announcing the discovery in Microbiology, scientists state that they believe the fungus, called Gliocladium roseum, could become an incredibly efficient green energy source.


Palm oil industry relies on greenwashing to mislead consumers, alleges report

(10/08/2008) The Malaysian palm oil industry is relying on marketing tactics that mislead the public about its environmental performance rather than taking effective steps to become "greener" alleges a new report from the environmental group Friends of the Earth (FOE).


Europe cuts biofuel targets to 4% in 2015, 6% in 2020

(09/12/2008) The E.U. voted to relax biofuels targets following widespread criticism of their social, economic, and environmental impacts. Thursday the European Parliament's Industry and Energy Committee said it would push a plan calling for a 5 percent share of renewables in transport fuel by 2015 and a 10 percent target by 2020, a reduction from the 20 percent target set forth in March 2007. The plan effectively cuts targets for biofuels produced from conventional feedstocks to four percent in 2015 and six percent in 2020.


Palm oil producers in Indonesia reject moratorium on forest destruction

(08/28/2008) Palm oil companies operating in Indonesia have rejected a proposed moratorium on clearing forests and peatlands for oil palm plantations, reports the Jakarta Post.


Biofuels 200 times more expensive than forest conservation for global warming mitigation

(08/27/2008) The British government should end subsidies for biofuels and instead use the funds to slow destruction of rainforests and tropical peatlands argues a new report issued by a U.K.-based think tank. The study, titled "The Root of the Matter" and published by Policy Exchange, says that "avoided deforestation" would be a more cost-effective way to address climate change, since land use change generates more emissions than the entire global transport sector and offers ancillary benefits including important ecosystem services.


Algae could yield 30 times more biofuel than soybeans, while cleaning the environment

(08/15/2008) Algae could be used as a biofuel while simultaneously cleaning up the environment, report researchers at the University of Virginia.


Facing criticism, biofuels industry forms new lobby group to influence lawmakers

(07/25/2008) Under attack by politicians, aid groups, and environmentalists for driving up food prices and fueling destruction of ecologically sensitive habitats, some of the world's largest agroindustrial firms have formed a lobby group to influence consumers and lawmakers to support continued subsidies for biofuel production, reports Reuters.


Biofuels can reduce emissions, but not when grown in place of rainforests

(07/22/2008) Biofuels meant to help alleviate greenhouse gas emissions may be in fact contributing to climate change when grown on converted tropical forest lands, warns a comprehensive study published earlier this month in the journal Environmental Research Letters. Analyzing the carbon debt for biofuel crops grown in ecosystems around the world, Holly Gibbs and colleagues report that "while expansion of biofuels into productive tropical ecosystems will always lead to net carbon emissions for decades to centuries... [expansion] into degraded or already cultivated land will provide almost immediate carbon savings." The results suggest that under the right conditions, biofuels could be part of the effort to reduce humanity's carbon footprint.


Beyond high food prices, little to show for $11B/yr in biofuel support, says OECD report

(07/17/2008) Government support of biofuel production in rich countries is squandering vast amounts of amounts of money while exacerbating the global food crisis and failing to meaningfully curb greenhouse gas emissions and improve energy security, alleges a new report from the OECD, the club of industrialized nations.


Palm oil industry moves into the Amazon rainforest

(07/09/2008) Malaysia's Land Development Authority FELDA has announced plans to immediately establish 100,000 hectares (250,000) of oil palm plantations in the Brazilian Amazon. The agency will partner with Braspalma, a local company, to form Felda Global Ventures Brazil Sdn Bhd. FELDA will have a 70 percent stake in the venture. The announcement had been expected. Last month Najib said Malaysia would seek to expand its booming palm oil industry overseas. The country is facing land constraints at home.


Britain urges 'cautious approach' on biofuels

(07/07/2008) Britain and the E.U. should exercise caution in pushing for wider use of biofuels, warns a new study commissioned by the U.K. government.


Biofuel production on abandoned lands could meet 8% of global energy needs

(06/23/2008) Using abandoned agricultural lands for biofuel production could help meet up to 8 percent of global energy needs without compromising food supplies or diminishing biologically-rich habitats, reports a new study published in the journal Environmental Science and Technology.


Nestle Chairman: Biofuels are "ethically indefensible"

(06/14/2008) The emergence and expansion of biofuels produced from food crops has exacerabted world's agriculture and water crisis and is a bigger short-term threat than global warming, argued Peter Brabeck-Letmathe in an editorial published Thursday in the Wall Street Journal Asia.



Page 1 | Page 2 | Page 3