News articles on biodiesel

---
Mongabay.com news articles on biodiesel in blog format. Updated regularly.










Commodity eco-certification skyrockets, but standards slip

(05/01/2014) The volume of commodities produced under various social and environmental certification standards jumped 41 percent in 2012, far outpacing the 2 percent growth across conventional commodity markets, finds a comprehensive new assessment of the global certification market.
Europe importing more palm oil for biofuels, raising risks for rainforests
(09/09/2013) Palm oil imports into Europe for use as car fuel increased by more than three-fold since 2006, raising concerns than renewable fuels targets may be contributing to deforestation, displacing marginalized communities, and driving greenhouse gas emissions in Southeast Asia, finds a new study published by the International Institute for Sustainable Development (IISD).
Sugarcane production impacting local climate in Brazil
(05/01/2013) Intensification of Brazil's sugarcane industry in response to rising demand for sugar-based ethanol could have impacts on the regional climate reports a new study by researchers from Arizona State University, Stanford University and the Carnegie Institution for Science. Following the conversion of cerrado grasslands into sugarcane in Brazil, a recent study in Geophysical Research Letters found local cooling that approached 1 degree Celsius during the growing season and maximum local warming near 1 degree Celsius post-harvest.
E.U. may eliminate subsidies for crop-based biofuels

(09/13/2012) The European Union may cap the use of crop-based biofuels over fears they can drive up food prices and aren't effective in reducing greenhouse gas emissions relative to conventional fuels, reports Reuters.
Palm oil industry lobbies EPA to reverse palm oil biofuel findings

(04/26/2012) Wilmar International, the world's largest palm oil processor and trader, has hired a major lobbying firm to overturn the Environmental Protection Agency's ruling that palm oil-based biodiesel will not meet greenhouse gas emissions standards under America's Renewable Fuels Standard, reports The Hill.
Surging demand for vegetable oil drives rainforest destruction
(03/14/2012) Surging demand for vegetable oil has emerged as an important driver of tropical deforestation over the past two decades and is threatening biodiversity, carbon stocks, and other ecosystem functions in some of the world's most critical forest areas, warns a report published last week by the Union of Concerned Scientists (UCS). But the report sees some reason for optimism, including emerging leadership from some producers, rising demand for "greener" products from buyers, new government policies to monitor deforestation and shift cropland expansion to non-forest area, and partnerships between civil society and key private sector players to improve the sustainability of vegetable oil production.
Could palm oil help save the Amazon?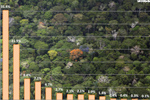 (06/14/2011) For years now, environmentalists have become accustomed to associating palm oil with large-scale destruction of rainforests across Malaysia and Indonesia. Campaigners have linked palm oil-containing products like Girl Scout cookies and soap products to smoldering peatlands and dead orangutans. Now with Brazil announcing plans to dramatically scale-up palm oil production in the Amazon, could the same fate befall Earth's largest rainforest? With this potential there is a frenzy of activity in the Brazilian palm oil sector. Yet there is a conspicuous lack of hand wringing by environmentalists in the Amazon. The reason: done right, oil palm could emerge as a key component in the effort to save the Amazon rainforest. Responsible production there could even force changes in other parts of the world.
Longtime target of green groups, Cargill, to supply sustainably-certified palm oil to Unilever
(07/30/2010) Agriculture giant Cargill has announced an agreement to supply Unilever with 10,000 metric tons of palm oil sustainably-certified from the Round Table for Sustainable Palm Oil (RSPO). Cargill has often come under fire from green groups for being linked to the rainforest destruction. The Dutch-English company Unilever—the world's biggest buyer of palm oil—has been trying to move its palm oil sources away from deforestation with a goal of sourcing only 'sustainable' palm oil by 2015.
EU mandates biofuel environmental standards to protect forests, wetlands

(06/10/2010) The E.U. today moved to establish environmental standards for biofuels used in Europe, requiring biofuels to deliver "substantial reductions" in greenhouse gas emissions and not result in conversion of forests or wetlands, according to a statement from the European Commission.
Brazil launches major push for sustainable palm oil in the Amazon
(05/07/2010) Brazilian President Lula da Silva on Thursday laid out plans to expand palm oil production in the Amazon while minimizing risk to Earth's largest rainforest. The plan, called the Program for Sustainable Production of Palm Oil (O Programa de Produção Sustentável de Óleo de Palma), will provide $60 million to promote cultivation of oil palm in abandoned and degraded agricultural areas, including long-ago deforested lands used for sugar cane and pasture. Brazilian officials claim up to 50 million hectares of such land exist in the country.
UK failing to meet biofuel sustainability standard

(02/01/2010) Only 4 percent of biofuel imported for use in the UK meets the environmental sustainability standard set by the Renewable Transport Fuel Obligation (RFTO), reports a new assessment from the Renewable Fuels Agency.
Concerns over deforestation may drive new approach to cattle ranching in the Amazon
(09/08/2009) While you're browsing the mall for running shoes, the Amazon rainforest is probably the farthest thing from your mind. Perhaps it shouldn't be. The globalization of commodity supply chains has created links between consumer products and distant ecosystems like the Amazon. Shoes sold in downtown Manhattan may have been assembled in Vietnam using leather supplied from a Brazilian processor that subcontracted to a rancher in the Amazon. But while demand for these products is currently driving environmental degradation, this connection may also hold the key to slowing the destruction of Earth's largest rainforest.
Will hydrocarbon biofuels replace gasoline and ethanol?

(08/13/2009) In a Perspectives piece in Science, John R. Regalbuto argues that the world will soon see a revolution in biofuels, but not those made from corn. Instead Regalbuto, program director of Catalysis and Biocatalysis at the National Science Foundation, says that the future of biofuels is in substances that can be converted into hydrocarbons, such as switch grass, woody biomass, corn stover, and even algae.
Issues around palm oil development prove complex, controversial
(08/12/2009) A new report from published by the Center for International Forestry Research (CIFOR) highlights the benefits — and controversies — of large-scale expansion of oil palm agriculture in Southeast Asia. The review, titled "The impacts and opportunities of oil palm in Southeast Asia: What do we know and what do we need to know?", notes that while oil palm is a highly productive and profitable crop, there are serious concerns about its environmental and social impact when established on disputed land or in place of tropical forests and peatlands.
LUSH cosmetics launches campaign against palm oil
(08/10/2009) LUSH Cosmetics, a leading cosmetics-maker, will no longer use palm oil due to environmental concerns over its production. LUSH, which is now selling a palm oil-free soap, has launched a two-pronged campaign to make consumers aware of the impacts of palm cultivation on tropical forests and encourage other consumer-products companies, including Procter & Gamble, Unilever and Nestle, to reformulate their products using alternatives to palm oil.
Smart biofuels that don't hurt people or the environment are possible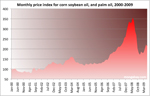 (07/16/2009) Sustainable biofuels can be a reality but only in combination with reductions in fuel demand and increased productivity on existing agricultural lands, argue researchers writing in the journal Science. Five years ago biofuels were seen as a panacea for the world's energy hunger and the need to address climate change, but increased production of biofuels soon contributed to a clutch of problems, including competition with food, resulting in rising prices, and large-scale conversion of rainforests and tropical grasslands for feedstocks, resulting in biodiversity loss and increased greenhouse gas emissions. Environmentalists and scientists condemned many biofuels — including ethanol produced from Midwestern corn ethanol and biodiesel generated from European rapeseed and Southeast Asian palm oil — as a short-sighted energy solution. Some biofuels were found to be even worse for the environment, and more costly, than conventional gasoline. However some researchers remain optimistic that smart biofuel production could help meet energy demand without hurting people or the planet. In a Science Policy Forum piece, David Tilman and colleagues explore some of these options, noting that biofuels can be produced in substantial quantities at low environmental cost
Brazilian miner Vale signs $500M palm oil deal in the Amazon
(06/25/2009) Vale, the world's largest miner of iron ore, has signed a $500 million joint venture with Biopalma da Amazonia to produce 160,000 metric tons of palm oil-based biodiesel per year, reports Reuters. Vale says the deal will save $150 million in fuel costs starting in 2014, with palm oil biodiesel replacing up to 20 percent of diesel consumption in the company's northern operations. The biodiesel will be produced from oil palm plantations in the Amazon state of Pará. The move is likely to stir up criticism from environmentalists that fear palm oil production could soon become a major driver of deforestation in the region.
Rich countries buy up agricultural land in poor countries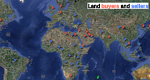 (05/26/2009) Over two-and-half million hectares in the Democratic Republic of the Congo; half a million hectares in Tanzania; and a quarter of a million hectares in Libya: these figures represent just some of the recent international land deals where wealthy countries buy up land in poorer nations for food, and sometimes biofuel, production. The controversial trend has sparked a recent report from the International Food Policy Research Institute (IFPRI) highlighting what nations have to gain—and lose—from participating in such deals.
Bioelectricity bests ethanol on two fronts: land use and global warming

(05/07/2009) Yesterday the Obama Administration established a Biofuels Interagency Working Group to oversee implementation of new rules and research regarding biofuels. On the group's first day of work they would do well to look at a new study in Science Magazine comparing the efficacy of ethanol versus bioelectricity.
Malaysian palm oil targets the Amazon

(03/25/2009) Malaysia's Land Development Authority FELDA will soon break ground on a joint venture with a Brazilian firm to establish 30,000-100,000 hectares (75,000 - 250,000 acres) of oil palm plantations in the heart of the Amazon rainforest, reports the Malaysian Star.
80% of agricultural expansion since 1980 came at expense of forests
(02/15/2009) More than half of cropland expansion between 1980 and 2000 occurred at the expense of natural forests, while another 30 percent of occurred in disturbed forests, reported a Stanford University researcher presenting Saturday at the annual meeting of the American Association for the Advancement of Science (AAAS) in Chicago.
Degraded grasslands better option for palm oil production relative to rainforests, finds study

(12/03/2008) Producing biofuels from oil palm plantations established on degraded grasslands rather than tropical rainforests and peat lands would result in a net removal of carbon from the atmosphere rather than greenhouse gas emissions, report researchers writing in Conservation Biology. The results confirm that benefits to climate from biofuel production depend greatly on the type of land used for feedstocks.
EU's sustainable biofuels push angers Malaysia, Brazil

(11/07/2008) Eight developing countries threatened to file a World Trade Organization complaint against the E.U. for its proposed legislation to require imported biofuels to meet environmental standards, reports Reuters.
Rainforest fungus generates biodiesel, may drive energy of the future

(11/04/2008) A fungus recently discovered in the Patagonian rainforest has shocked biologists and environmentalists: the fungus produces gas almost identical to diesel. In a paper announcing the discovery in Microbiology, scientists state that they believe the fungus, called Gliocladium roseum, could become an incredibly efficient green energy source.
Europe cuts biofuel targets to 4% in 2015, 6% in 2020

(09/12/2008) The E.U. voted to relax biofuels targets following widespread criticism of their social, economic, and environmental impacts. Thursday the European Parliament's Industry and Energy Committee said it would push a plan calling for a 5 percent share of renewables in transport fuel by 2015 and a 10 percent target by 2020, a reduction from the 20 percent target set forth in March 2007. The plan effectively cuts targets for biofuels produced from conventional feedstocks to four percent in 2015 and six percent in 2020.
Biofuels 200 times more expensive than forest conservation for global warming mitigation

(08/27/2008) The British government should end subsidies for biofuels and instead use the funds to slow destruction of rainforests and tropical peatlands argues a new report issued by a U.K.-based think tank. The study, titled "The Root of the Matter" and published by Policy Exchange, says that "avoided deforestation" would be a more cost-effective way to address climate change, since land use change generates more emissions than the entire global transport sector and offers ancillary benefits including important ecosystem services.
Facing criticism, biofuels industry forms new lobby group to influence lawmakers

(07/25/2008) Under attack by politicians, aid groups, and environmentalists for driving up food prices and fueling destruction of ecologically sensitive habitats, some of the world's largest agroindustrial firms have formed a lobby group to influence consumers and lawmakers to support continued subsidies for biofuel production, reports Reuters.
Biofuels can reduce emissions, but not when grown in place of rainforests

(07/22/2008) Biofuels meant to help alleviate greenhouse gas emissions may be in fact contributing to climate change when grown on converted tropical forest lands, warns a comprehensive study published earlier this month in the journal Environmental Research Letters. Analyzing the carbon debt for biofuel crops grown in ecosystems around the world, Holly Gibbs and colleagues report that "while expansion of biofuels into productive tropical ecosystems will always lead to net carbon emissions for decades to centuries... [expansion] into degraded or already cultivated land will provide almost immediate carbon savings." The results suggest that under the right conditions, biofuels could be part of the effort to reduce humanity's carbon footprint.
Palm oil industry moves into the Amazon rainforest

(07/09/2008) Malaysia's Land Development Authority FELDA has announced plans to immediately establish 100,000 hectares (250,000) of oil palm plantations in the Brazilian Amazon. The agency will partner with Braspalma, a local company, to form Felda Global Ventures Brazil Sdn Bhd. FELDA will have a 70 percent stake in the venture. The announcement had been expected. Last month Najib said Malaysia would seek to expand its booming palm oil industry overseas. The country is facing land constraints at home.
Nestle Chairman: Biofuels are "ethically indefensible"

(06/14/2008) The emergence and expansion of biofuels produced from food crops has exacerabted world's agriculture and water crisis and is a bigger short-term threat than global warming, argued Peter Brabeck-Letmathe in an editorial published Thursday in the Wall Street Journal Asia.
Cellulosic biofuels may be viable alternative to gas within 5 years

(06/02/2008) A new institute in the San Francisco Bay Area is seeking to make cellulosic biofuel an economically viable alternative to corn ethanol and gasoline within the next five years. The Joint BioEnergy Institute (JBEI), a partnership between three national laboratories and three Bay Area universities, was formed in June 2007 after the U.S. Department of Energy awarded the institute a $125 million grant to develop better methods for making liquid biofuels from the natural cellulose in trees and grasses. JBEI researchers expect cellulosic biofuels to yield more energy, produce less greenhouse gases, and have less impact on the environment than other alternatives to gasoline, such as corn ethanol.
Half of oil palm expansion in Malaysia, Indonesia occurs at expense of forests

(05/20/2008) More than half of the oil palm expansion between 1990 and 2005 Malaysia and Indonesia occurred at expense of forests, reports a new analysis published in the journal conservation Letters. Analyzing data from the United Nations Food and Agriculture Organization, Lian Pin Koh and David S. Wilcove of Princeton University found that 55-59 percent of oil palm expansion in Malaysia and at least 56 percent of that in Indonesia occurred at the expense of forests. Given that oil palm plantations are biologically impoverished relative to primary and secondary forests, the researchers recommend restricting future expansion to pre-existing cropland and degraded habitats.
UN: biofuels are starving the poor by driving up food prices

(02/14/2008) Echoing sentiments increasingly expressed by politicians, scientists, and advocates for the poor, the U.N. Food and Agriculture Organization warned that the world's poorest people are suffering as a result of the push to use food crops for biofuel production.
Biofuels are worsening global warming

(02/07/2008) Converting native ecosystems for production of biofuel feed stocks is worsening the greenhouse gas emissions they are intended to mitigate, reports a pair of studies published in the journal Science. The studies follow a series of reports that have linked ethanol and biodiesel production to increased carbon dioxide emissions, destruction of biodiverse forest and savanna habitats, and water and air pollution.
Palm oil industry prepares green initiative to counter criticism

(01/18/2008) Global food and consumer goods giants are backing a plan to certify that palm oil is produced in a way that doesn't drive destruction of tropical rainforests, reports The Wall Street Journal. The move comes as the palm industry is facing increasing scrutiny -- and consumer backlash -- for its practices which scientists say are driving large-scale destruction of forests across Indonesia and Malaysia, resulting in massive greenhouse gas emissions.
DR Congo has great potential for biofuels says U.N. official

(01/09/2008) A UN economist is touting the potential of DR Congo for industrial biofuels production, reports Reuters. In a telephone interview, Dr Schmidhuber said the worn-torn country could devote millions of acres for oil palm, soy, and other biofuel feedstocks.
Orangutan should become symbol of palm-oil opposition

(01/02/2008) In a letter published today in Nature, Oscar Venter, Erik Meijaard and Kerrie Wilson argue that proposals for conservation groups to purchase and run oil palm plantations for the purpose of generating funds for forest protection are unlikely to be successful. The concept was originally put forth by Lian Pin Koh and David S. Wilcove in a 2007 Nature article.
New process turns chicken fat into biodiesel

(12/20/2007) Chemical engineers at the University of Arkansas have devised a way to convert chicken fat into biodiesel fuel. The process advances efforts to "develop commercially viable fuel out of plentiful, accessible and low-cost feedstocks and other agricultural by-products," according to the researchers.
Palm oil is a net source of CO2 emissions when produced on peatlands

(12/17/2007) Researchers have confirmed that converting peat forests for oil palm plantations results in a large net release of carbon dioxide, indicating industry claims that palm oil helps fight climate change are unfounded, at least when plantations are established in peatlands.
Cooking oil, palm oil biodiesel can reduce emissions relative to diesel

(11/28/2007) A lifecycle analysis of biodiesel by Australia's Commonwealth Scientific and Industrial Research Organization (CSIRO) shows that using palm oil derived from existing plantations can be an effective biofuel feedstock for reducing greenhouse gas emissions relative to conventional diesel fuel. However, palm oil sourced from rainforest and peatlands generating emissions 8 to 21 times greater than those from diesel.
Does palm oil alleviate rural poverty in Malaysia?

(10/23/2007) While it is often argued that the economic benefits of oil palm plantations outweigh the environmental costs of converting biodiverse ecosystems to monocultures, new analysis suggests that the role of plantations in reducing rural poverty may be overstated.
Environmentalists and palm oil producers should work together

(09/25/2007) Environmentalists and palm-oil producers are increasingly at odds. Greens groups say palm oil is driving the conversion of tens of thousands of hectares of peatlands and lowland forest in Indonesia, putting wildlife at risk, increasing the vulnerability of forests to fires, and triggering large emissions of greenhouse gases.
China urged to join sustainable soy efforts in the Amazon

(09/12/2007) Brazilian soy crushers have urged China to join an alliance to promote sustainable soybean production in the Amazon, according to Reuters. Brazil, soon to be the world's largest producer of soybeans, recently formed the Global Roundtable on Responsible Soy Association as concerns grow that global demand for biofuels will level the Amazon rainforest. Environmentalists say demand from China is playing an important role in surging soybean production in the region.
Guidelines to ensure biofuels production won't hurt the environment

(08/30/2007) Environmentalists have long seen biofuels as a means to improve the sustainability of transportation and energy use since they are a renewable source of energy that can be replenished on an ongoing basis. Further, because biofuels are generally derived from plants, which absorb carbon from the atmosphere as they grow, biofuel production offers the potential to help offset carbon dioxide emissions and mitigate climate change. Nonetheless, in recent years, there has been considerable backlash against biofuels, which are increasingly viewed as a threat to the environment. Green groups now point to large-scale land conversion for energy crops, higher food prices, and a spate to studies that suggest net emissions from corn ethanol are little better than those from fossil fuels, to caution that biofuels can cause more problems than they address.
Indonesia's peatlands may offer U.S. firms global warming offsets

(08/29/2007) The following is modified version of a letter I've used to pitch U.S. companies on the concept of carbon finance in Indonesia's peatlands. Discussions are slow and the critical December U.N. climate meeting is fast approaching, so I'm posting this as a tool to help you get American firms interested in avoided deforestation offsets. Please feel free to use, modify, and distribute this letter widely.
NGOs should use palm oil to drive conservation

(08/29/2007) Environmentalists view the expansion of oil palm plantations in southeast Asia as one of the greatest threats to the region's forests and biodiversity. Campaigners say oil palm is driving the conversion of tens of thousands of hectares of peatlands and lowland forest in Indonesia and Malaysia, putting wildlife at risk, increasing the vulnerability of the forests to fires, and triggering large emissions of greenhouse gases. Pressure from these groups have in recent months convinced European policymakers to reconsider sourcing energy crop production to the region.
How private equity can profit from carbon offsets in Indonesia

(08/29/2007) The emerging carbon market for avoided deforestation presents unprecedented opportunities for private equity to make profitable investments that also help protect the environment. Indeed, for the first time, conservation may be associated with positive financial returns. Here's a brief look at how private equity and other investors can capitalize on this opportunity to earn attractive returns while fighting climate change, protecting ecosystem services, and safeguarding endangered species like orangutans.
Could peatlands conservation be more profitable than palm oil?

(08/22/2007) This past June, World Bank published a report warning that climate change presents serious risks to Indonesia, including the possibility of losing 2,000 islands as sea levels rise. While this scenario is dire, proposed mechanisms for addressing climate change, notably carbon credits through avoided deforestation, offer a unique opportunity for Indonesia to strengthen its economy while demonstrating worldwide innovative political and environmental leadership. In a July 29th editorial we argued that in some cases, preserving ecosystems for carbon credits could be more valuable than conversion for oil palm plantations, providing higher tax revenue for the Indonesian treasury while at the same time offering attractive economic returns for investors.
Biofuels driving destruction of Brazilian cerrado

(08/21/2007) The cerrado, wooded grassland in Brazil that once covered an area half the size of Europe, is fast being transformed into croplands to meet rising demand for soybeans, sugarcane, and cattle. The cerrado is now disappearing more than twice as the rate as the neighboring Amazon rainforest, according to a Brazilian expert on the savanna ecosystem.
conservation more effective than biofuels for fighting global warming

(08/15/2007) Conserving forests and grasslands may be a more effective land-use strategy for fighting climate change than growing biofuel crops argues a new paper published in the journal Science. Comparing emissions from various fuel crops versus carbon storage in natural ecosystems, Renton Righelato and Dominick Spracklen write that "forestation of an equivalent area of land would sequester two to nine times more carbon over a 30-year period than the emissions avoided by the use of the biofuel."
Is peat swamp worth more than palm oil plantations?

(07/16/2007) Could peat swamp be worth more intact for their carbon value than palm oil plantations for their oil? Quick analysis suggests yes, though binding limits on emissions will be needed to trigger the largest ever flow of money from the industrialized world to developing countries. At stake: the bulk of the world's biodiversity.
McDonald's bolsters eco credentials with recycled biodiesel

(07/09/2007) McDonald's Corp. (Public, NYSE:MCD), the fast-food chain, has bolstered its 'green' credentials by announcing that its UK distribution fleet will be powered by biodiesel made of recycled cooking oil from its restaurants. While the move is expected to save only around 1,675 tons of carbon annually, environmentalists say it sets an important precedent for the parent company and the fast-food industry as a whole.
98% of orangutan habitat gone in next 15 years

(06/11/2007) Indonesia is losing more than 2.1 million hectares (5.2 million acres) of forest a year to illegal loggers, states a new report from the U.N. Environment Program (UNEP). The report, which estimates the value of illicit timbering at $4 billion annually, warns that 98 percent of Indonesia's lowland forests will be gone by 2022, putting species like the orangutan at risk of extinction in the wild. The report, Last stand of the Orang-utan: State of Emergency, was released Monday at the Convention on International Trade in Endangered Species meeting in The Hague.
Can cattle ranchers and soy farmers save the Amazon?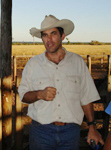 (06/06/2007) John Cain Carter, a Texas rancher who moved to the heart of the Amazon 11 years ago and founded what is perhaps the most innovative organization working in the Amazon, Alianca da Terra, believes the only way to save the Amazon is through the market. Carter says that by giving producers incentives to reduce their impact on the forest, the market can succeed where conservation efforts have failed. What is most remarkable about Alianca's system is that it has the potential to be applied to any commodity anywhere in the world. That means palm oil in Borneo could be certified just as easily as sugar cane in Brazil or sheep in New Zealand. By addressing the supply chain, tracing agricultural products back to the specific fields where they were produced, the system offers perhaps the best market-based solution to combating deforestation. Combining these approaches with large-scale land conservation and scientific research offers what may be the best hope for saving the Amazon.
Indonesia: No more rainforest clearing for palm oil

(06/05/2007) Indonesian Minister for Environment Rachmat Witoelar said Indonesia will not allow palm oil producers to clear primary forests for establishing plantations, reports Bloomberg. Indonesia is expected to surpass Malaysia as the world largest producer of palm oil this year. The government hopes to add 7 million hectares of plantations by 2011.
Globalization could save the Amazon rainforest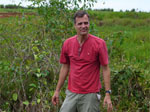 (06/03/2007) The Amazon basin is home to the world's largest rainforest, an ecosystem that supports perhaps 30 percent of the world's terrestrial species, stores vast amounts of carbon, and exerts considerable influence on global weather patterns and climate. Few would dispute that it is one of the planet's most important landscapes. Despite its scale, the Amazon is also one of the fastest changing ecosystems, largely as a result of human activities, including deforestation, forest fires, and, increasingly, climate change. Few people understand these impacts better than Dr. Daniel Nepstad, one of the world's foremost experts on the Amazon rainforest. Now head of the Woods Hole Research Center's Amazon program in Belem, Brazil, Nepstad has spent more than 23 years in the Amazon, studying subjects ranging from forest fires and forest management policy to sustainable development. Nepstad says the Amazon is presently at a point unlike any he's ever seen, one where there are unparalleled risks and opportunities. While he's hopeful about some of the trends, he knows the Amazon faces difficult and immediate challenges.
EU will demand sustainable biofuel production

(05/24/2007) The European Commission is planning new criteria to ensure that biofuels are produced in an environmentally-friendly manner, reports Reuters. The move comes a month after the Dutch issued voluntary guidelines for biofuel production.
Environmental concerns mount as palm oil production grows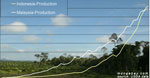 (05/15/2007) The booming market for palm oil is driving record production but fueling rising concerns over the environmental impact of the supposedly "green" bioenergy source. The two leading producers of palm oil, Malaysia and Indonesia, have rapidly expanded palm oil production in recent years, often at the expense of biodiverse rainforests and carbon-rich peatlands that store billions of tons of greenhouse gases. Environmentalists say that due to these factors, burning of palm oil can at times be more damaging the global climate than the use of fossil fuels.
UN warns on dangers of bioenergy

(05/09/2007) Biofuels offer "an extraordinary opportunity" to reduce greenhouse gas emissions but could make "substantial demands on the world's land and water resources at a time when demand for both food and forest products is also rising rapidly," said the U.N. in its first assessment on the growing bioenergy industry.
Cleantech investment booms, but energy tech bubble looms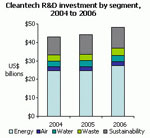 (04/30/2007) Investors are pouring money into clean technology, with spending on R&D rising to $48 billion in 2006, up 9% from 2005, reports a new study by Lux Research, an emerging technology research and advisory firm. However, the report warns that the energy technology sector is showing signs of a bubble, with initial public offering (IPO) values and venture capital deployments more than doubling last year.
Dutch plan restricts biofuels that damage environment
(04/29/2007) The Netherlands has proposed a system to reduce the environmental impact of biofuels production. The country becomes the first in the world to establish such guidelines. Environmentalists have expressed increasing concern for the establishment of energy crops in biodiverse and carbon-rich ecosystems like the peatlands of Indonesia and the Amazon rainforest. They say that conversion of these forests for oil palm and soybeans is threatening endangered species and worsening global warming. Further, they warn, demand for such biomass energy products is driving up prices for food crops.
Dutch will demand rainforest-friendly palm oil
(04/27/2007) In a report scheduled to be released today, the Dutch government will outline criteria for growing biofuels in a more sustainable manner. The guidelines will be closely watched by the rest of Europe, which is currently struggling with the environmental pros and cons of large-scale energy crop production, especially in ecologically-sensitive areas like the Amazon and Indonesian rainforests.
Biodiesel may worsen global warming relative to petroleum diesel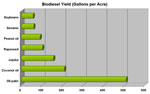 (04/23/2007) Biodiesel made from rapeseed could increase rather than reduce greenhouse emissions compared to conventional diesel fuels, reports a new study published in the journal Chemistry & Industry. Overall the researchers found that petroleum diesel and rapeseed biodiesel, presently the main biofuel used across Europe, have a similar environmental impact. The results suggest that efforts to mitigate climate change through the adoption of rapeseed biodiesel may be of little use beyond energy security.




Page 1 | Page 2