News articles on animals

---
Mongabay.com news articles on animals in blog format. Updated regularly.





Ivory smuggling surged in 2011

(12/23/2012) Ivory smuggling surged in 2011, reaching its highest levels in nearly 20 years, says a new report released by the Convention on International Trade in Endangered Species of Wild Fauna and Flora (CITES).


Photos: one of the world's rarest turtles hatches at the Bronx Zoo

(12/21/2012) Turtle conservationists received some good news this week when five critically endangered Chinese yellow-headed box turtles hatched at Wildlife Conservation Society's Bronx Zoo.


Photos: 3 colorful lizard species discovered in Australia

(12/19/2012) Researchers in Australia have described three new lizard species from the northwestern part of the continent.


Pictures: 126 new species discovered in Greater Mekong region last year

(12/18/2012) Some 126 new species were described in Asia'a Mekong region last year, notes a new report published by the World Wildlife Fund (WWF).


From catastrophic to the sustainable: the flight of the Amur Falcon


(12/17/2012) It is said that the price of 'freedom and justice' is constant vigilance. It seems the same can be said of conservation and sustainability in our ever changing world. In a story and allegory appropriate for many of the challenges that face our global environment, two Indian conservation champions, Shashank Dalvi and Ramki Sreenivasan (both protégés and associates of famed conservation leader, Dr Ullas Karanth of the WCS India), have stepped to work with a host of international and local interests to help save one species of beleaguered bird, the Amur Falcon of Eurasia.


New species of cute, but venomous, primate discovered in Borneo

(12/13/2012) Researchers have described a new species of slow loris, a type of primate that is imperiled by the pet trade.


Rainforests teem with insects, most of which are unknown, finds study

(12/13/2012) Researchers in Panama have published the results of the most comprehensive survey of arthropods in a small area of tropical rainforest. At a high level, the findings surprise no one: the Panamanian rainforest is full of insects, spiders, and crustaceans. Yet the results also show how little is known about this large group of organisms — 60-70 percent of the species are thought to be new to science.


Rare jungle cat filmed for only the second time

(12/12/2012) A biologist on vacation in Malaysian Borneo caught one of the world's rarest cats on video for only the second time, reports the BBC.


Western scrub jay funerals...what's all the ruckus?


(12/10/2012) The western scrub jay (Aphelocoma californica) is a common denizen of suburban neighborhoods in the U.S., loitering at bird feeders and amusing bird watchers with their entertaining antics. Known to birders as 'WESJ,' this handsome bird is non-migratory and territorial during the breeding season, but what's curious about WESJ's is the way they respond to risks in their environment. When descended on by a predator or encountering a dead member of its kind, these birds hop from perch to perch and call loudly, ensuing in a 'cacophonous reaction,' a term coined by researchers at the University of California, Davis who are studying the behavior of these unique birds.


New inroads made into bushmeat consumption in Tanzania

(12/10/2012) Bushmeat consumption, or "wildlife hunted for human consumption," poses a significant threat to wildlife conservation all across the globe. But in Eastern Africa—where savannah grasslands flourish and big game roam free within 'protected' reserves—one may be forgiven to think that poaching does not occur here: but it does.


Vanishing corridors: trying to keep big animals on the move across Tanzania


(12/10/2012) One of the biggest challenges for big African wildlife like lions, elephants, and buffalo is movement across native habitat that is increasingly being encroached on by humans. Animals find their movement restricted by roads, fences, and property boundaries which fragment the landscape. Without safe, smart, and well-maintained corridors between designated wildlife areas, animals can get cut off from resources needed for survival and from potential mates (putting genetic health at risk), even while conflicts with humans become more frequent.


A new method to monitor stray dog abundance

(12/10/2012) Free-roaming dogs (Canis familiaris) can fill a variety of ecological roles including competitor, predator, prey, and transmitter of disease to both wildlife and people with particular concern for rabies. A range of methods has been used to control dog populations, but monitoring dogs is a critical part of assessing the effectiveness of these methods.


California researchers discover 137 new species in 2012

(12/07/2012) Researchers at the California Academy of Sciences in San Francisco formally described 137 previously unknown species during 2012, including 83 arthropods, 41 fish, seven plants, four sea slugs, one reptile, and one amphibian.


Okapi Conservation Project wins mongabay's 2012 conservation award


(12/06/2012) A group that works to protect the rare okapi, a type of forest giraffe found only in the Congo Basin, has has won mongabay.com's 2012 conservation award. The Okapi Conservation Project has been working to protect the okapi and its habitat in the Democratic Republic of Congo (DRC) for 25 years. The group was instrumental in establishing the Okapi Wildlife Reserve, a 13,700-square-kilometer tract of wilderness in the Ituri Forest of northeastern DRC. While the Okapi Conservation Project has had a long track record of success, earlier this year it was devastated by a brutal attack on the reserve's headquarters. Two wildlife rangers were among the six people killed during June 24 assault.


Forests, farming, and sprawl: the struggle over land in an Amazonian metropolis


(12/04/2012) The city of Parauapebas, Brazil is booming: built over the remains of the Amazon rainforest, the metropolis has grown 75-fold in less than 25 years, from 2,000 people upwards of 150,000. But little time for urban planning and both a spatial and mental distance from the federal government has created a frontier town where small-scale farmers struggle to survive against racing sprawl, legal and illegal mining, and a lack of investment in environmental protection. Forests, biodiversity, and subsistence farmers have all suffered under the battle for land. In this, Parauapebas may represent a microcosm both of Brazil's ongoing problems (social inequality, environmental degradation, and deforestation) and opportunity (poverty alleviation, reforestation, and environmental enforcement).


Lion population falls 68 percent in 50 years


(12/04/2012) African lions, one of the most iconic species on the planet, are in rapid decline. According to a new study in Biodiversity Conservation, the African lion (Panthera leo leo) population has dropped from around 100,000 animals just fifty years ago to as few as 32,000 today. The study, which used high resolution satellite imagery to study savannah ecosystems across Africa, also found that lion habitat had plunged by 75 percent.


Africa's great savannahs may be more endangered than the world's rainforests


(12/04/2012) Few of the world's ecosystems are more iconic than Africa's sprawling savannahs home to elephants, giraffes, rhinos, and the undisputed king of the animal kingdom: lions. This wild realm, where megafauna still roam in abundance, has inspired everyone from Ernest Hemingway to Karen Blixen, and David Livingstone to Theodore Roosevelt. Today it is the heart of Africa's wildlife tourism and includes staunch defenders such as Richard Leakey, Michael Fay, and the Jouberts. Despite this, the ecosystem has received less media attention than imperiled ecosystems like rainforests. But a ground-breaking study in Biodiversity Conservation finds that 75 percent of these large-scale intact grasslands have been lost, at least from the lion's point of view.


Pledge to end wildlife trafficking for Wildlife Conservation Day

(12/04/2012) Today has been dubbed the first ever global Wildlife Conservation Day. To honor it, a coalition of conservation groups—including WWF and Wildlife Conservation Society (WCS)—are working to raise awareness of illegal wildlife trafficking. Poaching for traditional medicine, bushmeat, and other products has put innumerable species at risk, including tigers, rhinos, sharks, and elephants.


Animals dissolving due to carbon emissions


(12/03/2012) Marine snails, also known as sea butterflies, are dissolving in the Southern Seas due to anthropogenic carbon emissions, according to a new study in Nature GeoScience. Scientists have discovered that the snail's shells are being corroded away as pH levels in the ocean drop due to carbon emissions, a phenomenon known as ocean acidification. The snails in question, Limacina helicina antarctica, play a vital role in the food chain, as prey for plankton, fish, birds, and even whales.


Despite small brains, gray mouse lemurs use calls to avoid inbreeding


(12/03/2012) As a small-brained and largely solitary primate, the gray mouse lemur (Microcebus murinus) wasn't supposed to have the capacity to distinguish the calls of its kin calls from other lemurs. However, a new study in BMC Ecology, finds that a female gray mouse lemur is able to determine the mating calls of its father, allowing it avoid inbreeding. The discovery challenges the long-held belief that only large-brained, highly social animal are capable of determining kin from calls.


New Guinea singing dog photographed in the wild for the first time

(12/03/2012) A rarely seen canine has been photographed in the wild, likely for the first time. Tom Hewitt, director of Adventure Alternative Borneo, photographed the New Guinea singing dog during a 12-day expedition up a remote mountain in Indonesian Papua. Very closely related to the Australian dingo, the New Guinea singing dog, so named for its unique vocalizations, has become hugely threatened by hybridization with domesticated dogs.


Featured video: turning yards and neighborhoods into wildlife habitat

(12/03/2012) A new animation by the American Society of Landscape Architects introduces viewers to the benefits of making their yards and neighborhoods wildlife friendly. By focusing on the threat of sprawl to biodiversity, the video shows how urban and suburban residents can use native plants, freshwater, and wildlife-friendly structures to allow a space for nature, and, possibly even help create and maintain corridors for wild animals.


Reduction in snow threatens Arctic seals


(11/28/2012) Arctic snowfall accumulation plays a critical role in ringed seal breeding, but may be at risk due to climate change, according to a new study in Geophysical Research Letters. Sea ice, which is disappearing at an alarming rate, provides a crucial platform for the deep snow seals need to reproduce. Ringed seals (Phoca hispida) require snow depths of at least 20 centimeters (8 inches): deep enough to form drifts that seals use as birth chambers.


Photos: Chinese leopard wins camera trap contest


(11/27/2012) The third annual BBC Wildlife Magazine Camera Trap Photo of the Year contest has produced some stunning and surprising images, including a snow leopard sticking its tongue out, a rare giant pangolin, and wrestling monitor lizards. But the winner this year was the perfect shot of a young leopard in China.


Legislation leaves future of world's largest temperate rainforest up in the air


(11/27/2012) Although unlikely to pass anytime in the near term, recurring legislation that would hand over 80,000 acres of the Tongass Rainforest to a Native-owned logging corporation has put local communities on guard in Southeast Alaska. "The legislation privatizes a public resource. It takes land that belongs to all of us, and that all of us have a say in the use and management of, and it gives that land to a private for-profit corporation," Andrew Thoms, Executive Director of the Sitka Conservation Society, told mongabay.com in a recent interview.


Endangered muriqui monkeys in Brazil full of surprises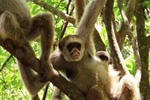 (11/26/2012) On paper, the northern muriquis (Brachyteles hypoxanthus) look like a conservation comeback story. Three decades ago, only 60 of the gentle, tree-dwelling primates lived in a fragment of the Atlantic Forest along the eastern coast of Brazil. Now there are more than 300. But numbers don't tell the whole story, according to anthropologist Karen Strier and theoretical ecologist Anthony Ives of the University of Wisconsin, Madison. The pair analyzed 28 years of data on the demographics of the muriquis, one of the longest studies of its kind. They found surprising patterns about birth and death rates, sex ratios, and even how often the monkeys venture out of their trees. These findings raise questions about the muriquis' long-term survival and how best to protect them, the scientists wrote in the Sept 17 issue of PLoS ONE.


Wolves, mole rats, and nyala: the struggle to conserve Ethiopia's highlands


(11/20/2012) There is a place in the world where wolves live almost entirely off mountain rodents, lions dwell in forests, and freshwater rolls downstream to 12 million people, but the place—Ethiopia's Bale Mountains National Park—remains imperiled by a lack of legal boundaries and encroachment by a growing human population. "Much of the land in Africa above 3,000 meters has been altered or degraded to the point where it isn't able to perform most of the ecosystem functions that it is designed to do. Bale, although under threat and already impacted to a degree by anthropogenic activities, is still able to perform its most important ecosystem functions, and as such ranks among only a handful of representative alpine ecosystems in Africa."


Mystery animal in Borneo not such a mystery after all, or is it?


(11/20/2012) An unknown mammal was recently killed in the Malaysian State of Sarawak. According to the Borneo Post, a Sarawak newspaper, this animal, described as mixture between a bear and a boar, had attacked two people on two different occasions before it was killed. Local people had never seen it before and had no idea what it could be. The news even made it onto the popular Discovery news website. Comments following the article made various suggestions as to the animal's identity. These ranged from binturong, the large frugivorous civet of Bornean forest to what was jokingly referred to as 'Beaboar'. A few commentaries got it right. The animal was indeed a Sunda Stink-badger, or Mydaus javanensis


Great apes suffer mid-life crisis too


(11/19/2012) Homo sapiens are not alone in experiencing a dip in happiness during middle age (often referred to as a mid-life crisis) since great apes suffer the same according to new research in the Proceedings of the National Academy of Sciences (PNAS). A new study of over 500 great apes (336 chimpanzees and 172 orangutans) found that well-being patterns in primates are similar to those experience by humans. This doesn't mean that middle age apes seek out the sportiest trees or hit-on younger apes inappropriately, but rather that their well-being starts high in youth, dips in middle age, and rises again in old age.


Bats face new perils from climate change


(11/15/2012) Global climate change could devastate bat populations around the world, threatening to tear yet another thread from the tapestry of biodiversity should current temperature trends persist, according to a new study. "Bats were the focus for this study because they are relatively understudied but due to their sensitivity to environmental stress, they are excellent indicators of climate change," Hayley Ann Sherwin, co-author of the paper published in Mammal Review, with the Queen University in Belfast, told mongabay.com.


House windows may kill 22 million Canadian birds each year


(11/15/2012) The sickening thud of a bird crashing into a window is an all-too-familiar sound for many Canadian homeowners. Birds often mistake windows for openings, flying into the glass at full speed. A startling new analysis suggests about 22 million Canadian birds die each year from such crashes, researchers reported Sept. 4 in Wildlife Research.


Clever crows may grasp hidden causes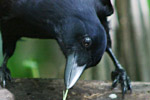 (11/15/2012) Crows may be imagining more than we imagined. New research suggests certain crows make decisions based on factors they can't see. A recent study published in the Proceedings of the National Academy of Sciences (PNAS) deepens our understanding of these crafty corvids, and could help explain how human reasoning evolved. Crows are intelligent problem solvers, capable of making hook-shaped tools to retrieve food and using multiple tools in a logical sequence. New Caledonian crows (Corvus moneduloides) are particularly adept tool users, and have often been the subject of cognitive research. In this study, the New Zealand–based researchers tested whether New Caledonian crows could trace an event back to a cause that was hidden from their view.


New species of bioluminescent cockroach possibly already extinct by volcanic eruption


(11/14/2012) While new species are discovered every day, Peter Vršanský and company's discovery of a light-producing cockroach, Lucihormetica luckae, in Ecuador is remarkable for many reasons, not the least that it may already be extinct. The new species represents the only known case of mimicry by bioluminescence in a land animal. Like a venomless king snake beating its tail to copy the unmistakable warning of a rattlesnake, Lucihormetica luckae's bioluminescent patterns are nearly identical to the poisonous click beetle, with which it shares (or shared) its habitat.


Controversial wolf hunt moves to the Midwest, 196 wolves killed to date


(11/14/2012) The hugely controversial wolf hunt in the U.S. has spread from the western U.S. (Montana, Idaho, and Wyoming) to the Midwest (Minnesota and Wisconsin) this year. Although the wolf hunt is less than a month old in the region—and only eleven days old in Minnesota—196 animals so far have been shot. As in the west, the wolf hunt has raised hackles among environmentalists along with fierce defenders among hunters. Wolves, which were protected under the the Endangered Species Act (ESA) since 1973, were stripped of that status by legislation in 2009, opening the door—should a state choose—to trophy hunting.


Mountain gorilla population up by over 20 percent in five years

(11/13/2012) A mountain gorilla census in Uganda's Bwindi Impenetrable National Park has a population that continues to rise, hitting 400 animals. The new census in Bwindi means the total population of mountain gorillas (Gorilla beringei beringei) has reached 880—up from 720 in 2007—and marking a growth of about 4 percent per year.


Cute animal picture of the day: baby giraffe

(11/12/2012) Reticulated giraffes (Giraffa camelopardalis reticulata), one of nine subspecies, are found in Somalia, Kenya, and Ethiopia. The world's tallest land animal, giraffes can stand as high as 5–6 meters (16–20 feet).


Conservationists turn camera traps on tiger poachers


(11/12/2012) Remote camera traps, which take photos or video when a sensor is triggered, have been increasingly used to document rare and shy wildlife, but now conservationists are taking the technology one step further: detecting poachers. Already, camera traps set up for wildlife have captured images of park trespassers and poachers worldwide, but for the first time conservationists are setting camera traps with the specific goal of tracking illegal activity.


Tanzania weighs new soda ash plant in prime flamingo territory


(11/08/2012) In a choice between flamingoes and a soda ash plant, a new report shows that local residents near Lake Natron, Tanzania prefer flamingoes. This is good news for conservationists as the area is the most important breeding site in the world for lesser flamingos (Phoenicopterus minor). While the report shows agreement between residents and conservation groups that the project isn't worth its cost or risk, the Tanzanian government is not giving up yet.


Meet Cape Town's volunteer 'toad shepherds'


(11/08/2012) August marks the last month of winter in South Africa, and, as temperatures begin to rise, activists in Cape Town prepare for a truly unique conservation event. Every year at this time western leopard toads (Amietophrynus pantherinus) endemic to the region and Critically Endangered, embark on a night-time migration through Cape Town from their homes in the city's gardens to the ponds they use as breeding sites—as far as three kilometers away. This season over one hundred volunteers took to the streets, flashlights in hand, to assist the toads in navigating the increasing number of man-made obstacles in their path. Among them was life-long resident and mother, Hanniki Pieterse, who serves as an organizer for volunteers in her area.


Development halted in crucial wildlife corridor in Malaysia


(11/07/2012) Kenyir Wildlife Corridor in northeast Malaysia is teeming with wildlife: elephants, gibbons, tigers, tapirs, and even black panthers (melanistic leopards) have been recorded in the 60 kilometer (37 mile) stretch of forest. In fact, researchers have recorded over 40 mammal species (see species list below), including 15 threatened with extinction according to the IUCN Red List. When these findings were presented by scientists to the Terengganu state government action followed quickly: all development projects have been halted pending a government study.


Threatened Galapagos coral may predict the future of reefs worldwide


(11/07/2012) The Galapagos Islands have been famous for a century and a half, but even Charles Darwin thought the archipelago's list of living wonders didn't include coral reefs. It took until the 1970s before scientists realized the islands did in fact have coral, but in 1983, the year the first major report on Galapagos reef formation was published, they were almost obliterated by El Niño. This summer, a major coral survey found that some of the islands' coral communities are showing promising signs of recovery. Their struggle to survive may tell us what is in store for the rest of the world, where almost three-quarters of corals are predicted to suffer long-term damage by 2030.


Over 100,000 farmers squatting in Sumatran park to grow coffee


(11/06/2012) Sumatra's Bukit Barisan Selatan National Park—home to the Critically Endangered Sumatran rhinos, tigers, and elephants—has become overrun with coffee farmers, loggers, and opportunists according to a new paper in Conservation and Society. An issue facing the park for decades, the study attempted for the first time to determine the number of squatters either living in or farming off Bukit Barisan Selatan National Park, a UNESCO World Heritage Site; the rough census—over 100,000 people—shocked scientists.


New rare frog discovered in Sri Lanka, but left wholly unprotected


(11/05/2012) Sri Lanka, an island country lying off the southeast coast of India, has long been noted for its vast array of biodiversity. Islands in general are renowned for their weird and wonderful creatures, including high percentages of endemic species—and Sri Lanka, where scientists recently discovered a new frog species, is no exception.


'The ivory trade is like drug trafficking' (warning graphic images)


(11/05/2012) For the past five years, Spanish biologist Luis Arranz has been the director of Garamba National Park, in the Democratic Republic of Congo (DRC). Arranz and a team of nearly 240 people, 140 guards among them, work to protect a vast area of about 5,000 square kilometers (1,930 square miles) of virgin forest, home to a population of more than 2.300 elephants that are facing a new and more powerful enemy. The guards are encountering not only bigger groups of poachers, but with ever more sophisticated weapons. According to Arranz, armed groups such as the Lord's Resistance Army from Uganda are now killing elephants for their ivory.


Artificial 'misting system' allows vanished toad to be released back into the wild


(11/01/2012) In 1996 scientists discovered a new species of dwarf toad: the Kihansi spray toad (Nectophrynoides asperginis). Although surviving on only two hectares near the Kihansi Gorge in Tanzania, the toads proved populous: around 17,000 individuals crowded the smallest known habitat of any vertebrate, living happily off the moist micro-habitat created by spray from adjacent waterfalls. Eight years later and the Kihansi spray toad was gone. Disease combined with the construction of a hydroelectric dam ended the toads' limited, but fecund, reign.


Above the ocean: saving the world's most threatened birds


(11/01/2012) A life on the ocean is a perilous one for any bird. They must expend energy staying aloft for thousands of miles and learn to be marathon swimmers; they must seek food beneath treacherous waves and brave the world's most extreme climates; they must navigate the perils both of an unforgiving sea and far-flung islands. Yet seabirds, which includes 346 global species that depend on marine ecosystems, have evolved numerous strategies and complex life histories to deal with the challenges of the sea successfully, and they have been doing so since the dinosaur's last stand. Today, despite such a track record, no other bird family is more threatened; yet it's not the wild, unpredictable sea that endangers them, but pervasive human impacts.


Mysteries surrounding the legendary and vanishing oriental bald ibis


(10/31/2012) In a remote corner of the Ethiopian highlands in January 2011, the bright tropical light combined with the fresh and thin air at 3,600 metres. The Ethiopian bird-watching guide and conservationist, Yilma Dellelegn, from the Ethiopian Wildlife Society, was startled when he spotted two un-ringed young bald ibises, together with two ringed and well known adult females (Zenobia and Salam) at their wintering site. Considering the dwindling numbers, two unaccounted for young birds, literally popping out of the blue, were a great surprise—and precious! The sighting had the potential to raise intriguing geographic and behavioral questions: in fact, the riddle of the migration and wintering strategy of the oriental northern bald ibis (Geronticus eremita) was still half way from being solved.


Leopard poaching is a bigger problem in India than previously believed


(10/31/2012) A recent study conducted by wildlife trade monitoring group TRAFFIC uncovered unnerving statistics about the illegal trade of leopards (Panthera pardus) in India: at least four leopards have been poached every week for the past decade in the country. The study, entitled Illuminating the Blind Spot: A study on illegal trade in Leopard parts in India, highlights the severity of leopard poaching from 2001 to 2010, despite preventative measures established in 1972 by the Wildlife Protection Act (WLPA) that prohibit the sale of leopard parts in India.


Photo: high-altitude bird rediscovered after 80 years


(10/29/2012) In 1929 the U.S. Stock Market collapsed, the Geneva Convention set standards for prisoners of war, the first Academy Awards was celebrated, and Jérôme Alexander Sillem collected two bird specimens on a high plateau in Xinjiang, China. For 62 years, the specimens sat in a drawer at the Zoological Museum of Amsterdam until C. S. Roselaar found them, studied them, and determined they, in fact, represented a new species of bird: Sillem's mountain finch (Leucosticte sillemi). Now, 83 years after Sillem collected the only known specimens, a French photographer, Yann Muzika, unwittingly took photographic proof that the finch species still survives.


Illegal hunting threatens iconic animals across Africa's great savannas, especially predators


(10/25/2012) Bushmeat hunting has become a grave concern for species in West and Central Africa, but a new report notes that lesser-known illegal hunting in Africa's iconic savannas is also decimating some animals. Surprisingly, illegal hunting across eastern and southern Africa is hitting big predators particularly hard, such as cheetah, lion, leopard, and wild dog. Although rarely targets of hunters, these predators are running out of food due to overhunting and, in addition, often becoming victims of snares set out for other species.



Page 1 | Page 2 | Page 3 | Page 4 | Page 5 | Page 6 | Page 7 | Page 8 | Page 9 | Page 10 | Page 11 | Page 12 | Page 13 | Page 14 | Page 15 | Page 16 | Page 17 | Page 18 | Page 19 | Page 20 | Page 21 | Page 22 | Page 23 | Page 24 | Page 25 | Page 26 | Page 27 | Page 28 | Page 29 | Page 30 | Page 31 | Page 32 | Page 33 | Page 34 | Page 35 | Page 36 | Page 37 | Page 38 | Page 39 | Page 40 | Page 41 | Page 42 | Page 43 | Page 44 | Page 45 | Page 46 | Page 47 | Page 48 | Page 49 | Page 50 | Page 51 | Page 52 | Page 53 | Page 54 | Page 55