News articles on animals

---
Mongabay.com news articles on animals in blog format. Updated regularly.






Zimbabwe selling baby elephant calves to China, says environmental group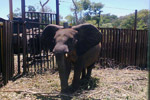 (04/17/2015) A hundred thousand African elephants were killed by poachers for their ivory between 2010 and 2012. Now a new threat looms: a growing wildlife trade in baby animals to satisfy international tourism. Zimbabwe has reportedly taken 80 elephant calves from their mothers and families in the wild, and is currently holding them in two heavily guarded facilities in Hwange National Park and near Victoria Falls. The baby animals await transport overseas for sale to unidentified buyers, possibly in China or other countries, says the international elephant rights organization, Global Action Ending Wild Capture (GAEWC).
Expert panel rebukes Japan's new whaling proposal
(04/15/2015) Last year, the International Court of Justice (ICJ) ruled that Japan must halt its whaling activities in the Southern Ocean as it found no evidence that the killing of hundreds of Antarctic minke whales was scientifically justified. The ruling sent Japan scrambling for a new plan to continue its 'scientific' whale hunt. But, now an expert panel has rebuked Japan's latest plan as well.
Expedition in the Congo rediscovers lost primate
(04/14/2015) The last time there was a sighting of Bouvier's red colobus disco was all the rage, the Internet was non-existent, and Madonna still referred solely to the mother of God. But then the African monkey vanished and conservationists feared it had gone extinct—a victim of the bushmeat trade. For years, research groups called for an expedition to find out if Bouvier's red colobus still survived.
Australia becomes first country to ban lion trophies

(04/09/2015) Last month, Australia became the world's first country to ban the import or export of lion trophies, often taken from so-called canned hunting where lions are raised solely to be shot by foreign hunters.
New group hopes to raise global profile of the peace-loving bonobo
(04/08/2015) Of the world's six species of great ape (not including us), it's safe to say that bonobos (Pan paniscus) are the least studied and least known publicly. But a new organization, the Bonobo Project, is hoping to change that. To the untrained eye, a bonobo looks little different from their closest relative, the chimpanzee. But the differences between these two cousins are actually quite large.
Tropical soundscapes offer clues to forest and animal community health
(04/01/2015) Marine biologists were the first to continuously eavesdrop on marine mammals using a technique called passive acoustic monitoring (PAM). By simply listening to these animals' sounds, researchers could collect valuable information about animal population density and distribution, population health, and responses to human disturbance. Given the challenges of studying animal communities as they migrate across the sweep of the world's oceans, acoustic surveys gained popularity as a tool for gathering data from otherwise inaccessible study sites.
Large animals invaluable for tree-seed dispersal and regeneration of tropical forests
(03/30/2015) Nearly two-thirds of tropical forests in Southeast Asia have been degraded by logging, agriculture and other human uses, and their fauna have been decimated by hunting and the bushmeat trade. But if those degraded tropical forests are to recover naturally, they will need to rely on their remaining large wild animals to disperse large tree seeds, according to a new study.
New species of monitor lizards found on the black market
(03/27/2015) Searching the globe for undiscovered species takes biologists to far and remote locations, trekking through exotic locales that may yield a new discovery. However, exploring the black market can also produce results. And this is just the case for Rafe Brown, curator of the University Of Kansas (KU) Biodiversity Institute, during a recent visit to the Philippines. In a black market in Manila, Brown and his colleagues discovered two new species of water monitor lizard for sale.
Elephant poaching rate unchanged – and still devastating
(03/25/2015) New figures show essentially no change in the number of elephants killed in Africa by poachers last year, despite a high-profile meeting on the crisis which was attended by 46 countries and a number of commitments. Data from CITES' Monitoring the Illegal Killing of Elephants (MIKE) estimated that around 20,000 elephants were killed in 2014, the same as in 2013.
Halloween in the Amazon: baby bird dresses up like killer caterpillar
(03/23/2015) 'Mama, I wanna be a toxic caterpillar,' says the little bird. 'Okay,' mamma answers, 'but first you gotta study your Batesian mimicry.' Meet the cinereous mourner, an ash-colored, Amazonian bird that looks rather hum-drum compared to many other birds found in the region. Yet, scientists have discovered something special about the birds: its newborn babies look and move like a neon orange, toxic caterpillar.
The great Arctic decline: another sea ice record broken

(03/23/2015) Every winter, sea ice in the Arctic expands, providing vital habitat for birthing seals, hunting polar bears, and foraging walruses. But as the Arctic has warmed faster than any place on the planet—due climate change caused by burning fossil fuels—sea ice is not expanding as far as it once did.
DRC mulls changing Virunga's boundaries for oil

(03/19/2015) Last Friday, the government of the Democratic Republic of Congo (DRC) announced it was considering changing the boundaries of Virunga National Park to accommodate oil exploitation. Africa's oldest park, Virunga is home to around a quarter of the world's mountain gorillas as well as thousands of other species, many of them threatened with extinction.
New report connects human health to biodiversity protection
(03/17/2015) During February, the 14th World Congress on Public Health in Kolkata, India, revealed a new "ground-breaking" report entitled, Connecting Global Priorities: Biodiversity and Human Health, which demonstrates human health benefits yielded from protecting Earth's biodiversity. It's designed to be the new "flagship publication," acting as a primary source of information that supports the upcoming 2015 development agenda and sustainable development goals of the United Nations.
Conservationists catch-and-release record-smashing freshwater fish
(03/17/2015) Conservationists and scientists have managed to catch-and-release what could be the world's biggest freshwater fish ever for an upcoming episode of Ocean Mysteries. Naturalist and host of the show, Jeff Corwin—along with wildlife veterinarian, Nantarika Chansue, and the tourist fishing group, fishsiam.com—managed to reel in a giant freshwater stingray.
King of the jungle returns to Gabon after nearly 20 year absence

(03/16/2015) There's a new cat in town. For the first time since 1996, conservationists have proof of a lion roaming the wilds of the Central African country of Gabon. The lion—a healthy-looking, young male—was caught on camera trap in Batéké Plateau National Park, a 20,200 hectare expanse of grasslands and gallery forests.
When apes have choices and preferences (commentary)
(03/16/2015) One question that desperately needs to be asked when we talk about the rights of an intelligent species like apes is whether we allow them choices and preferences in the rights we give them. This issue and other issues of rights have been raised by me and a small team of orangutan experts in a report we prepared to be used in the court case of the 29-year-old orangutan Sandra in the zoo in Buenos Aires, Argentina. The story of Sandra has been given prominence by the media.
Even cockroaches have personalities
(03/12/2015) When I was ten, I acquired my first dog. Rani was a Doberman Pinscher—tall, lean, and a huge pushover. She was wonderfully friendly, but sadly misunderstood her whole life, regularly frightening all except those who knew her intimately. There were two innocuous reasons for this—both of which reveal the power of emotions shared across species.
Conservationists announce program to protect East Africa's largest elephant population
(03/12/2015) The Wildlife Conservation Society (WCS) and the Tanzanian government have launched an ambitious new initiative to protect East Africa's largest population of elephants (Loxodonta Africana). With funds from USAID, the plan aims to reduce poaching and protect biodiversity - including the area's 25,000 elephants- across an 115,000 square kilometer ecosystem.
Meet Biomuseo: the world's first biodiversity museum
(03/12/2015) Biomuseo, designed by internationally renowned architect, Frank Gehry, is the first museum in the world dedicated to biodiversity. Opened in October 2014, the museum is located at the end of the Amador Causeway in Panama City, facing the Pacific Ocean at the entrance of the Panama Canal.
Tiger family photo surprises scientists
(03/10/2015) In a frigid Russian forest, a camera trap snapped 21 family photos over two minutes. This wasn't a usual family, though, this was a tiger family, more specifically an Amur tiger family. And this wasn't even a usual tiger family: the cameras showed a dad leading the way.
Photo essay: filming in the remote Amazon
(03/09/2015) You wake up at 4:30 AM, a little before the first rays of tropical sun begin to dance behind the treetops. You put on your wet clothes from the previous day, pack your bag, and pick up your tripod. The jungle is shrouded in a thick mist from the previous nights rain. As you walk, you recognize many of the strange calls that echo between the trees.
Human impacts are 'decoupling' coral reef ecosystems
(03/09/2015) There is a growing consensus among scientists that we have entered the age of the Anthropocene, or the epoch of humans. In other words, at some point between the 12,000 years separating the beginning of agriculture and the Industrial Revolution, humans became the dominant source of change on the planet, shaping everything from the land to the atmosphere to even the geologic record where we etch our reign.
Last ditch: Mexico finally gets serious about saving the vaquita
(03/04/2015) There are likely less than 100 vaquita on the planet. Found only in the northern pocket of the Sea of Cortez in Mexico, the vaquita is a tiny, shy porpoise that has been brought to the very edge of extinction due to drowning in gillnets used for shrimping. But after years of stalling, Mexico now appears to be making a final effort to save the world's most endangered cetacean.
Giant panda population rises by nearly 17 percent
(03/02/2015) One of the most iconic animals on the planet got good news this week. The world's giant panda population has risen by 268 individuals over the last decade, hitting a total of 1,864 animals, according to China's fourth decadal survey. This represents a total rise of 16.8 percent.
Photos: Amur leopard population hits at least 65
(02/26/2015) Most of the world's big predators are in decline, but there are some happy stories out there. This week, WWF announced that the Amur leopard population has grown to a total of 65-69 cats. This represents a more than doubling of the population in eight years. Still, the Critically Endangered subspecies remains perilously close to extinction.
Partnering for conservation benefits Tacana people, Bolivian park
(02/25/2015) Kneeling in a small clearing amid tropical trees, Baldemar Mazaro skillfully arranges a circle of sticks and a noose of cord in the community of San Miguel de Bala. He hands a branch to a tourist and asks her to prod the sticks as if the branch were the nose of an animal snuffling around, looking for food.
$7 million could save lemurs from extinction
(02/25/2015) Last year, scientists released an emergency three-year plan that they argued could, quite literally, save the world's lemurs from mass extinction. Costing just $7.6 million, the plan focused on setting up better protections in 30 lemur hotspots. However, there was one sticking point: donating to small programs in one of the world's poorest countries was not exactly user friendly.
Locals lead scientists to new population of near-extinct reptile
(02/24/2015) By the early Twentieth Century, the world had pretty much given up on the Arakan forest turtle, named after the hills where it was found in 1875 in western Myanmar. Now, this Lazarus reptile —which has been dubbed one of the 25 most threatened turtles on the planet —has more good news: researchers have documented an entirely new population where no one
Outgoing government wipes hard drives, slowing environmental progress in Peru
(02/23/2015) Non-profit organizations are working with the regional government of Loreto, in northeastern Peru, to replace documents and data reportedly lost or destroyed before newly-elected officials took office. Some hard disks had been removed from computers. Others had been deleted, password protected, or infected with viruses, according to regional government officials who took office at the beginning of the year.
Bison-sized rodent may have used teeth like elephant tusks

(02/23/2015) The world's largest rodent today is the capybara, weighing in at around at about 45 kilograms (100 pounds), though the record breaking female weight in at 91 kilograms (201 pounds). But that's nothing compared to the biggest rodent ever to live. Discovered in Uruguay in 2008, Josephoartigasia monesi may have weighed in at 1,000 kilograms (2,200 pounds).
Happy World Pangolin Day. What are we celebrating?
(02/21/2015) It's that crazy time of year again, World Pangolin Day, where we feverishly run out into the streets and join the thousands of pangolin protectors, fighting for the survival of our scaly friend. Well, no actually, hold on, what's a pangolin?
Biodiversity may reduce the threat of disease
(02/19/2015) Biodiversity level changes can have consequences for species and habitats around the world. A new study published in the Proceedings of the Royal Society B, reaffirms previous findings that higher diversity in ecological communities may lead to reduced disease threat.
Scientists uncover new seadragon
(02/18/2015) For 150 years, scientists have known of just two so-called seadragons: the leafy seadragon and the weedy seadragon. But a new paper in the Royal Society Open Science has announced the discovery of a third, dubbed the ruby seadragon for its incredible bright-red coloring. Found only off the southern Australian coastline, seadragons belong to the same family as the more familiar seahorses: the Syngnathidae.
42 pangolins rescued...then sold to restaurants

(02/17/2015) On February 1st, local police seized 42 live Sunda pangolins from poachers and handed them over to forest rangers in Vietnam's northern province of Bac Ninh. While the poachers were slapped with a fine, the rangers turned around and sold the live pangolins to local restaurants for a reported $56 a kilo, netting a total of $11,300 for the Critically Endangered mammals.
Arctic upheaval: new book outlines challenges at the top of the world
(02/16/2015) For most of us, the Arctic is not at the front of our minds. We view it as cold, stark, and, most importantly, distant. Yet, even in an age of vast ecological upheaval, one could argue that no biome in the world is changing so rapidly or so irrevocably. Two hundred plus years of burning fossil fuels has warmed up the top of our planet more quickly than anywhere else.
Sabah shocked by banteng poaching

(02/16/2015) Malaysia's Daily Express recently published graphic photos of poachers in the Malaysian state of Sabah posing proudly with a number of illegally slaughtered large animals, including the incredibly rare and cryptic banteng. Wild, forest cattle, banteng are scattered across parts of Southeast Asia, but Borneo is home to a distinct subspecies: Bos javanicus lowi.
How do parks affect the poor? Jury's still out, some experts say
(02/13/2015) In Peru's vast northeastern region, where roads are scarce and forests abundant, crackdowns on the illegal plundering of timber, fish, and wildlife are sporadic and expensive. To fill the gap, the Peruvian National Park Service and non-profit conservation organizations encourage community groups to patrol their lakes and forests and control fishing and hunting.
Feds confirm first wolf in the Grand Canyon area shot dead

(02/12/2015) Last fall, tourists to the north rim of the Grand Canyon reported seeing a gray wolf. The only problem was there had been no wolves in the area for over 70 years. Still, it turned out the animal in question was not a coyote or stray dog, but, indeed a female gray wolf known as "914F". She had migrated hundreds of miles from the northern Rockies. Unfortunately, this was near the end of her story.
Innovating Brazil nuts: a business with roots in the rainforest
(02/11/2015) Scientist and entrepreneur turn to Brazil nuts to protect Peru's threatened forests. Sofía Rubio was eight years old when she decided she wanted to be a biologist. 'I would skip school to go to the woods with my father or mother,' who did research in what is now the Tambopata National Reserve in the southeastern Peruvian Amazon, she says.
How termites hold back the desert
(02/05/2015) Some termite species erect massive mounds that look like great temples springing up from the world's savannas and drylands. But aside from their aesthetic appeal—and incredible engineering—new research in Science finds that these structures do something remarkable for the ecosystem: they hold back the desert.
Video: innovative tourism helps protect forests in Amazonian Peru
(02/05/2015) A new short documentary highlights the innovative, locally-grown tourist ventures sprouting up in the buffer zone around Peru's Tambopata National Reserve. Not only do these tourist adventures--some specializing in rehabilitating wildlife, others in finding out how locals live, and some even in jungle yoga--help provide jobs and income in a region dominated by extractive industries, but they are also help to keep forests standing.
World Parks Congress talks the talk, but future depends on action
(02/05/2015) Last year, more than 6,000 people gathered for the World Parks Congress 2014, an event held around every ten years by the International Union for Conservation of Nature (IUCN). The World Parks Congress discusses myriad issues related to protected areas, which recent research has shown are in rough shape.
Super-rare carnivore photographed in Yosemite after missing for nearly a century
(02/03/2015) For years, biologists believed the Sierra Nevada fox was down to a single population of around 20 animals in California's Lassen Volcanic National Park. But then in 2010, biologists found a small population near Sonora Pass. Now, more good news: last week, scientists documented the first Sierra Nevada fox in Yosemite National Park in nearly 100 years.
Pollutants threaten long-term survival of wandering albatross
(02/02/2015) Seabirds, aerial ocean predators, are known to amass harmful contaminants over their lifespan. Scientists believe this exposure to pollutants negatively impacts survival rates as well as reproduction, therefore contributing to large-scale population declines. Although previously these assumptions were largely theoretical, recent research involving blood samples from wandering albatrosses points to new conclusions.
Scientists discover fanged frogs that give birth to tadpoles
(02/02/2015) Scientists have discovered a new species of fanged frog that is the world's only known frog able to give birth to tadpoles. If that wasn't enough, L. larvaepartus also fertilizes its eggs internally, a reproductive strategy of which only a few amphibian species are capable.
Swimming against the stream: a rare crocodile captivates researchers
(02/02/2015) The Sunda gharial looks like 'just an odd crocodile' according to Robert Stuebing. He would know. Stuebing and his team have recently published an article in the International Zoo Yearbook outlining habitat information and threats to the Sunda gharial at Lake Mesangat in Indonesian Borneo.
Scientists rediscover endangered Andean toad in Ecuador
(01/30/2015) In 1970 researchers uncovered the Tandayapa Andean toad, previously unknown to science, in the Pichincha Province of Ecuador. Given that only a single individual was discovered, even after further exploration in the following years, the toad was soon presumed to be extinct. Forty-two years later, however, a research team rediscovered the species in Manduriacu, Ecuador.
Videos: new film series highlights bringing Gorongosa back to life

(01/29/2015) Tracking lions, photographing bats, collecting insects, bringing elephants home: it's all part of a day's work in Gorongosa National Park. This vast wilderness in Mozambique was ravaged by civil war. However, a unique and ambitious 20-year-effort spearheaded by Greg Carr through the Gorongosa Restoration Project is working to restore this rich and little-studied African wilderness.
Community tourism fills niche around Tambopata National Reserve
(01/29/2015) When Víctor Zambrano retired from the military and returned to his family's old homestead outside the fast-growing jungle town of Puerto Maldonado in Peru, he got an unpleasant surprise. Strangers had moved in and cleared the trees to raise cattle. As Zambrano tells it, he ran up the Peruvian flag, chased the invaders off, and set to work planting 19,000 native tree seedlings.
Monarch butterfly population rises a little, but still perilously low
(01/28/2015) The world's migrating monarch butterfly population has bounced back slightly from its record low last year, but the new numbers are still the second smallest on record. According to WWF-Mexico and the Mexican government, butterflies covered 2.79 acres (1.13 hectares) in nine colonies this year in the Mexican forests where the insects overwinter.
Adorbs: scientists capture first photos of African golden cat kittens
(01/28/2015) The African golden cat is arguably the continent's least known feline, inhabiting dense tropical forests, almost never seen, and, of course, long-upstaged by Africa's famous felines. But a few intrepid scientists are beginning to uncover the long-unknown lives of these wild cats. Researchers working in Uganda's Kibale National Park have captured remarkable photos of African golden cats...with kittens.
Suspects acquitted in shocking murder of sea turtle conservationist

(01/27/2015) Yesterday, the seven men accused of brutally murdering Jairo Mora Sandoval on a beach in Costa Rica two years ago were acquitted of the crime. Sandoval's murder shocked the Central American country—long known for the progressive protection of its lush rainforests and sweeping beaches—but the judge who acquitted the accused cited reasonable doubt and a investigation marred by mistakes.
1,215 rhinos butchered in South Africa in 2014
(01/22/2015) 1,215: that's the total number of rhinos butchered last year in South Africa for their horns. The number represents another annual record—the seventh in a row—topping last year's total by 195 rhinos. South Africa houses the bulk of the world's rhinos (around 80 percent), but has also become the center of the illegal poaching trade.
Sundarbans still reeling from effects of December oil spill
(01/21/2015) Last month, an estimated 350,000 liters of fuel oil spilled into the Sundarbans delta on the Bay of Bengal. An oil tanker that had collided with a cargo vessel on December 9th sank into the Shela River, spilling its oil into a protected sanctuary for the rare and endangered Irrawaddy dolphins (Orcaella brevirostris) and the Ganges river dolphins (Platanista gangetica).
Environmental wisdom: keeping indigenous stories alive
(01/21/2015) Enchanted lakes and magic hills: how traditional stories support conservation and abundance. 'Long ago, when animals were gente...' Those words, uttered countless times by indigenous Amazonian storytellers, blur the boundary between humans and other creatures in the forests and rivers, revealing a different view of the way human and non-human worlds intertwine.
Video: clouded leopards and elephants grace drowned forest in Thailand

(01/21/2015) Camera trap video from Khlong Saeng Wildlife Sanctuary in southern Thailand has revealed an impressive array of wildlife, including scent-marking clouded leopards and a whole herd of Asian elephant. The camera traps were set by HabitatID, an organization devoted to using remote camera traps to prove to government officials that wildlife still flourishes in forgotten places.
India's tiger population up by more than 500 animals in four years

(01/20/2015) The tiger is in major trouble. In 1900, the global population was over 100,000 animals; today, it is on the precipice of extinction, hovering around just 3,000. In response, tiger range countries have pledged to double to the population by 2022. But there has been little evidence of success until now: India has announced that its tiger population has jumped a remarkable 29 percent in the last four years.
Ocean's 15: meet the species that have vanished forever from our seas
(01/15/2015) In the last 500 years, the oceans have suffered far fewer extinctions than on land—at least that we know of. According to a recent study in Science, 15 animals are known to have vanished forever from the oceans while terrestrial ecosystems have seen 514 extinctions. The researchers, however, warn that the number of marine extinctions could rise rapidly as the oceans are industrialized.
Empty seas? Scientists warn of an industrialized ocean
(01/15/2015) This is obvious, but still important: humans are not a marine species. Even as we have colonized most of our planet's terrestrial landscapes, we have not yet colonized the oceans. And for most of our history, we have impacted them only on the periphery. A new review in Science finds that this has saved marine species and ecosystems from large-scale damage—that is, until the last couple centuries.
Did palm oil expansion play a role in the Ebola crisis?
(01/14/2015) The Ebola outbreak in West Africa may have been the result of complex economic and agricultural policies developed by authorities in Guinea and Liberia, according to a new commentary in Environment and Planning A. Looking at the economic activities around villages where Ebola first emerged, the investigators analyzed a shift in land-use activities in Guinea's forested region, particularly an increase in oil palm.
Mother and cub: researchers photograph rare cat with cub in Sumatra
(01/13/2015) Researchers working in Kerinci Seblat National Park have captured a remarkable image of a mother Asian golden cat (Catopuma temminckii) carrying her young in her mouth. The image was taken in mid-2014 as reported by Mongabay Indonesia by the Sumatran Tiger Research Team.
Casting for another job: will fishers take up a new livelihood?
(01/12/2015) Can alternative income programs save Fiji's reef fish? Many implicate the failure of Fiji's government to prioritize sustainable management over fisheries development projects, or suggest that Fijians' mindsets must dramatically shift first.
New study: 'Yeti' hairs do not point to unknown bear species

(01/12/2015) A new study casts doubt on findings from 2013 that hairs from a purported Yeti belonged to an unknown bear species or polar and brown bear hybrid. Instead, two researchers—who took a fresh look at the DNA in question—say the hairs are simply that of a Himalayan brown bear.
Malta approves public referendum of bird hunt that kills over 15,000

(01/12/2015) Malta's Constitutional Court has upheld a public referendum to decide the fate of the country's controversial spring bird hunt, which kills over ten thousand migrating birds every year. The Constitutional Court threw out objections by Malta's powerful hunting lobby, and instead sided with the 11 conservation groups who organized the referendum, known as the Coalition for the Abolition of Spring Hunting—gathering 40,000 signatures from Maltese voters.
California introduces bill to close ivory loophole

(01/08/2015) California congresswoman, Toni G. Atkins, introduced a bill yesterday (AB 96) that would close a major loophole allowing ivory to be sold all over the state. Thousands of miles away, across Africa, poachers are decimating elephants for their ivory tusks. A recent study estimated that one fifth of the continent's elephants have been slaughtered in just three years.
New bat species has fangs you won't believe
(01/08/2015) What big teeth you have, my dear! The better to eat insects with—and make one's own ecological niche. Scientists have uncovered a new bat with stupendous canines in the rainforests of Lao PDR and Vietnam, aptly naming it Hypsugo dolichodon, or the long-toothed pipistrelle.
How black rhinos and local communities help each other in Namibia
(01/07/2015) Africa's rhinos are in a state of crisis. Poaching for their horn has resulted in the deaths of thousands of animals and pushed the continent's two species—the white and black rhino—against the wall. Yet, despite the crisis, there are pockets of rhino territory where poaching remains rare and rhinos live comparatively unmolested. Indeed, one of the brightest spots for rhinos is in Namibia.
One clever ape: new book celebrates real-life Orangutan Houdini
(01/07/2015) An interview with Laurel Neme about her new children's book, Orangutan Houdini. When no one is looking, a gangly orangutan named Fu Manchu reaches into his mouth and pulls out a wire. Carefully, Fu, housed at the Henry Doorly Zoo in Nebraska, begins to pick the lock to his enclosure's door, and escapes! He and his orangutan cohort have the run of the zoo, until his keeper Jerry brings them all back home.
Time for a checkup: researchers examine the health of lowland tapirs
(01/07/2015) The Brazilian tapir may get a bad rap in Brazil, where referring to someone as a 'tapir' essentially equates to calling them an 'ass,' but history has shown that this species is deserving of a lot more respect. These hardy 'living fossils' have survived multiple extinction events since the Eocene, yet their ability to survive the ongoing Anthopocene extinction remains uncertain.
Two vanishing prairie butterflies added to the Endangered Species Act
(01/05/2015) This fall, the U.S. Fish and Wildlife Service added two little-known prairie butterflies to the Endangered Species Act. One of the species, the Poweshiek skipperling, may be down to only a few hundred individuals. The Dakota skipperling is faring a little better, but both have lost the majority of their habitat in the pass few hundred years and continue to decline.
Monkey sleep, monkey do: how primates choose their trees
(12/31/2014) Primates don't monkey around when deciding where to spend the night, but primatologists have had a poor grasp on what drives certain monkeys toward specific trees. Now, two extensive studies of Indonesian primates suggest that factors in selecting trees each evening are site-specific and different for each species—and that some overnight spots result in conflicts between monkeys and humans.
Top 10 camera trap photos of animals
(12/30/2014) Camera traps are revolutionizing the world of conservation, helping researchers document elusive wildlife, record rarely-observed animal behavior, catch poachers, and identify high conservation value areas. The non-invasive tool also offers incredible marketing value, showcasing the sometimes little-seen targets of conservation efforts.
Rat eradication needed to save seabird colony
(12/30/2014) Although only a nuisance in your home, on an isolated island chain (archipelago) off the northeastern coast of Brazil, rats pose a threat to the red-billed tropicbird (Phaethon aethereus). The seabird nests in the remote Abrolhos National Park, but two species of invasive rats prey on its eggs and young: the house rat (Rattus rattus) and the brown rat (Rattus norvegicus).
Meet Biofaces: the Facebook for wildlife enthusiasts
(12/30/2014) Love wildlife? Wish you had a place online to share your photos, videos, and stories with other wild enthusiasts—kind of like a Facebook for wildlife lovers? Well, look no further than Biofaces, a new website meant to "make wildlife loving people happy," according to its creator, Leonardo Avelino Duarte.
Camera traps capture rare footage of wild bonobos (video)
(12/29/2014) Bonobos, our ape cousins, love peace. Unlike chimpanzees, also our close relatives, bonobos are known to resolve conflict through sex instead of aggression. They kiss, they caress, and females display genito-genital rubbing (also called G-G rubbing) to communicate, bond, and reconcile.
Indonesia's silent wildlife killer: hunting
(12/26/2014) By and large, Indonesia is a peaceful country. In fact, on the United Nations Office of Drugs and Crime's list of homicide rates, Indonesia ranks number 10, making Indonesians one of the least murderous people on Earth. A ban on gun ownership probably helps, although obviously there are many other ways to snuff out another person. Maybe Indonesia's general tendency to avoid conflict helps, too. Whatever the reason why Indonesians are relatively unlikely to kill each other, such favors are not extended to Indonesia's non-human wildlife. The relative safety of Indonesia's people does not guarantee similar security for its animals.
Top 10 Environmental Stories of 2014
(12/23/2014) In 2014, the unimaginable happened: companies representing the majority of palm oil production and trade agreed to stop cutting down rainforests and draining peatlands for new oil palm plantations. After years of intense campaigning by environmentalists and dire warnings from scientists, nearly two dozen major producers, traders, and buyers established zero deforestation policies.
Shifting attitudes may help endangered wild dogs in Thailand
(12/22/2014) Once found throughout much of Asia, the dhole—a wild dog species that looks something like a jackal—has been displaced by humans from much of its range. But a new study published in mongabay.org's open-access journal Tropical Conservation Science, offers hope that the two species may be able to coexist, with people living next to protected forest areas in southeastern Thailand showing a favorable attitude towards increasing awareness and conservation efforts for the endangered canids.
The biggest new species discoveries in 2014 (photos)
(12/22/2014) Biologists describe upwards of 15,000 previously undocumented species every year. Some of these species are complete surprises, sometimes representing new genera. Others may be identified after genetic analysis distinguishes them from closely-related species. Some — especially conspicuous birds and mammals — are already known to local populations, but hadn't been formally described by scientists.
Genetics study sheds light on Chile's most endangered bird
(12/22/2014) A member of the Furnariidae family, the small brown and beige bird possesses rusty "spine-like" tail feathers and inhabits densely vegetated areas. Scientists estimate the total population to range from 140 to 500 individuals. In 2012 the IUCN declared the Masafuera Rayadito to be a Critically Endangered species.
Edited Reality: What I Learned from Filming Eaten Alive
(12/22/2014) On November 3, 2014, I woke up to check my flight status from Bangalore to New York. What I found when I opened my laptop was a mindboggling amount of emails, hate mail, death threats, and interview requests. The numbers were staggering. The night before, the Discovery Channel had aired the first trailers for the show they decided to call Eaten Alive.
Pictures: the top new animal discoveries of 2014
(12/20/2014) Seemingly every year scientists set a new record with the number of species they describe. 2014 will be no exception. Below are some of the 'new species' highlights from the past year. The list includes species whose descriptions were first published in 2014. Some of the 'discoveries' occurred in years prior.
Enough for an elephant: why are Cameroon's elephants raiding fields?
(12/18/2014) Waza National Park in West Africa is a refuge to many endangered and vulnerable species. Walk through the grounds and you may see red-fronted gazelles grazing or giraffes sauntering between trees in search of foliage. Head to the park's perimeter, though, and you may see a less serene scene: elephants raiding local farmers' crops.
Ocelots live in super densities on Barro Colorado Island

(12/18/2014) By comparing camera trapping findings with genetic samples taken from feces, biologists have determined that the density of ocelots on Barro Colorado Island in Panama is the highest yet recorded. There are over three ocelots per every two square kilometers (0.77 square miles) on the island.
When predators attack, plants grow fewer thorns
(12/17/2014) Crisp lines of light begin to play out across the landscape. As the morning light grows, blades of grass take shape and, amongst rocky outcrops, green acacia breaks the yellow and gold of the savannah. Stirring in this early morning atmosphere is the African impala, an ungulate that typically grazes at dusk and dawn.
Scientists reintroduce agoutis in rainforest in city of 12 million
(12/17/2014) When one thinks of Rio de Janeiro, one usually doesn't think: rainforest. However, in the heart of the city sits a massive rainforest sprung over long-gone sugar and coffee plantations. The forest—protected today as the Tijuca National Park—is home to hundreds of threatened species, but no agoutis, a common ground mammal in Latin America.
Hunting is a greater threat than logging for most wildlife in Borneo
(12/16/2014) Persistence is the key factor in the two most common human stressors on tropical wildlife. In Malaysian Borneo, hunting continually diminishes wildlife populations, whereas the negative impacts from selective logging are more transient, according to a recent study in Conservation Biology.
Then there were five: rhino death moves species closer to extinction

(12/15/2014) As if news for rhinos couldn't get any worse: this weekend, Angalifu, died a the San Diego Zoo. Forty four-year-old Angalifu was a male northern white rhino and his death means only five of this subspecies remains on the planet. Angalifu's death, which keepers suspect was simply from old age, follows soon after the death of another northern white rhino, Suni, in October.
To collect or not to collect? Experts debate the need for specimens
(12/10/2014) In 1912, a group of intrepid explorers led by Rollo and Ida Beck, widely acknowledged to be the foremost marine bird collectors of their time, embarked on a most remarkable effort to catalogue South America's oceanic birds. Museums of the day held opportunistically collected specimens from scattered sources, but rarely did these include ocean-bound birds that spent little time near the coast.
For the first time, Sea Shepherd targets Antarctic toothfish poachers
(12/09/2014) For the first time, marine conservation group, Sea Shepherd, is employing their controversial methods to protect Antarctic and Patagonian toothfish. Dubbed 'Operation Icefish,' Sea Shepherd Australia is sending two ships into Antarctic waters to disrupt illegal vessels targeting the little-known species that are often sold in luxury markets as Chilean seabass.
Pollinators puzzle to find flowers amidst natural and human fumes
(12/09/2014) While unpleasant car exhaust makes us wrinkle our noses, such human-made fumes may pose serious problems to insects searching for nectar. Researchers recently revealed that background odors make finding flowers difficult for pollinators. The study, published in Science, measured how hawk moths (Manduca sexta) pick out the sacred datura flower scent (Datura wrightii) amidst all the other smells that waft through the environment.
Tribal violence comes naturally to chimpanzees
(12/08/2014) It all went to hell when Jane Goodall started handing out bananas. Within a few years, the previously peaceful chimpanzees she was studying split into two warring tribes. Gangs of males from the larger faction systematically slaughtered their former tribemates. All over the bananas. Or so the argument goes.
New survey finds surprisingly large population of endangered owl
(12/03/2014) The Anjouan scops owl—an elusive owl found only on its tiny eponymous island—was once considered among the world's most endangered owls, and even the most threatened birds. However, the first in-depth survey of the owls on the island finds that, in fact, the population is far larger than initially estimated.
Is captive breeding the final resort for the Sumatran rhino?
(12/03/2014) Nearing extinction, the Sumatran rhino is running out of options. A native of Indonesia and Malaysia, the Sumatran rhino has declined in the past 30 years from an estimated 800 individuals to no more than 75 remaining today. So far there have been three ad hoc meetings held in 1984, 1993, and 2013, each attempting to develop policies that would potentially save this critical species.
Nano-tags track baby sea turtles during their first few hours
(12/03/2014) Baby sea turtles vanish after they scamper into the ocean. Years later, juvenile turtles may pop up thousands of kilometers away, but often scientists don't see them again until they return to their birthplaces to nest on the beach. Now, using tiny tracking tags weighing no more than two watermelon seeds, a team has followed newborn loggerhead turtles during their first critical hours at sea, revealing how they evade predators and hitch rides on the ocean's currents.
Rhino, cheetah win the world's top camera trap photo contest
(12/02/2014) Two big—and endangered—mammals took 2014's top prizes in the world's biggest camera trap photo contest: a black rhino and a Asiatic cheetah. The gorgeous shot of a black rhino at night in Zambia photo won the overall photo competition, while the image of a super-rare Asiatic cheetah in Iran took the top research prize.
Shark pups may not survive climate change
(12/01/2014) Fierce predatory sharks rule the oceans from the apex of the food pyramid. But climate change may be tougher than these marine hunters, a new study suggests. As oceans warm and their waters become more acidic, fewer sharks may survive their infancies.




Page 1 | Page 2 | Page 3 | Page 4 | Page 5 | Page 6 | Page 7 | Page 8 | Page 9 | Page 10 | Page 11 | Page 12 | Page 13 | Page 14 | Page 15 | Page 16 | Page 17 | Page 18 | Page 19 | Page 20 | Page 21 | Page 22 | Page 23 | Page 24 | Page 25 | Page 26 | Page 27 | Page 28 | Page 29