Jeremy Hance
mongabay.com
July 27, 2010
Moscow and parts of Russia have been hit by record high temperatures and forest fires. Ashen fog from peat forests burning near Moscow has prompted officials to warn elderly and those with heart or bronchial problems to stay inside. Workers should be allowed a siesta to rest in the afternoon, as well, said the Russia's chief health official.

Dangerous particulates in the air were five-eight times above average. On Monday, temperatures reached 99.3 degrees Fahrenheit (37.4 degrees Celsius), a record for the city. Officials have announced a state of emergency in 19 Russian provinces as temperatures rose well-above 100 degrees Fahrenheit in some places.

According to officials, the fog has also affected traffic due to limited visibility. Outside of Moscow, persistent drought, the worst since the early 1970s, has damaged one third of Russia's crops.

"Such long periods of summer drought have been registered before, for instance, in 1936, but over the past few years they have become more frequent," Alexei Kokorin, the head of WWF Russia's climate program, told Russian news service, RIA Novosti. "This is a reaction of the climate system to man-made changes in atmospheric chemistry."

According to the NASA Goddard Institute for Space Studies, the first six months of 2010 worldwide have been the warmest on record (since 1880). In addition June was the 304th month in a row above the 20th century average temperatures. While scientists say it is not possible to link a single extreme weather event to climate change, increases in frequency and intensity of heat waves and droughts are expected in a warmer world.

Russia is one of the world's top emitters of greenhouse gases. When emissions due to deforestation are not included, Russia is listed as among the top 4, after China and the US, and nearly equal to India.

Russia's president Dimitry Medvedev, recently announced that the nation aimed to 'cut' greenhouse gas emissions by 10-15 percent by 2020, however since this is based on a baseline of 1990 emissions (before the Soviet Union collapsed), it would actually allow Russia's greenhouse gas emissions to rise by 29-36 percent in the next ten years, according to Reuters.









Related articles

Coral reefs doomed by climate change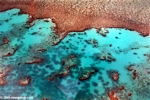 (07/22/2010) The world's coral reefs are in great danger from dual threats of rising temperatures and ocean acidification, Charlie Veron, Former Chief Scientist of the Australian Institute of Marine Science, told scientists attending the Association for Tropical Biology and Conservation meeting in Sanur, Bali. Tracing the geological history of coral reefs over hundreds of millions of years, Veron said reefs lead a boom-and-bust existence, which appears to be correlated with atmospheric carbon dioxide levels. With CO2 emissions rising sharply from human activities, reefs—which are home to perhaps a quarter of marine species and provide critical protection for coastlines—are poised for a 'bust' on a scale unlike anything seen in tens of millions of years.


June was the 304th month in a row above average temperatures

(07/20/2010) Data released from the US's National Oceanic and Atmospheric Administration (NOAA) and the National Climatic Data Center shows that June 2010 was a record breaker. It was the warmest month of June globally since record-taking began in 1880 and it is the 304th month in a row that has been above the 20th Century average. The last month to fall below the average was February 1985: the month Nelson Mandela, who recently celebrated his 92nd birthday, rejected an offer of freedom from the then apartheid government.


Arctic ice hits lowest record for June

(07/14/2010) In June the average sea ice extent in the Arctic was the lowest on record for that month, according to the National Snow and Ice Data Center (NSIDC). Measured by satellites, the seasonal movements of Arctic ice have been tracked since 1979 with a dramatic decline seen over the last 30 years. This decline is linked by climatologists to climate change.