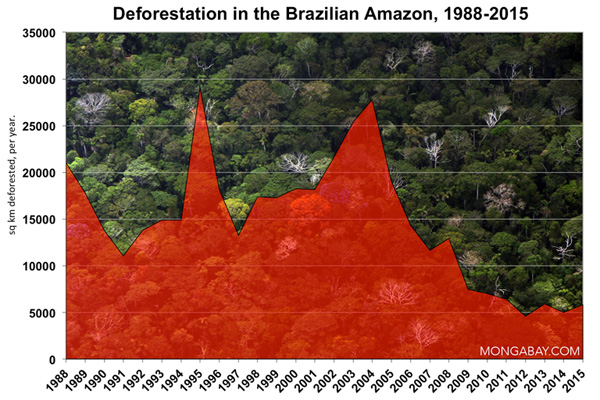 Annual forest loss in the Brazilian Amazon.
Brazil's National Space Agency INPE has officially confirmed last year's rise in Amazon deforestation.
After completing its annual analysis of satellite imagery, INPE said 5,891 square kilometers of forest across the Brazilian Amazon were razed between August 2012 and July 2013. The tally represents a slight increase over the preliminary estimate of 5,843 sq km announced in late 2013.
The findings mean that deforestation in the Brazilian Amazon increased 29 percent last year. While the jump in forest loss is significant, it remains well below the average over the past decade.
INPE's near real-time deforestation monitoring system, called DETER, suggests that deforestation may have risen again this year, although that data won't be confirmed until November or December.
DETER data for the Brazilian Amazon
The Brazilian Amazon has experienced a sharp drop in deforestation since 2004 due to a mix of government policies and interventions, private sector initiatives, pressure from civil society, and economic factors. Annual forest loss in Earth's largest rainforest is now roughly 80 percent what it was a decade ago.
The decline in deforestation has been less marked in Brazil's other forest ecosystems, according to data from Global Forest Watch.

Global Forest Watch data for Brazil
Roughly two-thirds of the Amazon rainforest lies within the borders of Brazil.