Patricia Wright attends a cocktail reception at the Mission to the UN of Madagascar, May 15, 2014 in New York. INSIDER IMAGES/Gary He.
Lemur expert Patricia C. Wright has become the first woman to win the prestigious Indianapolis Prize, an award granted every two years for achievement in wildlife conservation.
Wright was selected among six finalists, all of whom are distinguished conservationists. For the win, she collects $250,000.
Wright was chosen for her contributions to wildlife conservation in Madagascar, where she's worked with lemurs for nearly 30 years. Today Wright runs the Centre ValBio, a world-class research facility in a remote rainforest area she played an instrumental role in protecting. Wright is also an anthropology professor at Stony Brook University.
Lemurs, a diverse group a primates native only in Madagascar, are what initially brought Wright to the Indian Ocean island nation in 1985. Poorly known at the time, Wright almost immediately described a previously unknown species of bamboo lemur. That discovery became the catalyst for establishing Ranomafana National Park, which became a model for conservation across Madagascar. Since then, Madagascar has attracted droves of researchers whose work has greatly contributed to knowledge of Madagascar's incredible biodiversity, as evidenced by a three-fold increase in the number of described lemur species from around 30 to more than 100. Wright herself has played a direct role in the discovery of several species, each of which is further justification for conservation.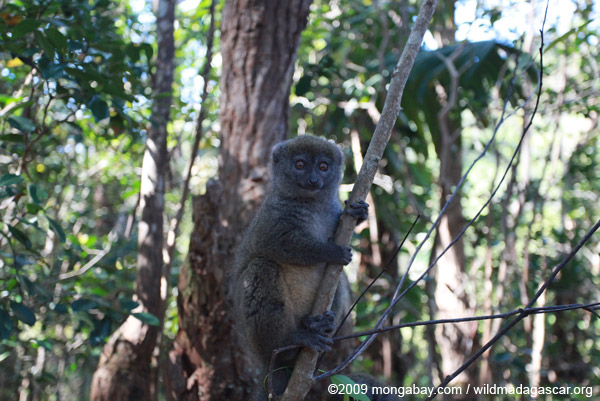 Gray bamboo lemur in Madagascar
Conservation is indeed the central focus of Wright's work today. With Madagascar's forests rapidly being cleared for subsistence agriculture and degraded by logging, protecting and restoring habitat is a top priority. Accordingly, Wright says she'll use some of the Indianapolis Prize funds to buy lands adjacent to Ranomafana that are threatened by gold mining. She'll also allocate some of the money for a fellowship to support young local scientists.
2014 has been a big year so far for Wright. In April IMAX released a feature film on her work. She's also publishing a book about her adventures in conservation in Madagascar and preparing to expand Centre ValBio, which just completed a major building project last year.
Wright is the fifth winner of the Indianapolis Prize. Prior honorees include George Archibald, the co-founder of the International Crane Foundation; George Schaller, a renowned field biologist with the Wildlife Conservation Society; Iain Douglas-Hamilton of Save the Elephants; and polar bear researcher Steve Amstrup.
Related articles