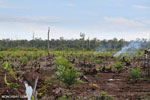 Oil palm plantation in Central Kalimantan, Indonesian Borneo
An Indonesian palm oil company has failed to disclose all the financial and environmental risks to investors ahead of its December 12 initial public offering (IPO), alleges a new report from environmental groups.
PT Sawit Sumbermas Sarana (SSMS), a palm oil company that runs plantations operated by PT Kalimantan Sawit Abadi, PT Mitra Mendawai Sejati (MMS), PT Ahmad Saleh Perkasa (ASP), and PT Sawit Mandiri Lestari (SML) in Indonesian Borneo, aims to raise a trillion ($88 million) in this week's IPO. The company, which is a subsidiary of Citra Borneo Indah, will use the proceeds to finance new plantations, acquire new land concessions, repay debt, and provide working capital. Sawit Sumbermas Sarana's shares will be listed on the Indonesia Stock Exchange (IDX) in Jakarta.
But a report published by the Commodity Finance Risk Analysis Unit run by Profundo, Climate Advisers, and other groups says Sawit Sumbermas Sarana's stock offering presents several undisclosed risks to potential investors, including land disputes, illegal deforestation, uncertain sales channels, shady banking, and governance questions.
"Investors buying the shares of SSMS are exposed to serious governance and sustainability risks, which are likely to affect the performance of SSMS's shares and the position of the public shareholders of SSMS," states the report, which gives the stock an "avoid" rating.
Profundo notes that most of Sawit Sumbermas Sarana's undeveloped land bank in Indonesia may be contested, while the company has cleared large blocks of forests without proper authorization.
"SSMS's identifiable land bank was overlaid with the best available map of actual and potential orangutan habitat for Borneo island," says the report. "This map was prepared some ten years ago, i.e. before the company commenced large-scale land clearing. We found that approximately 21,000 ha (or 44%) of SSMS's identifiable land bank overlaps with actual and potential orangutan habitat. We estimate that two-thirds of this habitat had been converted into oil palm plantations by 2012."

Oil palm plantation
Two of Sawit Sumbermas Sarana's major customers — Wilmar and Golden-Agri Resources — recently established policies that exclude palm oil produced via conversion of high conservation value areas and high carbon stock forests, potentially hindering the company's growth prospects.
"For its sales of crude palm oil, SSMS currently largely depends on two buyers: Wilmar (60.7% of total sales) and SMART (28.6%)," states the report. "Increasingly, these companies are adopting sourcing policies or commitments that require the ability to trace palm oil to known suppliers in order to limit purchases of palm oil from companies connected to potential controversy (illegality, deforestation, peatland development and land conflicts)."
"Given the serious governance and sustainability issues linked to SSMS and its subsidiaries, we consider it a serious risk for SSMS that its main buyers may feel obliged to end the commercial relationships with the company. In that case, the cash flow of SSMS would halt immediately as few other buyers are available on short notice."
The report also highlights potential conflict-of-interest and governance concerns.
"Bank Mandiri [a large Indonesian bank] is strongly exposed as a lender to SSMS – and at the same time is involved in underwriting the shares," says a statement issued by Climate Advisers. "Part of the IPO proceeds will be used to repay the debt to Bank Mandiri, creating a clear conflict of interest."
"Even after the IPO, the company will continue to be dominated by a single family, raising risks that the company may not be managed in the interest of minority shareholders."
The report adds that some of the risks presented in the Indonesian-language version of Sawit Sumbermas Sarana's prospectus are not listed in the English-language prospectus.