Global Witness has called in question conclusions reached in a study on logging in Central Africa's rainforests.
The group, which has published a series of investigative reports on abuses by logging companies operating the world's second largest tropical forest, said that a review published Monday in the Philosophical Transactions of the Royal Society B "[presents] a misleading and inaccurate picture of the present and growing threats to the Congo Basin rainforest."
"It concludes that logging is not an important deforestation factor and that it is 'low impact' due to purported recent efforts of the Congo Basin countries towards sustainable forest management," the group told mongabay.com via email. "The data used to support such a conclusion consists of satellite imagery and official timber extraction statistics reported by logging concessions to OFAC [an independent forest monitoring body for Central Africa]. In our view, this data is not sufficiently reliable or representative to substantiate this conclusion."
Global Witness went on to note that "much logging both within and outside concessions within the Congo Basin countries is illegal and unsustainable," citing its own investigations as well as recent reports from REM, an independent forest monitor in Congo Brazzaville.
Global Witness says that concession holders in the Congo may under-report production in order to "mask" illegal logging.

"[Our] report 'The art of industrial logging' sets out how logging companies in DRC have been abusing artisanal logging permits in order to undertake unsustainable industrial scale logging outside the concession system," the group said. "This activity is not captured by reported concession timber extraction statistics."

The paper in question was published by a team of mostly European scientists led by Philippe Mayaux of the Joint Research Centre of the European Commission in Italy. The study focused on deforestation, which is defined as forest clearance, rather than degradation, which is typically the product of selective logging. It found that deforestation in Central Africa, West Africa, and Madagascar declined sharply in the 2000's relative to the 1990's.


"Africa lost 0.59 million hectares of rainforest annually between 1990 and 2000, which decreased to 0.29 million hectares a year between 2000 and 2010," they write. "In all three regions, deforestation decreased by between 37% and 67% between 2000 and 2010 with respect to the 1990–2000 period."

"On the basis of our estimates, the Congo Basin shows a lower deforestation rate than other tropical forest regions of the world."

The authors note that while large-scale agricultural conversion for industrial plantations was not observed in Central Africa during the study period, that could change in "the near future".

In its response, Global Witness said the study should have been more forward looking, analyzing the potential impact of the plan to lift a moratorium on new logging concessions in the Democratic Republic of Congo as well as new investments in oil palm plantations and other industrial agricultural development.

"Given that over half of the Congo Basin's forest is in DRC, one would have thought there would be a mention of the moratorium on new logging or the multi-sectoral zoning that is soon to take place. Once zoning is complete and the moratorium is lifted, the forest is likely to be carved up for commercial activity – logging, mining and plantations – with far-reaching environmental consequences," Global Witness told Mongabay.com.

"The huge, emerging threat of export-oriented, large-scale agricultural plantations is also not analyzed adequately, for example as could have been done through detailing the extent of recent and forthcoming agricultural concessions – including the lucrative draw of conversion timber – or signaling the extent of the Congo's forest considered apt for palm oil development."

Rainforest logs in Gabon
Part of the apparent disconnect between Global Witness's criticism and the research results from the study's focus on what has already happened, rather than what will happen in the future. Other papers in the Philosophical Transactions of the Royal Society B special issue looked more issues like forest degradation and the potential increase in logging and industrial agriculture. These issues are important because, as Global Witness notes, the region may be about to undergo a dramatic shift in development strategy, potentially putting the fate of Congo Basin forests at stake.
B
Philippe Mayaux et. al. State and evolution of the African rainforests between 1990 and 2010. Phil. Trans. R. Soc. B 5 September 2013 vol. 368 no. 1625 20120300 doi: 10.1098/rstb.2012.0300 Published 22 July 2013
Related articles
Hunting, logging could threaten long-term health of Congo forests by wiping out key animals
(07/23/2013) Unsustainable hunting of forest elephants, gorillas, forest antelopes, and other seed-dispersers could have long-term impacts on the health and resilience of Congo Basin rainforests, warns a study published today in a special issue of the journal Philosophical Transactions of The Royal Society B. Conducting a review of more than 160 papers and reports on trends in wildlife populations, hunting, and land use in the Congo Basin, an international team of researchers conclude that unless effective management plans are put into place, hunting pressure in the region is likely to increase, with knock-on ecological effects.
Deforestation rate falls in Congo Basin countries
(07/22/2013) Deforestation has fallen in Congo Basin countries over the past decade despite a sharp increase in the rate of forest clearing in the Democratic Republic of the Congo, according to a new study published in the Philosophical Transactions of the Royal Society B as part of a set of 18 papers on the region's tropical forests. The special issue, which was put together by Oxford University's Yadvinder Malhi, covers a range of issues relating to the rainforests of the Congo Basin, including deforestation, the impacts of global change, the history and key characteristics of the region's forests, and resource extraction, among others.
Foreign loggers and corrupt officials flouting logging moratorium in the Democratic Republic of Congo
(11/08/2012) In 2002 the Democratic Republic of Congo (DRC) announced a moratorium on commercial logging in a bid to save rapidly falling forests, however a new report by Global Witness alleges that industrial loggers are finding a way around the logging freeze. Through unscrupulous officials, foreign companies are abusing artisanal permits—meant for local community logging—to clear-cut wide swathes of tropical forest in the country. These logging companies are often targeting an endangered tree—wenge (Millettia laurentii)—largely for buyers in China and Europe.
Deforestation increases in the Congo rainforest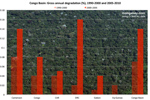 (03/20/2012) Deforestation in the Congo Basin has increased sharply since the 1990s, reports an extensive new assessment of forests in the six-nation region. Released by the Central African Forests Commission (COMIFAC) and members of the Congo Basin Forest Partnership, The State of the Forest finds that the region's annual gross deforestation rate doubled from 0.13 percent to 0.26 percent between the 1990s and the 2000-2005 period. Gross degradation caused by logging, fire, and other impacts increased from 0.07 percent to 0.14 percent on an annual basis. Despite the jump, rates in the Congo Basin remain well below those in Latin America and Southeast Asia, but the region is seen as a prime target for future agroindustrial expansion.
Oil exploration approved in Africa's oldest park, Virunga National Park
(03/19/2012) Permits for controversial oil exploration in Virunga National Park have been released after request by NGO Global Witness. Oil company, SOCO International, has confirmed it has received two permits to undertake preliminary exploration, including seismic tests, in the UNESCO World Heritage Site. Located in the Democratic Republic of Congo (DRC), Virunga is famous for its population of the Critically Endangered mountain gorillas (Gorilla beringei beringei).