Indonesian palm oil giant Golden Agri-Resources (GAR) is continuing to reduce deforestation under its 2011 forest conservation policy despite ongoing forest destruction by other palm oil producers in the sector, finds a new assessment by Greenomics, an Indonesian activist group. However the report finds GAR's operations are not completely deforestation-free.
Using a combination of satellite data and legal documents filed with the Ministry of Forestry, the Greenomics report [PDF] shows that GAR-owned companies are maintaining significant blocks of forest within their concessions in Indonesian Borneo despite having licenses to clear the land. The results indicate that GAR appears to be respecting elements of its commitment not to convert high carbon stock land for oil palm plantations.
But the report also finds incidents of tree-cutting in some areas. It notes that GAR companies have made "deforestation payments" to the Ministry of Forestry, as stipulated under the forest code, confirming the land clearing that is apparent in satellite images.
"There is clear evidence that the GAR palm oil plantation companies have continued to clear commercial tree species during the first and second years of implementation of the GAR FCP," states the report. Some of the clearing took place in areas that were at one time designated as high conservation value forest (HCVF) by WWF.

Landsat images acquired by Greenomics showing a concession owned by GAR subsidiary PT Paramitra Internusa Pratama (PT PIP), which operates in Kapuas Hulu Regency in West Kalimantan Province, prior to and since the introduction of the GAR FCP.

Yet those findings may not tell the complete story. The Greenomics report did not rely on ground-truthing, making it difficult to determine what forest was cleared or even if it could still be considered HCVF due to fragmentation and degradation. Furthermore, the scale of the clearing is small, suggesting that remnant patches of forest — rather than significant blocks — were cleared by plantation developers.
For that reason, Greenomics takes a relatively positive view on GAR's performance relative to other plantation developers operating in the region.
"GAR's FCP has actually reduced deforestation practices during the development of palm oil plantations," Elfian Effendi, Executive Director of Greenomics, told Mongabay.com. "Our ongoing study suggests that while GAR companies are working for a reduced deforestation practice, many other palm oil companies are still clearing natural forest at the massive level."
But Effendi added that GAR should be more transparent about the forest area that is apparently still being cleared.
"The precise details of the deforestation that occurred during the implementation of the GAR FCP need to be transparently revealed to the public," he said. "GAR should release the HCVF/HCS areas in the GAR concessions."
For its part, GAR says it remains committed to its policy.
"Golden Agri-Resources Ltd (GAR) reiterates its commitment to the Forest Conservation Policy (FCP) which focuses on no development on High Carbon Stock (HCS) forests, High Conservation Value (HCV) areas and peat lands; free, prior and informed consent from indigenous and local communities; and compliance with all relevant laws and internationally accepted certification principles and criteria,"
"In keeping with our multi-stakeholder engagement approach, we will be providing updates on our pilot project in PT Kartika Prima Cipta (PT KPC), West Kalimantan, Indonesia on HCS Forest Conservation that was launched on 13 March 2013."
The high conservation value and carbon stock assessment is being conducted by The Forest Trust (TFT), the NGO that is implementing GAR's forest conservation policy. TFT is also working with GAR's sister company, Asia Pulp & Paper, to implement a similar policy its concessions. Both deals are viewed by conservationists as a critical step for getting private sector support for the Indonesian government's push to reduce emissions from deforestation and peatlands degradation.
Later this month, Indonesia is expected to renew a two-year moratorium on new forestry concessions across 14.5 million hectares of previously unprotected forest and peatlands as part of this initiative. The moratorium has been opposed by some companies in the plantation and logging sectors, which effectively lobbied to weaken the measure shortly before its implementation in May 2011. Nonetheless, the moratorium is generally viewed by environmentalists as having helped created momentum for the broader effort to reform management of forest lands in Indonesia.

Oil palm fruit
Palm oil production has emerged as one of the most important drivers of deforestation in Indonesia since the mid-1980s. Due to its high yield, palm oil is one of the most profitable commodities in the tropics. Environmentalists have targeted the crop as a threat to endangered orangutans and a substantial source of greenhouse gas emissions from forest destruction and degradation, drainage, and conversion of carbon-dense peat swamps.
Related articles
Probe confirms Singapore-based palm oil company engaged in land-grabbing in Borneo
(04/26/2013) An independent investigation has shown that First Resources Ltd, a palm oil plantation company and member of the Roundtable on Sustainable Palm Oil (RSPO), failed to obtain proper consent from local communities before clearing rainforests for plantations in Indonesian Borneo, an Indonesian indigenous rights group reported last week.
Environmentalists unhappy with new palm oil standard
(04/25/2013) Environmentalists are unhappy with Thursday's approval of new criteria for the world's leading palm oil certification standard. After members of the Roundtable on Sustainable Palm Oil (RSPO) in a special assembly approved the body's new 'principles and criteria' (P&Cs) for palm oil certification, several groups voiced concern that the rules won't protect against conversion of carbon-dense rainforests and peatlands for oil palm plantations.
Indonesian palm oil industry would support land swaps to protect forest, while expanding production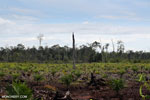 (04/19/2013) Indonesian palm oil companies would support land swaps as a means to reduce carbon emissions from deforestation while simultaneously expanding production, representatives from the country's largest association of palm oil producers told mongabay.com in an interview last month.
Indonesian palm oil giant launches conservation pilot project
(03/19/2013) Golden Agri-Resources, one of the largest palm oil producers in Indonesia, is launching a pilot program designed to protect forests within its concession areas that have high carbon stock and those most important for conservation. Greenpeace Indonesia, which has long urged the company to adopt more sustainable practices, praised the effort, and called on other palm oil companies and the Indonesian government to follow suit.
Palm oil giant moves forward on zero deforestation initiative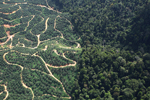 (06/05/2012) One of the world's largest palm oil companies has become the first to identify and disclose high carbon forests and peatlands in its concessions. Golden Agri-Resources Limited (GAR), the owner of Indonesia's palm oil giant PT SMART Tbk, on Monday published a carbon assessment of its holdings in Indonesian Borneo. The report is an important milestone under GAR's forest conservation policy, which prohibits conversion of land with more than 35 tons of carbon per hectare and moves the company toward a zero deforestation target.
Palm oil giant making good on forest commitment in Indonesia, finds independent analysis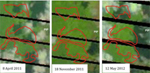 (05/29/2012) Palm oil giant PT SMART appears to be honoring its commitment to avoid conversion of high carbon forests in Indonesian Borneo, reports a new assessment published by Greenomics, an Indonesian environmental activist group. The report was issued 15 months after PT SMART — a subsidiary of Singapore-based Golden Agri Resources (GAR) and owned by Indonesia's Sinarmas Group — signed a landmark agreement with The Forest Trust (TFT) to spare forests and peatlands that have more than 35 tons of carbon per hectare. The deal came after a damaging Greenpeace campaign, which targeted PT SMART for clearing orangutan habitat in Kalimantan and cost the company millions of dollars in contracts.
Breakthrough? Controversial palm oil company signs rainforest pact
(02/09/2011) One of the world's highest profile and most controversial palm oil companies, Golden Agri-Resources Limited (GAR), has signed an agreement committing it to protect tropical forests and peatlands in Indonesia. The deal—signed with The Forest Trust, an environmental group that works with companies to improve their supply chains—could have significant ramifications for how palm oil is produced in the country, which is the world's largest producer of palm oil.