Forestry minister says Indonesia will renew forest conversion moratorium, however activists fear possible lapse in the policy could lead to wave of new concessions
Indonesia's forestry minister has again said that the country will extend its two-year moratorium on primary forest and peatland conversion, which is set to expire next month.
Speaking at the United Nations Forum on Forest (UNFF) in Istanbul, Turkey, earlier this week, Minister Zulkifli Hasan said the moratorium would not limit economic growth in Indonesia, and would be part of a broader forest management strategy going forward, Antara News reported on Thursday.
Forestry Ministry officials have since early this year said they supported extending the moratorium, despite opposition from the agricultural minister and the lucrative palm oil industry. Indonesia's President Susilo Bambang Yudhoyono holds the final say in whether the policy, which was signed in 2011 as part of a $1 billion climate change mitigation agreement with Norway, will be continued and under what terms.
Although Zulkifli said last week that he expects the president to approve the extension, when the new moratorium would go into effect is not yet clear. Environmental groups are concerned that a lapse in the moratorium will lead to a wave of new concessions, and urged Yudhoyono last week to immediately renew the moratorium, as even a small gap could put forests at risk.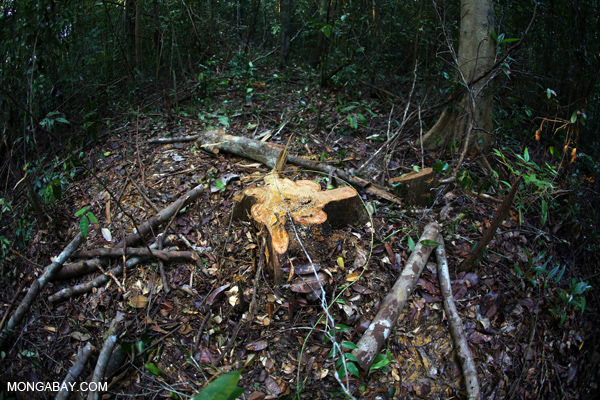 Illegal logging in Central Kalimantan, March 2013.
Although the results of the first period were far from what was hoped for, the moratorium must be continued, said Abetnego Tarigan, the executive director of the national branch of environmental group Walhi, speaking at a press conference in Jakarta on Wednesday last week. If not, the disastrous mismanagement of forests will become even more severe, as problems with the permit system have not yet been addressed and conflicts in the forestry sector have not yet been solved, Abetnego said.
Yuyun Indardi, the forest political adviser for Greenpeace, echoed Abetnego's call to extend the moratorium, and warned that even a short lapse between the expiration of the moratorium and its renewal could put forests in jeopardy. "This is dangerous. The tendency right now is to convert protected forests to production forests. So, if there is a gap, even just for a month, permits can be issued," he said.
This risk is made even greater by the upcoming elections in 2014, said Zenzi Suhadi, a forest and large-scale plantation campaigner for Walhi's national chapter. Elections in Indonesia are often accompanied by an increase in new concessions, as politicians look to businesses to secure support for their campaigns. During the last presidential election in 2009, the total area covered by plantation, mining, and forestry concessions across the country jumped dramatically, with concession areas more than doubling in some sectors, Zenzi said.
While the upcoming elections may put forests at increased risk for conversion, Abetnego added that this could be an opportunity for Yudhoyono, who is nearing the end of his final term in office, to leave behind a legacy through improving forest management in the country. "This should be an incredible motivation for him if he wants to leave something good for Indonesia," Abetnego said.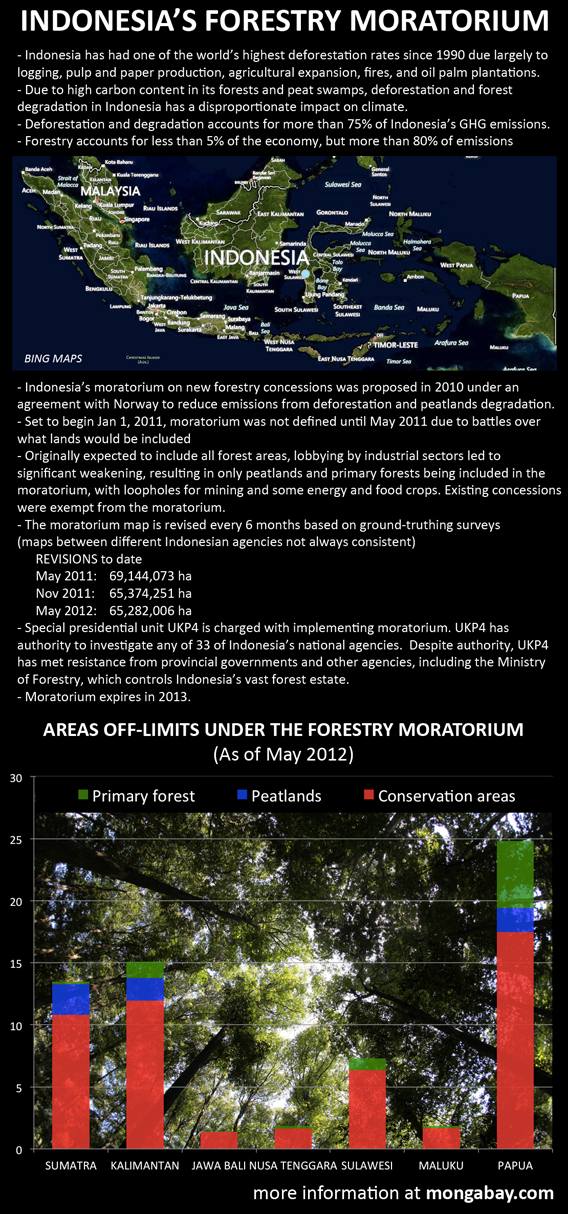 Chart: Indonesia's forest moratorium. Background satellite image courtesy of Microsoft Bing Maps, design by mongabay.com. Click image to enlarge.
Related articles