Rapidly expanding road networks are causing large-scale damage to forests but proper infrastructure planning and implementation could actually turn them into a net positive for the environment, argue researchers writing in the journal Nature.
William Laurance and Andrew Balmford highlight the severe environmental impacts of roads in wilderness areas, including fostering illegal logging, poaching, colonization, and land speculation.
"More than 95% of deforestation, fires and atmospheric carbon emissions in the Brazilian Amazon occur within 50 kilometers of a road," they write, noting that 100,000 kilometers of roads now crisscross the Amazon. "The Belém-Brasília Highway, completed in the early 1970s, now cuts a 400-kilometer-wide swathe of cleared forest and secondary roads through the Amazon."
"Loggers, miners and other road builders are putting roads almost everywhere, including places they simply shouldn't go, such as wilderness areas," added Balmford in a statement. "Some of these roads are causing environmental disasters."

Deforestation for agriculture and cattle ranching follows a fishbone pattern along roads in the Brazilian Amazon. Landsat image courtesy of Google Earth

Laurance and Balmford say that roads in agricultural areas can boost farm yields and access to markets, improving farms efficiency and profitability. However increased profitability often drives agricultural expansion into wilderness areas, especially tropical forests, wetlands, and grasslands.
Therefore Laurance and Balmford propose a "global 'road-zoning' project" to map what areas should be off-limits to roads and what areas should be prioritized for road improvement.
"We are convinced that increasing agricultural yields will lessen the impact of farming on natural ecosystems only if coupled with effective land-use planning," they write.
"We believe that a collaborative, global zoning exercise is needed to identify where road building or improvement should be a priority, where it should be restricted and where existing roads should be closed. A multidisciplinary team could integrate and standardize satellite data on intact habitats with information on transport infrastructure, agricultural yields and losses, biodiversity indicators, carbon storage and other relevant factors. Much of this information has been recorded or can be extrapolated from current data sources."
Once the analysis is complete, the results could be made available in the form of high-resolution maps for policymakers and others involved in planning roads.
"It is much easier for policy-makers to influence patterns of road development than to affect more socially complex problems such as population growth and overconsumption," they write. "Roads can be re-routed, cancelled or delayed. Large road projects are often funded by taxpayers, investors or international donors who can be surprisingly responsive to environmental concerns."

Logging road in Borneo

Properly planned roads could benefit the environment by attracting people away from sensitive areas while at the same time boosting rural livelihoods from activities not linked to habitat conversion or degradation. In some areas, alternative forms of transport — like railways or boats — might ultimately make more sense, according to Laurance and Balmford.
"Trains and boats move people and products but limit the human footprint by stopping only at specific places."
They conclude that "keeping roads out of natural areas is one of the most tractable and cost-effective ways to protect crucial ecosystems."
William F. Laurance and Andrew Balmford. A global map for road building. 308 | NATURE | VOL 495 | 21 MARCH 2013
Related articles
Amazon has nearly 100,000 km of roads
(12/08/2012) The Amazon Basin has 96,500 kilometers of roads, nearly two-thirds of which are unpaved, reports a comprehensive new atlas of the region, which contains the world's largest rainforest.
Proliferation of mountain roads a hazard to the environment in SE Asia
(07/12/2012) Mountain roads in rural Southeast Asia are providing market access for remote communities but causing significant environmental harm, including deforestation, landslides, and soil erosion, sometimes undermining the benefits they offer, warns a commentary published in Nature Geoscience.
Value of timber stocks could predict future logging roads, deforestation in the Amazon
(05/20/2012) A new model aims to forecast future logging road development by estimating the value of timber stocks across the Brazilian Amazon. The research, published in PLoS One, could help prioritize areas for conservation to protect the maximum area of forest.
Innovative program seeks to safeguard Peruvian Amazon from impacts of Inter-Oceanic Highway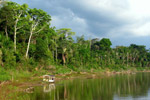 (03/06/2012) Arbio was begun by Michel Saini and Tatiana Espinosa Q. in the Peruvian Amazon region of Madre de Dios. The project focuses on a protective response to the increased encroachment and destructive land use driven by development. The recent construction of the Inter-Oceanic Highway in the Madre de Dios area presents an enormous threat to forest biodiversity. Arbio provides opportunities to help establish a buffer zone near the road to limit intrusive agricultural and deforestation activities.
Bolivian road project through Amazon reserve canceled
(10/23/2011) Following a violent crackdown on protestors which deeply embarrassed the Bolivian government, president Evo Morales has thrown-out plans to build a road through an indigenous reserve, reports the BBC. Protestors marched 310 miles (498 kilometers) from the Amazon to La Paz to show their opposition to the road, saying that the project would destroy vast areas of biodiverse rainforest and open up their land to illegal settlers.
Peru's rainforest highway triggers surge in deforestation, according to new 3D forest mapping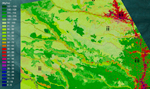 (09/06/2010) Scientists using a combination of satellite imagery, airborne-laser technology, and ground-based plot surveys to create three-dimensional high resolution carbon maps of the Amazon rainforest have documented a surge in emissions from deforestation and selective logging following the paving of the Trans-Oceanic Highway in Peru. The study, published this week in the early edition of the Proceedings of the National Academy of Sciences, reveals that selective logging and other forms of forest degradation in Peru account for nearly a third of emissions compared to deforestation alone.
Roads are enablers of rainforest destruction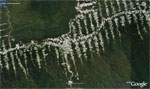 (09/24/2009) Chainsaws, bulldozers, and fires are tools of rainforest destruction, but roads are enablers. Roads link resources to markets, enabling loggers, farmers, ranchers, miners, and land speculators to convert remote forests into economic opportunities. But the ecological cost is high: 95 percent of deforestation in the Brazilian Amazon occurs within 50-kilometers of a road; in Africa, where logging roads are rapidly expanding across the Congo basin, the bulk of bushmeat hunting occurs near roads. In Laos and Sumatra, roads are opening last remnants of intact forests to logging, poaching, and plantation development. But roads also cause subtler impacts, fragmenting habitats, altering microclimates, creating highways for invasive species, blocking movement of wildlife, and claiming animals as roadkill. A new paper, published in Trends in Evolution and Ecology, reviews these and other impacts of roads on rainforests. Its conclusions don't bode well for the future of forests.
Brazil suspends Amazon road project until protected areas established
(09/26/2008) Brazil has temporarily suspended the paving of a major Amazon road pending demarcation of 13 neighboring protected areas, reports the Associated Press.
Railroad could reduce Amazon deforestation relative to proposed highway
(03/24/2008) Building a railroad instead of improving a major highway could reduce deforestation and biodiversity loss in the heart of the Amazon rainforest says an Brazilian environmental group.
Industry-driven road-building to fuel Amazon deforestation
(03/12/2008) Unofficial road-building will be a major driver of deforestation and land-use change in the Amazon rainforest, according to an analysis published in Philosophical Transactions of the Royal Society B. Improved governance, as exemplified by the innovative MAP Initiative in the southwestern Amazon, could help reduce the future impact of roads, without diminishing economic prospects in the region.
Toll road could raise money for Amazon conservation
(07/15/2007) Southeastern Peru is arguably the most biodiverse place on the planet. A new highway project, already under construction, poses a great threat to this biological richness as well as indigenous groups that live in the region. While its too late to stop the road, called the Carretera Transoceanica or Interoceanic Highway, there are ways to reduce its impact on the forest ecosystem and its inhabitants.
Chinese economy drives road-building and deforestation in the Amazon
(04/17/2005) Chinese economy drives road-building and deforestation in the Amazon