A coalition of more than 60 civil society groups has warned bankers and insurers not to invest in a massive new mill slated for construction on the island of Sumatra. The NGOs say the mill will drive deforestation and increase conflict in a region already wracked with social and environmental problems.
In a letter sent to banks and other financial institutions last week, the European Environmental Paper Network (EEPN) asked financiers not to fund the new mill, which the coalition has linked to Asia Pulp and Paper (APP) and its parent conglomerate the Sinar Mas Group.
"The undersigned NGOs are very concerned about the threat any such new mill might pose to the remaining natural forests in Sumatra and beyond," the letter states, noting that APP has pulped more than 2 million hectares of forests in Sumatra since 19842. "Our concern is the environmental and social consequences of the massive destruction of natural forests that can be shown to be linked to past and current over-capacity in pulp milling plants in Indonesia. We would contend, however, that investment in further milling capacity that relies on natural forest or utilizes land without the free, prior and informed consent of affected communities carries considerable reputational hazard and economic risk to financial institutions."


Eucalyptus plantations east of Pekanbaru. © Greenpeace / Daniel Beltra

APP says the proposed South Sumatra mill would depend on fiber from "independent suppliers" not its own concessions, which it lacks in the province. The paper giant also says the new mill will not reply on mixed-tropical hardwood (MTH) which in the Indonesian pulp business only comes from natural forests.




APP has publicly denied links to the new mill, refuting a report from RISI, a paper industry publication, claiming that it was building the facility in South Sumatra. Media reports indicate that the project is backed by Sinar Mas Group, but APP has not responded to multiple requests for clarification on the project.
The mill will allegedly have a capacity of 2 million tons per year and cost some $3 billion. Sinar Mas recently secured a $250 million loan from an unspecified bank in Indonesia, according to the Investor Daily, a sign that the conglomerate may be overcoming investor concerns tied to its $13.9 billion default in 2001. EEPN is nonetheless highlighting APP's track record to dissuade potential investors.
We would suggest that special caution is required in relation to Sinar Mas, APP and companies associated with
them, in view of the economic risks of adding pulp production capacity in large increments despite manifestly
inadequate pulp supplies outside of their continuing and increasingly controversial assault on natural forests.

Financial institutions should particularly note the circumstances and consequences of the previous failure of APP's
business model, graphically illustrated when APP declared a moratorium on the servicing of $US 14 billion in debt
in 2001 and was subsequently delisted from the New York Stock Exchange. Although many of the details
remain unclear, this resulted in substantial and unresolved losses to financial institutions and investors.

Much controversy still rages around this default. APP currently faces US court orders to pay back more than $900
million in defaulted debt to US creditors, but the company continues for various reasons to delay in complying
with asset disclosure or payment orders. There are indications that environmental covenants agreed to with export
credit agencies for the restructuring of debt have not been complied with, something that NGOs are continuing to
pursue with the institutions concerned.
The letter concludes by urging financial institutions not to invest in the mill until APP and its affiliates demonstrate they have reformed their business practices.
"We would welcome your assurance that you would not be investing in or supporting any investment in increased pulp milling capacity by companies associated with the Sinar Mas Group."
APP did not respond to mongabay.com's request for comment on the letter.
APP sent the following statement regarding the pulp mill after this story was posted
Statement from APP – November 16, 2012
"As a business, Asia Pulp & Paper Group is always looking for new ways to grow and deliver more value to our customers, shareholders, and the communities in which we operate. Our goal is to be the largest and most respected pulp and paper company in the world, within the framework of the Sustainability Roadmap Vision 2020 which we published in 2012.
We do not engage in speculative commentary concerning our future expansion plans. We respect commercial confidentiality as a core principle of good business practice. At the same time, we also take very seriously the responsibility to inform stakeholders of new developments, when it is appropriate for those to be made public. APP is already on record as saying that any future development of our business must abide by the principles of our Sustainability Roadmap Vision 2020.
Among the most important of those are our commitment to protect High Conservation Value Forest (HCVF) across our entire supply chain and 100% reliance on sustainable plantation wood as raw material."
Related articles
APP overstates significance of its logging moratorium in Indonesia, says report
(10/25/2012) Beleaguered forestry giant Asia Pulp & Paper (APP) is overstating the conservation significance of its recently announced moratorium on forest conversion on the islands of Sumatra and Borneo, argues a new report issued by an Indonesian activist group.
Sustainability pact aside, Greenpeace says paper giant APP must stop facilitating deforestation
(09/27/2012) Asia Pulp & Paper (APP) must stop accepting timber sourced from clearance of rainforests and peatlands for its sustainability pact to have any credibility, says Greenpeace.
In eco-pact, will controversial paper giant APP turn over a new leaf?
(09/26/2012) Over the past decade-and-a-half there has arguably been no paper supplier as controversial as Asia Pulp & Paper (APP), an umbrella brand for several Indonesian forestry companies. The paper giant has been dogged by allegations that is destroying key wildlife habitat, driving substantial greenhouse gas emissions through the conversion of peat forests, dispossessing local communities of land, and engaging in a heavy-handed campaign to undermine its critics within Indonesia and abroad. Its reputation hasn't be helped by its financial record — in 2001 it defaulted on $13.9 billion in debt, making it difficult for APP to raise money for expansion.
APP establishes deforestation moratorium in Jambi; greens remain skeptical
(09/06/2012) Asia Pulp & Paper (APP) has established a moratorium on natural forest conversion in Jambi province on the island of Sumatra, according to a report issued by the Indonesian forestry giant.
Indonesia's pulp and paper targets incompatible with green growth goals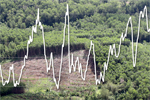 (08/10/2012) Indonesia's pulp and paper targets incompatible with green growth goals Indonesia's ambitious targets for boosting pulp and paper production to make it the world's lowest-cost producer are at odds with its push for green economic growth should expansion proceed on its current business-as-usual path, said a forestry expert presenting at the annual meeting of the Association for Tropical Biology and Conservation (ATBC) in Bonito, Brazil.
APP's new 'sustainability roadmap' won't spare unprotected tiger habitat in Sumatra
(07/27/2012) Asia Pulp & Paper's new sustainability commitment represents a scaling back of earlier environmental pledges and does not offer new protection for natural forests in Sumatra, alleges a new report from Eyes on the Forest, a coalition of green groups based in Riau, Sumatra.
Another red herring from Asia Pulp & Paper on its deforestation problem
(05/29/2012) In a press release issued last Thursday, Asia Pulp & Paper (APP) asserted that the presence of mixed tropical hardwood fiber (MTH) in its products 'does not come from the felling of virgin tropical rainforest trees in Indonesia'. The embattled paper giant goes on to say that 'the presence of MTH fiber says nothing about whether the product is sustainable or not" and that "MTH can be found easily in recycled paper.' All these points are true. But what APP doesn't tell you is that its response is yet another facade in its effort to deflect criticism from its forestry practices.
Ongoing deforestation puts APP in breach of debt restructuring agreements, finds report
(03/27/2012) Asia Pulp & Paper (APP) has broken "legally binding" debt restructuring agreements by continuing to clear native forests in Sumatra, alleges a new report from Eyes on the Forest, a coalition of Indonesian environmental groups.
Some toilet paper production destroys Indonesian rainforests, endangering tigers and elephants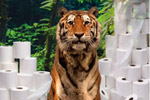 (02/09/2012) American consumers are unwittingly contributing to the destruction of endangered rainforests in Sumatra by purchasing certain brands of toilet paper, asserts a new report published by the environmental group WWF. The report, Don't Flush Tiger Forests: Toilet Paper, U.S. Supermarkets, and the Destruction of Indonesia's Last Tiger Habitats, takes aim at two tissue brands that source fiber from Asia Pulp & Paper (APP), a paper products giant long criticized by environmentalists and scientists for its forestry practices on the Indonesian island of Sumatra. The brands — Paseo and Livi — are among the fastest growing, in terms of sales, in the United States.
WWF: Asia Pulp & Paper misleads public about its role in destroying Indonesia's rainforests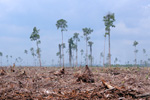 (12/16/2011) Asia Pulp & Paper (APP) continues to mislead the public about its role in destroying rainforests and critical tiger habitat across the Indonesian island of Sumatra, alleges a new report from Eyes on the Forest, a coalition of Indonesian environmental groups including WWF-Indonesia. The report, titled The truth behind APP's Greenwash, is based on analysis of satellite imagery as well as public and private documentation of forest cleared by logging companies that supply APP, which is owned by the Indonesian conglomerate, Sinar Mas Group (SMG). The report concludes APP's fiber suppliers have destroyed 2 million hectares of forest in Sumatra since 1984.
War of words between Greenpeace, Asia Pulp & Paper over deforestation allegations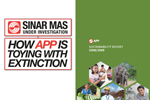 (11/16/2011) Greenpeace and Asia Pulp & Paper (APP), a giant global paper supplier, are locked in a heated battle over the activist group's allegations that APP products contain fiber sourced from the destruction of forests in Indonesia. At stake is APP's access to some of the world's most lucrative markets. Until APP provides solid evidence refuting Greenpeace's accusation that its pulp and paper production isn't coming at the expense of natural forests in Indonesia, APP will have a difficult time winning over critics.
Paper suppliers risk damaging Indonesia's reputation, argues report
(10/07/2011) Indonesia needs to re-evaluate forest areas and peatlands granted for pulp and paper plantations to reduce the risk of damaging the international reputation of its forest products and undermining its commitment to greenhouse gas emissions reductions, argues a new report published by an Indonesian activist group.
Palm oil, paper drive large-scale destruction of Indonesia's forests, but account for diminishing role in economy, says report
(07/27/2011) Indonesia's forests were cleared at a rate of 1.5 million hectares per year between 2000 and 2009, reports a new satellite-based assessment by Forest Watch Indonesia (FWI), an NGO. Expansion of oil palm and wood-pulp plantations were the biggest drivers of deforestation, yet account for a declining share of the national economy. The study, which compared year 2000 data with 2009 Landsat images from NASA, found that Indonesia's forest cover declined from 103.32 million hectares to 88.17 million hectares in ten years. Since 1950 Indonesia lost more than 46 percent of its forests.
Barbie, Legos, other toys linked to destruction of Indonesia's rainforests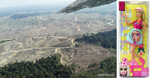 (06/07/2011) Some of the world's largest and most prominent toy-makers are sourcing their packaging materials from companies linked to large-scale destruction of Indonesia's rainforests, alleges a new report from Greenpeace. The report, How APP is Toying with Extinction, is based on forensic analysis of toy packaging from Mattel, which manufacturers Barbie and Hot Wheels toys; Disney, which makes a variety of toys linked to its movies; Hasbro, which produces GI Joe, Star Wars, and Sesame Street toys and various games like Monopoly and Scrabble; and Lego, which makes the iconic plastic building blocks. The analysis found traces of mixed-tropical hardwood (MTH) and acacia fiber which are principally sourced from Asia Pulp & Paper (APP), an umbrella paper products brand that sources from several companies that have been linked to rainforest destruction in Sumatra.
Pulp and paper firms urged to save 1.2M ha of forest slated for clearing in Indonesia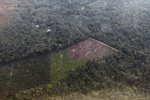 (03/17/2011) Indonesian environmental groups launched a urgent plea urging the country's two largest pulp and paper companies not to clear 800,000 hectares of forest and peatland in their concessions in Sumatra. Eyes on the Forest, a coalition of Indonesian NGOs, released maps showing that Asia Pulp and Paper (APP) and Asia Pacific Resources International Limited (APRIL) control blocks of land representing 31 percent of the remaining forest in the province of Riau, one of Sumatra's most forested provinces. Much of the forest lies on deep peat, which releases large of amount of carbon when drained and cleared for timber plantations.
Does chopping down rainforests for pulp and paper help alleviate poverty in Indonesia?
(01/13/2011) Over the past several years, Asia Pulp & Paper has engaged in a marketing campaign to represent its operations in Sumatra as socially and environmentally sustainable. APP and its agents maintain that industrial pulp and paper production — as practiced in Sumatra — does not result in deforestation, is carbon neutral, helps protect wildlife, and alleviates poverty. While a series of analyses and reports have shown most of these assertions to be false, the final claim has largely not been contested. But is conversion of lowland rainforests for pulp and paper really in Indonesia's best economic interest?
Pulp plantations destroying Sumatra's rainforests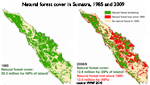 (11/30/2010) Indonesia's push to become the world's largest supplier of palm oil and a major pulp and paper exporter has taken a heavy toll on the rainforests and peatlands of Sumatra, reveals a new assessment of the island's forest cover by WWF. The assessment, based on analysis of satellite imagery, shows Sumatra has lost nearly half of its natural forest cover since 1985. The island's forests were cleared and converted at a rate of 542,000 hectares, or 2.1 percent, per year. More than 80 percent of forest loss occurred in lowland areas, where the most biodiverse and carbon-dense ecosystems are found.