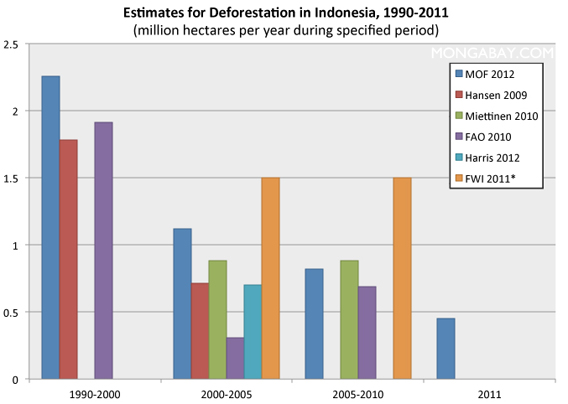 Various estimates of deforestation in Indonesia aggregated by time period. Note that Forest Watch Indonesia's (FWI) estimate is for the 2000-2009 period. The Ministry of Forestry's preliminary estimate for 2009/2010 and 2010/2011 is roughly 900,000 ha over two years. At present, no other source has an estimate for 2011.
Indonesia's Ministry of Forestry has issued permits to convert 342,709 ha of forest for plantations so far in 2012, reports The Jakarta Globe.
In a press conference Tuesday, the director of forest zoning Tri Joko Mulyono said forest was released for "food crops" and sugarcane. He noted that while the national two-year moratorium includes exemptions for food and energy plantations, "companies" prefer to convert lands for palm oil production. Local officials will determine how the land is actually used.
The minister added that should conflicts arise over the allocations it would be up to the National Land Agency (BPN) to resolve them.
"Once the forest area is released, its management becomes the responsibility of the land institution," he was quoted as saying.
It wasn't immediately clear what type of land was granted by the Ministry of Forestry. Some of the "forest estate" controlled by the Ministry isn't actually forested.
The minister also provided a recent history of concession allocations: 4.9 million hectares in 2009, 8,613 hectares in 2010 and 366,259 hectares in 2011. Overall some 20 million hectares of forest estate has been set aside for industrial plantations.
Last May Indonesia established a moratorium on new permits in primary forests and peatlands. The two-year ban is meant to grant a window for Indonesia to begin to enact reforms that will support its REDD+ program, which aims to reduce greenhouse gas emissions from deforestation and forest degradation. Norway jump started the program with a billion dollar pledge in 2010.
Indonesia has one of the highest deforestation rates in the world. The establishment of oil palm estates and pulp and paper plantations are major drivers of forest conversion. Deforestation also results from agricultural expansion, man-made fires, and poor logging practices.
Related articles